If you have lost your data from write protected SD card and now looking for its recovery solution then don't worry. You have come to the exactly right webpage. Here, you will get to k bow how to recover data from write protected SD card easily.
Without discussing further, let me clearly answer you that using SD Card Recovery Tool you will be easily able to recover data. Yes, but before that, you have to remove write protection from the microSD card.
Rated Excellent on

Trustpilot
Free SD card recovery tool.
Recover data from corrupted, damaged, & formatted SD cards of all brands on Windows. Try now!
So, to know how to remove write protection on microSD card, you can follow the manual solutions mentioned somewhere in the below section of this blog.
I know, you must be now looking at its user guide, but before I proceed further I would you to know something about SD card and why I have decided to write this blog.
About SD Card
Well, as we all know that the SD memory card is a small device that comes in different size capacities and can store a large amount of data. It is used in different gadgets such as phones, tablets, digital cameras, MP3 player, iPod, headset with the music player and so on.
Let me also tell you that there are many SD cards that come with LOCK ON and OFF switch and when your card becomes write-protected, then you are not able to access files stored within it or even add or delete files from it. You are not alone facing this problem, there are many people out their encounter with this same issue.
Now let me tell you why I have decided on this blog. Well, this is because of the below scenario, yes, after reading this issue from the forum site, I found that there are several people who want to get the solution. So, I wrote this blog.
Now, let's go through the scenario below:
Practical Scenario:
How to get data back from protected Micro SD card?

I have created password for transcend 32 gb Microsd card in my HUAWEI P9 Lite. I formatted that mobile recently and tried to used above sd card with Huawei P6. I cant find microsd card neither in p6 nor in PC. I have important files and images in microsd. How can I make my microsd card to get detected in PC or how can I get my data back using some other alternative options? Please help!!!!!

Note:-I remember password

– Original Post From Tom's Guide
Besides the above-mentioned scenario, there are several users out there facing similar types of problems with their SD cards.
Reasons: How SD Cards Get Write-Protected?
Some of the causes that make SD card write protected are mentioned below:
When the switch lock of the card gets broken, leaving the card in write protection state.
If they are used in different and multiple gadgets.
When they are removed abruptly or improperly from the device when it is in the read-write process.
When the virus infects the card making the files as well card corrupted and locked.
When this happens then the SD card gets write-protected, then you may lose all important data stored within it. It is because, the card is locked and files present in it cannot be copied, moved or edited.
What, worse – your write-protected SD card can get corrupted and you may lose files if you try to solve the problem of how to unlock write protected SD card or format it. You can also try to use it on multiple devices to check whether files are accessible or not.
Is It Possible To Get Back Data From Write Protected Or Locked SD Card?
It is obvious that under all the above-mentioned situations, you would be worried about the valuable files that are present in the SD memory card. Well, do not get worried, just relax! You still have the chance to securely retrieve inaccessible data from the write-protected or locked SD card with the help of a suitable tool mentioned below.
Note: You must stop using your card and do not format it or use it in different gadgets to see if you can access files or not.    
How To Recover Data From Write Protected Or Locked SD Card?
As mentioned above that SD Card Data Recovery Tool is very effective to recover data from a write protected SD card, so just try it once. It will help you to recover files from a write protected or locked SD memory card.
Also, it will let you retrieve media files such as photos, videos and audio files of several file formats from the card that is write-protected. It can also retrieve files from unreadable, unrecognized, encrypted, damaged, corrupted, virus infected SD card.
The write protected SD card data recovery software supports various memory cards such as miniSD, microSD, SDHC Card, SDXC, XD, CF, MMC and other types of cards manufactured by a different company like SanDisk, Transcend, Strontium, Toshiba, Samsung, Lexar, Kingston, etc. The software also extracts media files from write-protected USB drives and retrieve data from SD card with bad sectors.
Using SD Card Recovery Tool, you will be able to:
Effectively and quickly retrieve data from a write-protected SD card.
Restore lost, inaccessible, missing files from encrypted, unreadable and locked SD memory cards.
Retrieve media files such as pictures, videos and audio files.
Support all types of memory card (SD, miniSD, microSD, SDHC, SDXC, MMC, etc) of different brands such as SanDisk, Transcend, Lexar, Sony, Samsung, Strontium, etc.
Also extract data from write-protected USB drives such as pen drive, memory stick and other USB flash drives.
emid

emid


* Free version of the program only scans and previews recoverable items.

Let's go through its steps to recover write protected SD card data:
Step 1: Select Desired Location
Firstly, select the drive, external media or volume from which you want to recover deleted media files. After selecting, click on 'Scan'.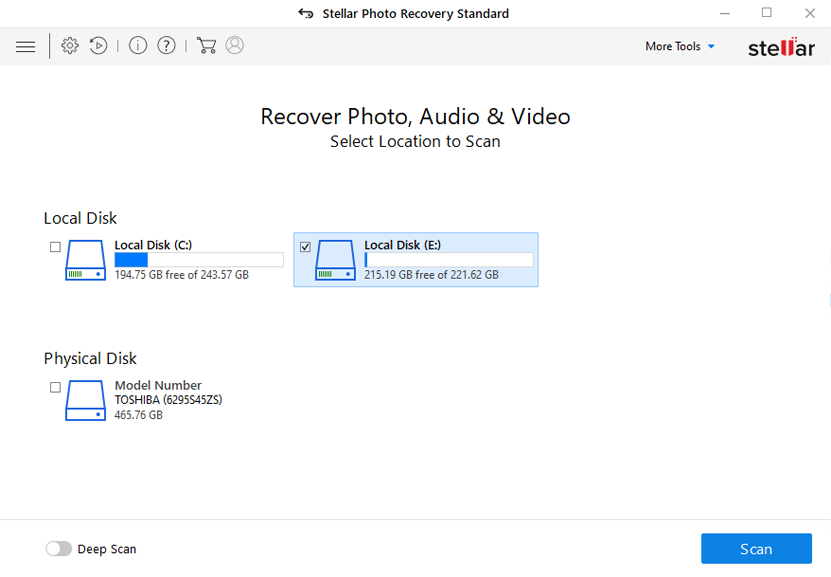 Step 2: Preview Recovered Media Files
Next, you can preview the recoverable media files after the scanning process is completed.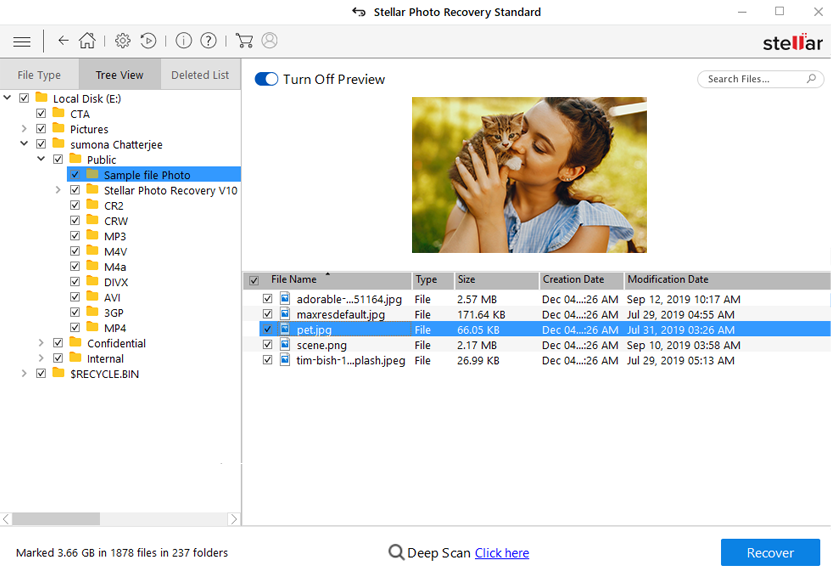 Step 3: Recover Media Files
Lastly, you can select the images, audio, video files you want to restore and click on 'Recover' option to save them at the location you want.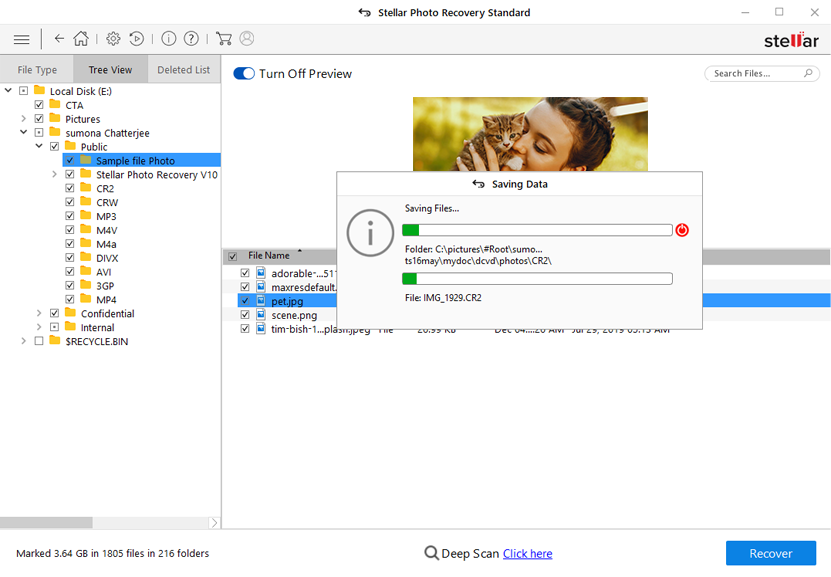 Once, you successfully restore files from write protected SD memory cards you can then proceed further to remove write protection from internal/external hard drives or format the write-protected SD card so that you can reuse it.
Below find out how to remove write protection from SD card!
Recover Write Protected SD Card Data After Removing Write Protection Issue
Solution #1: Use Lock Switch To Remove Write Protection
If your memory card has a lock switch and if it is not broken, then slide the lock switch to unlock position. This will help you to solve the problem of how to unprotect micro SD card.
Solution #2: Remove Write Protection From SD Card With Command Prompt
Shutdown your PC or laptop.
Insert a write-protected SD card in the card reader and connect it to your PC.
Now restart your PC and as your PC start continue to press the F8 key to bring up the Advanced Boot Options.
For the option select the option "Safe Mode With Command Prompt".
After loading files if your SD card drive letter name is H for example, then type the following command: C:\windows\system32>H: and hit ENTER.
H:\>format H: and hit ENTER.
If it asks you (Y/N) then select (Y) and hit ENTER.
Solution #3: Removal Of Write Protection With The Help Of Disk-part Utility
Here are the steps of disk-part utility:
Go to, Start and enter cmd. Now, type "Diskpart" for opening utility.  
Type the command " list disk" and click  Enter.
Now type "select disk E" and press Enter. (Note: E is the drive of SD card)
Type the next command "attributes disk clear read-only" and hit Enter.
Finally, type "exit" and then, click Enter for ending the process.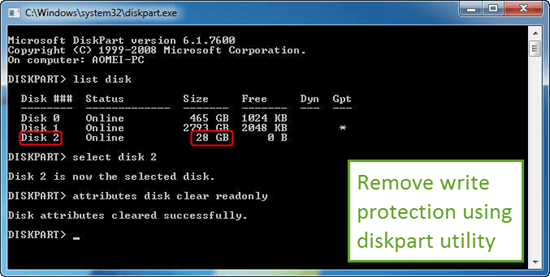 Solution #4: Remove Write Protection From A Single File
If you have a single file and you want to make changes to it. But, due to writing protection, it is marked as read-only. Here the steps to remove the disk is write protected SD card:
First of all, insert the SD card or USB drive into your computer.
Click and open Windows File Explorer.
Search the folder containing the required file.
Choose the file
Press the Home button then, choose Properties > Properties.
6. In the Properties dialog box, choose Read-only for removing the checkmark.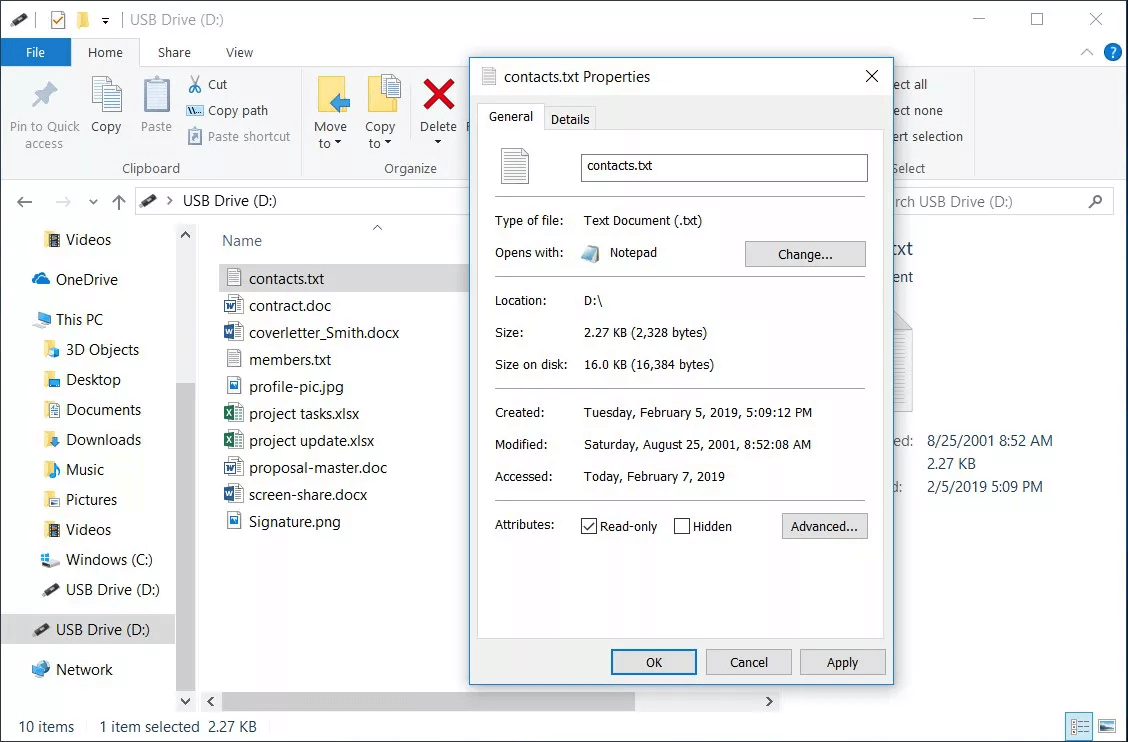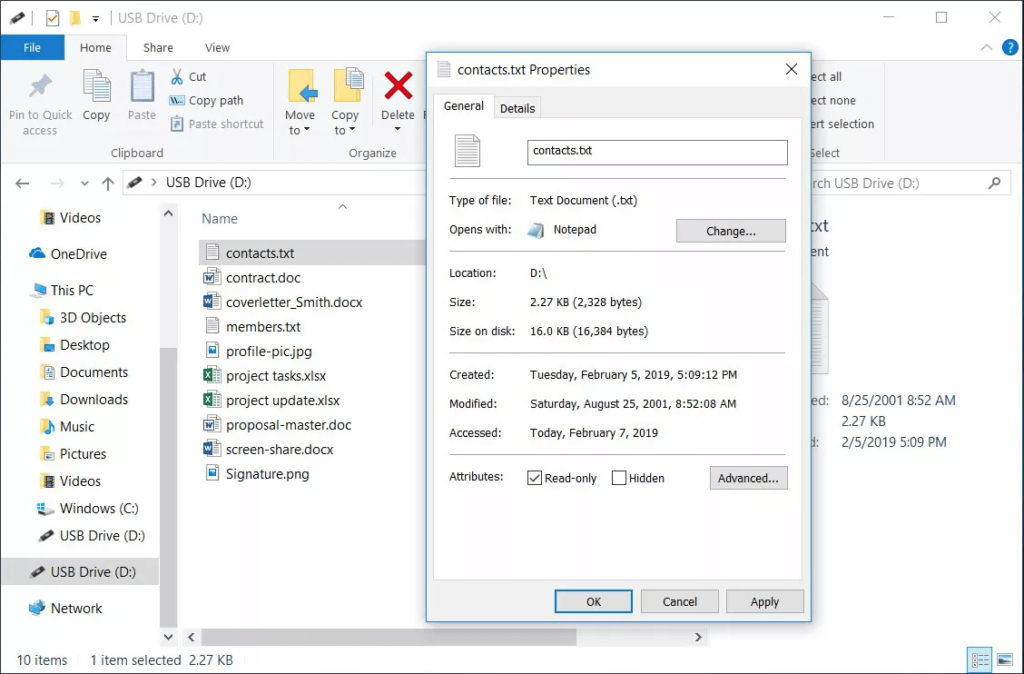 Solution #5: Use Of USB Drives With Regedit In Windows 8/10
First of all, insert the USB drive or SD into your PC.
Now, hit Windows key+X and choose Run.
Now, enter Regedit and press OK.
In the Registry Editor, navigate to HKEY_LOCAL_MACHINE> SYSTEM > CurrentControlSet > Control > StorageDevicePolicies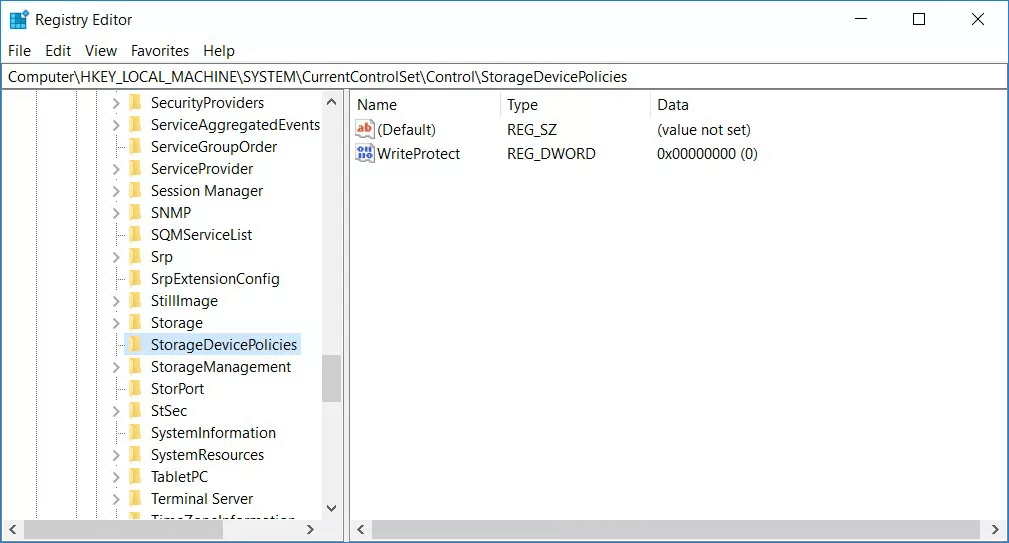 Note: If you are unable to find the Storage Device Policies folder then, you are required to it and also a WriteProtect DWORD Value.
5. Go to WriteProtect and double click it for opening the dialog box of Edit DWORD.
6. Go to the Value data text box, and change the number with a zero.
7. Choose OK and close
8. Now restart your PC.
Creating Storage Devices Policies Key & Write Protect DWORD Value
1. Go to, HKEY_LOCAL_MACHINE> SYSTEM > CurrentControlSet > Control.
2. Now, right-click on the empty space in the file pane on the right and select' New and then, choose Key.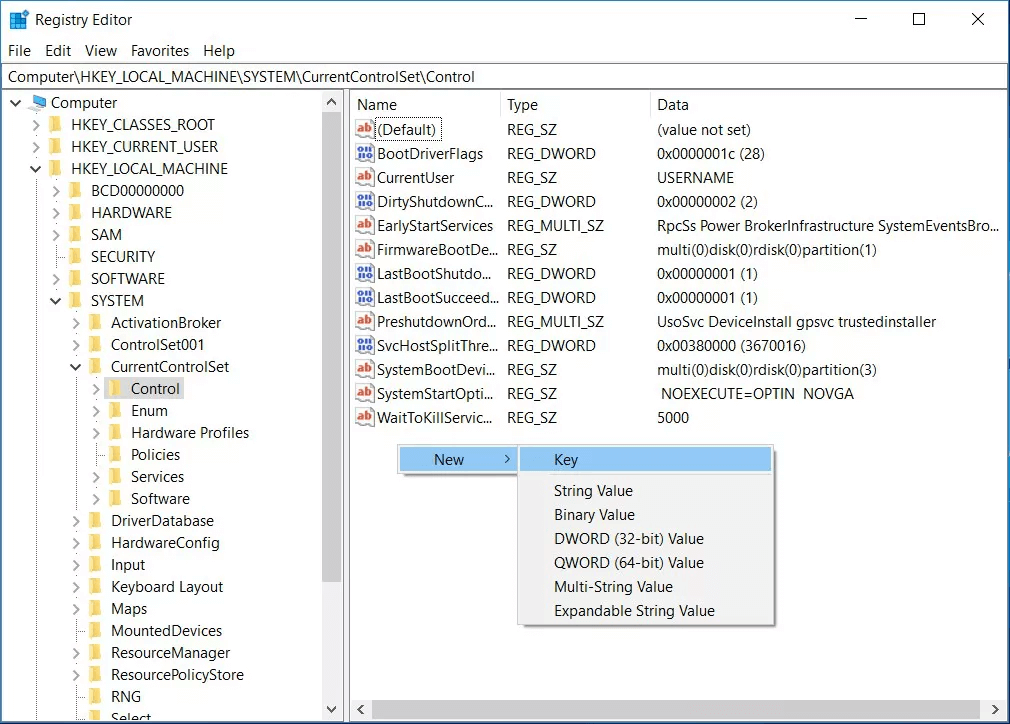 3. Now, go to the Folders pane on the left and rename the key "StorageDevicePolicies"and hit Enter.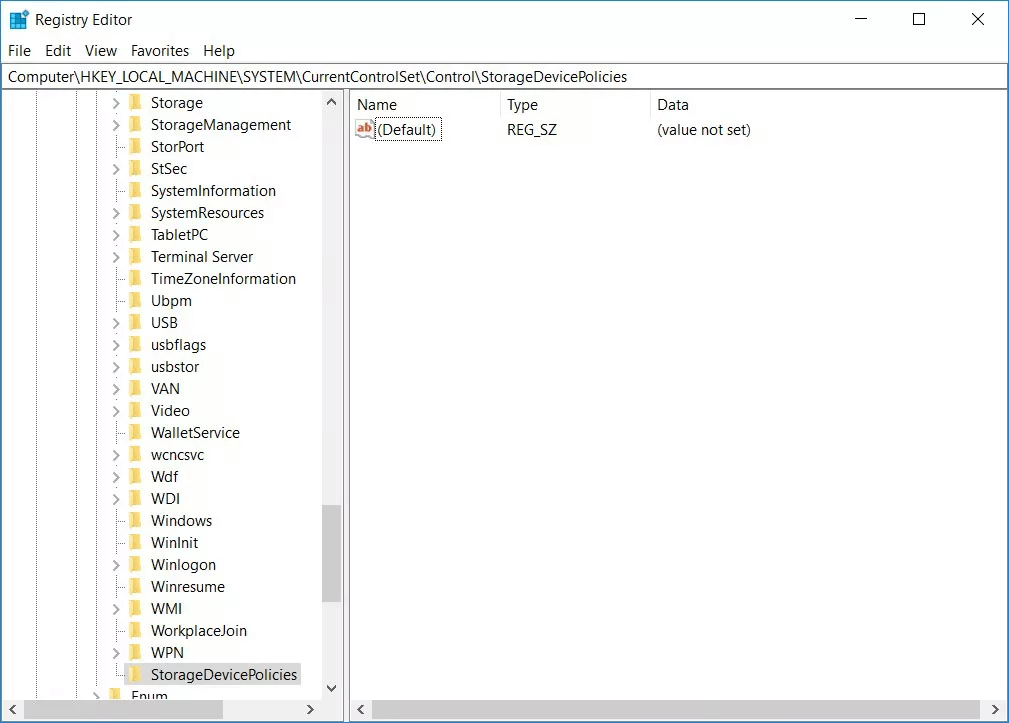 4. Choose StorageDevicePolicies in the Folders pane.
5. Do right-clicking in the empty space in the File pane and choose 'New' after that, choose DWORD (32-bit) Value.
6. Rename "WriteProtect" and click Enter.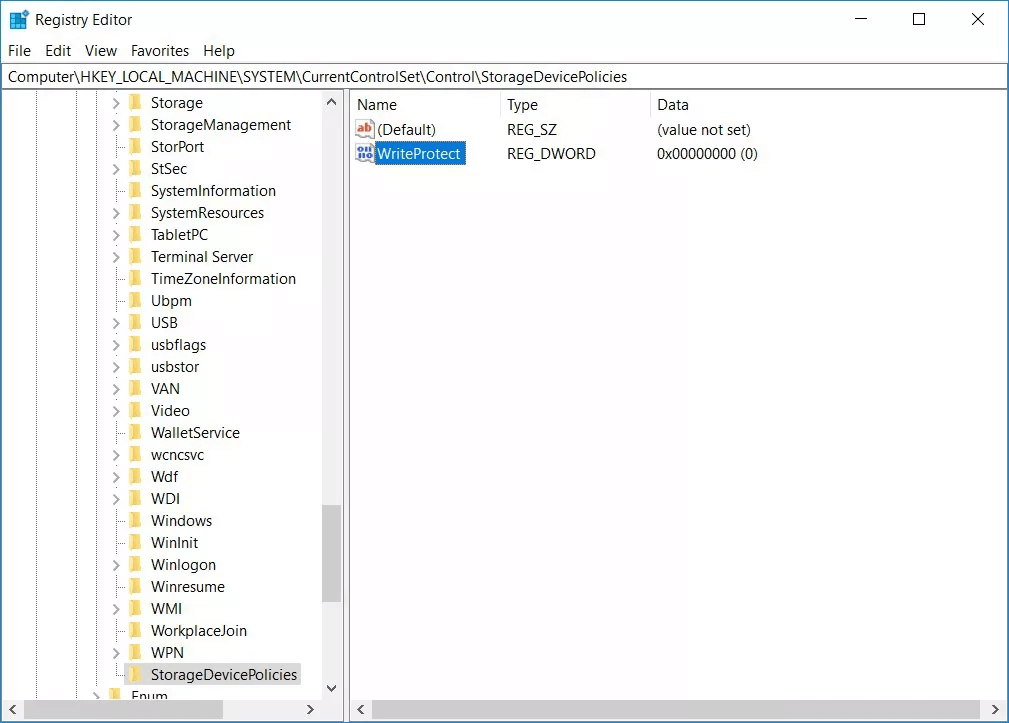 7. Do double-click on the option WriteProtect for opening the EditDWORD dialog box. You can remove write protection with the help of the above steps.

Solution #6: Editing The Registry In windows 7 For Removing Write Protection
In Windows 7, there is a little different process, to edit the Windows Registry to eliminate transcend micro SD card write protected. Here are the steps of the process:
Click Windows key+R.
Go to, Run dialog box and enter ' regedit'. After that, hit Enter.
Now, follow this command: HKEY_LOCAL_MACHINE> SYSTEM > CurrentControlSet > Services.
Choose U SB S TOR.
Do double-click on the Start option.
Enter 3, in the dialog box.
Finally, you should close the Registry Editor.
Solution #7: Other Possible Solutions
There are a few other solutions also that you can try:
Scan Your SD Card With Antivirus
You can disable the SD card write protection by running antivirus to scan the SD card is write protected.
Check Out Properties And Available Space Of Your SD Card
Do right-click on the SD card and choose Properties > Security > Edit. After that, convert the permission of the Micro SD card on "Full control" "Read & execute", "Read" and "Write".
Check The Settings Of Your Mobile Devices
If your SD card is inserted in mobile devices, then, please check the device settings to unlock the card.
This will start the full format of your write protected SD card. Once, the process complete successfully, you can then reuse your SD card again.
Conclusion
Now, you have seen how difficult it is to remove protection from the SD card. In this blog, I have discussed why the SD cards are protected? I have also mentioned a few manual methods to recover data from a write protected SD card.
And after using the manuals, if you are unable to get back data from a write protected SD card then you can try recommended software, i.e., SD Card Recovery Tool which is very easy and effective.
I hope, these methods will work out for you.
Alex is an expert technical writer with 7+ years of experience. His in-depth knowledge about data recovery and fascination to explore new DIY tools & technologies have helped many. Alex has a great interest in photography and loves to share photography tips and tricks with others.