Have you lost or accidentally deleted photos or video files on your Sony Cyber-shot Camera? Are you looking for an easy solution to restore data from Cyber-shot digital cameras? If "Yes" then here is the simple tutorial that will help you out in recovering lost/deleted/erased photos or videos from Sony Cyber-shot digital camera.
To recover deleted photos and videos from Sony Cyber-shot camera, we recommend this tool:
This software will restore data from corrupted, formatted, encrypted storage media and works in all data loss situations. Now recover your lost and deleted data in 3 easy steps:
Try this Media File Recovery Tool rated Excellent on Pcmag.com.
Select the storage media from which you want to restore the media files & click Scan.
Preview the recoverable files, select the items you want to recover and click Recover to save the files at desired location.
Sony popular digital cameras in the line of point-and-shoot cameras are Cyber-shot. The cyber-shot model has been given a DSC prefix which stands for "Digital Still Camera". Almost every of the Cyber-shot model has lenses of Carl Zeiss trademark.
These cameras are supported by Sony's Memory PRO Duo or Memory Stick for storing photos and videos. Some of the models also support SD card, SDHC card, and Memory Stick PRO Duo.
With Sony's Cyber-shot digital cameras one can capture detailed images with high zoom. But there are some situations where the photos or recorded videos stored on-camera storage, may get lost or deleted due to many several reasons. This is a very miserable situation however now it is possible to recover photos from Sony camera.
But, before knowing the solutions of how to recover deleted photos from Sony camera, you have to take a look towards the scenario.
Practical Scenario
Let it define best with the user personal experience:
While my camera was attached to my laptop I was recently in the process of downloading shots from my cybershot (memory card) but accidentally deleted all photo files from my camera – is there any way of retrieving?

I deleted from my computer thinking I was deleting part uploaded shots!

No shots had been saved to my computer and no files are currently showing on my camera so unless someone out there has a miracle cure I seem to have lost them all…

                                                  Original Post from Sony.Co.UK Community
Here know the reasons for the loss or deletion of photos from the camera.
Causes Of Deleting Photos From Sony Cyber-Shot Camera:
However, there are several scenarios due to which this tragic situation is being faced by the users. Here we have mentioned some of the common scenarios due to which the digital data [photos, videos, audios] lost, deleted from the Sony Cybershot camera. Have a look:
Corruption– This is the prime causes behind the data loss from the camera or other storage media. When corruption occur this makes the entire data stored in it inaccessible and users start facing data loss. Corruption can occur due to virus attack, improper shutdown of the computer, closing the files hastily and many more.
Formatting digital media– You have reformatted the memory card or media and all the data stored get deleted.
Physical damage: If while clicking photos, or recording videos accidentally camera falls from your hand and damage. Then this can result in data loss.
Cleaning recycle bin– It is also seen in many cases that while cleaning the recycle bin user accidentally delete the entire data from the device. So this might be a situation behind data loss
Inappropriate removal– Abruptly removing the device from the computer while transferring files the loss of data may happen and also corrupt your device or camera.
Best Solutions To Recover Deleted Photos From Sony Cyber-Shot Camera
To recover lost, deleted photos from Sony Cyber-shot camera follow the below-given ways.
But before moving towards the recovery options it is recommended very firstly stop using the camera as you are aware of the photo and any other data loss. As continue using the camera can overwrite the data and as a result, you will now restore data by using below ways.
1. Get Back Missing Pictures By Using Third-Party Recovery Tool
You can make use of the best Sony Cyber-Shot Photo Recovery Tool. This is the best tool and is designed with the advanced algorithm by scanning once retrieve the entire data.
With the help of this, you can repair any sort of issues, corruption as well as errors in the hard drive, memory card, USB drive, and other storage media. With the help of this, you can easily retrieve deleted, formatted, corrupted, missing and inaccessible videos, photos, and audios from any digital devices.
With the help of the Sony Cybershot camera photo recovery tool, one can:
Retrieve deleted photos, videos and audio files from all Sony digital cameras and Sony digital camcorders/Handycam
It not only rescues common image file format JPEG, PNG, GIF, BMP, TIFF but it also restores SR2, ARW, SRF
Supported camera models: DSC-tx100, j10, wx10, hx100, DSC-rx100, DSC-w710, DSC-w670, DSC-w690, dsc-wx150, dsc-wx190, DSC-w731 DSC-TX30 and other all kind of Sony cameras
Besides Sony, it also supports other brands of camera like Olympus, Fujifilm, Kodak, Canon, Nikon, Samsung, etc
The Tool is available for both Windows and Mac computer
Read-only program, 100% risk-free & easy to use
emid

emid


* Free version of the program only scans and previews recoverable items.
Steps To Retrieve Deleted Photos/Videos From Sony Cyber-Shot Camera
Step 1: Select Desired Location
Firstly, select the drive, external media or volume from which you want to recover deleted media files. After selecting, click on 'Scan'.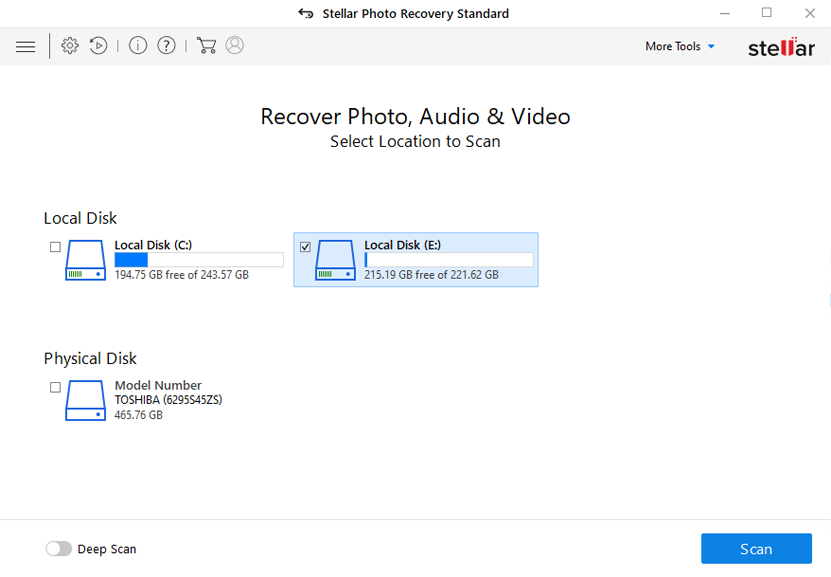 Step 2: Preview Recovered Media Files
Next, you can preview the recoverable media files after the scanning process is completed.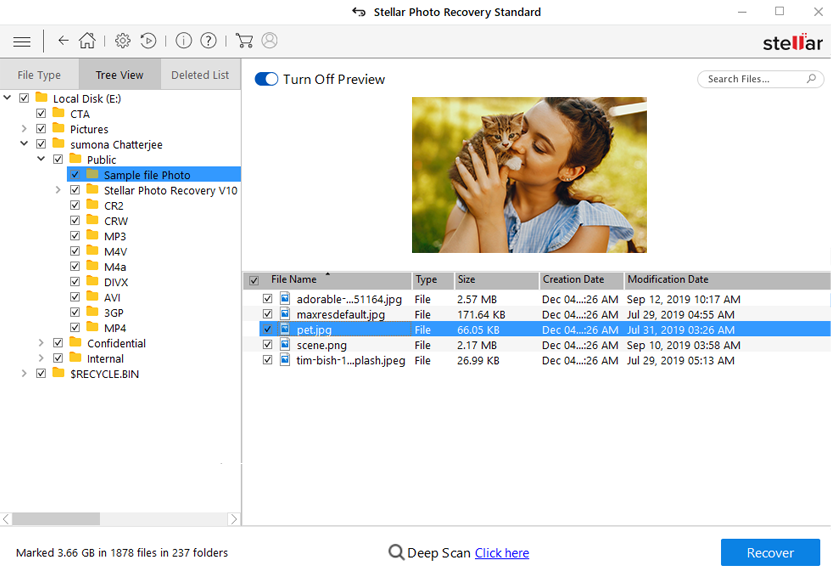 Step 3: Recover Media Files
Lastly, you can select the images, audio, video files you want to restore and click on 'Recover' option to save them at the location you want.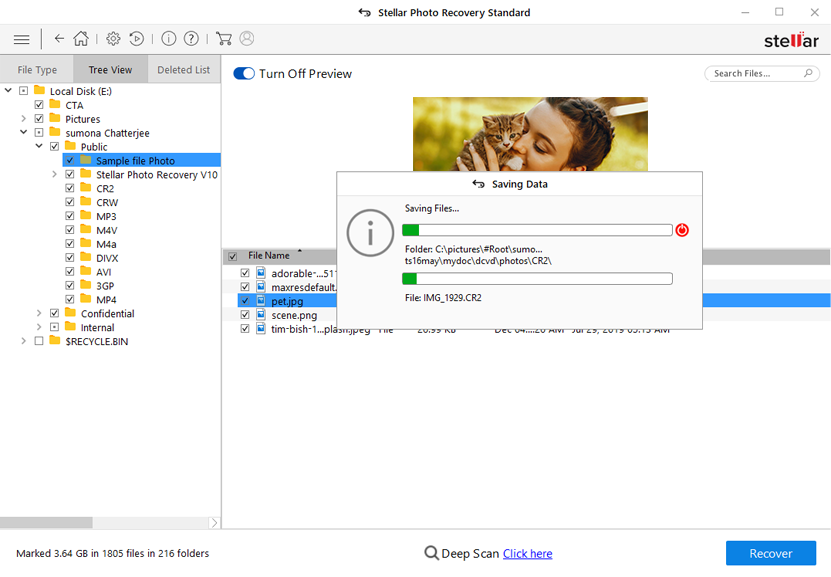 2. Using Backup To Do Sony Photo Recovery
If you have stored a backup of all your erased pictures then you can restore data from the backups easily.
3. Restore Deleted Images From Recycle Bin
You can also retrieve sony cyber shot pictures from recycle bin, check-in the recycle bin in might happen the accidentally deleted data is present in it. If it is available there, then easily restore it more there.
You may also check for the hidden files it might happen while transferring files to your PC/laptop. The virus or malware in your device and hide the files and folder. So scan your device completely with a good antivirus program.
Tips To Prevent Data Loss
Data loss can occur anytime. But this can be prevented by following certain tips. Here we have mentioned some valuable tips. Make use of it and prevent the data loss situation in the future:
1. Take time: While clicking photos, the device requires some time to properly write and organize the image file. So wait for a minute after taking shots to eliminate or access the memory card. As this can cause file errors or cause formatting problems for the entire card.
2. Utilize one Memory Card: Always use one dedicated memory card for your DSLR or another compact camera. Every device has a single numbering and formatting process, so to prevent any corruption issue use a single memory card on your device. This will also help you to avoid accidental deletions or losing the card while moving from place to place.
3. Avoid getting them wet: This is highly important to try to keep liquids and food away as this can ruin the gold-plated contact points and the inner workings of the cards. Be careful while taking pictures in rainy season also avoid handling your camera while having coffee, tea or other liquids
4. Watch battery power: Avoid taking pictures in low battery, as this might cause errors in how files are written to the card.  For running a camera processor it takes power, so don't risk a problem. Stop using the camera if getting a red signal
Conclusion
I hope that after reading the complete article regarding how to recover deleted photos from Sony camera , the given solutions will help you to recover the deleted photos from Sony Cybershot Camera.
Also, read the tips carefully to avoid photo or other data loss in the future. Although the given methods are so efficient which anyone can use them easily to get back all lost data from digital devices.
Hopefully, this article will helpful for you all.
You Might Also Be Interested In:
Taposhi is an expert technical writer with 5+ years of experience. Her in-depth knowledge about data recovery and fascination to explore new DIY tools & technologies have helped many. She has a great interest in photography and loves to share photography tips and tricks with others.