Recover Deleted/Lost Photos from DigiCam With Ease!!!
DigiCam which is also known as Digital Camera is the common and popular media to capture photos, but there are many situations when the users are found that there memorable, clicked pictures get lost or deleted due to various uncommon reasons. So, in this case make use of the one and only high-quality Digital Media Data Recovery Tool. This is the best tool to recover deleted and lost pictures proficiently.
Recover all file format photos like (JPG, JPEG, WMF, PSP, PSD, PIC, PNG, GIF, BMP, TGA, SID, QFX, TIFF, WPG etc) from different storage media.
Also retrieve various data like audios, videos from various storage media like memory cards, digital cameras, USB drives, Hard Disk drives and many others.
Get back deleted/lost/inaccessible data from the external as well internal storage media.
Restore data from various brands of digital camera (Nikon, Sony, Canon, Kodak, Samsung and many more.
Compatible with both Windows/Mac OS
Also rescue deleted or lost RAW images like NEF, CR2, CRW, DNG, ARW, SR2, ORF, MRW, 3FR, PEF proficiently.
Proficiently Retrieve Lost/Deleted Photos From DigiCam



* Free version of the program only scans and previews recoverable objects.
DigiCam, also known as digital camera is mostly popular due to its photography. This is one of the common devices for shooting beautiful pictures and videos. But due to some reasons, the photos are deleted from digicam and do not know how to restore those deleted photos. The loss of photos can be due to memory card corruption, bad sector storage etc. Therefore it is advised not to use the digicam when any indication related to battery low is seen and if it is used then the data may be lost. Even physical damage and crashing of hardware of digicam can also lead to data loss. So, how to recover the deleted photos from digicam?
Errors related to digital media loss
Many times improper way of handling the digital media may be the reason for your data loss along with some other issues. This situation may corrupt high capacity data storage media and make your important data inaccessible. However there are some errors which may lead to digital media loss.
Format error– After you connect your digital media to computer, sometimes you get an error messages "Disk needs to be formatted". This error may force you to format the entire drive which may lead to data loss.
Human errors– This is one of the common errors which occur and data loss happens. This may happen accidentally or unintentionally deletion of data from various digital devices by selecting "Delete All" option at the time of previewing or while deleting other files by pressing Shift + Delete keys from computer
Exploitation of memory card– Taking out the card from digital media when it is in use or saving data in memory when it is full can also results loss of data
Corruption of file system– File system in hard disk may become corrupt which can lead to inaccessible of files and loss of data. Even corruption may occur because of various reasons like sudden shutdown while file transfer, virus infection etc.
Transfer error– When there is a sudden power surge while transferring of data from digital devices then the data may get deleted.
Best way to Retrieve deleted Photos from DigiCam
When you lose all your important data from digital media or deliberately the data gets deleted by someone then you can Retrieve deleted Photos from DigiCam from a digital device with the help of Digital Media Recovery software for Windows/Mac. Though when the data like images, videos & audio file gets deleted from memory card, hard drive, USB drive etc then there is a chance to recover those files because those files do not gets deleted permanently. But when such data loss situation happens then it is instructed not to save any more data otherwise new data will over-write the old one and it will be impossible to retrieve the deleted data. Therefore with the help of powerful Digital Media Recovery software, it is possible to get back all the lost data from Internal & External drives, digital cameras, memory cards etc. This is powerful recovery software which can easily Retrieve deleted Photos from DigiCam such as pictures, sound, images, video, photos from digital camera and also include the undelete files from hard drive, USB drive, unformat memory card etc.
The software is 100% safe and performs the best recovery than any other software. The software is very powerful as it helps Retrieve deleted Photos from DigiCam and rescues the lost photos, audios and videos from it. It supports all types of memory card which include CF card, XD card, SD card etc and can recover any type of file of different format. It completely scans the entire storage system and search for the missing files. This is one of the success software for the revival of lost data and works for both Windows and Mac. Not only this but it also had amazing features which make this software a unique recovery platform without losing any single data from it. This software is very useful and not only for data recovery but also for restoring other data in your daily life. Therefore, this is known as one of the best and trusted recovery software and so users can rely on this software to get better results without any fear of malware attack.
Benefits of using Digital Media Recovery software
It has the ability to Retrieve deleted Photos from DigiCam like photos, videos, audios etc.
It can easily recover any type of file format from memory card, USB drive, hard drive etc.
Compatible with both Windows and Mac
Has the ability to get back the deleted data from severely or formatted storage device
Provides facility to preview the deleted data before recovering it from the device
This software supports all digital cameras, tablet, Smartphones etc.
It provide user with complete solution to rescue the lost data without any original data loss
It has user friendly GUI interface which provides user with easy navigation
Recover data from removable storage including flash drives
The application uses its powerful scanning algorithm to locate and recover the files
Supports revival of multimedia files from hard drive having memory space over 2 TB
Supports IDE, EIDE, SCSI and SATA, PAN, ZIP and USB drives
Supports FAT16, FAT32, NTFS and NTFS5 file systems to recover data
Steps to retrieve lost/deleted data from digital data
Step 1 – Install "Photo Recovery" software and launch it on your computer. Click on "Recover Photo, Audio & Video" tab to recover photos, videos and audio files from any SD card, external USB drive or computer hard drive. Connect the media to your computer and then perform the process.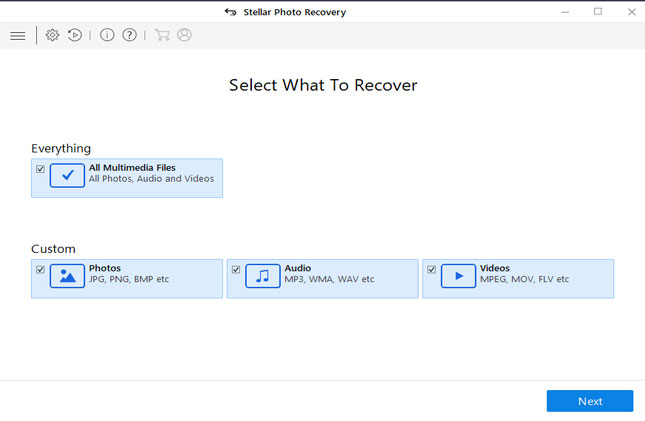 Step 2 – Select the drive from which you want to recover files. All the hard drive and external media will be shown in the list. Now select the desired drive to scan and then click on "Scan" button.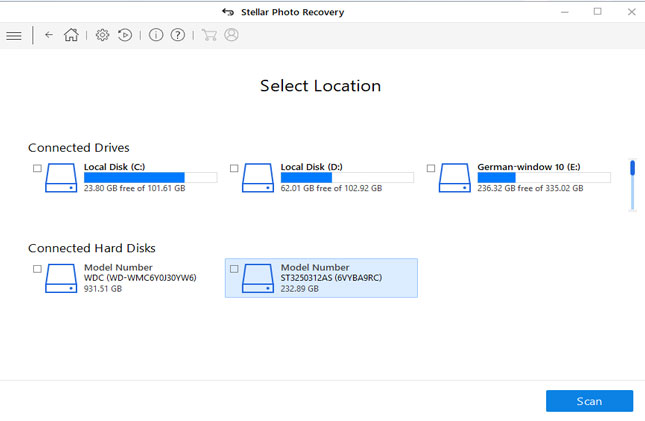 Step 3 – Once you click on "Scan" button the software will show that scanning is in progress. The software will search for all multimedia files from your selected drive or attached media.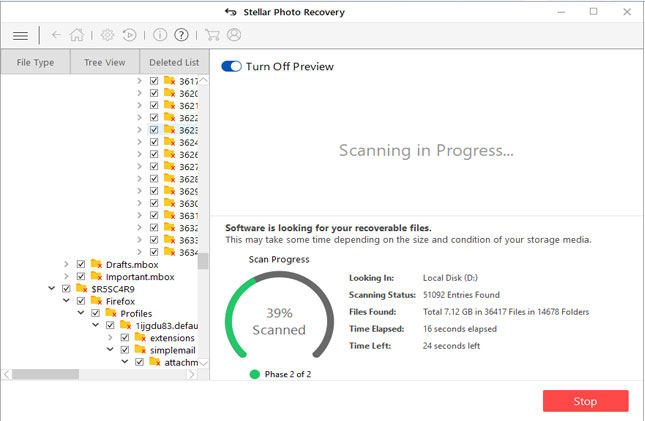 Step 4 – After scanning, all the files that are found in the selected volume, hard disk or other storage media devices are listed. You can now select the files to preview them and then you can click on "Recover" button to finally save them on your computer.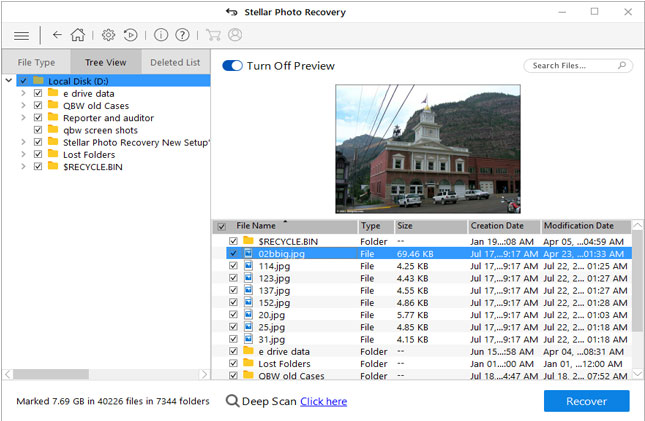 Tips to prevent data loss
There is no guarantee about the memory card, USB drive or hard drive as the data loss can happen anytime without any notification. Therefore it will be best to keep your data safe before it get lost by any mean. However mentioned below are some of the tips to avoid data loss scenarios on any storage device.
Backup your storage drive– While shooting an important event, it will be better that you use portable card reader or portable hard drive because this can backup all your data like videos, audios, images etc. In fact this process can be easy to backup the files to hard drive of your laptop or if you have a portable hard drive then it will be easy to backup all data.
Buy reliable digital device– You should never buy any product like memory card from an unknown manufacturers which is cheap. First you should know about the card that you are going to buy and select those companies which provide good product like Lexar or SanDisk. This can also help you to prevent your data from losing.
After every use, format the drive in camera– It is seen that after making several backups of the data, user format their card on computer which one should not do. Always format the memory card in camera otherwise the files will not be written to card by camera.
Backup all data on separate drive while importing– You should always backup all files while importing by simply making a second copy on different hard drive. By doing this, it will create a duplicate copy of that particular file on separate drive if your primary drive fails.
Dual memory slots– If the digital device like camera is having two memory slots then put two same cards and use backup mode with both especially at that time when it is important to shoot.
Label the cards– Buy some sticky color labels from store and use them on those cards which are already used. Just make it a habit to put labels on every card that comes from your camera. This can help you from situation where you might reuse the same card accidentally and all your data will be lost. Hence this process can be helpful to avoid data loss.