Easily Restore Deleted, Lost, Erased, Corrupted RAW MRW Photo File Format in Minutes
Summary – Have you accidentally deleted or lost your MRW image files? Is your RAW MRW photos got corrupted? Have you lost your RAW MRW photos file from your Minolta digital camera? Are you looking for an easy solution to get back those RAW photos? If yes then you have landed to the right webpage, here you will come to know about various recovery option for MRW files.
Digital Media Recovery Tool is perfect software, which will help you to:
Rescue mistakenly deleted or lost RAW MRW images
Restore accidentally deleted RAW photos from Minolta digital camera
Retrieve photos from Minolta digital camera memory card that is not accessible
Beside MRW files it also restore other image file format like SR2, CR, NEF, ORF, CR2, JPEG, PNG, BMP, GIF, PSD, etc
Also recover various videos and audio file formats
Restore MRW files from various data storage devices like Minolta digital camera, hard drive, memory cards, USB drive, external hard disk other storage media that contains the Minolta RAW MRW photos
Read-only program, 100% risk-free & user friendly interface
Undelete MRW Image File Format Effectively



* Free version of the program only scans and previews recoverable objects.
How to open MRW files?
Do you want to open MRW file, but you don't know more about this file extension, what is it for? Most of the people will try to open it by double-clicking the file. But while trying this method you will receive and error "Windows cannot open this file" or even you will get this file format related errors. If you are having such type of problem while opening the file then have a look on this article.
It may take some time to identify the cause behind it and to find a right way to open this file, it is recommended that you must use Rescue Digital Media in order to save time.
What is MRW File Extension?
This file extension is  of Raster Image Files which is used by the 'Sony (Minolta)'. It is a Raw image format of Minolta digital cameras. Raw images are basically the data which comes directly from the CCD detector of a camera.
Reasons Why Windows is Unable Open MRW Files
The most common method to open these files is very simple you just need to double click on the file and the Windows will open the files in its associated program. Usually you will not find any problem while opening these files. In the some of the cases you may receive some error messages such as "Windows cannot open this file" or other error messages when you open the these files. For opening the file properly without any error you need to identify the reason why the Windows is unable to open the file. Here are some of the reasons that lead to this problem:
The file may have been broken or corrupt.
Correct software which can open the file may not be available or it has also been corrupt on your system.
You may not have set the correct default software for opening the file.
Related entries of the file association may be invalid and are corrupt.
Software versions are not compatible with the file.
There may be viruses and malware that may interfere in opening the file.
How to Open MRW Files?
Now you came to know why the file failed to open. Now you need to follow the solution for opening the these files:
1. Make use of System Restore utility for restore your system
If you were able to open these files before but now you are not able to do so then you need to make changes to the system settings, for restoring your system to its older point you need to open the file. It is good to create a backup of your file before restoring your system.
2. Connect a file type or a protocol with the specific type of progtam
If you know what program can open the file then you can install it on your system, you can manually connect your file type with the program.
1. Open Control Panel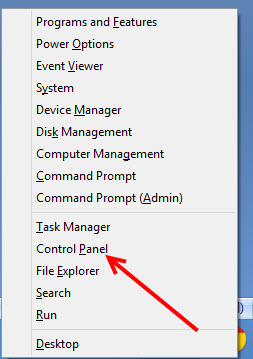 Windows 8 Users need to:
Firstly hold Windows key with X and then click on the Control panel
Windows 7 and Vista Users need to:
Firstly you need to click on the Start button and then click on the Control Panel
2. Then you need to Select the View by Large Icons and then click on the Default Programs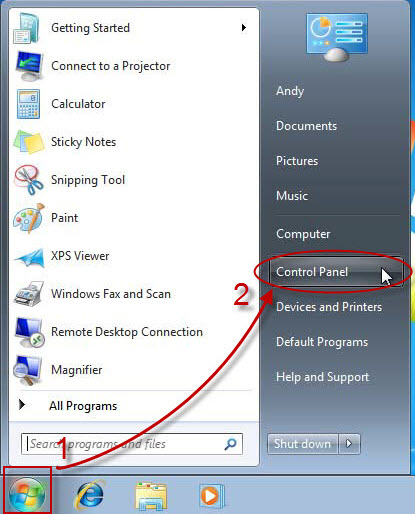 3. Then you need to click on the other file type or protocol with the specific program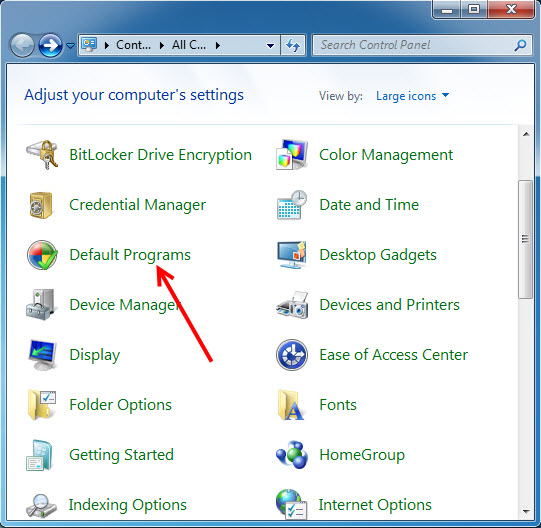 4.Then you need to Click on the file extension which you want connect to and click on the Change program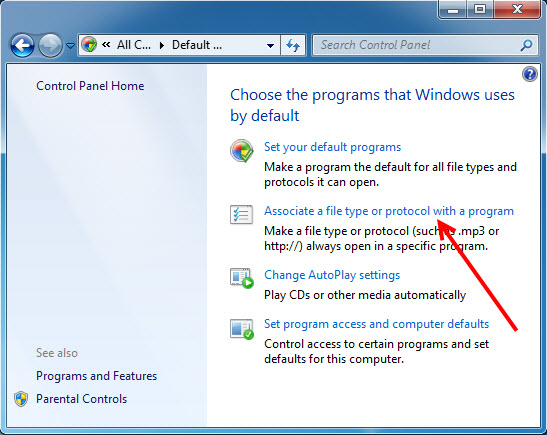 5. Then you can click to Browse for more programs. After this you need to click on the OK to save your change.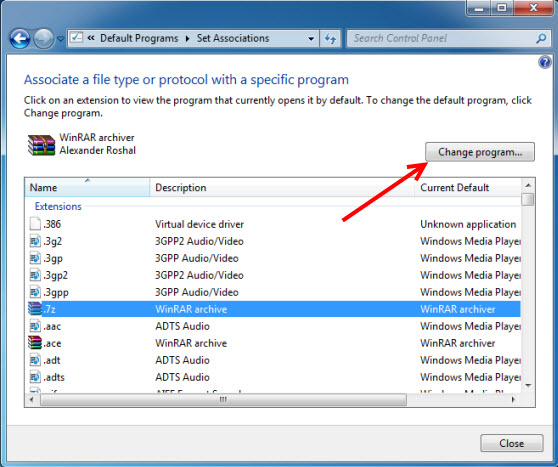 3. Program version updating
There are some of the files that cannot be opened on the older version of the program. For example the Excel 2003 cannot open the Excel 2007 spreadsheet. So you need to install the latest version of the program in order to open the file, if you know what program you need to open.
4. Fix corrupt or invalid registry entries
Registry stores all the files extensions with the program that accordingly get open as Windows knows them. If there is something wrong in the keys then Windows will fail to open those files. If you know more about your computer then only manually change the registry entries and its associated programs. But if you don't have that knowledge then you need to make use of the registry repair tool for this.
5. Scan completely your system for any computer malware
There are some of the nasty computers malware that can stop you in opening certain type of files. For example the rogue antivirus software stops all the .exe files so the system will not even ill be able to open even the legitimate files. If you even come across such problems then you need to check the file to find that whether it is safe and remove the computer malware if there are any.
Digital Media Recovery Tool To Restore MRW Files

If you are not able to identify what are the reasons that are unable to open these files then it is recommended that you need to make use of Rescue Digital Media software. It is the best MRW file recovery software which recovers photos from corrupted, damaged hard disk or missing volumes. It is able to recover lost or deleted MRW images from the formatted memory card.
Steps to  Recover deleted MRW Images:
Step 1 – Install "Photo Recovery" software and launch it on your computer. Click on "Recover Photo, Audio & Video" tab to recover photos, videos and audio files from any SD card, external USB drive or computer hard drive. Connect the media to your computer and then perform the process.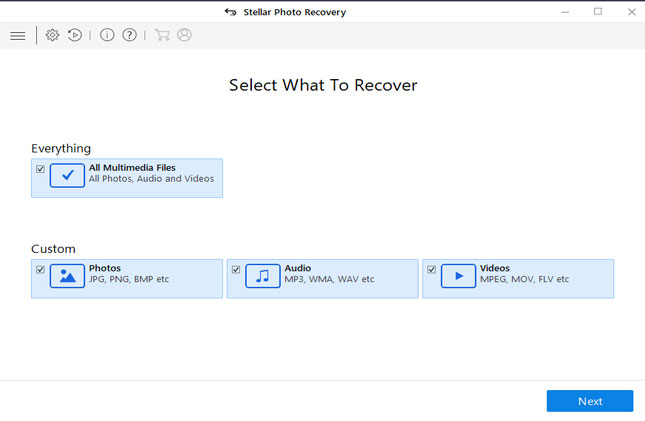 Step 2 – Select the drive from which you want to recover files. All the hard drive and external media will be shown in the list. Now select the desired drive to scan and then click on "Scan" button.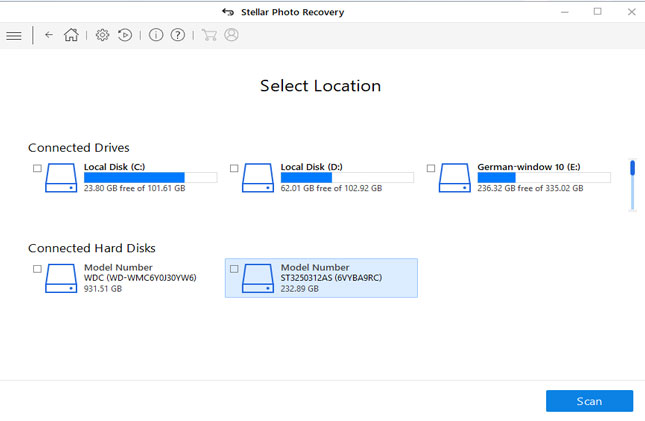 Step 3 – Once you click on "Scan" button the software will show that scanning is in progress. The software will search for all multimedia files from your selected drive or attached media.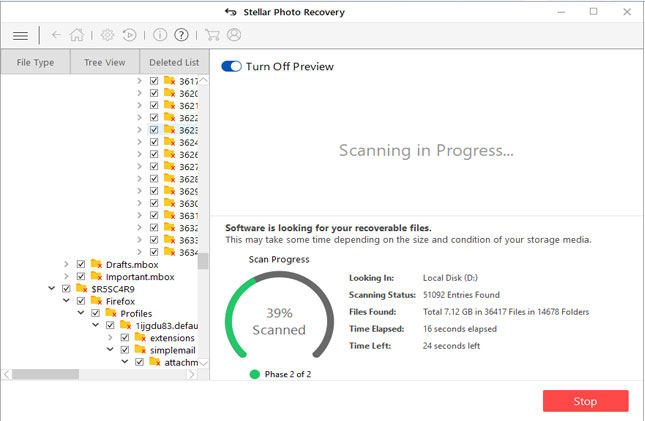 Step 4 – After scanning, all the files that are found in the selected volume, hard disk or other storage media devices are listed. You can now select the files to preview them and then you can click on "Recover" button to finally save them on your computer.