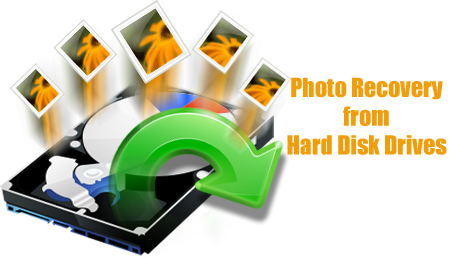 Best Solution to Retrieve Lost/Deleted/Corrupted Hard Disk DriveS Photos
There are many cases when the user's crucial data get lost or deleted due to various reasons here in this article get the one top solution to get back the deleted photos back from the hard disk drives. The best software is the HDD Recovery Tool; this is best in recovering various data. With the help of this you can recover:
Easily restore photos from internal and external hard disk drives.
Recover all file format photos from different hard disk brands like Toshiba, Kingston, Seagate, SanDisk and many others.
Retrieve high resolution RAW photo files captured by digital cameras like Nikon, Samsung, Sony, Canon, Kodak and many more.
Rescue other media formats such as audio and videos.
Recover Deleted Hard Disk Drive Photos



* Free version of the program only scans and previews recoverable objects.
Have you accidentally deleted or lost your crucial photos from your computer hard disk drive or from any external hard disk drives? Have you lost your images by formatting your computer's hard drive or external hard drives? Are you looking to restore deleted pictures from Hard Disk Drives? If "yes" then you have come to the right web page. Here, you will find out the easiest solution to restore deleted photos from Hard Disk Drives.
Whether it is internal or external hard drives, data loss can occur to both drives. Internal hard drive and external is similar, however external drive are connected externally and hence data stored on it can be carried to anywhere and one can transfer photos and other files easily from one PC to another. People these days store huge amount of data to computer internal as well as external hard drive. But as mentioned above data loss are prone to both drives. Below find out how deletion of data take place:
Know how Data Gets Lost/Deleted from hard Disk drives
Data loss in HDD or hard Disk Drive can happened due to lots of causes some of them are external and some of them are internal. According to a report, in the US more than 140,000 hard drive crash per week.
Some common factors are:
Power failure or any other power-related issues.
Shocking shutdowns that happen because of power outages or performing a hard restart.
Hardware problems or failures such as hard drive failures, bad sectors, bad RAM etc.
Corruption of Hard disk file system or partition
Accidental formatting of HDD
Hard Disk Drive data loss situation can appear because of "System Recovery Disk" and Re-installation of the Windows or Mac Os.
Computer virus or spyware infection.
Damaged or infected RAID (Redundant Array of Inexpensive Disks) configuration in hard disks configured as RAID.
Wetness or liquid diffusion in the hard drive.
Accidental removal of HDD files.
Improper installation of HDD in any system.
Tips To restore photos from Hard Disk Drives
In order to recover data from hard drive there are mainly two main methods first is manual and the second one is automatic. Manual method is for those who have some basic knowledge about computer and with the help of automatic solution any one can easily recover HDD data.
Manual:
Run a diagnostics test:
In order to dingoes the corrupt HDD you need a diagnosis tool. Some popular hard drive manufacturers provides free diagnostic tools to determine the health of hard drive.
Fujitsu, Western Digital, Seagate, and Hitachi all offer a free diagnostics software through which you can diagnose your hard disk. Simply click on your hard drive manufacturer's support page and download the latest version of the software.
For Fujitsu: http://storage.toshiba.com/storage-services-support/warranty-support/software-utilities
For Western Digital: http://support.wdc.com/product/download.asp?lang=en
For Seagate: http://www.seagate.com/support/downloads/seatools/
For Hitachi: http://www.hgst.com/support/downloads/
Scan your computer with antimalware:
Sometime due to any type of malicious infection HDD data gets hidden, why so it is recommended to scan your HDD with a professional malware killer. By doing this you can get rid of infectious spyware or adware installed on your system. Download and run antivirus protection software.
Run a disc defragmentor: 
By defragging a HDD you can optimizing your system and boost their performance as well. Why so it is recommended to Defragment your HDD in order to fix any type of performance issue.
Use CHKDSK:
Open command prompt with admin privilege and run chkdsk command in order to make sure that the HDD is error free.
Automatic solution:
In order to recover data from corrupt or inaccessible Hard Disk drive you should go through a professional HDD data recovery tool. This recovery software can easily restore all types of data stored on your hard drive with ease. This recovery software is completely safe and very powerful too, through this you can retrieve deleted images, videos and audio files  from Hard drive.
You Might Also Be Interested In:
Steps to Recover Lost/deleted data from Hard Disk Drives

Step 1 – Install "HDD Media Recovery' tool and launch it. Click on "Recover Photo, Audio & Video" tab to recover images, songs and videos files from any SD card, external USB drive or computer hard drive. Connect the media to your computer and then perform the process.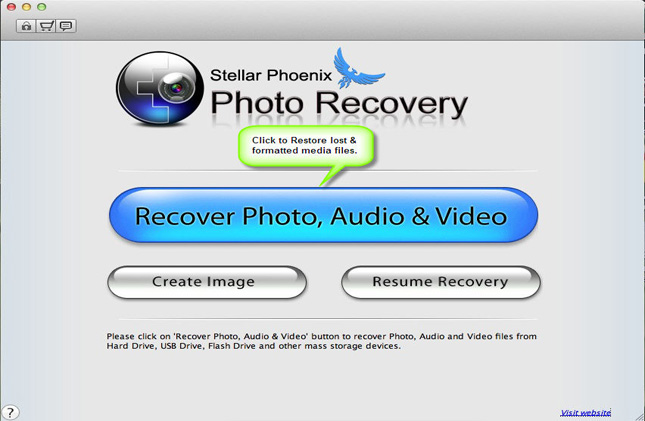 Step 2 – Select the drive from which you want to recover files. The external media will be shown in the list, if not then click on "Refresh Drive" button. Now select the desired drive to scan and then click on "Scan Now". If you want to customize the recovery on the basis of file types then click on "Advance Scan".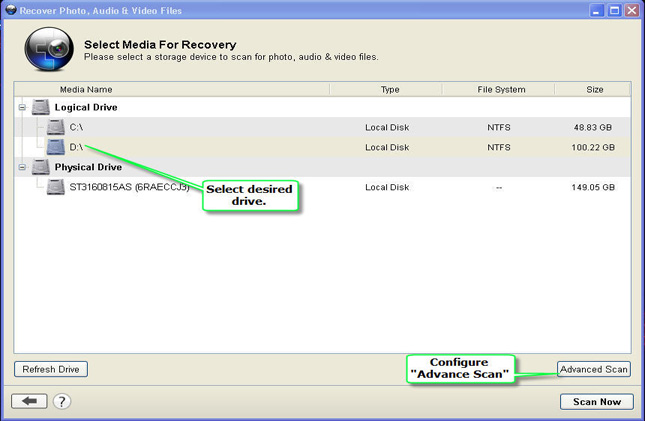 Step 3 – In the Advanced Scan you will have the option to scan as per to the file list, such as Photo, Video and audio or you can also select the data range from the storage device. This option reduces the scanning process time.
Step 4 – Once you click on "Scan Now" button the software will show that scanning is in process. The recovered files listed in a tree structure on the left side of the window panel.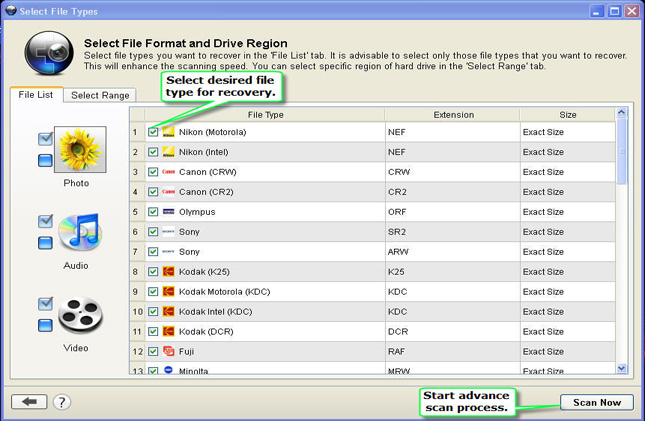 Step 5 – After scanning, you can select the files to preview them and then you can click on "Recover" button to finally save them on your computer.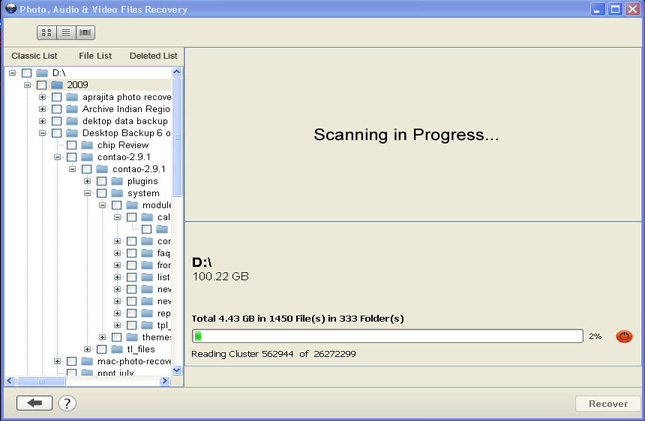 Step 6 – Select the desired location on your computer to save the recovered files. The screenshot shows that the recovered files are being saved.

Conclusion:
With the help of above given tips and tricks you can easily restore data from HDD without having any backup. Don't know how to run manual method then don't worry as you can use the given automatic solution and restore the desired data with ease.
Also like and follow us on Facebook, G+, Twitter and Pinterest to get latest updates.
Summary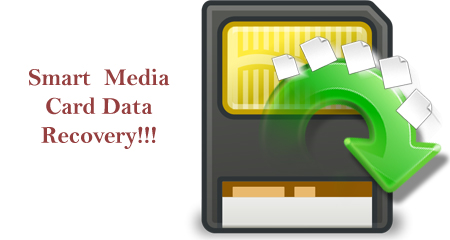 Article Name
Photo Recovery from Hard Disk Drives on Mac/Windows
Description
In order to recover lost or deleted photos from Hard Disk Drives, you will need the help of digital Media recovery tool, incase if you do not have backup of your files. It easily recovers photos, videos and audio files from Hard Disk Drives.
Author
Publisher Name
Publisher Logo