If you have come to this webpage then it is obvious that you must be looking for how to recover GIF file from external storage devices.
Well, this blog will not let you down as here you will get to know what are GIF images, what causes these files to becomes deleted. Also, you will know here what can be done to recover deleted GIF images with ease.
Let me give you first a very straight forward answer on how to restore lost GIF images from storage devices. Well, you can try GIF File Recovery Tool to get back deleted GIF images that have been deleted unintentionally.
To recover corrupted GIF files, we recommend this tool:
This software will restore data from corrupted, formatted, encrypted storage media and works in all data loss situations. Now recover your lost and deleted data in 3 easy steps:
Download this Media File Recovery Tool rated Excellent on Pcmag.com.
Select the storage media from which you want to restore the media files & click Scan.
Preview the recoverable files, select the items you want to recover and click Recover to save the files at desired location.
Well, now it is obvious that you would like to know its user guide but before I proceed further, let us first know what are GIF images what are its causes for deletion.
What Are GIF Image Files?
Graphics Interchange Format (GIF) is an old and the first image format, introduced to meet the need of the World Wide Web. It is compatible with any browser and can preserve the animation file. It also stores logos or graphical images.
Unlike the JPEG file format, GIF uses lossless compression that does not hamper the image's quality. This image file used to store data using indexed color which means a standard GIF image can include almost 256 colors.
GIF images are well suited for banners and buttons on the website as these types of images do not actually require several colors.
How Unnecessary Deletion Takes Place
There could be several reasons for deletion of GIF images, however, some of them are as follows:
Sometimes the user deletes the file from the system and wants it later.
It happens that while transferring the GIF files from one source to another source, and in midway, the user interrupts it, due to, which the file does not point in any of the locations.
Image file gets corrupted.
Sometimes the GIF files are infected by the virus, and the user cannot access it.
How To Recover GIF Files?
As I have already explained that GIF File Recovery Tool is the best option you can try to restore deleted GIF images, so you need not worry, just try it.
Let me make it very clear that I am recommending you to use this tool because it has lots of features that make this tool outstanding. The best thing about this tool is that it is compatible with both the platforms, i.e., Windows as well as Mac.
GIF File Recovery Tool will recover all the images that have been lost or deleted from any storage device like the external drive, hard drive, iPod, etc.
This tool will help you to:
Recover different file format images like TIF, TIFF, PNG, JPG, JPEG, PSD, BMP, etc
Other than photos get back different file format audios, videos files easily
Restore different file format pictures and RAW image files from memory card, flash drive, iPods, hard drives, etc.
Retrieve data from different brands of a camcorder, cameras, iPods, mobile phones and digital devices.
Get back RAW images files (NEF, CR2, CRW, DNG, ARW, SR2, ORF, MRW, 3FR, PEF)
emid

emid


* Free version of the program only scans and previews recoverable items.
It would first scan the drive to recover .gif files, once the recovery is complete it will show the result on the File type view and the Data View.
It shows those files before they were lost. In the File type View, the files are arranged according to the file extension and in Data View, the files are arranged in the form of Hierarchy.
Now, let's have a look at the steps to recover GIF file with ease……
Step 1: Select Desired Location
Firstly, select the drive, external media or volume from which you want to recover deleted media files. After selecting, click on 'Scan'.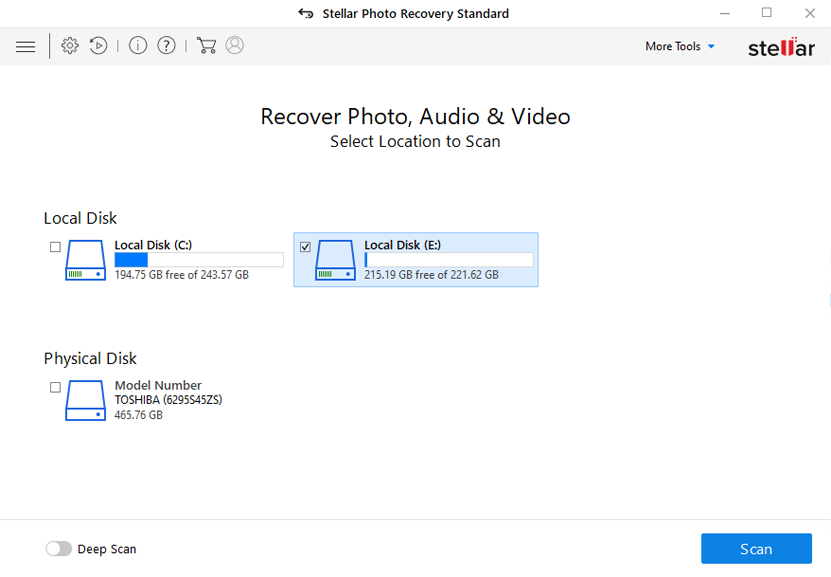 Step 2: Preview Recovered Media Files
Next, you can preview the recoverable media files after the scanning process is completed.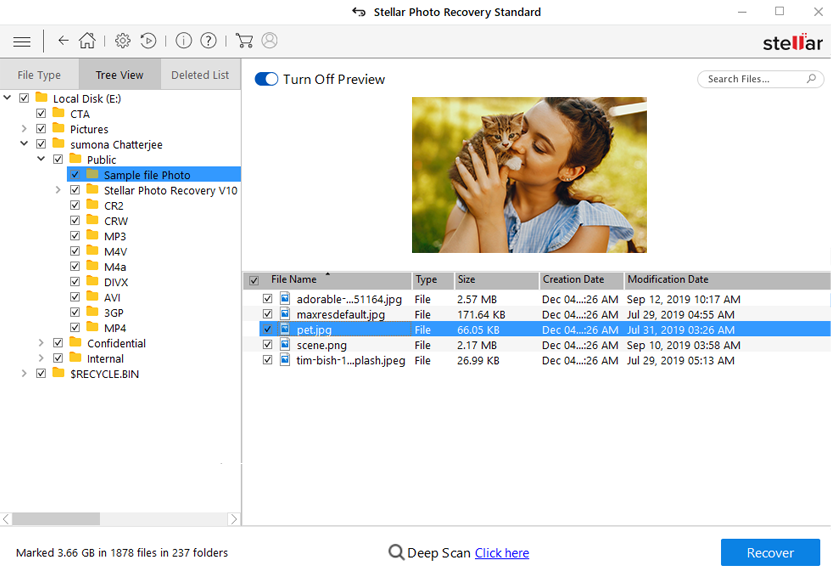 Step 3: Recover Media Files
Lastly, you can select the images, audio, video files you want to restore and click on 'Recover' option to save them at the location you want.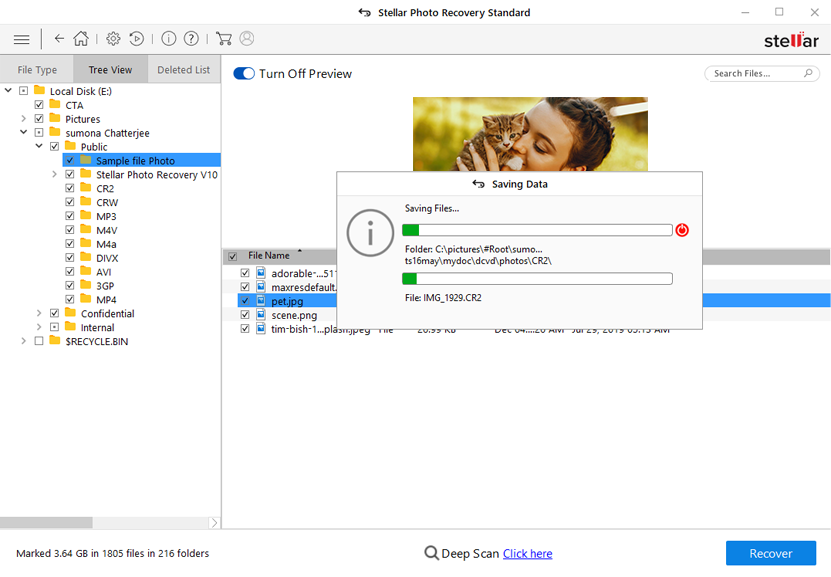 Other Working Alternatives To Recover Lost GIF Images
Solution #1: Recover Lost GIF From Backup
If you are used to keeping backup on your system then it is suggested that you should recover GIF file from the recent backup.
The method of recovering a deleted file could be different depending on the way you create backups. For example, if you have created a manual backup then you have to just navigate to your backups folder and directly copy the GIF images you want.
However, if you use a tool to create backups then you can use the same tool to restore deleted GIF images.
Here, you can go through the steps to recover GIF images From Windows and Mac backup respectively:
Restore Backup From Windows PC:
Step 1: First of all, you have to open Control Panel on the Windows PC.
Step 2: Next, you are required to navigate to System and Maintenance and then Backup & Restore Section and then click on 'Restore my files' option.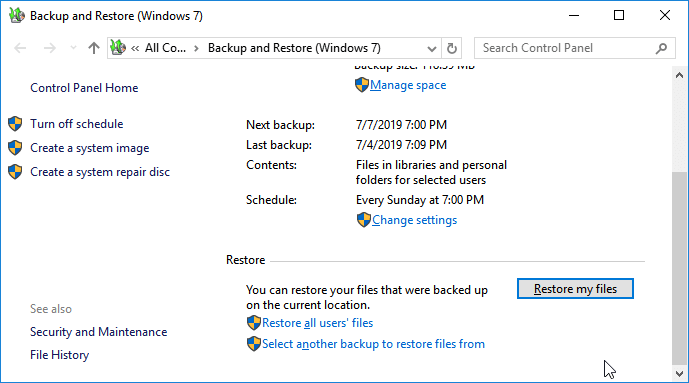 Step 3: After this, you are required to 'Browse for files' to select the GIF images you want to restore.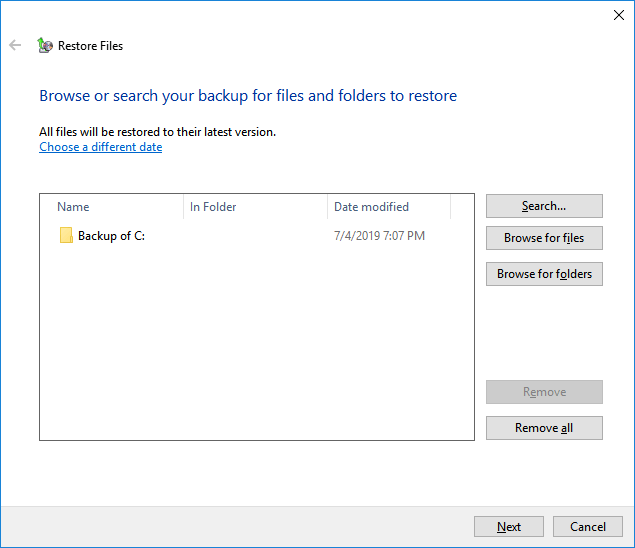 Step 4: Lastly, you have to navigate to a folder to restore the backup. Now the restoring process will start.
Restore Backup From Mac

:
Step 1: First of all, start your Mac PC and while the startup disc is waking up, you need to hold down the Command and R keys together. Your Mac system will then boot into macOS Utilities, if it doesn't start booting then try again.
Step 2: Now, you have to click on Disk Utility and then click on Continue.
Step 3: Next, you have to select the Mac's hard drive and then click the Restore tab you can find on the top of the Disk Utility.
Step 4: After this, you have to select the external hard drive that your cloned backup is stored next to the 'Restore From'.
Step 5: Now, you are required to select the Mac's hard drive just next to 'Restore to' and then click on Restore.
After performing these steps, your Mac system will restore the cloned backup and after restoring, restart the system again.
However, if you want to install a bootable backup on your Mac PC then you have to hold down the Option key while restarting the Mac system. Next, select the clone form the external hard drive in the portioned hard drive.
Solution #2: Recover GIF File From Previous Version
This option is applicable for only Windows 10 users. This system copies the previous version of the files as s backup when the files are updated. If you have enabled this feature then you can simply restore the previous version of the GIF files to recover them. To do so, follow the steps below:
Step 1: You need to first navigate to the folder on your system where the GIF images were stored before they got unintentionally deleted.
Step 2: Next, you are required to right-click on the folder and then simply click on 'Restore previous version' from the menu.
Step 3: After this, just follow the on-screen instructions to select the images you want to restore and then click on 'Restore' option.
Tips To Prevent Deletion Of GIF Images
After losing important GIF images from your storage device, it is very much important to remember some useful tips which can help you to avoid data loss in the future. Some of the tips are mentioned below:
Use some reliable power source which can help your system prevent from sudden shutdown
Never use any digital device when its battery is low
Before formatting, check your storage device at least two to three times
Always make a backup of all your important files or folders so that it can help you in the future when any data loss situation happens.
If you are using an SD card which is virus infected then make sure that you remove shortcut virus from SD card as soon as possible.
Never avoid any type of warning message because this can also be the reason for data loss
Before deleting any files, just be sure of what you are selecting and what you are deleting
Time To Conclude
If you have accidentally deleted or lost saved GIF images on your external storage devices then it is better if you try the above-mentioned methods. However, with the help of the GIF File Recovery Tool as mentioned-above, you can easily recover lost GIF images from external storage devices.
Also, if you have a backup of those GIF fields that have lost unintentionally then make sure that you restore from there only using the above methods.
I hope this blog will be helpful for you and let you get back GIF images with ease.
Alex is an expert technical writer with 7+ years of experience. His in-depth knowledge about data recovery and fascination to explore new DIY tools & technologies have helped many. Alex has a great interest in photography and loves to share photography tips and tricks with others.