Have you lost or mistakenly deleted your precious Samsung RAW SRW image files? Do you want to restore it back? Looking for a solution to restore Samsung RAW photos but still didn't get the perfect solution? If all these questions your answer is 'yes' then no need to worry at all because you have come to the right place.
Here in this blog, you will get complete information about SRF image file format, reasons for the deletion of Samsung RAW files, and also the possible solution on how to recover deleted Samsung RAW SRW image files.
But before I discuss further information, I would like to provide you a straight forward answer to your query. You can use the SRW File Recovery Tool to perform RAW file recovery with ease.
To recover deleted SRW files, we recommend this tool:
This software will restore data from corrupted, formatted, encrypted storage media and works in all data loss situations. Now recover your lost and deleted data in 3 easy steps:
Download this Media File Recovery Tool rated Excellent on Pcmag.com.
Select the storage media from which you want to restore the media files & click Scan.
Preview the recoverable files, select the items you want to recover and click Recover to save the files at desired location.
Well, in the below section of this blog, you'll get its user guide. After finishing the Samsung picture recovery process, you will get all the recovered SRW image files in your preferred folder.
Now, I am going to discuss a practical scenario faced by a user who got this issue.
Practical Scenario
Restore deleted raw files from card

Hello, I accidentally removed some raw files from my sd card. Tried some softwares and none could restore them back. It seems to be missing some bytes from the header… They recover all JPGs in the card and one raw that wasn't removed using windows. There is a program that plays nice with SRW?

                                                    – Original Post from Forums: DPReview
What Is SRW Image File Format?
SRW is a RAW image file format that is used in Samsung Digital cameras. Samsung RAW SRW image uses .srw filename extension. This raw image file format is not compressed or processed which is captured from the camera sensor. Later you can modify the SRW image and make it to another image file format like JPEG, PNG, TIFF, BMP, etc on your camera or PC.
However, there are various reasons due to which Samsung RAW SRW image files get deleted or lost. And when you face such kind of situation then, you can use Photo Recovery Software that I have mentioned above to solve the Samsung RAW SRW recovery problems.
But before knowing the effective methods on how to recover RAW files from formatted SD card, it's very important to know the reason behind your issue. Hence, below I am going to mention the most common reasons for the deletion of Samsung RAW SRW file.
Reasons For Deletion Of  Samsung RAW SRW Image Files
There are various situations where users encounter loss of RAW SRW image files from their Samsung digital camera. Some of the common reasons are mentioned below:
Formatting Samsung Camera Card – Whenever corruption occurs in a memory card inserted within the Samsung camera, then it forces you to format the card so that you can use it again as normal, but after formatting the card, the entire data gets erased, including SRW RAW image files.
Corruption – If there is any type of damage in the Samsung camera then all the files become inaccessible and hence the data gets lost, even your RAW SRW photo files. Corruption can be due to virus attack or due to improper shutdown of the camera and many more.
Accidental deletion – While deleting unwanted files, you may accidentally select some of the important photos, including SRW RAW images on your digital camera and delete them. This may happen frequently which may result in photo loss.
Improper removal – After plugging the Samsung camera to the system, if anyone removes it without using the 'safe remove' option or if there is any interruption while SRW file transfer, then a loss of files may happen and makes your camera card unreadable.
In any of the above-mentioned scenarios, you will encounter the loss or deletion of RAW photos from the camera. But the good news is that you can easily get back lost or deleted RAW images with the help of the below RAW photo recovery solutions.
How To Recover Deleted/Lost Samsung RAW SRW Photos
In order to restore lost, formatted or corrupted Samsung RAW SRW photos from Samsung camera is to use  SRW File Recovery Tool, which is perfect SRW photo recovery, it will allow you to scan your Samsung camera and retrieve all SRW as well as SRF RAW images, photos, videos files from Samsung camera card.
The Samsung RAW SRW photo recovery software also restores other camera RAW images such as ORF, NEF, SRF, CR2, MRW, SRW, CRW, PEF, ERF, RAF, ARW, RW2, NRW, etc). It also helps you to recover files from digital camera.
This RAW photo recovery software for Samsung camera also retrieves photos from other cameras such as Sony, Canon, Nikon, Samsung, Toshiba, Olympus, Panasonic, Sigma, Pentax, Kodak, Fujifilm, etc.
I am saying this because, with the help of this recovery tool, one can:
Efficiently retrieve deleted, lost, missing, formatted, erased Samsung RAW SRW photo files
Also support recovery of other digital camera RAW image file formats such as Nikon (NEF), Fujifilm (RAF), Canon (CRW & CR2), Sony (SRF), Pentax (PEF), Kodak (DCR), Leica (DNG), Sigma (X3F), Olympus (ORF), Panasonic RAW image, Toshiba RAW image, etc
Also, restore video recordings and audio files from various digital cameras and camcorders
Recover SRW files from various memory cards such as Samsung SD cards, MMC card, xD picture card, microSD, miniSD, TF card, CF card, etc
Recovery software is available for both Windows and Mac users
Read-only program, 100% clean, safe & easy to use
emid

emid


* Free version of the program only scans and previews recoverable items.
The software comes with a user-friendly interface and hence anybody can easily operate it. Another best thing about this software is that you can easily preview the recoverable SRW RAW pictures within the software before you proceed further to save them on your system.
Note: Stop using your Samsung Digital Camera from adding any new data on it. Adding new files will overwrite the existing data and hence you will lose the chances for recovery.
Below are the steps to use this software to recover RAW files from SD card.
Step 1: Select Desired Location
Firstly, select the drive, external media or volume from which you want to recover deleted media files. After selecting, click on 'Scan'.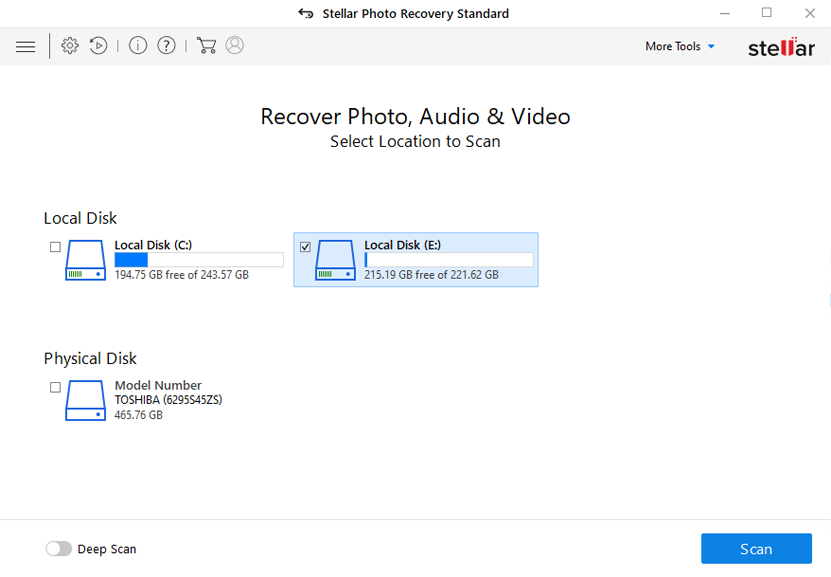 Step 2: Preview Recovered Media Files
Next, you can preview the recoverable media files after the scanning process is completed.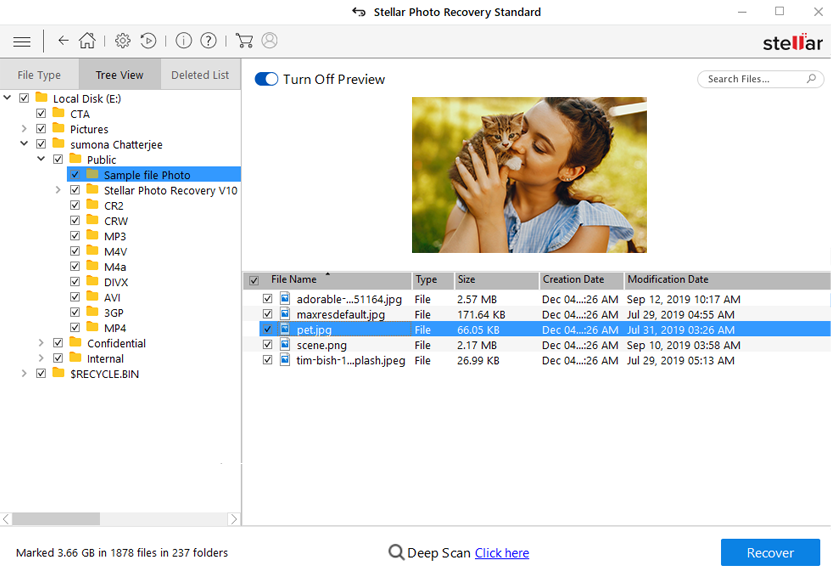 Step 3: Recover Media Files
Lastly, you can select the images, audio, video files you want to restore and click on 'Recover' option to save them at the location you want.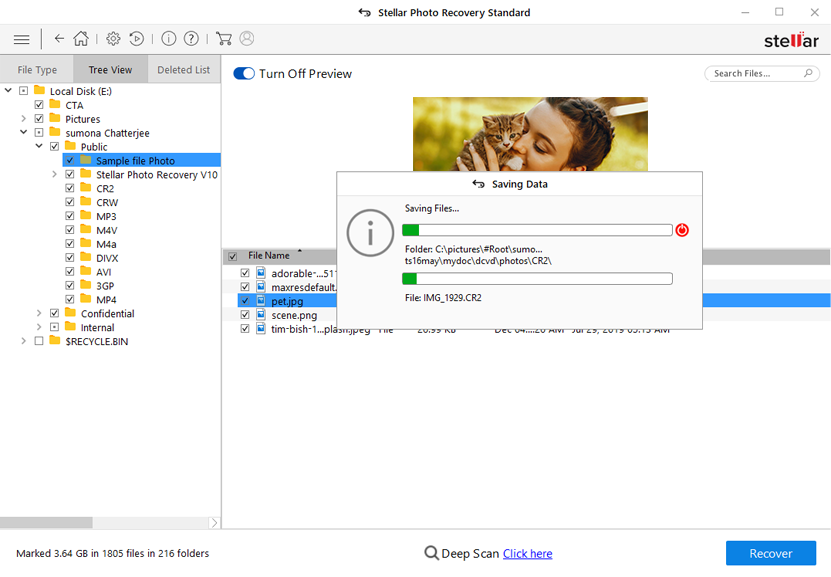 Other Alternatives To Recover Deleted RAW SRW Files
Solution #1: From Backup
Many users have a habit of keeping backup files. So, check your other hard drive, portable hard drive, memory cards, memory sticks, etc for your 3G2 files.
So, that if you have a backup of your files then you can easily get back all your important images, audio or video file formats from it easily. Therefore, it always suggested keeping the backup of your files.
Solution #2. Restore Hidden RAW SRW Photos
Sometimes it happens, SRW photos get hidden when virus/malware infects Samsung camera or memory card in which you have saved .srw photos. The virus may hide your files. So, below find out the steps on how to recover hidden .srw image files:
Connect Samsung Camera or its Memory Card to PC.
Open Windows Explorer. Go to Tools > Folder Options > Go to View
Now check "show hidden files, folders and drives" and uncheck the option "Hide protected operating system files" and finally click on OK to save all the changes made.
You can now check for SRW image files.
Helpful Suggestion:
While deleting any unwanted SRW RAW images from Samsung camera, double-check them that you do not want it again.
Make a habit of keeping backup files for RAW SRW photos in two other storage devices.
Stop using memory card in multiple gadgets that you are sung in Samsung digital camera.
Conclusion
Well, there are several reasons for the RAW SRW file deletion. But after reading this article, I hope the specified ways to your query will provide you the best resolution to perform RAW photo recovery from camera.
The above-given solutions are easy and very simple to restore deleted or lost SRW and SRF RAW images of Samsung camera. Without wasting time, you can directly use SRW File Recovery Software for recovering SRW and SRF RAW images of Samsung camera without any trouble.
Thanks for reading this blog…
Alex is an expert technical writer with 7+ years of experience. His in-depth knowledge about data recovery and fascination to explore new DIY tools & technologies have helped many. Alex has a great interest in photography and loves to share photography tips and tricks with others.