Sony Xperia Photo & Video Recovery: Restore Photos and Video Files from Sony Xperia Phones!!!
Summary – In order to retrieve deleted or lost photos and video files from Sony Xperia phones, you need to first stop using your phones from adding any new data on it, this make sure that your deleted photos and video remain there and not overwritten by new files. After this, apply Digital Media Recovery Tool, this will help you to regain back your images and video files from Sony Xperia's SD card.
With the use of this effective recovery tool, you can:
Easily rescue deleted videos (mp4, 3gp, avi, mov, mkv, divx, xvid, wmv, flv, etc) and image files (jpg, jpeg, png, bmp, tiff, tif, gif, etc) from Sony xperia memory card
Support recovery from all Sony Xperia phones including Z5 Premium, M4 Aqua, E4g, M2 Aqua, Xperia Z, T3, Z2, M2, T2 Ultra, etc and all Xperia Tablets
Also support recovery of videos, photos and audio files from various phones and tablets such as Samsung, HTC, LeEco, Mi, LG, Lenovo, Micromax, Oppo, Vivo, Panasonic and many more
Recover deleted media files from various memory cards, hard drive, USB flash drive, digital cameras & camcorders, memory sticks, pen drive, external hard disk, etc
Preview recoverable photos within software before you proceed to save them on your PC
Read-only program, 100% clean, safe & easy to use
Rescue Lost Photos & Videos from Sony Xperia in Few Simple Steps



* Free version of the program only scans and previews recoverable objects.
Sony Xperia is such a great phone with superb camera quality, its camera is able to give you DSLR quality photos and HD quality videos. All the images and videos captured by this device are stored in SD card by default, which is excellent in conditions of deleted photo and video recovery. This system works on a latest android system an so that it is almost impossible to recover deleted images and videos from Xperia z's internal storage, but when we talk about the Sony Xperia's SD card then it is easy to recover through any tool.
When your photos get deleted from your device unintentionally or by pressing delete all option then Sony Xperia not removes all the contents immediately and data still present on your memory card. It available on the memory card until you overwrites it with other data.
The Sony Xperia Photo recovery is very simple if you have a backup of your all deleted content, this makes your recovery task very easy because this backup file is easily restore by connecting to your computer. But what when you doesn't have any recently created backup file? Photo recovery is one of the big issues of digital life. There are many tools are available to do this type of recovery but all are not supports Sony Xperia devices.
Some precautions are given that avoid Photo and video corruption or Deletion in Sony Xperia, learn them carefully and protect your precious data from corruption.
Avoid connecting Xperia's SD card with infected system: When you want to transfer your data from SD card to any computer then avoid connecting memory card with any virus infected computer system. Because computer malware or virus is easily destroy your memory card data. Virus attack or infection can make a memory card defective and sod that your precious data become inaccessible. So it is recommended that always connect SD card with any healthy computer.
Always use a strong antivirus program: If you regularly connect your phone's SD card with your personal computer then make sure that the antivirus program of your computer is strong and updated. Through this you can protect your computer data and other removal drives data from virus infection. If you have any outdated antivirus program then update immediately and run a whole system scan. After making sure that your computer is safe then connect card with it.
Remove SD card Safely: If you connect your SD card with virus free computer then there is no guarantee that your data is safe because improper use or operation can affect the memory card very dangerously and make it inaccessible. After completing the data transferring process it is necessary that you remove memory card by applying proper safely removal method. All OS provides you a safely removal method to remove any removal drive. Along with computer this option is also available on your mobile, so when you want to remove memory card from the Xperia then apply safely removal option.
Avoid using mobile in Low battery: Low battery situation is very dangerous for your mobile data and other application of your Smartphone. Because of low battery your mobile gets unable to process your requests and so that incomplete process harms your related data. Take an example you capture an image in low battery and due to low battery your device gets shutdown, when you start it after charging to see the captured image then it display corrupt image icon. So to avoid this type of situation immediately stop executing anything on this phone when it display low battery warning.
How to Recover Photos and Videos from Sony Xperia?
To do this type of recovery there are many types of tool is available that able to give you perfect result, but among them a recovery tool is present called Sony Xperia photo and video recovery tool. This tool is specially designed for this type of Smartphone and able to give you exact output.
This software is very powerful and it provides very simple user interface to the user, so that one can operate this tool and recover their precious Sony's phone data without any trouble or error. No one needs any user manual to operate this tool because it is full with graphical instruction. This tool is also recommended by many professionals so download Sony Photo Recovery software and restore deleted Photos and videos.
You might Also Be Interested In:
Steps to recover lost or deleted photos from Sony Xperia SD card
Step 1 – Download and Install SD card recovery software and launch it.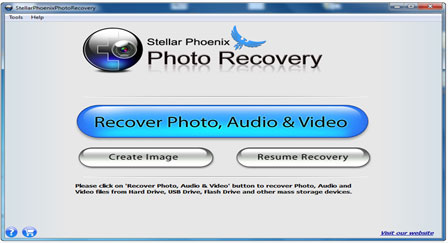 Step 2 – Connect your Xperia's SD card by using card reader. and data cable. Select your SD card and then click on Scan Now tab.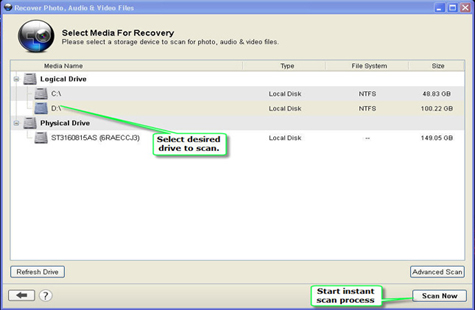 Step 3 – Preview the recovered files and select the photos,videos which you want back and click on Recover button.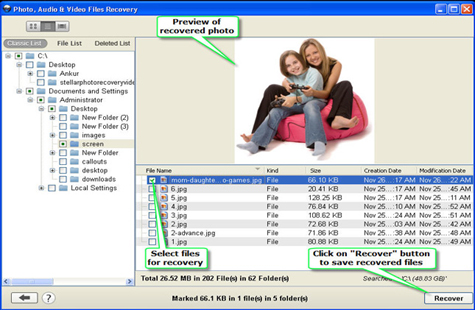 Step 4  – Choose the desired location on your system to save the photo files.