Get Back Deleted, Lost, Erased WMV Video Files In Easy Steps!!!
Summary – If you have lost or deleted your WMV videos from your data storage devices like hard drive, memory cards, USB drives, etc and if you want to restore it then you can potentially recover it with the help of Digital Media Recovery Tool. It is specifically designed to restore almost all types of videos file format.
 With the use of this recovery software, one can:
Rescue deleted, lost, erased, missing, formatted, corrupted WMV video files
Beside WMV videos, the software also restores other video file format like AVI, MPEG, MOD, ASF, MOV, 3GP, VOB, MTS, MP4, TS, etc
Apart from video file format, it also retrieves various photos and audio file format
Support media file recovery from computer hard drive, mobile devices (smartphones and tablets), digital camera or camcorder, Memory card (MicroSD card, SD mini, SDHC, SDXC), USB drives, etc
The software is available for both Mac and Windows users
Read-only program, 100% risk-free & easy to use
Download WMV Video Recovery Tool To Restore Deleted WMV Videos



* Free version of the program only scans and previews recoverable objects.
WMV or Windows Media Video file. It is a compact video format developed by Microsoft. And it is mostly used in Windows computers, digital cameras, iPods, PSP, mobile phones and many others for saving recorded videos files. And the WMV video files are frequently combined with the audio streams like Windows Media Audio (WMA) for high-quality videos. Since these are Windows files and it can also be played on Mac platform.
These WMV files are mostly used because it gives the high videos format and people prefer it for recording memorable videos in webcam, digital cameras and mobiles also. But it may happen that the recorded videos get accidentally deleted or might get corrupted. It is the common problem one can face it in any faces which are also described below. So the main thing is what if your precious or memorable videos get deleted or corrupted. What will you do? How to recover those videos? You might get panic or tense. But just Relax as you can do nothing by getting tensed, you have to recover those videos and luckily the recovery option is available. As the deletion is not permanent the deleted videos are wiped from there and stored in some other place. So by taking help of the recovery tool you can easily recover the deleted video files. Until or unless the deleted video files are not overwritten by new file content, so avoid making use of that particular drive. But moving further first know the common cause of the deletion of files
Common Reasons for deletion or loss of WMV video files are:
Accidental Format: It may happen that while deleting some of the selected photos, you by mistakenly format your Windows hard drive or storage drive
Error while transferring: Unexpected system shutdown or connected drive removal while transferring videos to PC.
Corruption of drive: corruption of hard disk or memory card due to a virus or other malware infection.
Other Reasons: Software malfunction, physical problems with storage media, bad sectors, etc are other reasons
Anti-Virus Program: The antivirus application installed in the PC may delete valuable files along with the corrupted data.
Recovering Deleted or Lost WMV Video Files:
The WMV File Recovery Tool helps you to recover your deleted WMV files from the hard drive, webcam or digital camera. It is a professional and powerful utility that is designed to recover videos files from external hard drive and other storage media also. With the help of this you will be able to restore deleted, erased, missing and lost images (RAW, JPEG, PNG, BMP, TIFF, GIF etc), videos (video songs, movies) and audio files (mp3, music files and audio recordings) from external hard drives or other storage media. You can also use this tool to recover media files from memory cards such as SD card, microSD card, SDHC card, MMC card, CF card, SDXC card and pen drive. This tool is available for both Windows as well as Mac users. So make use of it by downloading it and following easy steps.
Steps to recover Deleted WMV files :
Step 1 – Install "Photo Recovery" software and launch it on your computer. Click on "Recover Photo, Audio & Video" tab to recover photos, videos and audio files from any SD card, external USB drive or computer hard drive. Connect the media to your computer and then perform the process.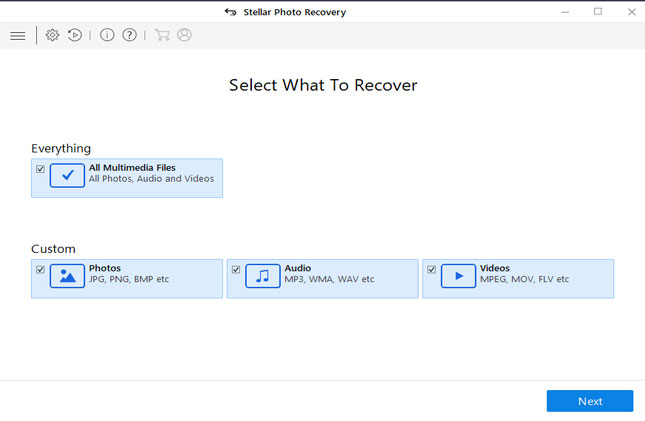 Step 2 – Select the drive from which you want to recover files. All the hard drive and external media will be shown in the list. Now select the desired drive to scan and then click on "Scan" button.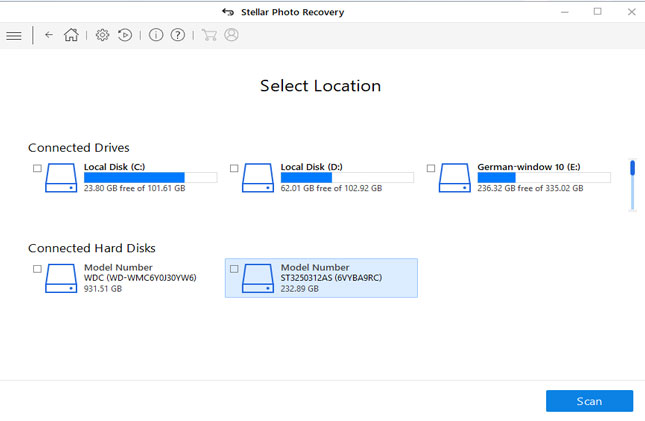 Step 3 – Once you click on "Scan" button the software will show that scanning is in progress. The software will search for all multimedia files from your selected drive or attached media.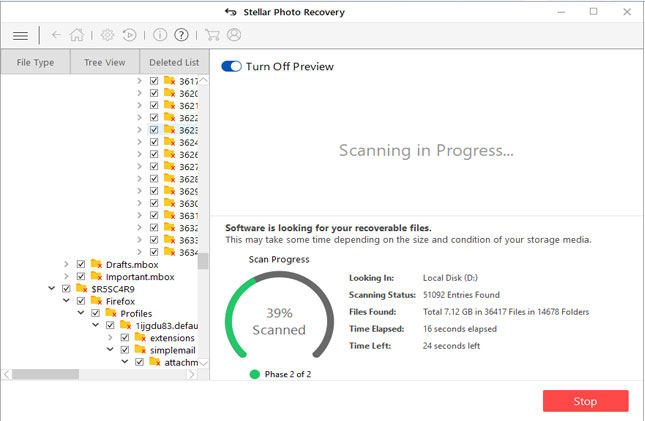 Step 4 – After scanning, all the files that are found in the selected volume, hard disk or other storage media devices are listed. You can now select the files to preview them and then you can click on "Recover" button to finally save them on your computer.