No doubt, if you are browsing this page then you must be looking for the solution to recover deleted M4V files. So, continue reading this blog. Here you'll get to know-what is M4V file format, what are the reasons for deletion of M4V files and also the solutions on how to recover deleted video files.
But before proceeding for further information, I would like to suggest a straight forward solution which is to use M4V File Recovery Tool. I am recommending this tool because it will help you to:
Retrieve deleted or formatted M4V video files from hard drive
Beside M4V video files, this software also restores 3GP, MP4, XviD, MKV, MOV, WMV, VOB, MTS, and many more
Apart from video files, it also recovers deleted pictures and audio file formats.
Support recover files from corrupted SD card, portable hard drive, external hard drive, digital video recorder, MP4 player, portable media player, digital cameras and camcorders, memory cards, USB drives, etc
This software is available for both the Mac and Windows users
Read-only program, 100% risk-free & easy to use.
emid

emid


* Free version of the program only scans and previews recoverable items.
Now, I know that you must be looking for its user guide, but before that, I am going to discuss the M4V file format and it's common reasons behind the M4V file deletion.
M4V Video File Format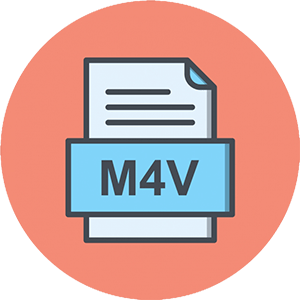 M4V file format is a video file format that has been developed by Apple and it is nearly identical to the MP4 video files. A file format with the .m4v file extension is actually an MPEG-4 video file or sometimes it is said to be an iTunes Video file.
M4V files may be protected by DRM copy protection. M4V file is used by Apple to codec video files like movies, TV episodes as well as music videos in its iTunes Store. The M4V file's copyright may be protected with the use of FairPlay DRM copy protection of Apple.
The computer needs to be authorized to play a protected M4V video file with the account that was used to purchase the video.
However, the DRM protected M4V files can also be played on the iPad, iPhone or iPod directly touch that purchased the video. M4V video files that are not protected with some restrictions can be opened in MPC-HC, VLC, MPlayer, QuickTime, Windows Media Player, and other media players.
M4V – Characteristics And Its Uses
The M4V file consists of a sequence of chunks. Each chunk has an 8-byte header. The first chunk id of type "type", and subtype "M4V_" at offset 8. However, the next chunks must have any of the following signatures: "mdat", "pnot", "ftyp", "uuid", "udta", "moov", "skip", "load", "matt", "crgn", "chap", "ssrc", "jP2", "PICT", "imap", or "PICT". The M4V file is obtained by iterating chunks until an unknown type is detected.
M4V files can contain closed subtitle tracks that are tagged with some special metadata. All such subtitles can easily be recognized and decoded by QuickTime iTunes, iPod touch and iPhone.
Apple uses this file format in movies, TV episodes and music that it sells via the iTunes Store. The major advantage of MP4 and M4V file format is the higher definition paired with the smaller storage space.
Programs That Open M4V Files
Windows

:
PCF Miro
File Viewer Plus
Nullsoft Winamp
Media Player Classic
Microsoft Windows Media Player
Corel VideoStudio Pro X8.5 Ultimate
VideoLAN VLC media player
Mac

:
Apple iTunes
Eltima Elmedia Player
Apple QuickTime Player
ShedWorx Smart Converter
VideoLAN VLC media player
Linux

:
PCF Miro
VideoLAN VLC media player
Web

:
iOS

:
Apple Music
PentaLoop PlayerXtreme Media Player
VideoLAN VLC for iOS 2
Few Reasons For M4V Video Files Deletion 
Below are some of the major causes that lead to M4V video file deletion unexpectedly:
Unintentional/Intentional Format: M4V video files can be stored on flash drives and media cards as well. However, because of some reason, it may be possible that you format the flash drives or media card intentionally or unintentionally and as a result, you may lose complete data you have stored on it which also includes M4V files.
Inadvertent Erasure: Sometimes it happens that while deleting or erasing some unwanted files from your storage media, you may also select a few of your important M4V video files inadvertently and click on delete operation.
Interrupted File Transfer: While you transfer M4V file from an external storage media to the system, sometimes if any type of interruption like inappropriate removal of external drive, abrupt system shutdown, etc., can lead you to loss of M4V file.
Other Causes: Apart from the above causes, few other causes of unintentional M4V video file deletion occur due to virus attack, presence of bad sectors on the storage devices, damaged the flash drive or storage media card, running unreliable third-party apps, file system corruption, etc.
These are some of the major causes that lead to unintentional M4V video file deletion. However, you can easily restore deleted M4v video files with the help of the below-mentioned solutions.
How To Recover Deleted M4V Video Files
Well, when it comes to the M4V file recovery, I can assure you that using M4V File Recovery Tool is the best option. This tool provides you the best features that enable you to recover lost M4V video files in just a few steps.
This video recovery tool is very easy to use and you don't even need any technical knowledge to perform the steps for the recovery of the M4V video files. You can use this tool on both the operating systems; Windows as well as Mac.

Hence, below are the steps to use this M4V file recovery software to restore lost M4V video files.
Step 1: Select Desired Location
Firstly, select the drive, external media or volume from which you want to recover deleted media files. After selecting, click on 'Scan'.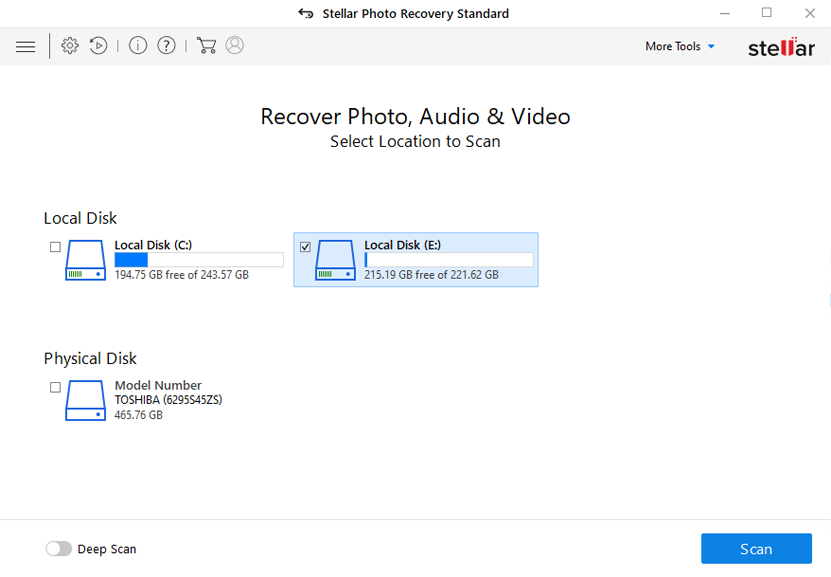 Step 2: Preview Recovered Media Files
Next, you can preview the recoverable media files after the scanning process is completed.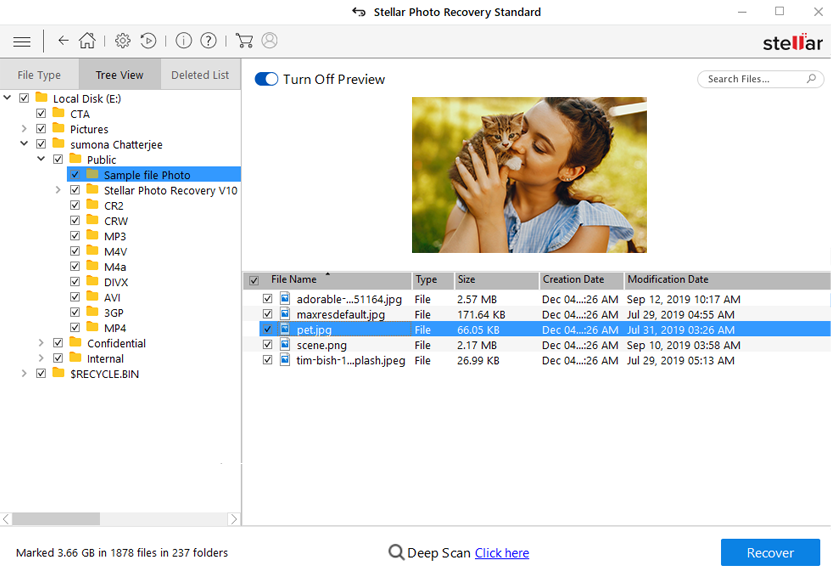 Step 3: Recover Media Files
Lastly, you can select the images, audio, video files you want to restore and click on 'Recover' option to save them at the location you want.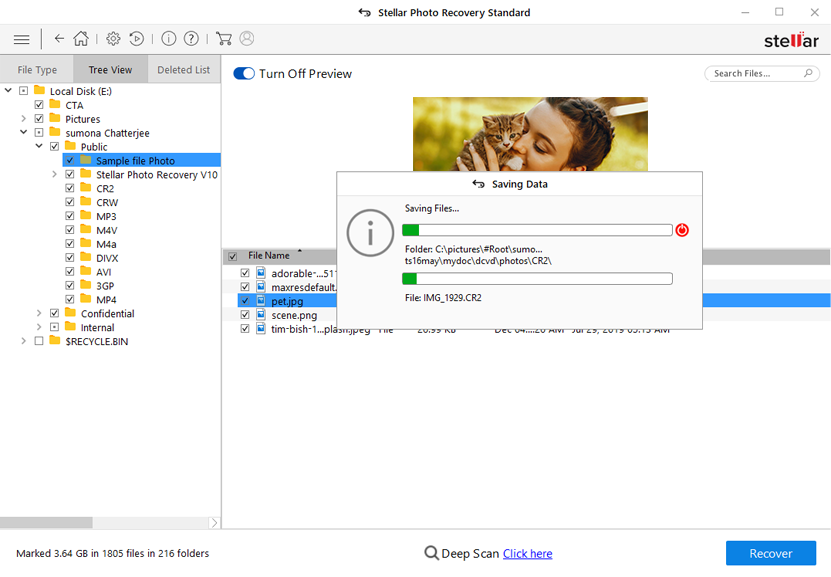 More Alternative Solution
Run CHKDSK Command To Recover Corrupted M4V Video Files
To restore media files from memory cards using cmd is one of the best solution, you can run CHKDSK Command. To do so, follow the given below steps:
Step 1: Firstly, right-click on My PC/Computer > Go to Manage
Step 2: Select Disk Management
Step 3: After that, press on Windows + R key to open the Run
Step 4: Then, type the cmd to Run the command and hit Enter.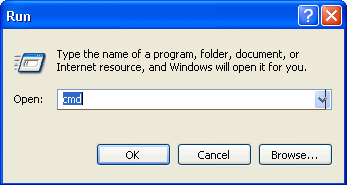 Step 5: Your CHKDSK Command Prompt will appear on the screen.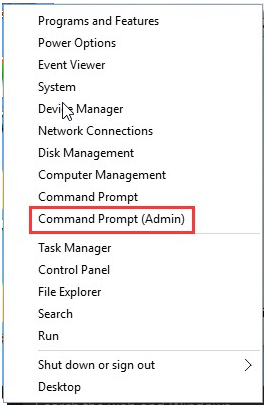 Step 6: Here you have to type chkdsk D:/f and press Enter.
Step 7: Besides, you can also type chkdsk D:/f offlinescanandfix and press Enter key.

Step 8: By performing this, your issue will get resolved.
Final Words
After going through the above sections of the blog, it must be clear to you that m4V video deletion can take place due to several reasons. However, in that case, it is important to keep a regular backup of your data including M4v video files, so that if it gets deleted unintentionally, then you can easily restore M4V video files from the backup folder.
So, it is always suggested to keep backup of all your important files on a regular basis. But, if you don't have any backup then you can try the M4V File Recovery Tool to recover deleted M4V video files easily. This is the best option you can ever try.
I hope, this blog will be helpful and will never let you down.
Alex is an expert technical writer with 7+ years of experience. His in-depth knowledge about data recovery and fascination to explore new DIY tools & technologies have helped many. Alex has a great interest in photography and loves to share photography tips and tricks with others.