If you have accidentally deleted files from SanDisk SSD drive and want to recover them back then do not worry at all. I am saying so because I am going to provide the best options to recover files from SanDisk SSD drive.
There can be several reasons for losing data from SanDisk SSD drive but nothing matters here, you can easily do SanDisk SSD data recovery.
Without any further delay, I want to let you know that you can easily recover files from SanDisk SSD drive using SanDisk SSD Recovery Tool.
To recover deleted files from SanDisk SSD drive, we recommend this tool:
This software will restore data from corrupted, formatted, encrypted storage media and works in all data loss situations. Now recover your lost and deleted data in 3 easy steps:
Download this Media File Recovery Tool rated Excellent on Pcmag.com.
Select the storage media from which you want to restore the media files & click Scan.
Preview the recoverable files, select the items you want to recover and click Recover to save the files at desired location.
I think you must be now willing to know the steps to retrieve deleted data from SanDisk SSD drive. But, before I proceed to the user guide, I would like to share a scenario after reading which I got an idea to write on this topic.
So, let's have a look at the scenario below…
Practical Scenario
Recover data from dead SSD?

My computer suddenly stopped working

It did not reboot into windows and was stuck on bios loading screen

I took out ssd and put on another pc using usb sata cable, but hard drive did not show in windows

i looked in disk manager and i can see it, but its greyed out

other times it doesn't even show in disk manager when plugging in

Is there any possible way to get the data? (without sending it off)

its a sandisk ssd plus 256 GB?

from what i read, the controller could be dead

– Original Post From Expert Exchange
About SanDisk SSD Drive
These days Solid State Drive (SSD) has become more and more popular. Today most of the computer and laptop manufacturers are providing SSD in their system because of its high durability, stability, and excellent performance.
SanDisk, as a world-famous storage device manufacturer, has also produced many excellent SSD drives such as SanDisk Extreme PRO M.2 NVMe 3D SSD, SanDisk Extreme 900 Portable SSD, SANDISK ULTRA 3D SSD, SanDisk Extreme 510 Portable SSD, SanDisk Extreme Portable SSD, and SanDisk SSD Plus.
Though SSD provides reliability, stability and excellent performance than the normal hard drive for storing data, one thing is common that is – data loss. There could be accidental deletion or formatting that may occur.
What Causes SanDisk SSD Data Deletion
Before we get into how to get back deleted files from SanDisk SSD, let's put some spotlight on the reasons which lead to the loss of your important files.
Any kind of electronic or physical part damage
Due to bad sectors
Extremely overwriting data also
Virus or Malware infections
By mistake or accidentally deleted the files
Corruption of software or operating system also leads to data loss
So, now what will you do to restore lost, deleted or inaccessible SSD data? Do not worry? Below, find out the complete SanDisk SSD recovery solutions and find the right solution to get back deleted, formatted, lost files from SanDisk SSD now.
How To  Recover Permanently Deleted Data From SanDisk SSD
Well, as I have already mentioned that using SanDisk SSD Data Recovery Tool, you will be easily able to retrieve data from dead SanDisk SSD. This recovery tool is available for both Windows and Mac computers.
Also, this SSD Recovery software is designed to retrieve deleted or lost data from SSD drive, hard drive, external hard drive/SSD, and other several storage media devices. It has the capability to extract multimedia files from damaged, crashed, failed or dead SSD.
Note: Stop using your SanDisk SSD after the loss or deletion of files and do not add any new data on it. If you add any new data on it, then it will overwrite the existing data and hence you will decrease the chances for file recovery.
Yes, with the help of this tool you can easily recover lost, deleted or formatted data from SanDisk SSD drive. Also, this tool will help you to:
Retrieve inaccessible or lost pictures, videos and audio files of various formats from dead, crashed or failed SSD
Also, recover data from Windows or Mac internal or external hard drive data
Support all brands of SSD drive manufactured by PNY, Transcend, Toshiba, Samsung 850 Pro, SanDisk G26 Plus, Crucial, WD, Adata, Kingston, etc
100% read-only. Safe, secure and easy to use
emid

emid


* Free version of the program only scans and previews recoverable items.
Now, let's have a look at the steps to recover files from SanDisk SSD drive…
Step 1: Select Desired Location
Firstly, select the drive, external media or volume from which you want to recover deleted media files. After selecting, click on 'Scan'.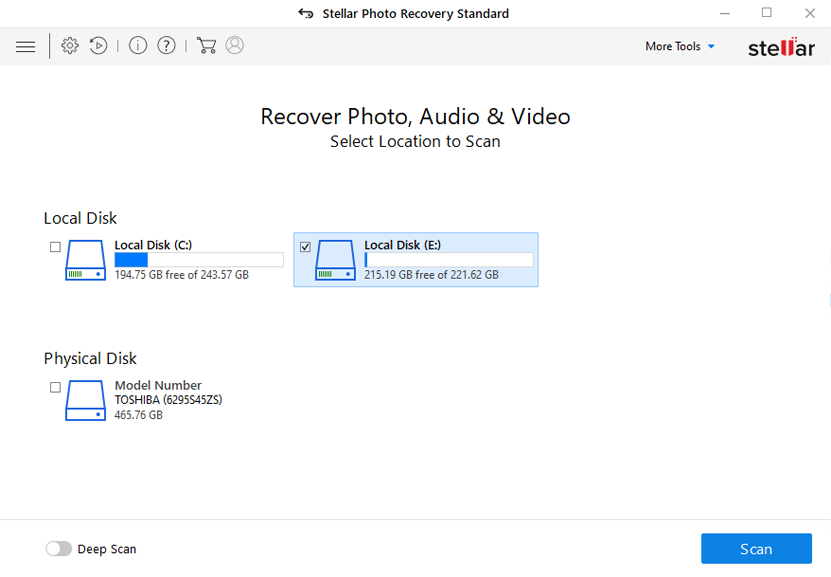 Step 2: Preview Recovered Media Files
Next, you can preview the recoverable media files after the scanning process is completed.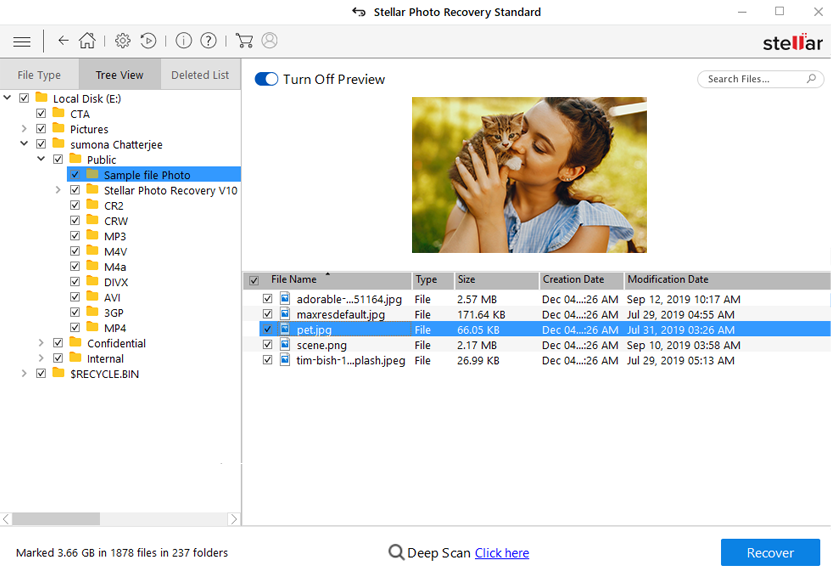 Step 3: Recover Media Files
Lastly, you can select the images, audio, video files you want to restore and click on 'Recover' option to save them at the location you want.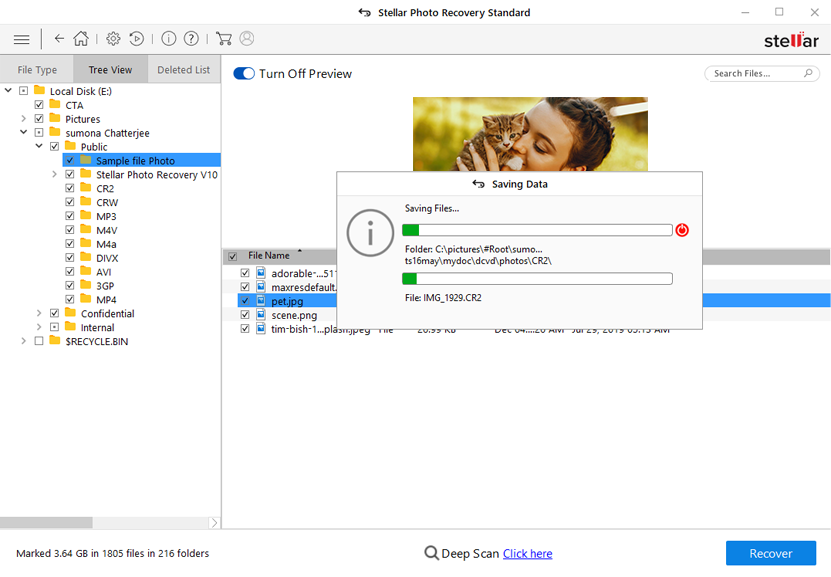 Other Solutions To Recover Files From SanDisk SSD Drive
Solution 1: Recover Deleted SanDisk SSD Files From Recycle Bin
If you have deleted the files accidentally on your SSD by simply using the DELETE button, then do not worry, you can easily undelete deleted SSD files from recycle bin.
Here follow the steps to directly recover deleted SanDisk SSD data from Recycle bin on Windows 10/8/7:
Open Recycle Bin on your Windows PC.
Find the files that you want back and then right-click on it and click on "Restore".
That's all! The deleted files of your SanDisk will be restored back to the original destination on your PC.
Solution 2: Check With The Help Of Run Command
Press Windows + R key to open the Run
Type cmd to open the Command Prompt
Now, click the Run as administrator menu and login through Administrator
Then type chkdsk C: /f /r /x and press Enter key.
Check that C: should be the drive letter of your damaged SSD.
Solution 3: Update SanDisk SSD's Firmware
To update the firmware of your crashed or dead SSD, kindly follow the steps given below:
What you have to do in this is that first open the Windows Explorer by pressing Win+E keys together.
After this go to System Explorer and choose the System
Select the Device Manager
Then go to Properties of the damaged or corrupted SSD
Go to Details and Hardware IDs option.
Click the OK
Install a tool that updates the firmware on your SSD
Check the license and then only click the Accept
Now, click on the Update Drive option for an update.
Click Yes to confirm and at last select the OK button to end the update process.
Solution 4: Update The Windows Drivers
To update your Windows drivers, what you have to do is given below:
At first, go to your systems Device Manager
Then go to the properties of your hard drives.
Choose the Update Driver
Let the updates being completed.
After the updates get over, kindly restart your system.
Bonus Tip: Troubleshoot SanDisk SSD Issues, Errors, Corruptions And Recover Data
If you are encountering issues like SanDisk SSD stopped working, SSD not recognized by PC, SSD is dead, failed or crashed, SanDisk SSD got corrupted and all these problems are leading to inaccessibility to the files stored within the drive, then in such case also you can use the above-mentioned photo recovery software to retrieve multimedia files.
But, what about the rest of the files?
For the rest of the data/files, you can directly run CMD command to fix and retrieve files back from SanDisk SSD without formatting and without losing data and without the help of any repair tool.
Here follow the steps:
On your Windows PC, press Windows + R key together to open RUN dialogue box.
Type CMD in the RUN box and hit ENTER.  This will open a new command prompt window.
Now type the following command: G:\>attrib -h -r -s /s /d *.* and pres ENTER.
Note: Here you need to replace the "G:" with your SanDisk SSD drive letter name.
Now simply wait for the process to get completed. Once completed, go check your SanDisk SSD. You should now be able to see all your deleted files back on our SSD drive.
Some Tips To Prevent Data Loss From Sandisk SSD Drive
Always try to remember that how much data you have written in your SSD drive and try to make a habit of keeping the backup of your data in any HDD also to prevent from any sort of data loss.
Make sure to make enough backup copies for your benefit only.
Never full your SSD with files, try to keep some space free.
Prevent it from overheating also.
If you want to delete or erase the files then avoid performing the permanent delete. Always, try to delete any files temporary which will go to the Recycle Bin and in case if you want that particular file then you can easily get them back anytime whenever you want if needed.
Conclusion
I hope you will be now able to recover deleted, lost or formatted data from your SanDisk SSD drive. However, if you do not have deleted files in the recycle bin or don't have any backup then it is strongly recommended that you must try SanDisk SSD Data Recovery Tool.
I hope the specified solutions to your query will provide you the best resolution for SSD file recovery.
Follow the given solutions one by one carefully and retrieve deleted files from SanDisk SSD.
Thus, make proper use of them and ensure that if this helps you to restore lost data from SanDisk SSD drive or not.
[cta-en-btn]
Alex is an expert technical writer with 7+ years of experience. His in-depth knowledge about data recovery and fascination to explore new DIY tools & technologies have helped many. Alex has a great interest in photography and loves to share photography tips and tricks with others.