I guess your RM files have been deleted and so you are browsing this blog. Isn't it?? Well, I can assure you that this blog will not let you down at all.
I can say this because here, in this blog, you will get to know everything about RM files, what causes RM files deletion and obviously how to recover deleted RM files?
Let me first give you a straight forward answer on how to recover deleted RM files on Windows and Mac platforms. Yes, with the help of RM File Recovery Tool, you can easily retrieve lost or deleted RM files in no time. I am so sure, just because this tool will help you to:
Easily restore your deleted/erased/lost RM video and audio files.
Support recovery of RM files from Hard Drive, Pen drive, External hard disk, USB drives, memory cards and other data storage devices.
Rescue file format other than RM such as Video files (AVI, MP4, WMV, MOV, DIVX, etc) Audio Files (AAC, AMR, WAV, M4A, etc) and Photo files (JPG, PNG, TIF, RAW, PSD, etc).
Preview recoverable media files within the software before final recovery
100% read-only program. safe, secure and easy to use.
To recover deleted RM Files, we recommend this tool:
This software will restore data from corrupted, formatted, encrypted storage media and works in all data loss situations. Now recover your lost and deleted data in 3 easy steps:
Download this Media File Recovery Tool rated Excellent on Pcmag.com.
Select the storage media from which you want to restore the media files & click Scan.
Preview the recoverable files, select the items you want to recover and click Recover to save the files at desired location.
I know you must be now looking for its user guide to know the steps to recover deleted RM files with ease. But before I mention its user guide, I would like to share a scenario that encouraged me to write this blog. So, let's have a look at the scenario below……
Practical Scenario
I had a library of videos as a section of my RealPlayer . The videos were directly downloaded from youtube by the common RealPlayer tag. Then you know that it is getting downloaded into a file called: ' videos ' in the system. Accidently I deleted that file tonight and I seek a way to get them back.

Original Post from Seven Forums
What is RM File Format?
RM stands for Real Media which is one of the most common file formats that is used in RealPlayer. RM file format is discovered by RealNetwork to play videos, audios and as well as live video/audio streaming. These Real Media files have great video and audio quality. However, these RM files could easily get lost or deleted as other computer files. The loss or deletion of files has become common and many users encounter this problem.
Causes For The Deletion/Lost Of RM Files
Accidental deletion or lost of RM files has become one of the common problems for the users who always deal with RM file format extension. Some of the common causes for the loss or deletion of .rm audio/video files format are mentioned below:
Accidentally deleting .rm files from your system as well emptying recycle bin.
While deleting unwanted files, you unintentionally shift + deleted some of your important RM files.
If any interruption occurs while transferring RM files from the computer to an external data storage device or vice versa, it also results in RM files loss.
If your Real Media files get infected with viruses or malware, then you will not be able to access it and hence you may lose your RM video/audio files.
Other causes such as OS corruption, file system corruption or hard drive failure, etc can also result in the deletion of RM files.
How To Recover Deleted RM Files From Windows/Mac?
Well, as I have already mentioned that RM File Recovery Tool is the best recovery tool you can use to restore deleted RM files with ease. I can say this because this tool has some special features that allow you to not only recover RM files but also several other files.
Yes, it recovers all image, video and audio file formats which is just amazing feature. You can apply this tool on both the platforms, i.e., Windows as well as Mac.
Not only RM files, but it has the capability to recover all file formats which includes images, audio and video file formats.
So, here the steps below to get back lost RM files with ease…..
Step 1: Select Desired Location
Firstly, select the drive, external media or volume from which you want to recover deleted media files. After selecting, click on 'Scan'.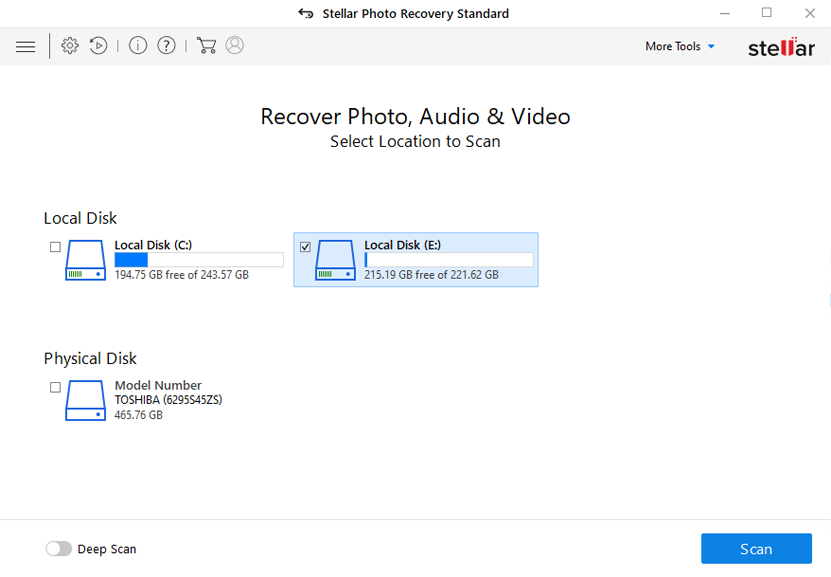 Step 2: Preview Recovered Media Files
Next, you can preview the recoverable media files after the scanning process is completed.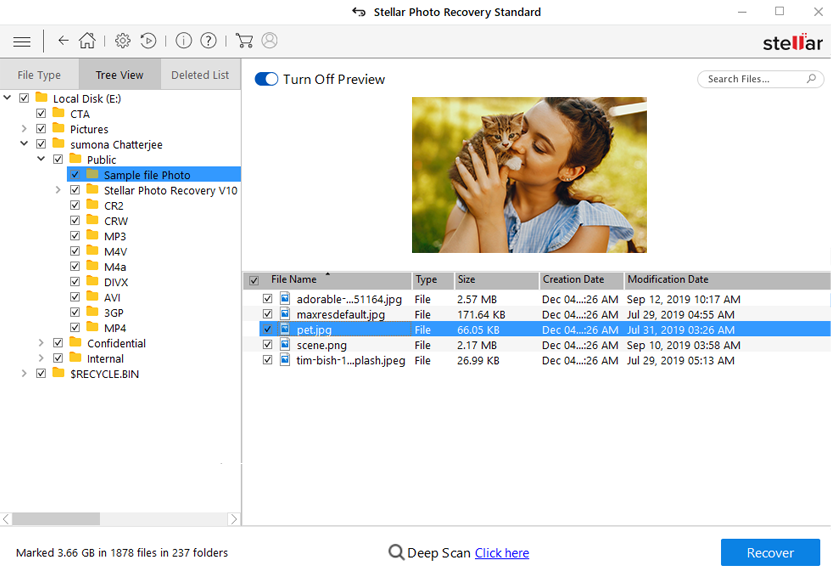 Step 3: Recover Media Files
Lastly, you can select the images, audio, video files you want to restore and click on 'Recover' option to save them at the location you want.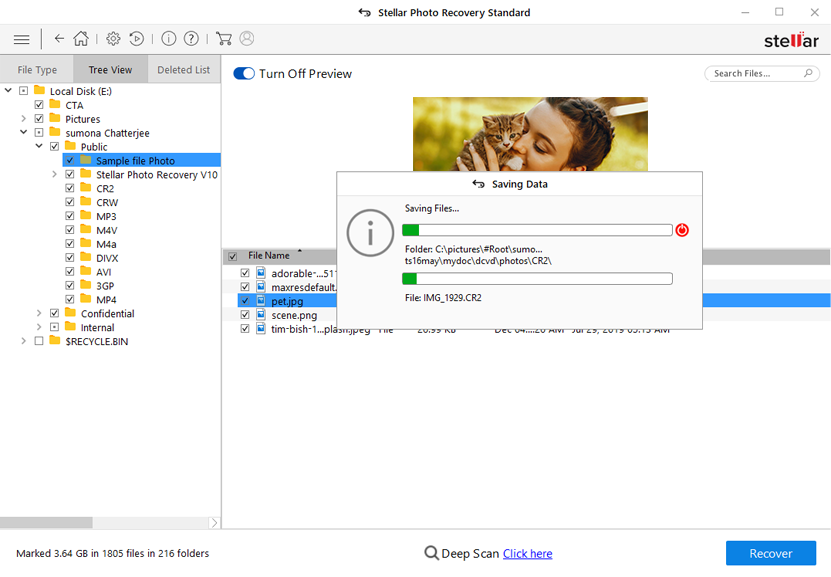 Few Other Alternatives To Restore Lost RM Files
Solution 1: If you have kept backup of your RM file on any other data storage devices, then you can easily get back deleted or lost .RM Video and audio files from the backup.
Solution 2: If your storage device has got infected with virus/malware in which you have saved RM files, then scan your storage device with the help of Anti-virus software.
Tips To Prevent RM Files Deletion
You can follow these below tips to prevent the deletion of RM files in any way. So, do not forget to follow these tips:
Always keep a habit of keeping backup your RM video/audio files at two places, in order to deal with such RM file loss situation.
As and when you notice RM file deletion, the immediately stop using the storage devices and do not add any new data on it to avoid data overwriting.
Always keep updated antivirus software on your system to avoid RM file corruption due to malware or virus.
Time To Conclude
So, I hope this blog will definitely help you recover RM (Real Media) files by following the above solutions.
However, it is always suggested to keep backup of your important files. But if in case if you do not have backup of RM files then it is highly recommended that you must use RM file Recovery Tool.
With the help of this tool, you can easily retrieve lost RM files in easy steps. Apart from that, you can try other alternatives s well that I have mentioned above.
If you have found this post helpful and useful, then please do not forget to share it.
Also like and follow us on Facebook, Twitter and Pinterest to get the latest updates.
Taposhi is an expert technical writer with 5+ years of experience. Her in-depth knowledge about data recovery and fascination to explore new DIY tools & technologies have helped many. She has a great interest in photography and loves to share photography tips and tricks with others.