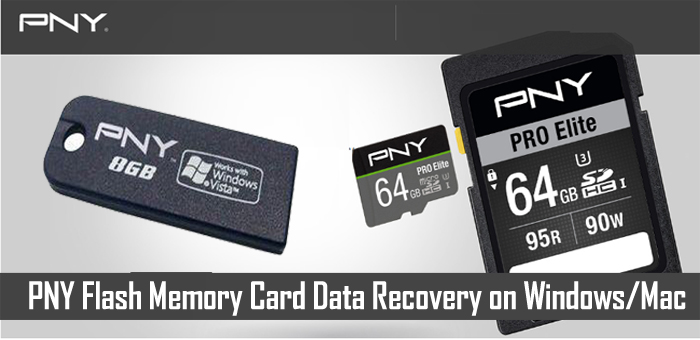 Restore Deleted, Lost, Formatted Photos, Videos and Audio Files From PNY Flash Memory Cards
Summary: If you have lost or accidentally deleted data such as pictures, videos and audio files from PNY memory cards that you wish to recover, then read this post till the end and follow the instruction as it will help you to restore lost or deleted data from PNY Memory cards using PNY Card Recovery software.
With the help of PNY Card Recovery Software, one can:
Retrieve deleted, lost, formatted photos, videos and audio files from PNY flash memory cards.
Restore data from PNY cards that display – card cannot be formatted, card is not readable, card is write protected, SD card is locked, etc.
Also recover digital media files from PNY USB flash drives, SD cards, videos cards and Solid-State drives.
Beside PNY, the software also support recovery of files from other brands memory cards such as SanDisk, Transcend, HP, Sony, Samsung, Kingston, etc.
Preview recoverable files within software before you proceed further to recover file on your system.
Easily Retrieve Deleted Data From PNY Memory Card



* Free version of the program only scans and previews recoverable objects.
About PNY & PNY Flash Memory Cards
PNY Technologies, Inc, was founded in USA. This company mainly manufactures and sells memory cards, USB flash drives, graphics cards, video cards, solid state drives and more. PNY has a good name, fame and reputation in USA and it is also famous all across the globe.
PNY Flash Memory Cards offers the complete solutions for business, mobility and photography.
Additional Reading: Recover Deleted Data from SanDisk Memory Card
How Data Gets Lost or Deleted on PNY Memory Card?
Though, PNY provide the world class and high data transfer speed flash memory cards, but yet users are encountering files loss such as photos, videos and music stored on their PNY cards.
Let us take practical scenarios where a user lost his photos from PNY CF card
Lost data on PNY Tech CF card…

I have a PNY Technologies 256MB CompactFlash card, a SanDisk card reader, and pictures are taken from Canon A80. I have lost all the images on the disk, and this is the second time this has happened. Is it something I am doing, is it a shotty memory card, what the hell. Had a bunch of images from a pheasant hunt we had today. I am pretty unhappy.

When I look at the drive in Windows Explorer, I see two folders and a file: the folders are DCIM & MISC. There is nothing in MISC and there is another folder inside the DCIM called CANONMSC. Inside the CANONMSC folder there are seven files. 104.ctg, 105.ctg, 106.ctg,107.ctg,110.ctg,111.ctg, & 112.ctg.

Anyone have any idea what this means, or if I can recover the lost picture files?

                                                           – Original Post from DPReview Forums
Other Reasons for the Loss of Files on PNY Memory Cards
Accidental or intentional deletion is one of the prime causes that happens with every users and they face data loss.
Ejecting, removing flash cards or turning OFF power while data reading and writing on the card.
Using the same PNY SD card on multiple devices also corrupt the card and finally it makes the stored data inaccessible.
Formatting the flash memory card without backup.
Clicking photos even when card display low memory or device display low battery.
Virus infection to the PNY flash SD memory cards corrupt the data stored within it and makes them inaccessible.
Additional Reading: Symptoms Of Damaged or Corrupted Memory Card

Is it Possible to Restore Erased or Lost Data from PNY Memory Cards?
Generally speaking, "Yes" it is possible.
When a file gets deleted or lost from the memory cards, it does not get erased permanently. Instead, the card only marks the area where the deleted/lost files stored as reusable and hence you can add new data to just overwrite them.
If you do not overwrite the existing data by adding any new files on PNY memory card and if you follow the right file recovery process, you can still get back deleted files.
Additional Reading: Recover Photos/Videos from Overwritten Micro SD Card

Recovering Deleted or Lost Data from PNY Memory Cards
Solution 1 – Check out PNY Technologies official website for data recovery solution
The first solution I would like to suggest you is to check out PNY Technologies official website for data recovery solution  or check the user manual of your flash memory card (if you still have it) to see if you can find any related information. But as per the PNY official site it looks that they do not provide any data recovery services or solutions.
Solution 2 – Look for Backup Files
The second solution I would like to advice is that check for backup files you have kept for PNY card. Check your PC/Mac/laptop, external hard drive, pen drive, USB flash drives or any other data storage device, may be you have kept the PNY card data backup.
Additional Reading: How To Recover Deleted Files From CF Card With A Not Formatted Error
Solution 3 –Use PNY Flash Memory Card Recovery Software [Recommended]

If above both the solutions does not come helpful, then you can use expert recommended Photo Recovery Software which is a right and a perfect PNY Flash Memory Card Recovery. It is designed to restore deleted, lost, erased, formatted, corrupted, missing photos, videos and audio files from any PNY memory cards.
The data recovery for PNY cards comes with advanced algorithm that scans the memory card and recovers digital media files from PNY flash memory cards including SD, SDHC, SDXC, miniSD, microSD, Compact flash cards (CF), xD picture card, microSDXC, microSDHC Memory cards that is used in your mobile devices, digital cameras, camcorders and other multimedia devices.
The recovery software from PNY card is available for both Windows & Mac operating system and it can also be used to restore deleted digital media files from PNY USB flash drives and Solid State drives.
Today there are several satisfied users using this PNY SD card data recovery tool, who has successfully recover data from formatted, virus infected, corrupted, unreadable, not working, damaged and error throwing PNY memory cards.
Additional Reading: How to Fix Unreadable Micro SD Card In Simple Steps!
The software support all types of PNY memory cards such as 512GB Elite Performance SDXC, 256GB PRO Elite microSDXC, 256GB Elite Performance SDXC, 200GB Elite microSDXC, 128GB Elite microSDXC, 128GB PRO Elite microSDXC, 128GB High Performance SDXC, 128GB Elite Performance SDXC, 128GB Elite microSDXC, 64GB PRO Elite SDXC, 32GB High Performance CompactFlash Card, 64GB Elite Performance SDXC, 64GB Elite microSDXC Card, etc, of different capacity such as 256MB, 512MB, 1GB, 2GB, 4GB, 8GB, 16GB, 32GB, 64GB, 128GB, 256GB, 512GB, etc.
You Might Also Be Interested In:
Steps To Recover Deleted or Lost Photos, Videos and Audio from PNY Memory Card
Step 1 – Install "Photo Recovery" software and launch it on your computer. Click on "Recover Photo, Audio & Video" tab to recover photos, videos and audio files from any SD card, external USB drive or computer hard drive. Connect the media to your computer and then perform the process.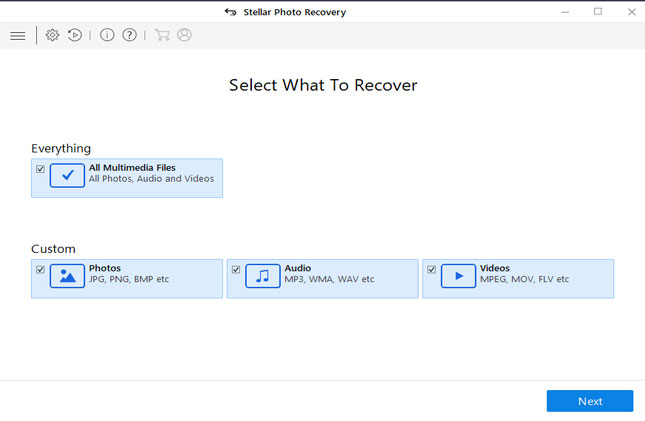 Step 2 – Select the drive from which you want to recover files. All the hard drive and external media will be shown in the list. Now select the desired drive to scan and then click on "Scan" button.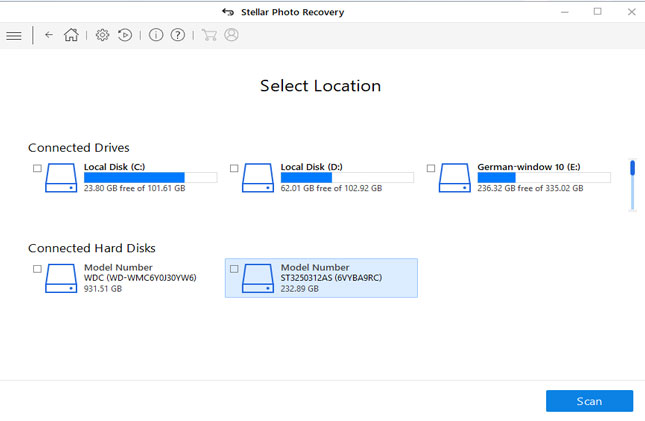 Step 3 – Once you click on "Scan" button the software will show that scanning is in progress. The software will search for all multimedia files from your selected drive or attached media.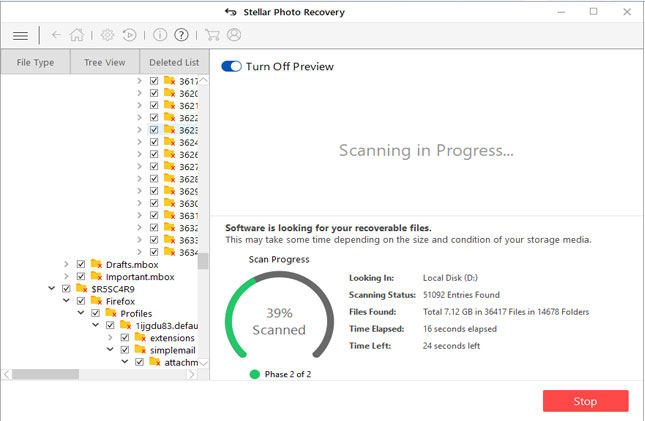 Step 4 – After scanning, all the files that are found in the selected volume, hard disk or other storage media devices are listed. You can now select the files to preview them and then you can click on "Recover" button to finally save them on your computer.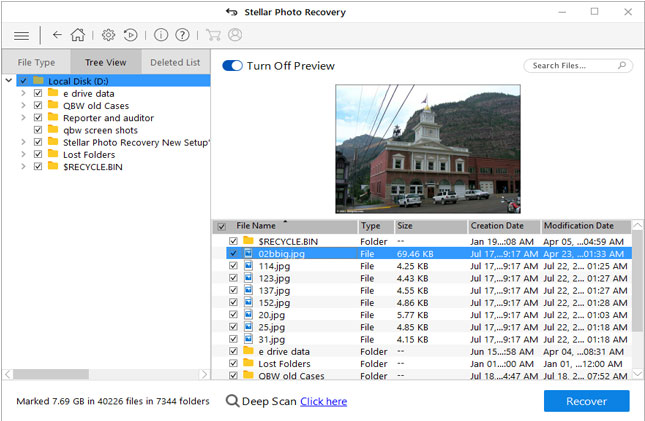 Note: Save your recoverable files to another place or location instead of saving them on original card, just to avoid partial data overwritten.
Tips to Remember While Using/Handling PNY Flash Memory Cards to Avoid Data Loss:
Make a habit of frequently keeping backup of your PNY card data.
While deleting any files on PNY SD memory card, check it thrice and make sure that you do not want it anymore.
Stop using the flash memory cards on multiple gadgets.
Avoid your card from getting infected with virus. Do not connect it with any infected PC/Mac. Always scan the card, each and every time you connect it with PC/Mac system.
Do not click images when PNY card display "low memory" message or device display "low battery" message.
If photos, videos or music files get lost from any memory cards, immediately apply photo recovery software to recover them back.
If you have found this post helpful and useful, then please do not forget to share it.

Also like and follow us on Facebook, Twitter and Pinterest to get latest updates.
Summary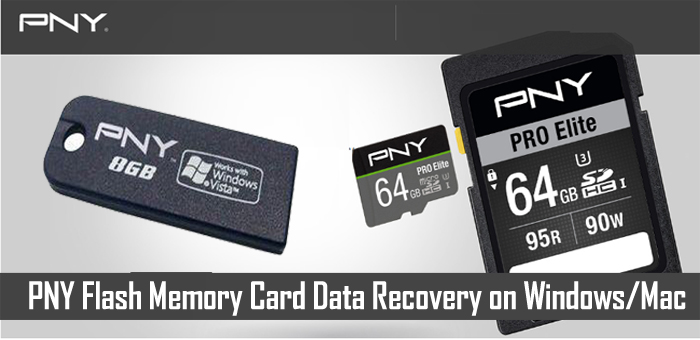 Article Name
How to Recover Deleted Data from PNY Flash Memory Card
Description
Here is the 3 solution that will help you to recover deleted data from PNY flash memory cards. Solution 1 – Contact PNY technologies official site. Solution 2 - Look for PNY Card backup files.
Author
Publisher Name
Publisher Logo