Have you mistakenly deleted your important FLAC Audio files from your memory card or from your computer hard drive?
Are you looking for a perfect solution to restore your deleted/erased Flac audio files?
If "yes" then you have come to the right place. I am saying this because here you will get the complete guide on how to recover FLAC files easily.
Apart from this, here in this blog, you will also come to know about FLAC audio file format, the reasons for .flac file deletion and the effective tips to avoid further audio file loss.
But before discussing further, I would like to recommend you the best way to retrieve lost audio files. You can use the FLAC Audio File Recovery Software to perform FLAC file recovery with ease.
To retrieve deleted FLAC audios, we recommend this tool:
This software will restore data from corrupted, formatted, encrypted storage media and works in all data loss situations. Now recover your lost and deleted data in 3 easy steps:
Try this Media File Recovery Tool rated Excellent on Pcmag.com.
Select the storage media from which you want to restore the media files & click Scan.
Preview the recoverable files, select the items you want to recover and click Recover to save the files at desired location.
Well, in the below section of this blog, you'll get its user guide. After finishing the audio data recovery process, you will get all the recovered .flac files in your preferred folder.
Now, I am going to discuss a practical scenario faced by a user who actually got this issue.
Practical Scenario
I need help fast. I just deleted all my DJ tunes instead of backing them up, and I have a gig tomorrow!
My recovery software searches by type but does not have a "FLAC" choice in the pull-down menu…
Does anyone know of a Win10 recovery application that can recover both mp3 and FLAC files, from a drive on a system where it was not already installed?

(I haven't touched the audio drive since my mistake.)
THANKS
Let's know something more about the .flac audio file format.
About FLAC File Format
FLAC is an audio file extension that is encoded by Flac – a free lossless audio codec. Flac files are also one of the audio file compression, but even they also not able to escape from similar files loss scenarios that are encountered by several users.
Though various ill-fated reasons are responsible for the inaccessibility of the .flac files. At that time, you need not worry, you can easily get back your files back in a few easy steps.
Before I proceed further, below you can find out the common FLAC files loss scenarios:
FLAC Files Are Lost/Deleted Due To Below-Mentioned Reasons
If you are the one who is going through the same situation then, you should read this blog further. Here you will get the common reasons which made your FLAC audio files to lose.
However, some of them are mentioned below:
FLAC audio files get deleted because of virus attack or some other harmful infection
When the header of the FLAC file gets corrupted then it may become inaccessible and lead to a data loss situation
Because of application malfunctioning also data gets lost
Sometimes without any intention, you delete the files mistakenly by using "Shift + delete" key
Even data loss happens when you transfer your files to another storage device by using "cut + paste" option
After knowing the reasons for audio data loss, there is nothing to worry about. Be cool and easily handle the situation. Search for the ways by which you can get the lost FLAC audio files back.
However, you don't have to search for the solution anywhere because, in the below section of this blog, you will get the best and possible ways to restore deleted FLAC files.
How To Recover Deleted FLAC Audio Files
Well, FLAC File Recovery Software is the best tool, which recovers FLAC files from corrupted, damaged hard disk or missing volumes. Besides FLAC audio file recovery, it also restores other audio file formats like ALAC, RPS, WavPack, AIFF, OGG, ATRAC, and more.
The tool not only recovers the audio file formats but also helpful in restoring other data as well which includes photos, videos, etc. It does not require much time to rescue the audio files but in very less time, it can give you back the deleted files.
Completely safe to use and it is also user-friendly. It has a powerful scanning algorithm that scans to retrieve the erased FLAC audio files.
This tool can:
Recover Deleted/Lost FLAC audio files with ease.
Retrieve FLAC audio files from Different storage media like SD card, CF card, MMC card, SDHC card, SDXC card, etc.
Get back other audio file formats like ALAC, WavPack, ATRAC, etc
Also, retrieves lost videos and audio files from different media players
Compatible with both Windows/Mac OS
Read-only program, 100% risk-free & easy to use
emid

emid


* Free version of the program only scans and previews recoverable items.

Below are the steps to use this software to get back lost FLAC audio files.
Step 1: Select Desired Location
Firstly, select the drive, external media or volume from which you want to recover deleted media files. After selecting, click on 'Scan'.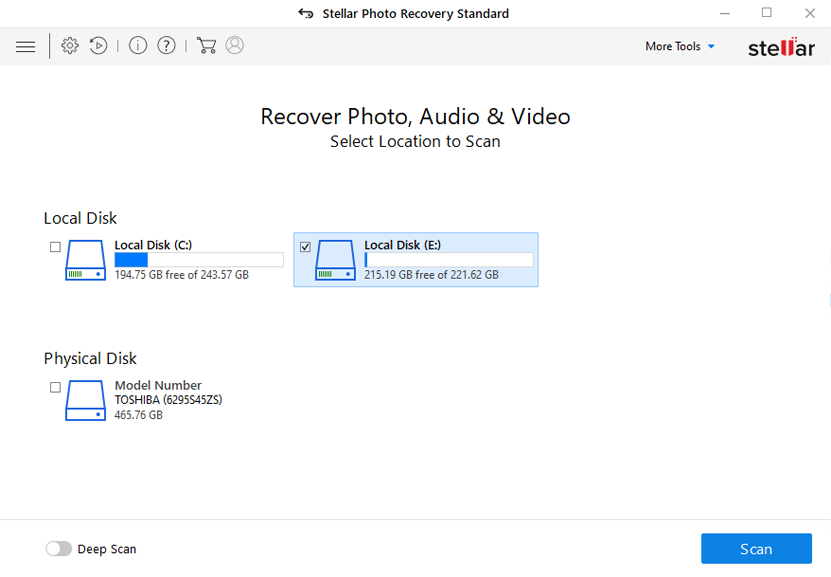 Step 2: Preview Recovered Media Files
Next, you can preview the recoverable media files after the scanning process is completed.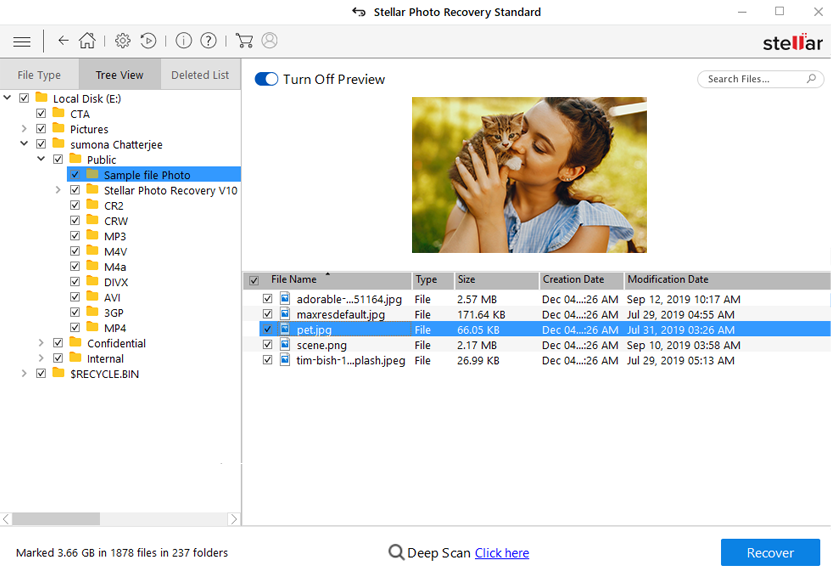 Step 3: Recover Media Files
Lastly, you can select the images, audio, video files you want to restore and click on 'Recover' option to save them at the location you want.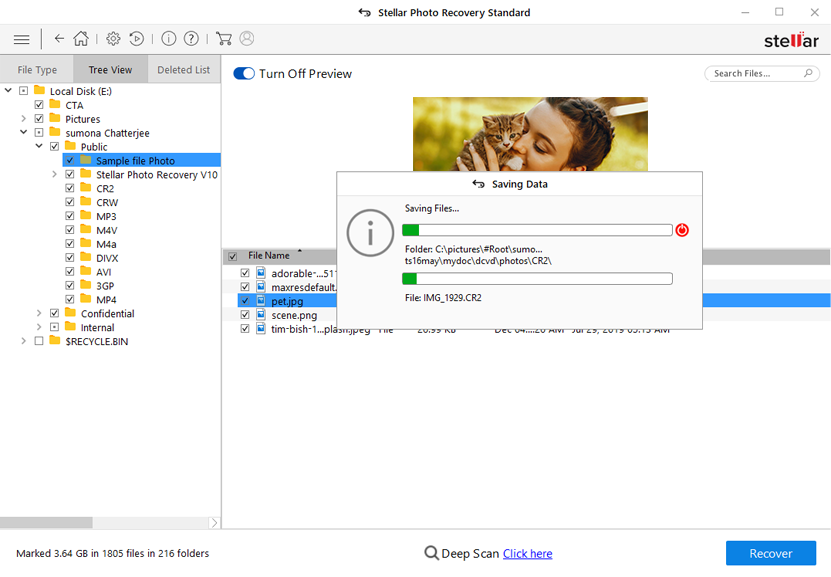 Other Alternatives To Recover Deleted FLAC AudioFiles
Restore Deleted FLAC Files Via Backup
It is always recommended to use a backup file option. If you have created a backup file of your lost FLAC audio files then you can very easily get them back. And backup is the best option for those who are facing data loss frequently.
But what to do when you don't have any backup of lost files? Here you should go for third party software that is already mentioned above to perform audio file recovery effectively.
Tips To Prevent Audio Data Loss
Going through the tips is the best way by which you can handle the situation.
Below are some of the useful tips that can really help you to lose your important data which includes audio, video, and photos. Read the tips below:
Always backup your FLAC audio files and that too on some reliable storage device so that it does not fall you in a critical situation
Even use best converting software for your FLAC files so that it can be readable on other systems
Don't rename your FLAC audio file to another format otherwise will not become accessible
Conclusion
Similar to other data loss situations, FLAC audio files create the same situation. However, there is nothing to get worried about. This is a common scenario that many users have already faced and many to come.
Well, if you do not have a backup of your .flac files then you can try the FLAC Audio File Recovery Software to recover FLAC files with ease.
Also, follow the tips to avoid data loss in the future. I hope, you liked this post.
That's all…
Taposhi is an expert technical writer with 5+ years of experience. Her in-depth knowledge about data recovery and fascination to explore new DIY tools & technologies have helped many. She has a great interest in photography and loves to share photography tips and tricks with others.