Recently we have found in the community websites that there're many users who have lost their crucial VOB videos and looking for how to recover VOB files effectively. Thus, if you are one of them, you are in the correct place.
As this article contains the best solutions to recover deleted VOB files with or without backup.
But before proceeding further, let me give you a straightforward solution- By using Video Recovery Software, you can easily recover VOB files.
Rated Excellent on

Trustpilot
Free Video Recovery Tool.
Recover videos, clips & video recordings from all digital cameras & memory cards on Windows for Free. Try now!
Well, in one of the below sections of this article, you will get its user guide. After finishing the recovery process, you'll get all the recovered VOB file mac in your preferred folder.
Can I Recover A VOB File?
Yes, you can recover a VOB file by using the VOB file recovery solutions mentioned here. But you need to remember a few important things to recover corrupt VOB files successfully:
Once you have lost your VOB file then discontinue using the device from which you have lost it.
If you have previously created a backup then you don't have to go for any data recovery tool.
If you don't have a backup of your erased .vob video then you can try a versatile VOB video recovery tool mentioned in this post.
About VOB File Format
VOB is a file extension for a video file format that is used to store encrypted video and audio files. It can contain audio and video in this accepted layout. VOB video file format is generally formatted as a MPEG-2 system and can be opened by numerous video playback programs.
Different types of media players and Power DVDs are coming in the market as the technology is increasing. VOB file format is supported by most DVD and media players. And for storing and managing audio and video files, it's assumed to be the best medium. But sometimes these files turn inaccessible.
Causes For Losing VOB Files
Some of the reasons behind the inaccessibility of the VOB file:
The appearance of annoying memory cards errors
Software or hardware failure
Severe virus infection
Unintentional or accidental deletion of VOB files
File system corruption
Unexpected shut down of the system
Accidental formatting
Shift + Delete for deleting any folder/file
So, these are the major reasons behind the deletion and inaccessibility of VOB video file formats. But, the only thing needed before performing VOB recovery, one should stop adding new video files to the media storage device or hard drive.
After doing so, you have to follow the below solutions to recover VOB files from DVD free.
How To Recover Corrupted VOB Files?
As I have already mentioned that the VOB File Recovery Tool is enough solution that provides better recovery of your valuable videos. It can help you in recovering deleted, formatted, or inaccessible VOB files from your hard drive without any further destruction.
This tool not only recovers the VOB video files but, is also capable to retrieve other video file formats such as AVI, MPEG, MOD, ASF, MOV, 3GP, VOB, MTS, WMV, TS, etc.
Besides VOB file player mac recovery, this tool also rescues deleted or formatted audio and image file formats from different storage devices such as memory cards, SD cards, Pen drives, Hard drives, CF cards, MicroSD cards USB flash drives, and more. It is easy to use and compatible with both the Windows and Mac operating systems.
I am recommending you to use this tool because this tool offers you to:
Retrieve all deleted VOB files from external hard drives easily
Get back other lost files such as MPEG, WMV, AVI, MKV in just a few easy steps
Recover virus affected files
Besides video files, it also restores corrupted audio and image file formats.
Easy to use interface
Recover lost videos files of any format
See a preview of files recovered and select the files you want to recover
emid

emid


* Free version of the program only scans and previews recoverable items.

Now, let's move on to the steps to recover deleted VOB videos…
Step 1: Select Desired Location
Firstly, select the drive, external media or volume from which you want to recover deleted media files. After selecting, click on 'Scan'.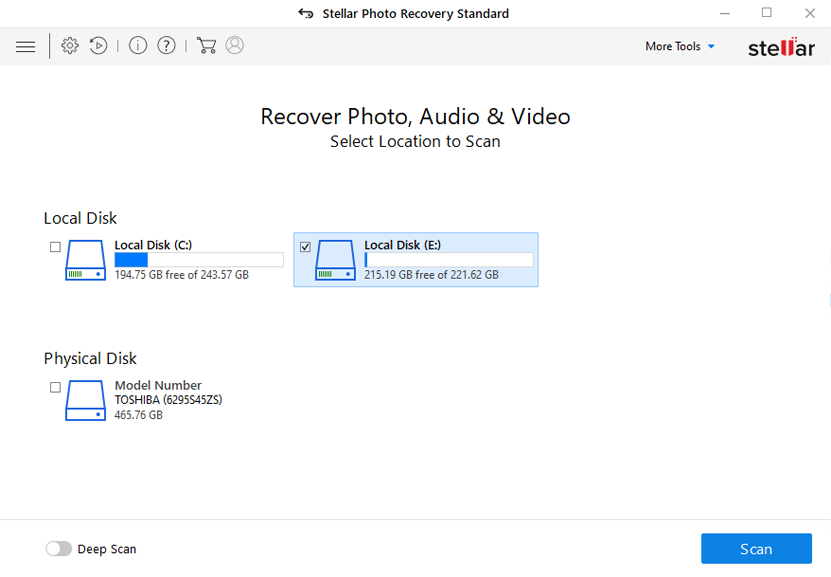 Step 2: Preview Recovered Media Files
Next, you can preview the recoverable media files after the scanning process is completed.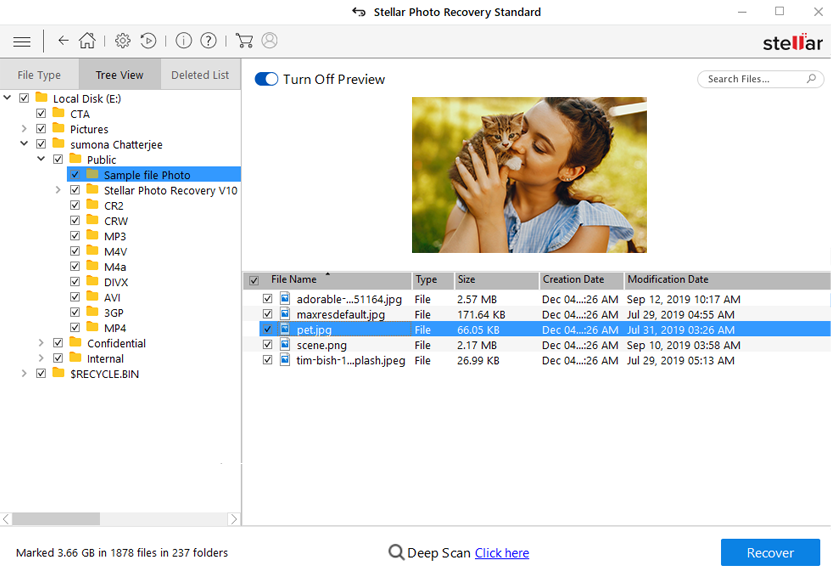 Step 3: Recover Media Files
Lastly, you can select the images, audio, video files you want to restore and click on 'Recover' option to save them at the location you want.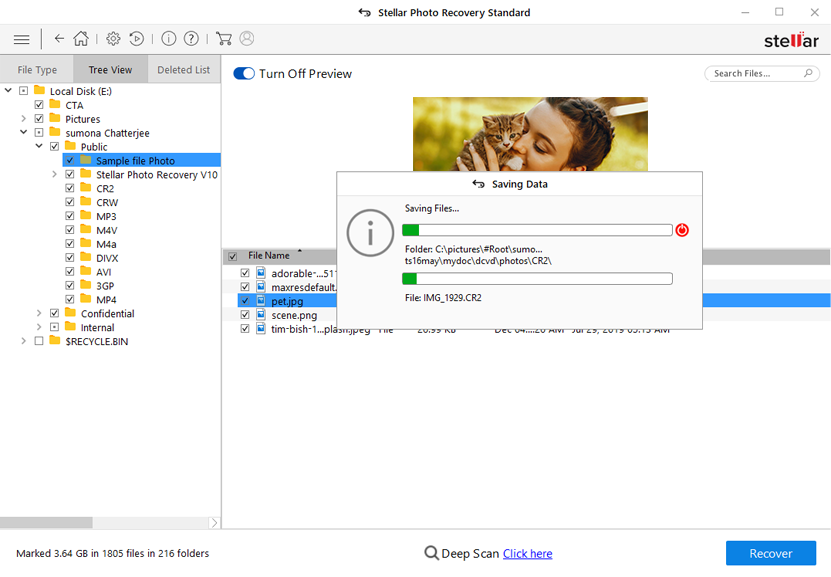 More Alternative Solution
Method 1: Get Back Lost VOB Through Backup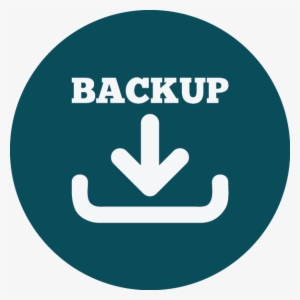 In this era, almost everyone used to create a backup of their crucial data in more than one device. They used to do so to avoid major data loss and perform the data recovery process in a hassle-free manner.
Thus, if you have also taken a backup of your VOB movies before their deletion then you can easily recover corrupt VOB files through backup.
Method 2: Restore Deleted VOB Files Using Cmd Prompt
Well, you can try to restore lost .vob files using cmd prompt. It is one of the easiest file recovery solutions. Sometimes video files are deleted, but those data are not actually removed from your digital device.
You know that the files still reside there and they are present there only but in a hidden manner.
This command prompt will definitely retrieve VOB files from the internal and external hard drives as well.  To do so, follow the below-given steps:
First of all, connect the card reader to your computer.
On a computer, just click Start and then, type CMD in the search bar and hit ENTER.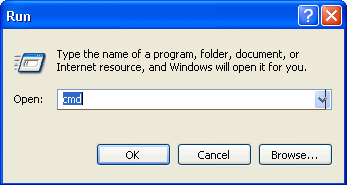 A new command prompt window will get open.
Now type the following command: chkdsk /X /f H: or chkdsk H: /f and hit ENTER. Here you need to replace the H: drive with your new drive letter.

FAQ (Frequently Asked Questions)
How Do I Play Old VOB Files On Windows 10 With VLC?
In order to play VOB videos using VLC, you have to first download and install the VLC player on Windows 10. Once the VLC is installed successfully, open the media player and go to the 'Media' menu which you can see at the top bar. Then choose your VOB file now you can enjoy watching your video.
How To Recover Permanently Deleted VOB Video Files?
Below I have provided the steps to retrieve permanently erased VOB files in Windows 7/10.
Step 1: Firstly, open the 'Control Panel'
Step 2: After that, go to the 'System and Maintenance' option then, Backup & Restore (Windows 10).
Step 3: Lastly, make click on 'Restore my files' and then, follow the wizard to recover MP4 video files.
How Do I Convert VOB To MP4 For Free?
Movavi is a popular online and free video converter tool that you can try to convert your VOB to MP4 for free. All you need to do is to visit: How to Convert VOB File. Then find and 'Add your media' after this choose MP4 in the 'Convert to' option. Tap on the 'Convert' option. Once the video is converted successfully, you will be asked the location to save your MP4 file.
Does VLC Play VOB Files?
The answer is Yes. As we have already said in some of our previous articles that VLC is a universal multimedia player that can play a wide variety of video files. Thus, VLC program supports VOB videos.
Tips To Prevent VOB Video File Loss
Below are some of the preventive tips for video loss. Go through them carefully.
Before formatting, check your storage device at least two to three times
Never use any digital device when its battery is low
Always backup of all your important files or folders so that it can help you in the future when any data loss situation happens.
Don't remove the files when transferring process is going on
Never avoid any type of warning message because this can also be the reason for data loss
Protect your device from any virus or malware attack
Final Words
Well, after going through the above sections of the blog, it must be clear to you that VOB file deletion takes place due to various reasons.
So, it is always suggested to keep a backup of all your important files on a regular basis.
In case, if you don't have a backup of the files then you can try VOB File Recovery Tool. It is the best software to recover VOB files from DVD free with ease.
I hope, this blog will be helpful and will never let you down.
That's all…
Taposhi is an expert technical writer with 5+ years of experience. Her in-depth knowledge about data recovery and fascination to explore new DIY tools & technologies have helped many. She has a great interest in photography and loves to share photography tips and tricks with others.