Recover Deleted/Lost/Damaged or Corrupted Photos, Videos and Audio Files From Smart media Cards
If you have Smart media card and you have lost your precious data such as photos, videos and music files from this card and want to get them back then you can use Smart Media Card Recovery with the help of which you will be able to:
Recover digital media files from memory card in just a few steps
Retrieve lost or deleted files from any memory card types such as SD card, Memory card, memory stick, CF card, SDHC card, SDXC card, etc
Get back lost data from different memory card brands like Sony, Samsung, Toshiba, Kingston, Kingmax, Pentax, Verbatim, Transcend, etc
Also recovers data from external hard drive
Recover photos belongs to different file extensions like JPG, PNG, GIF, PSD, PIC, BMP, etc
emid

emid


* Free version of the program only scans and previews recoverable items.
What is Smart Media Card?
A Smart Media Card is a kind of flash memory card that is capable of storing huge amount of data on it.
These kinds of cards are usually used in gadgets like digital cameras/camcorders for saving photos and videos.
But, like other cards, user also lost media files such as photos, videos and audio files from there Smart Media Card.
Scenarios that can cause loss of data from Smart Media Card [photos, videos, audios]
There are lots of causes that can affect the storage media data, it is recommended to know some common causes before going for any solution:
Damaged Storage Card– Once a storage media gets damaged or corrupted then all the stored files will become inaccessible. This is one of the common causes of data loss. A memory card can become corrupt or damage because of virus attack, improper removal, rude shutdown of computer and more.
Format of digital media– Sometime formatting become necessary because of any error. When memory card gets corrupted and prone to any error then it forces user to format the digital storage device in order to access the data. But after formatting the card, the data like images, videos etc gets lost.
Direct Removal – Unplugging a memory card in shocking way can make them corrupt and data become inaccessible. If you direct remove the memory card from the PC/Computer without using 'safe remove' then loss of data may happen and makes your card unreadable.
Smart Media Card Recovery Software
There are some manual and automatic tips are available through which you can restore Smart Media Card data. In order to apply manual recovery you need to be proficient in computer skills but in the automatic solution you don't need any experience and evern backup of your data.
Manual Tips:
Restore backup- If you have a backup of your Smart Media Card then you don't need to worry about data corruption. Simply restore your memory card backup. But before restoring you need to take care about some facts:
Make sure that backup is updated
Backup is not corrupt or damaged
Partial backup can generate data loss situation again.
Command Prompt: With the help of command prompt you can retrieve corrupt or old data from memory card.
Attach Memory Card with your PC/Laptop.
Press Ctrl+R to open run dialogue box.
In this type "cmd" without double quotes and press enter key.
Now you need to run a command:
In the command prompt type Chkdsk e: /r –
Note: In the above given command e: is for the drive letter of your memory card. Change it according to your system.
A warning will appear press Y for continue.
System will ask for saving the data and press Y.
That's all, you can access your lost data once again.
Automatic Recovery Software
 If you are unable to run any manual solution then simply download Smart Card Media Recovery Software for Windows/Mac. This recovery software will help you to overcome from data loss situation without doing anything manually. It allows to recover data from External & internal drives, digital cameras, memory card, USB drive and more.
emid

emid


* Free version of the program only scans and previews recoverable items.
With the help of this data recovery software you can restore data from formatted and corrupted memory card.
You Might Also Be Interested In:
Steps to Restore Lost/Deleted Data from Smart Media Card

Step 1: Select Desired Location
Firstly, select the drive, external media or volume from which you want to recover deleted media files. After selecting, click on 'Scan'.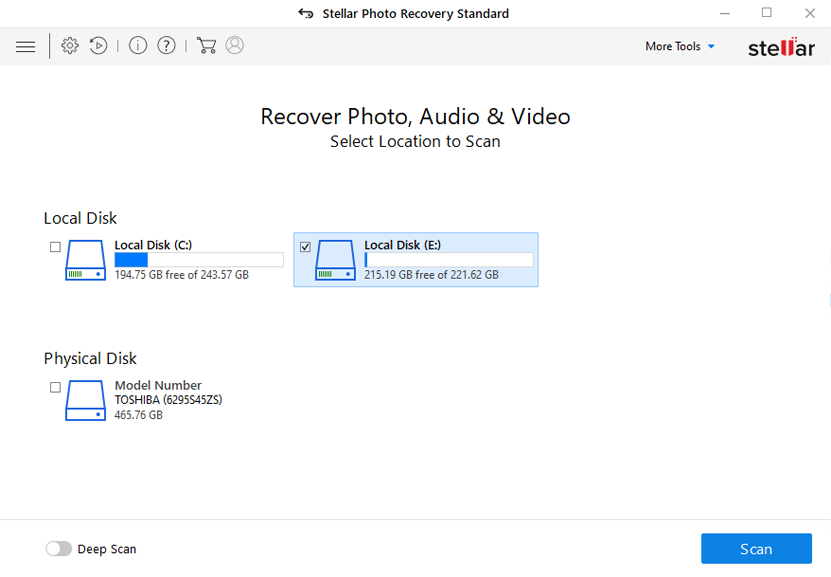 Step 2: Preview Recovered Media Files
Next, you can preview the recoverable media files after the scanning process is completed.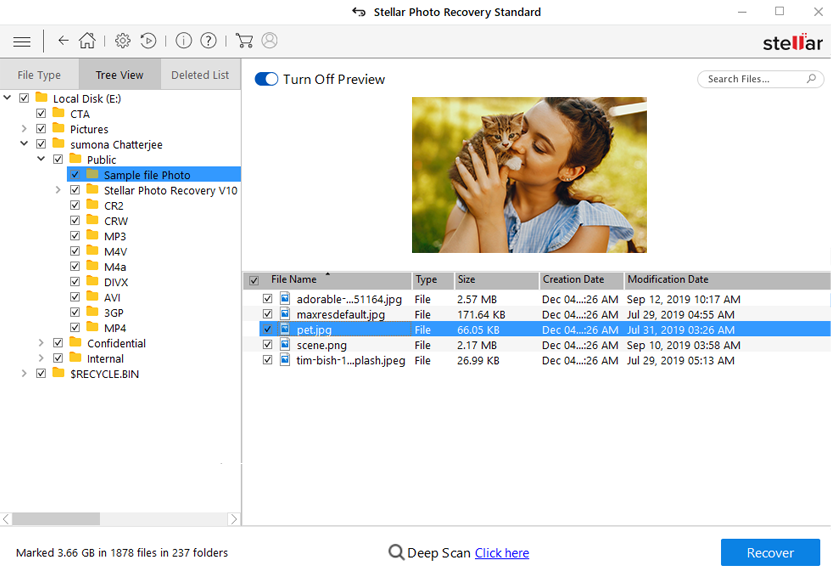 Step 3: Recover Media Files
Lastly, you can select the images, audio, video files you want to restore and click on 'Recover' option to save them at the location you want.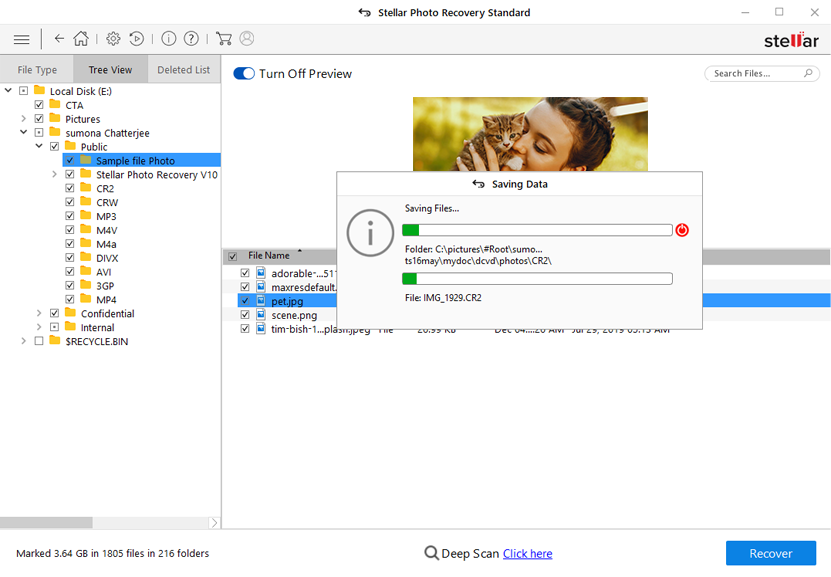 Tips to prevent data loss
You can protect your memory card and other storage device from being corrupt or inaccessible. With the help of some prevention tips you can easily secure your stored data, follow the below given tips and prevent data loss:
Avoid over packing memory card
If you pack your memory card completely then your stored data is at risk. It is recommended to avoid over packing and always leave some extra space on the card. If your memory card is of 32 GB then you need to maintain at least 1 GB of free space. This is because making the data transfer process effective and error free. If you fully packed the SD card then data transfer become slow and sometime it can also corrupt the entire memory card and their data.
Go with Safely Remove Process
Always remove memory card from system and or any other device via safely removal process. Go to the safely removal option and then click on them to remove attached memory card. This will prevent your storage device from being corrupt.
Format VS. Deleting
If you want to clean your memory card then you have two options first is delete All and another is formatting memory card. But it is always recommended to go with formatting memory card. Formatting a memory cards is like resetting them, and making them "fresh" again. Through this you can also fix any disk errors that may have appeared while data transfer process.
Backup of Storage Drive
It is always recommended to create a backup of any storage device on any safe place. But if you think that creating a backup you can use them and restore data after data corruption then you are wrong. It is also necessary to maintain the created backup on regular basis as outdated backup is completely useless.
Turn off your Device before Removing
If you want to remove or detach memory card from your camera or phone then first you should turn them off. If you remove the memory card while the device is on then there is a chance that your memory card will get damaged and data loss situation may appear.
Conclusion
It is hope that all the above given tips, recovery methods (manual/automatic), prevention tips and other things will help you in order to recover all of your data from corrupt or inaccessible SmartCard storage media.
If you have found this post helpful and useful, then please do not forget to share it.
Also like and follow us on Facebook, Twitter and Pinterest to get latest updates.
Alex is an expert technical writer with 7+ years of experience. His in-depth knowledge about data recovery and fascination to explore new DIY tools & technologies have helped many. Alex has a great interest in photography and loves to share photography tips and tricks with others.