Are you using Sony Xperia phone and recently faced a situation where you were unable to view your saved pictures and videos from it? Do you want to know how to recover deleted photos from Sony Xperia and videos as well? Tried several solutions but not yet able to get back those deleted photos and videos from Sony Xperia?
Well, if the answers to these questions are yes then do not worry just try the ways mentioned in this blog and know the best Sony Xperia data recovery solution.
To recover missing photos and videos from Sony Xperia, we recommend this tool:
This software will restore data from corrupted, formatted, encrypted storage media and works in all data loss situations. Now recover your lost and deleted data in 3 easy steps:
Download this Media File Recovery Tool rated Excellent on Pcmag.com.
Select the storage media from which you want to restore the media files & click Scan.
Preview the recoverable files, select the items you want to recover and click Recover to save the files at desired location.
Best Tool To Recover Deleted Media Files From Sony Xperia
Sony Xperia Data Recovery Tool is the best-recommended tool that can be used to retrieve deleted photos on Sony Xperia. This data recovery tool allows you to recover photos, videos as well as audio files from storage media devices.
This is the best option you can try as it offers a very easy to use interface. Those who do not even have much technical knowledge; can easily use it for Sony Xperia data recovery solution.
The best part about this wonderful tool is that- it is available for both the operating systems: Windows as well as Mac, respectively.
With the help of this tool, you can also:
Recover deleted videos (mp4, 3gp, avi, mov, mkv, divx, xvid, wmv, flv, etc) and image files (jpg, jpeg, png, bmp, tiff, tif, gif, etc) from Sony Xperia's memory card
Supports recovery from all Sony Xperia phones including Z5 Premium, M4 Aqua, E4g, M2 Aqua, Xperia Z, T3, Z2, M2, T2 Ultra, etc and all Xperia Tablets
Recover deleted media files from various memory cards, hard drive, USB flash drive, digital cameras & camcorders, memory sticks, pen drive, external hard disk, etc
Preview recoverable photos within software before you proceed to save them on your PC
Read-only program, 100% clean, safe & easy to use.
Here are the steps mentioned below with the help of which you will be able to recover deleted photos and videos from Sony Xperia phone.
Steps to Recover Deleted Media Files From Sony Xperia
Step 1: Select Desired Location
Firstly, select the drive, external media or volume from which you want to recover deleted media files. After selecting, click on 'Scan'.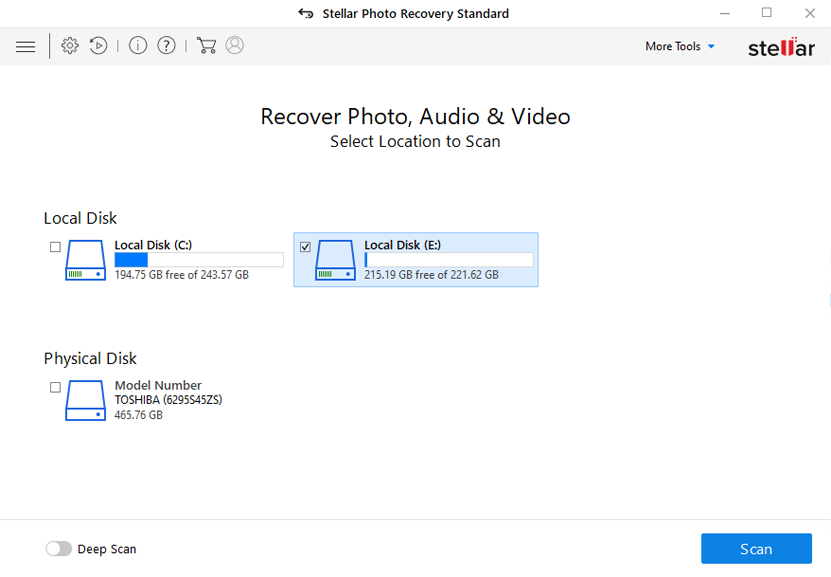 Step 2: Preview Recovered Media Files
Next, you can preview the recoverable media files after the scanning process is completed.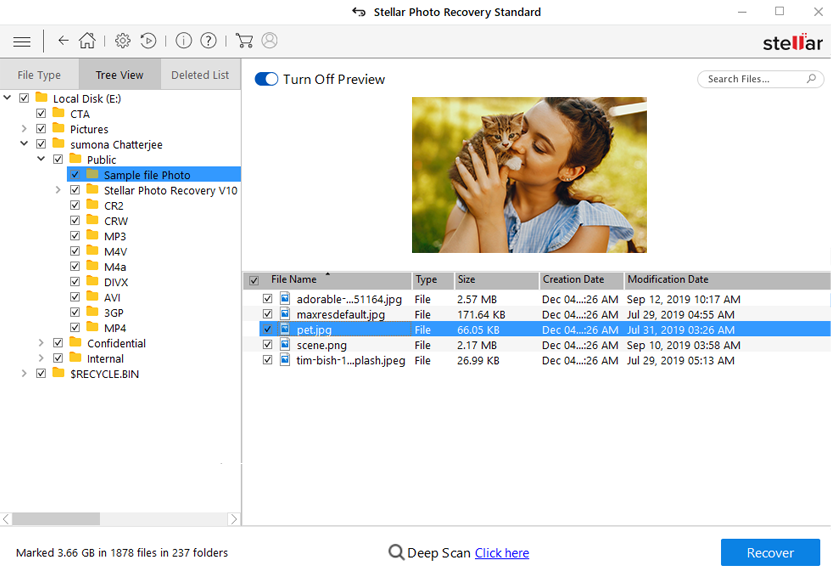 Step 3: Recover Media Files
Lastly, you can select the images, audio, video files you want to restore and click on 'Recover' option to save them at the location you want.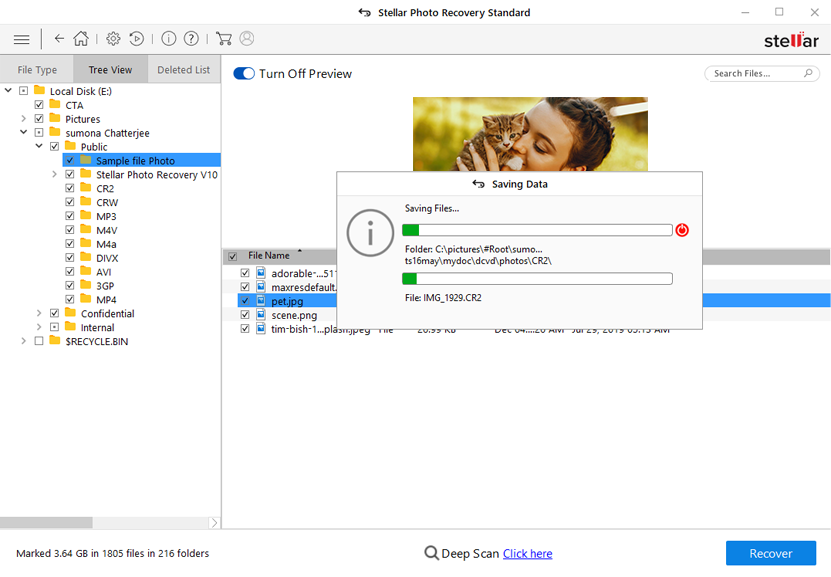 Restore Lost Media Files Using Backup Option
Most of the time, it happens that the pictures and videos get deleted or lost due to several reasons. However, it is the best option to keep backup of the files you never want to lose. But, in any case, if you ever lost the data then you can restore the photos, videos and audios:
You can find and open the image files backup folder and then you can locate the exact image you want to restore from the drive.
You can then copy and store the image you found back to the SD card or the storage drive you want to.
If you do so, you will surely help to recover deleted photos and videos from Sony Xperia.
Restore Deleted Photos & Videos From Recycle Bin Folder
When your Sony Xperia's memory card is full of storage media files, there is a need to vacant the storage device. This will delete the files selected by you. However, if you want to restore the files that you have unknowingly or unintentionally then go to the Recycle Bin folder of the system.
To restore photos and videos from Recycle Bin, you can find the photos using its filename or the date of deletion if you remember then just select the files and right click on the file you want to restore. Now, you can restore option from the list and then the files will be saved to its original destination from where it has been deleted.
Use attrib Command To Recover Lost Media Files
If you want to recover the files then you can use attrib command. It will help you recover lost media files from Sony Xperia's memory card. But always be very careful because a single mistake can keep the data at great risk. Try the steps below to recover deleted data:
You have to first plug the Sony Xperia's memory card to the system and then go to Start option and then you can type there 'cmd' in a search bar and then simply press then Enter. After this, you can type you can see something that is named with 'cmd.exe' under a program's list.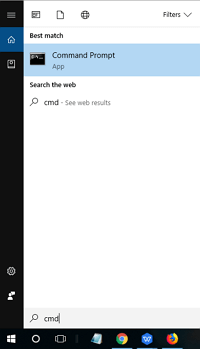 After this, you have to right click on the 'exe' and then a command window will appear that will allow you to restore the media files that are infected because of virus attack.
Next, you can go to type there 'attrib -h -r -s /s /d drive letter:\*.*'.

Get Back Lost/Missing Data Using Xperia Companion
Have you kept your images in sync with the Xperia Companion—it is an app developed by Sony for backing up, browsing and transferring the content between computer system and Xperia device, before any loss? If you've so through this already, you may have all pictures back. If, no then follow the given steps:
Firstly, connect the Sony Xperia cell phone with your computer.
Open the Xperia Companion, then choose the Restore option on the interface.
Then, choose a backup media file that you want to get back from a list of compatible backups.
If you notice that your chosen backup is safe, then enter the password in prompts.
Select the data to recover. Then, choose Camera – images.
Now click Next.
Precautions To Avoid Data From Corruption
Some precautions are given that avoid Photo and video corruption or Deletion in Sony Xperia, learn them carefully and protect your precious data from corruption.
Avoid connecting Xperia's SD card with an infected system: When you want to transfer your data from SD card to any computer then avoid connecting memory card with any virus infected computer system. Because computer malware or virus is easily destroying your memory card data. So, it is recommended that always connect SD card with any healthy computer.
Always use a strong antivirus program: If you regularly connect your phone's SD card with your personal computer then make sure that the antivirus program of your computer is strong and updated. Through this, you can protect your computer data and other removal drives data from virus infection.
Remove SD card Safely: If you connect your SD card with a virus-free computer then there is no guarantee that your data is safe because improper use or operation can affect the memory card very dangerously and make it inaccessible. All OS provides you a safe removal method to remove any removal drive. Along with the computer, this option is also available on your mobile, so when you want to remove the memory card from the Xperia then apply safely removal option.
Avoid using mobile in Low battery: Low battery situation is very dangerous for your mobile data and other application of your Smartphone. Because of low battery, your mobile gets unable to process your requests and so that incomplete process harms your related data.
Conclusion
When all photos get deleted from Sony Xperia unintentionally or accidentally then, it does not remove all the contents immediately, those essential data still present on your memory card. It available on the memory card until you overwrite it with other data.
Although, you can easily retrieve erased/missing files from Sony Xperia's SD card by using Sony Xperia Data Recovery Tool.
Hopefully, the above-mentioned solutions work in your case too.
Taposhi is an expert technical writer with 5+ years of experience. Her in-depth knowledge about data recovery and fascination to explore new DIY tools & technologies have helped many. She has a great interest in photography and loves to share photography tips and tricks with others.