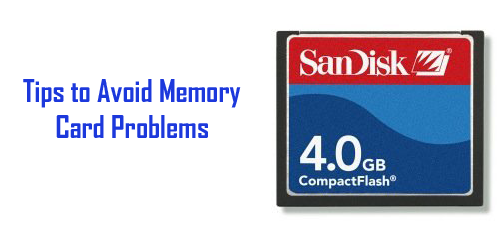 You have been busy in taking photos on your holiday trip and after the trip you open your computer, insert your camera memory card and expect to see beautiful images of your holiday trip, but what you see is memory card error message. And more worst you open the card but it is completely empty.
Just like any other kind of technology, many things can go wrong with your memory card. And the last thing you want to avoid is the loss of photos that you have captured on your vacations.
So, below find out the 10 tips to avoid any errors, problems, corruption or damaged to your memory card.
#1 – Format the new memory card as and when you purchase it
When you purchase memory card it is already "preformatted", but it is a good practice that you must format it again with your own camera before using it.
Note – Format the card when it is inserted in your camera and not on your computer when it is inserted into card reader. It will make sure that your card is using the file system which your camera detects.
#2 – Always leave few memory on your memory card
Most of the modern camera notifies you that how many photo you can take before your memory card gets full. But, this number is only an estimate, hence you must leave some extra memory on your card. If you take photos even when your camera memory is full, you may corrupt you're the existing data.To avoid this problem, always leave some extra space on the card.
#3 – Instead of big memory card, use multiple small cards
Since huge capacity memory cards are available in the market, you may like to purchase the memory card that has more memory space. But what if your 128GB card fails? Then you will lose your important and 1000 of photos and other data. Because of this you must use different card that has low memory space such as 4GB, 8GB, 16GB or 32 GB to reduce the chances of card corruption and loss of photos.
#4 – If you want to delete all photos then format your card
If you are looking to delete all photos from your card then instead of deleting them simply format your card but you must transfer your photos on your computer before formatting the card. Formatting the card makes them as new one and it will also fix any disk errors that may have occurred earlier.
#5 – You must safely "eject" your memory card
You must always safely "eject" your memory card from your computer, camera, phone or from any other gadgets as it will help you to avoid any kind memory card corruption. So, next time when you are done with transferring data from card to Pc or vice versa you must always select safely eject card.
#6 – Switch off your camera before you remove the memory card
It is recommended to TURN OFF your camera before removing card from it as it will help you to avoid any photo or data corruption. If you still eject the card when your camera is ON there are chances that your camera is writing or reading card and ultimately it may damage the files stored on the card.
#7 – Make use of only good quality memory cards
If you use cheap memory cards then there are high chances that your photos may get vanish "mysteriously" and therefore it is suggested that you must use good quality cards. It is not recommended that you must go for top quality but it is also not suggested that you should go for cheap ones. In my opinion you may go for SanDisk, Transcend, Lexar and Samsung.
#8 – Don't use the same card on multiple gadgets
If you are using a card in digital camera and you have taken photos then don't use the same card on your smartphone to take more photos. It is because different gadgets use different file system requirements, so if you mix them then you may end up with data corruption issue stored on your card.
#9 – Use only good quality card reader
Though card reader function is to only read memory card, there are still a chance that it can easily corrupt the card. Hence, it is important that you must use only good quality card reader. The best is to use same manufacturer card reader and memory card.
#10 – Always keep your cards in a safest place
Little amount of dust or water can damage your memory card. The dust may avoid the reading/writing of card and as a result you can't access the photos and other data stored on it. So, you must protect them and keep them in safe place. You may use the case that came with the card (or get one if they don't come with a case).
You Might Also Be Interested In:
Conclusion
So, these are some of simple but very important tips that will help you to keep your memory cards error free and will help your memory card to last long. However, if you have lost your photos from any memory card you can use Digital Media Recovery tool also known as Photo Recovery software to restore corrupt, missing or erased photos from card.