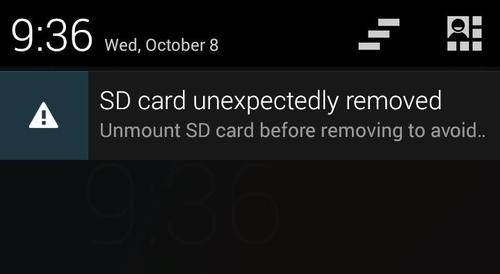 Device fails to recognize SD Card, Saying SD Card unexpectedly Removed
Yesterday my friend was facing a weird issue on his Samsung S7 Edge, that keeps on saying external SD card unexpectedly removed. SD card removed unexpectedly error notification arrives every time when he taps on any app. He tried rebooting his phone several times but the issue still persists. Does anyone know what the exact reason behind the issue is?
As we can easily expand the storage capacity of any device by using external SD memory card, thus almost every user use 4GB, 8GB, 16GB or 32GB card to store their precious data like pictures, videos or audio etc. Sometime user even gets this "External Storage suddenly removed" or microSD card unexpectedly removed error after system update. This issue f9orces the storage card to constantly unmount itself. Restarting your device can temporarily fix the issue. After rebooting the device at first it detects but then starts displaying a error notification stating "SD Card or External Storage inserted", but after few hours or minutes it start displaying the same old error – "SD Card has been removed" error and this cycle keep on repeating itself.
But do you know what you need to do when your device says "SD card unexpectedly removed"? Do you know how to fix SD card Unexpectedly Removed error?
Reasons Why SD Card displays Unexpectedly Removed Error
There are various reasons behind this error message. Here I have mentioned some of the reasons that play their major role and display the error:
Check whether your SD Card Is Corrupted or not
Whenever you find SD card has been expectedly removed error the first thing you need to do is to check if your memory card is corrupted. To check that you need to remove the SD card from your digital camera or mobile phone and connect it to your computer via USB cable and check whether it is working normally. If your SD card works fine after connecting to your system, then it means that there is no issue with your SD card.
SD card not formatted error is the common reason that results to SD card not readable and shows removed unexpectedly error. In this case you can format your SD card to fix the issue. But formatting the card will delete all data on the SD card so better make a proper backup before formatting the device.
SD card infected with virus
Virus infection can easily infect your device and can even lead to data loss. Virus is also the possible reason that can make your SD memory card unreadable and removed unexpectedly error. Fixing the "SD Card Unexpectedly Removed" error is not hard run antivirus software to scan the card and remove virus.
How to fix SD Card unexpectedly removed error on phone
Move to Settings >> storage >> scroll down and choose "Unmount"
After unmounting your sd card remove your sd card from device
Turn off your device
Insert your SD card and turn it on.
Move to settings >> storage >> unmount external storage
Now hit on "mount external storage"
Hope the Unexpectedly removed External Storage error is solved. This step will fix Micro Sd Card Not Recognized error.
How to Recover Files from SD Card That Says Removed Unexpectedly Error?
Want to recover inaccessible files such as photos, videos, music, documents, etc from your unreadable SD card that says removed unexpectedly error message? At such situation use Card Data Recovery to remove the data by deep scanning the SD memory card. This software can recover data from External & internal drives, digital cameras, memory card, USB drive etc with its powerful restoring ability. This is one of the best tools to restore deleted, formatted, corrupted, missing and inaccessible videos, photos and audios from any digital media devices.
Here you have easy steps to recover media files from Card Unexpectedly Removed or Unmounted error.
Steps to recover media files from card unexpectedly removed
Step 1 – Install "Photo Recovery" software and launch it on your computer. Click on "Recover Photo, Audio & Video" tab to recover photos, videos and audio files from any SD card, external USB drive or computer hard drive. Connect the media to your computer and then perform the process.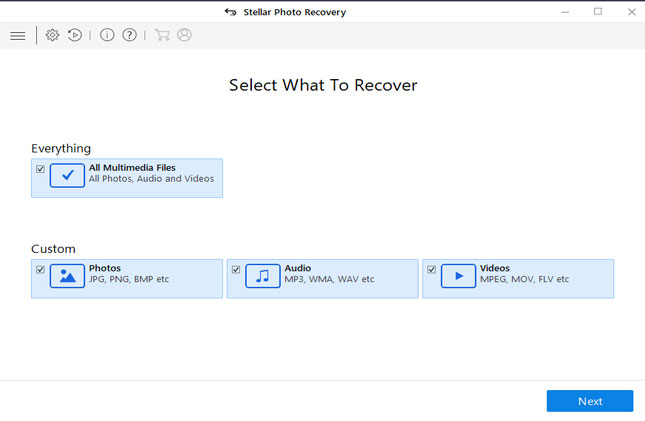 Step 2 – Select the drive from which you want to recover files. All the hard drive and external media will be shown in the list. Now select the desired drive to scan and then click on "Scan" button.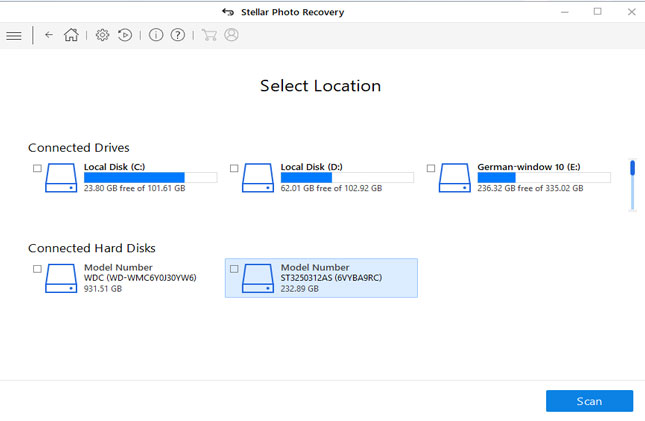 Step 3 – Once you click on "Scan" button the software will show that scanning is in progress. The software will search for all multimedia files from your selected drive or attached media.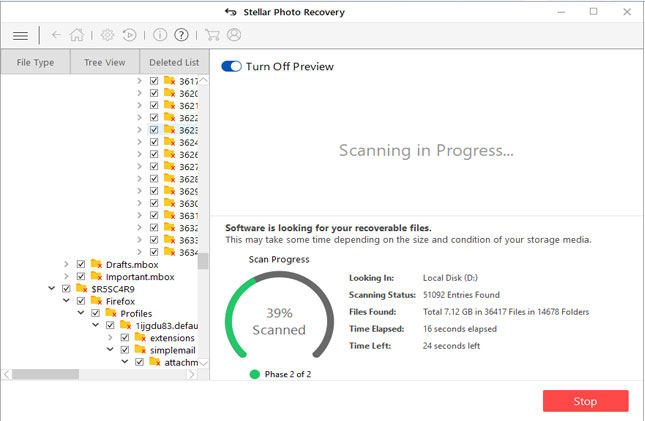 Step 4 – After scanning, all the files that are found in the selected volume, hard disk or other storage media devices are listed. You can now select the files to preview them and then you can click on "Recover" button to finally save them on your computer.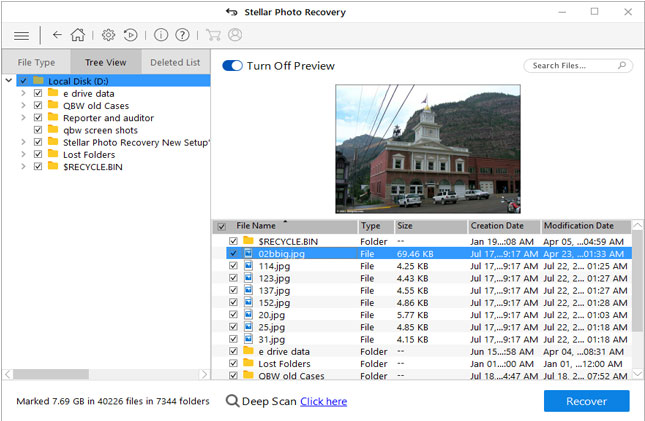 Tips to prevent data loss
There is no guarantee about the memory card, USB drive or hard drive as the data loss can happen anytime without any notification. Therefore it will be best to keep your data safe before it get lost by any mean. However mentioned below are some of the tips to avoid data loss scenarios on any storage device.
Backup your storage drive– While shooting an important event, it will be better that you use portable card reader or portable hard drive because this can backup all your data like videos, audios, images etc. In fact this process can be easy to backup the files to hard drive of your laptop or if you have a portable hard drive then it will be easy to backup all data.
Buy reliable digital device– You should never buy any product like memory card from an unknown manufacturers which is cheap. First you should know about the card that you are going to buy and select those companies which provide good product like Lexar or SanDisk. This can also help you to prevent your data from losing.
After every use, format the drive in camera– It is seen that after making several backups of the data, user format their card on computer which one should not do. Always format the memory card in camera otherwise the files will not be written to card by camera.
Backup all data on separate drive while importing– You should always backup all files while importing by simply making a second copy on different hard drive. By doing this, it will create a duplicate copy of that particular file on separate drive if your primary drive fails.
Dual memory slots– If the digital device like camera is having two memory slots then put two same cards and use backup mode with both especially at that time when it is important to shoot.
Label the cards– Buy some sticky color labels from store and use them on those cads which are already used. Just make it a habit to put labels on every card that comes from your camera. This can help you from situation where you might reuse the same card accidentally and all your data will be lost. Hence this process can be helpful to avoid data loss.