Simple Steps To Rescue Lost, Deleted, Formatted Sony Digital Camera RAW SRF Image Files!!!
Overview – Is it possible to get back your erased or lost RAW SRF photo files from your Sony camera? It could be possible that you may mistakenly or intentionally delete all files or reformat your Sony digital camera. You should consider this just in case if it happens to you someday. In this situation you can rely upon world most reliable and professional SRF File Recovery that can easily help you to recover deleted Sony RAW SRF photo files.
With the help of this recovery software, one can:
Easily retrieve deleted, lost, formatted, missing Sony raw .SRF/.ARW/.SR2 photos with ease
Restore RAW image files format of different digital cameras such as Canon CR2/CRW, Nikon NEF, Fuji RAF, Pentax PEF, Samsung SRW/SR2, Hitachi, Olympus ORF, Kodak KDC/DCS/DRF/K25 Sigma X35, Mamiya MEF, and many more
Beside RAW photo recovery, this software can also retrieve other formats of images like JPEG/JPG, PSD, PNG, TIFF, GIF and other image formats
Recovers Sony SRF and other camera RAW images from various camera memory cards (SD cards, SDHC, SDXC, SanDisk SDHC, Sony SDHC, Transcend SDHC, Strontium MicroSD, Lexar SD card, Kingston, Olympus xD picture card, Eye-Fi Pro SD card, Verbatim SDXC, MMC card, etc
Also restore media files (photos, videos and audio)from various data storage devices like digital cameras & camcorders, memory cards, pen drive, hard drives, USB flash drives, mobile devices, etc
Preview recoverable Olympus pictures within software, before you proceed to save them on your computer
Read-only program, 100% risk-free & user friendly interface
Restore Deleted Sony Digital Camera RAW SRF Image Files Effectively



* Free version of the program only scans and previews recoverable objects.
What is Sony RAW SRF File Format?
SRF file is a RAW Image file format that is used in Sony Digital cameras. It is a file extension that is a special kind of RAW image format generated by Sony digital cameras. These raw image stores the data in an uncompressed format that is exactly captured by the camera's sensor. Later these raw files can be converted into JPEG/JPG, PNG or other image file format.  As well as setting like color temperature and exposure can be edited once the image is saved on PC.
So, in case if you have captured lots of SRF RAW images but accidentally lost or deleted them and you wish to restore them back then you can use an appropriate SRF File Recovery software.
Additional Reading: Recover Deleted Photos and Videos From Sony A6300

Common mistakes For the Loss of Sony RAW SRF Files
Loss or deletion of SRF files may occur anytime and without knowing anything. Mistakes are bound to happen and it can be happen by any of us. Data loss scenarios happens to us and all have to face such emergencies and need to apply some quick method to avoid all such conditions. However many user make some common mistakes which needs to be avoid:
Data deletion – While deleting the data like videos, photos and audios or SRF files, it is always important to note that you have made a backup of that data and is no longer in use. If you have verified the data then delete the data which is must.
No backup – If there is no backup available for SRF files then loss of SRF files is surely to appear. It is always instructed to make a backup of complete data and keep it in safe place so that if any corruption happens or the original data gets lost then the backup can help you to put the situation under control.
Hardware issues – Hardware issues occur and due to this loss of data can happen, including your SRF files, and this result because of hosting system crash, due to power failure etc. So to decrease the risk of hardware failure, it is very important to keep your devices on protected environment and to use uninterrupted power supply.
Virus Infection – If your system has infected with virus then the data can be lost. This situation may occur when there is a failure to update the system with the latest antivirus software which may result data loss. If there is insufficient way to fix the latest threats then this infection can also pose the data loss.
Natural disasters – This is one of the most causes of data loss which is uncontrollable. Therefore it becomes very important to decrease the risk of data loss by storing all the data under cloud storage device. In fact always be ready to backup your important data and keep them in safe place so that data can be protected.
All the above mentioned scenarios can lead to serious loss of SRF files and other data where users can find themselves in a situation where they don't know what to do next to get back the data. However with the help of powerful recovery software, one can very easily know how to get back lost or deleted SRF Files from any digital media device.
Additional Reading: Sony Camera Photo Recovery – Retrieve Deleted ARW RAW Files of Sony Camera

Best Methods to Recover Deleted or Lost Sony Camera RAW SRF Image Files
Looking for a solution on how to recover deleted Sony RAW SRF Photo Files? This situation is very common because many users have faced such type of problem. Generally the digital data like pictures, audios and videos are deleted because of various reasons like accidentally deleted, by formatting or due to virus attack. When such situation appears then the data cannot be accessed.
At this condition, you have two quick methods to recover deleted or lost SRF images:
Method 1: From Backup
If you have kept proper and valid backup of your Sony Camera photos such as RAW SRF/SR2/ARW, then it is obvious that you will use that backup for restoring RAW images of Sony camera.
Additional Reading: How to Recover Deleted Videos from Sony Handycam
Method 2: By Using Sony Camera Photo Recovery
With the use of Photo Recovery software which is suitable Sony Camera Photo Recovery, one can easily help you recover deleted Sony RAW SRF Photo Files from Sony digital camera.
Besides recovering RAW SRF files, it also restores other RAW image file format of different digital cameras such as ARW, SR2, ORF, CR2, CRW, NEF, etc. The SRF file recovery software also retrieve photos, videos and audio files from different storage media devices such as hard drives, external hard drives, digital cameras, camcorders, memory cards, USB drives, pen drive, memory stick, etc.
The Sony SRF File Recovery software is available for Windows and Mac
The Recovery software for SR files is designed in such a way that it can easily rescue SRF RAW images from any Sony digital camera and memory card which include SD card, CF card, XD card, etc. It thoroughly scans the entire storage device as it has powerful scanning technique which can solve Sony Camera RAW SRF Image Recovery problems and gets back all the missing files. It also provides the facility to preview the files before recovery and can access the files which users want.
You Might Also Be Interested In:
Steps to retrieve lost/deleted Sony RAW SRF Photo Files

Step 1 – Install "Photo Recovery" software and launch it on your computer. Click on "Recover Photo, Audio & Video" tab to recover photos, videos and audio files from any SD card, external USB drive or computer hard drive. Connect the media to your computer and then perform the process.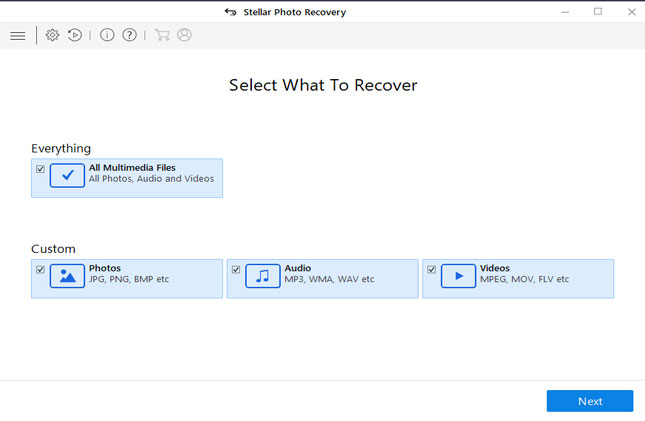 Step 2 – Select the drive from which you want to recover files. All the hard drive and external media will be shown in the list. Now select the desired drive to scan and then click on "Scan" button.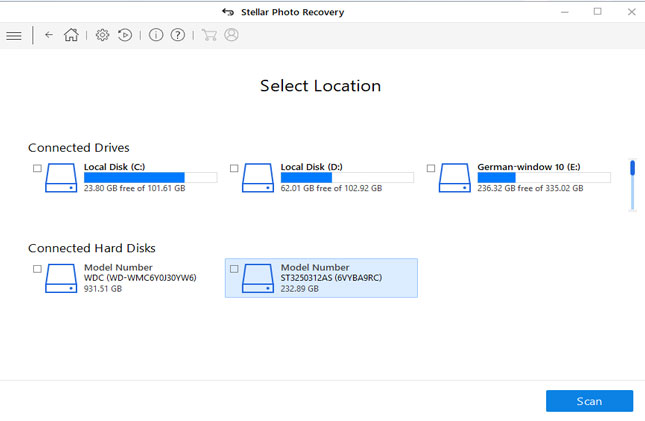 Step 3 – Once you click on "Scan" button the software will show that scanning is in progress. The software will search for all multimedia files from your selected drive or attached media.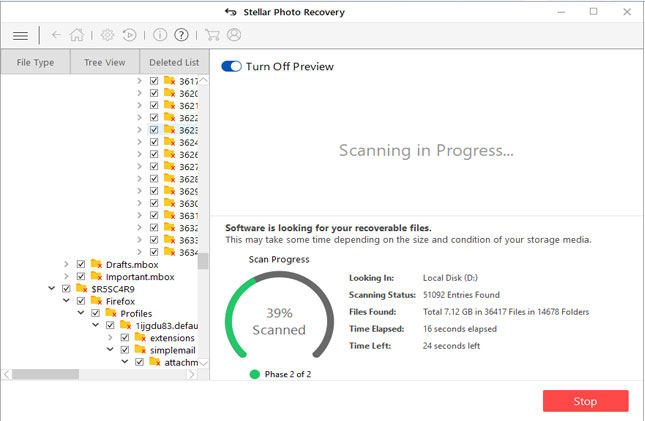 Step 4 – After scanning, all the files that are found in the selected volume, hard disk or other storage media devices are listed. You can now select the files to preview them and then you can click on "Recover" button to finally save them on your computer.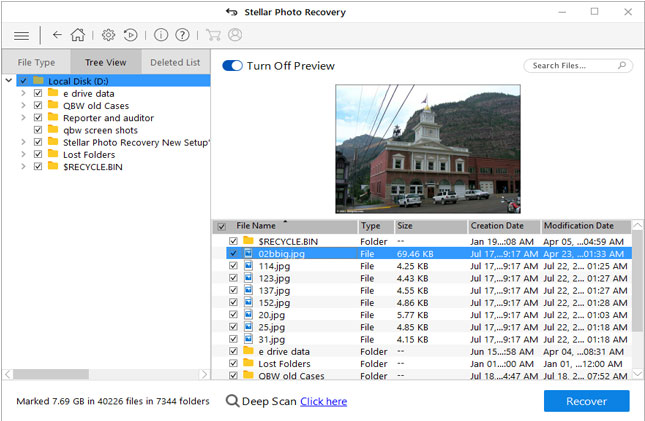 Additional Reading: How to Recover Deleted Photos from Sony Cyber-shot Camera
Tips to remember
After losing your important data from your storage device, it is very much important to remember some useful tips which can help you to avoid data loss in future. Some of the tips are mentioned below:
Always make a backup of all your important files or folders so that it can help you in future when any data loss situation happens.
Use some reliable power source which can help your system from sudden shutdown
Before formatting, check your storage device at least two to three times
Never use any digital device when its battery is low
Don't remove the files when file transfer process is on progress
Before removing the device from computer or from any other system, eject it properly
Avoid using the same device when it is already used and it is full. Keep it on safe place and do not save any new media files otherwise the previous data will be overwritten
Always protect your device from any virus or malware attack by using the perfect antivirus program
Before deleting any files, just be sure of what you are selecting and what you are deleting
Never avoid any type of warning message because this can also be the reason for data loss

If you have found this post helpful and useful, then please do not forget to share it.
Also like and follow us on Facebook, Twitter and Pinterest to get latest updates.
Summary
Article Name
SRF File Recovery – Recover Deleted Sony RAW SRF Photo Files on Windows/Mac
Description
Best methods to recover deleted or lost Sony Camera RAW SRF image files. Method 1 – From backup. Method 2 - By Using Sony Camera Photo Recovery.
Author
Publisher Name
Publisher Logo