Are you not able to view your recorded CCTV footage? Or have you accidentally deleted videos from CCTV DVR? If 'Yes' then don't worry because here in this blog, you will get to know how to retrieve CCTV footage from DVR in the best possible way.
To recover deleted CCTV footage, we recommend this tool:
This software will restore data from corrupted, formatted, encrypted storage media and works in all data loss situations. Now recover your lost and deleted data in 3 easy steps:
Download this Media File Recovery Tool rated Excellent on Pcmag.com.
Select the storage media from which you want to restore the media files & click Scan.
Preview the recoverable files, select the items you want to recover and click Recover to save the files at desired location.
Best Software to Recover Lost or Deleted CCTV/DVR Footage
CCTV/DVR Video Recovery is one of the most efficient and effective tools that is specially designed to recover deleted CCTV footage from hard drive, SSD and other storage devices. If your CCTV/DVR hard drive is physically damaged, water damaged, fire damaged or even showing some errors due to failure, this software works in all situations provided CCTV/DVR hard drive reads on PC or laptop.
This powerful software is able to –
Recover lost/erased/deleted .cctv and .dvr videos
Retrieve Deleted CCTV and DVR videos recordings from the hard drive, SSD and SD card
Restore from several CCTV camera types like Bullet camera, Dome camera, PTZ Pan Tilt, and others
100% read-only, Safe, secure and easy to use
emid

emid


* Free version of the program only scans and previews recoverable items.
Supported Camera Brands & Types
| | |
| --- | --- |
| Camera Brands | CP Plus, Hikvision, Ahuja, Bosch, Sony CCTV, and DVR camera |
| Camera Types | Bullet CCTV, Dome CCTV, PTZ Pan Tilt, C-Mount CCTV & Zoom Cameras, Network/IP CCTV, Infrared/night vision CCTV, High Definition (HD) CCTV Cameras, Wireless CCTV |
You can try this step by step guide to know how to retrieve CCTV footage from DVR using this feature-loaded software.

Can Overwritten CCTV Footage Be Recovered?
NO completely overwritten CCTV footages can not be recovered at all because the old videos are overwritten by the new videos and no matter how hard you try the old videos are completely lost and can't be retrieved.
But if CCTV/DVR hard drive is partially overwritten, which is a very uncommon situation then there is a slight chance to recover deleted CCTV footage.  In such cases, you can try the CCTV/DVR Video Recovery tool to give it a shot and see if it works or not. Make sure the affected storage device is readable so that the software can detect it to start the proceedings.
Restore From DVR Hard Drive Backup
If you have backed up the CCTV footage to another removable disk then it is a good option. You can easily restore the backup footage to the original hard drive or you can view the deleted footage directly on the backup device.
To do so, you have to follow the below steps:
First, you have to find and open the video backup folder.
Next, you have to locate the exact video that you have lost or deleted from the CCTV/DVR hard drive or SD card.
Lastly, you have to copy and store the found video back to the SD card or disk drive.
These steps will surely help you to recover deleted CCTV footage.
Use attrib Command To Recover Deleted CCTV Footage
You can also try attrib command to recover deleted CCTV videos from DVR. Make sure that you do not make even a single mistake while trying this recovery option. So, to retrieve CCTV footage from DVR, you can try the following steps:
Step 1: First of all, you have to plug in the hard drive, USB drive or memory card to your system.
Step 2: Next, you have to go to Start menu and then type in 'cmd' in a search bar and then hit Enter key. After this, you can see something named 'cmd.exe' under a program's list.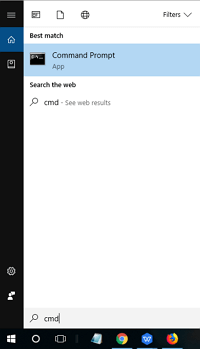 Step 3: Now, you have to right-click 'cmd.exe' and then there you will get the command windows that allow you to restore files that are infected with the virus.
You have to then type in 'attrib -h -r -s /s /d drive letter:\*.*', as for example, 'attrib -h -r -s /s /d G:\*.*'.

NOTE: You can replace G with the letter of the hard drive or any other external storage drive where you lost files.
How CCTV/DVR Recorded Video Footage Get Deleted?
There could be several causes that can lead to the loss or deletion of CCTV/DVR footage. Some of the causes are mentioned below:
CCTV or DVR hard drive failure
Accidental deletion
Sudden power failure
Availability of bad sector in CCTV hard disk drive
Formatted, corrupted or damaged SD card or hard drive
Fire at the place where CCTV or DVR is installed
Video inaccessibility due to virus or malware attack to hard drive/SD card
How To Get Data From DVR Hard Disk?
To retrieve deleted CCTV footage from DVR, you can follow the below steps:
Download and Install CCTV/DVR Video Recovery tool and select the drive to be scanned and click on Scan.
You can then preview the recoverable footage from the drive after completing the scanning.
Lastly, select the footage you want to recover and click on Recover to save the recovered file to the desired location.
What To Do When Video Footage Loss Scenario Is Detected?
Well, the very first thing you should do when you detect the video loss scenario is to stop panicking. There can be several options that you can try to check when video loss is detected.
Firstly you should check the power connection. Also, check for the loose cable connection. If there is a loose connection then fix it and change the power cables that have an issue. You can then relaunch the camera and the tool.
Try to connect the digital camera to a different port on the DVR. Doing so will check if the port id working alright or not. If there is an issue with the port and you should replace it soon so the video can be displayed.
It is also suggested to update the firmware on a regular basis. If you do so then you can handle this video loss. You can download the latest firmware from the security camera's website.
If, in case, all these tricks fail, you need not worry because you can also try to switch off all the devices. After this, you can reboot the cameras and DVR and then unplug all the power switches and then plug again.
These options will surely resolve your video footage loss situations in no time and help you to recover deleted CCTV footage.
Tips To Avoid CCTV Footage Deletion
Always keep backup of important video footage on some other hard drive
When you lose video recordings, then stop using CCTV/DVR hard drive to avoid overwriting of files
Do not disconnect or power off CCTV/DVR hard drive during the copying process
Immediately try CCTV Recovery tool to restore lost/deleted video recordings
People Also Ask
Alex is an expert technical writer with 7+ years of experience. His in-depth knowledge about data recovery and fascination to explore new DIY tools & technologies have helped many. Alex has a great interest in photography and loves to share photography tips and tricks with others.