Want to know how to recover AutoCAD files? Well, there is nothing to worry about, in this post, you will get the 5 best AutoCAD file recovery solutions to get back your deleted AutoCAD files with ease.
You can recover deleted AutoCAD files by using the advanced Photo Recovery software. Besides, you can try other alternatives as well to perform AutoCAD recovery like a backup (.bak file), recover command, and autosave option.
So, let's get started…
To recover AutoCAD files, we recommend this tool:
This software will restore data from corrupted, formatted, encrypted storage media and works in all data loss situations. Now recover your lost and deleted data in 3 easy steps:
Download this Data Recovery Tool rated Excellent on Pcmag.com.
Select the storage media from which you want to restore the media files & click Scan.
Preview the recoverable files, select the items you want to recover and click Recover to save the files at desired location.
Before I proceed to discuss how to find AutoCAD recovery files, let's know something more about the AutoCAD file and its benefits.
What Is AutoCAD And Its Benefits?
AutoCAD is generally used for designing in two-dimensional or three-dimensional formats with the help of the software known as Computer-Aided Design.
This application has been widely used in industries for designing the structure of the machines and their layout.
Besides, it is also used by the project engineers for playing the layout as well as the structure, by the engineers for designing the machines, gears, and the switches, and also used for other purposes including for personal use as well.
How Do AutoCAD Files Become Corrupted/Deleted?
Below I have shortlisted major reasons that can lead to AutoCAD file corruption or deletion issue. Let's take a look at them:
Intentional/accidental deletion.
File system failure or breakdown.
Virus or spyware infection.
Bad sectors present on a hard drive.
Inappropriate handling of the AutoCAD files such as forceful closing of the system while working on AutoCAD files.
When PC or AutoCAD get crashed & your AutoCAD files were not saved.
As you have known the common scenarios behind AutoCAD .dwg file loss, now you must be thinking that Is it possible to recover AutoCAD files, right?
Just scroll down this page and let's find out whether is it possible to recover AutoCAD file unsaved or not.
Is It Possible To Recover AutoCAD Files?
Yes, it is definitely possible to recover deleted AutoCAD files by using the AutoCAD unsaved file recovery solutions mentioned here.
When you lose any crucial AutoCAD files then don't be disappointed and think that your data can't be restored. They are still present on your device's hard drive and can be recovered easily.
However, to increase the AutoCAD file recovery chances, you should stop adding new stuff to a drive from where you've erased your AutoCAD files.
In the next section of this post, you will learn how to recover AutoCAD file from temp without any trouble.
Best Software To Perform AutoCAD File Recovery
AutoCAD File Recovery is fully feature-loaded software that can help you to restore unsaved or deleted AutoCAD files without backup.
It has advanced algorithms which deeply scan your hard drive in a couple of minutes and get back lost and unsaved AutoCAD files.
Apart from the AutoCAD recovery file, it can retrieve other media files as well like photos, videos, and audio files from different storage devices.
Below find out other ingenious features of this excellent program:
Restore deleted, lost, corrupted AutoCAD (.dwg) files
Support files recovery from various data storage devices like hard drives, memory cards, pen drives, memory sticks, USB drives, mobile devices, etc.
To run this tool, don't require to have any technical skills.
Preview recoverable media files before you proceed further to save the file
Read-only program, 100% risk-free & easy to use.
emid

emid


* Free version of the program only scans and previews recoverable items.
So, what are you waiting for? Just download and install this AutoCAD recovery file location software on your Windows & Mac PC.
Here is the step-by-step guide which you can follow to know how to recover deleted DWG files easily.
How To Recover AutoCAD Files Using Other Alternative Solutions?
Find out the other possible methods that can help you to recover AutoCAD file from temp, Autosave feature, .bak, and recover command.
Just try one by one and see which one will help in your case to retrieve AutoCAD DWG files.
#1: AutoCAD File Recovery From The Backup Option (.bak file)
After losing your saved CAD files, on your computer, you can go to a CAD folder and try to get back your deleted CAD files from its backup (.bak file).
Here is how you can do so:
At first, go to a local folder where you were stored your important CAD files
Locate that backup file by .bak extension.
In the third step, you have to copy & paste .bak file in a folder >> change a file extension from .bak to the .dwg, >> hit Enter to proceed.
Next, click on "Yes" in order to confirm the action.
After this, make double-click on a DWG CAD file in the AutoCAD.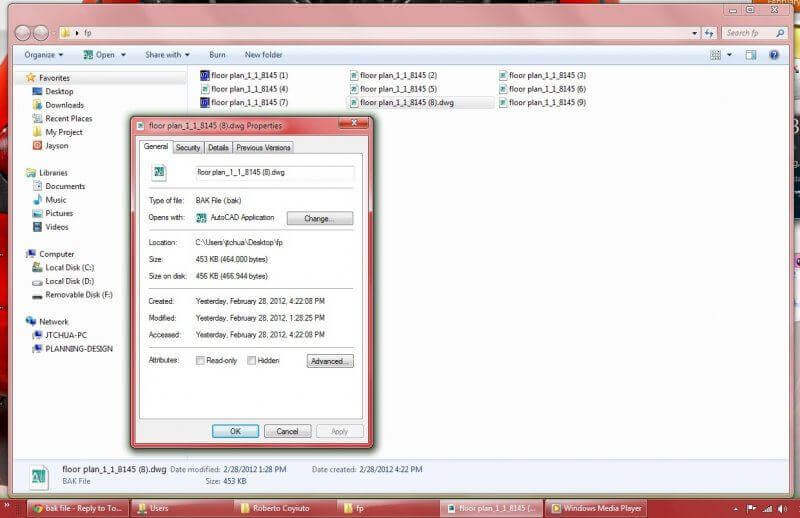 Here, your unsaved or deleted drawing is restored, save the file in another location of your PC.
#2: Recover AutoCAD Files From Autosave
Well, Autosave is a build-in feature of AutoCAD that can help you to automatically save all your work at the set interval. But remember one thing that, the autosave feature will only work if you have previously enabled it.
So, if you have enabled this feature and want to recover overwritten AutoCAD files, try the beneath steps:
Just open the AutoCAD >> go to the "Tools" >> select "Options".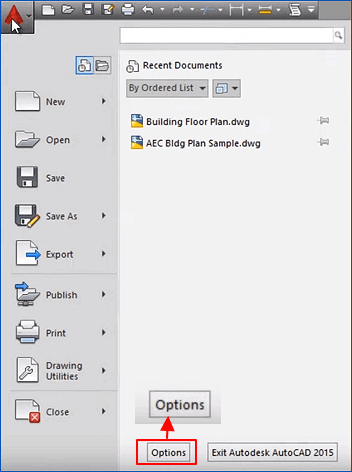 In the second step, tap on "Files" option >> go to the "Automatic Save a File Location"
Locate the autosave files location are normally save under the below-given path:
C:\Documents and Settings\USERNAME\Local Settings\Temp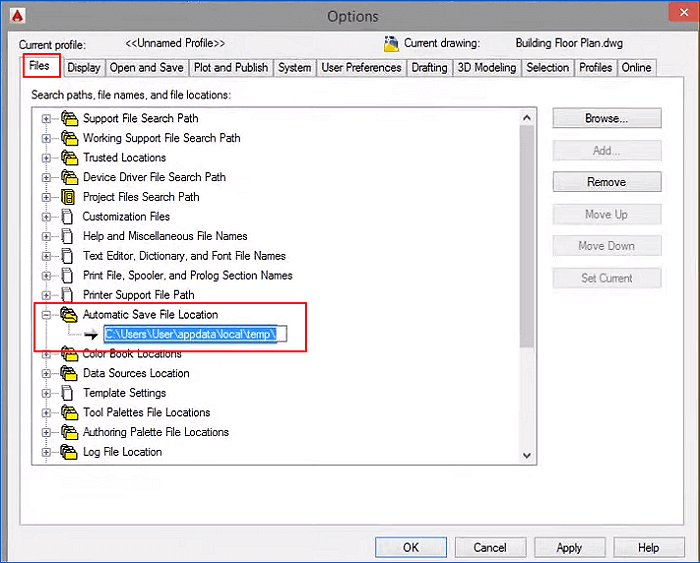 Next, find your AutoCAD file by searching its name >> check a revised date of the files >> choose files which you need to bring back.
Now, change a file extension name from the .bak or .sv$ to a .dwg.

Once completion of these steps, all your deleted AutoCAD files will be restored.
#3: Get Back Lost AutoCAD Files Using Recover Command
Another useful way that you can try is the Recover Command. This command will help you to restore the missing AutoCAD files directly.
Follow the below-shown steps to do so:
In an AutoCAD, open the new drawing.
Choose the "File" >> tap on the "Drawing Utilities" >> select "Recover".
Now, from a dialog box, choose the drawing >> click "OK".
After finishing these 3 steps, this command will bring back your entire erased AutoCAD files successfully.
#4: Retrieve AutoCAD Files From Temp
Last but not the least, if none of the above solutions work for you then you can try to restore AutoCAD files from temp.
Try the below steps to know how to recover AutoCAD file from temp:
First of all, go to a path of a temporary file that might be labeled as the below-shown path:
"C:\Users\username\AppData\Local\Temp".
Otherwise, you can also easily access it by pressing WIN+R >> type %temp%.
Then, find your lost AutoCAD files from the list that appeared in order to recover them.
Just copy the needed files on a local server.
After that, open an AutoCAD file, then go on to the drawing utilities.
Next, tap on Recover. Then, a dialog box will appear.
Find a previous temporary file >> when the AutoCAD recovery process gets over, you will be able to get your unsaved or deleted AutoCAD files.
The process is over…!
[Bonus Tips] How to Back-Up & Protect The AutoCAD Files?
The significant step that you can take to protect your AutoCAD files is to turn on or enable an Autosave feature. If you will enable this excellent feature then you will never lose your essential work again in the near future.
Follow the below easy steps to enable the Autosave feature:
Firstly, in a dialog box, go to "CAD options".
Once the box is opened, right-click on an "Open & Save" option.
Customize the minutes & tick an Autosave option.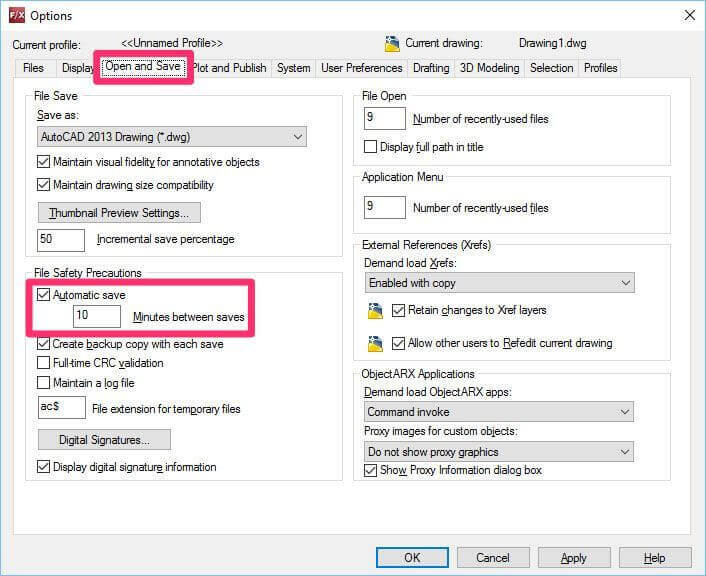 FAQ (Frequently Asked Questions)
Where Are AutoCAD Recovery Files Stored?
The AutoCAD recovery files are stored on the Automatic Save File Location folder on Windows system. However, in a Mac OS, AutoCAD recovery files are saved on the Application tab in a Preferences.
How Do I Recover A Permanently Deleted File In AutoCAD?
You can recover a permanently deleted file in AutoCAD by using the recommended AutoCAD recovery software mentioned in this post.
Does AutoCAD Have Autosave?
The answer is yes, AutoCAD have an Autosave feature. It is a built-in feature of AutoCAD which automatically saves all your work at the set interval.
How Do I Restore A DWG File?
In order to restore a DWG file, you need to open the new drawing >> select File and then choose Drawing Utilities. Next, you need to tap on 'Recover'. Now, select a drawing from dialog box >> click OK.
Where Are AutoCAD Backup Files Stored?
AutoCAD backup files (. bak) are saved at the default location (C:Documents and settingsuser namelocal).
Verdict Time
So, this is all about how to recover AutoCAD files by using the 5 best and effective ways.
You can try any of these solutions to recover AutoCAD file unsaved. But AutoCAD File Recovery software is the best among them. It works for Windows & MAC as well, so you don't need to panic about which OS you are using.
I hope you liked this post…!
Alex is an expert technical writer with 7+ years of experience. His in-depth knowledge about data recovery and fascination to explore new DIY tools & technologies have helped many. Alex has a great interest in photography and loves to share photography tips and tricks with others.