Summary:  Are you looking to unformat SD card? Lost important files after formatting SD memory card or USB drives? Well, don't worry. This post will guide you through the best effective methods that will help you to unformat SD card and recover lost data due to accidental formatting by using powerful Unformat SD Card Recovery Tool and CMD command.
This tool will definitely help you unformat SD card and simply recover data from SD card in just a few simple steps. No matter which operating system you are using, you can easily perform this task on Windows as well as Mac. This tool is very easy to use and there is no need to have any technical knowledge to perform the steps to do the job.
With the Unformat SD Card Recovery Tool, one can:
Easily unformat SD card and recover files from formatted SD memory card.
Restore lost, deleted, missing photos, videos, audio files from formatted SD card on Windows and Mac.
Retrieve media files from memory card, USB flash drive, digital camera/camcorder, Android phone's SD card, etc.
Recover SD card data lost due to accidental formatting, deletion, virus attack, hard drive corruption, system crash under different situations.
100% read-only. Safe, secure and easy to use.
emid

emid


* Free version of the program only scans and previews recoverable items.
I know its time to now know the user guide to perform the task but before that, I would like to share a scenario. This scenario actually inspired me to write a blog on this topic. So, let's have a look at the scenario below:
Practical Scenario: User Want To Unformat Formatted SD Card
Emergency! I need to unformat my SD card!

OK! Yesterday, my little son accidentally formatted my SD card which had held all my photos and songs. I know there is a way to restore them back. But, I don't know what it is. Do you know it? Please, this is urgent! Thank you!

– Original Post From DPREVIEW Forum
Formatting an SD card is very easy either on the computer or on other devices such as Android phones, digital cameras or camcorder such as Canon, Nikon, Fujifilm, Sony, Olympus, etc.
After formatting, the SD card turns blank because it erases everything saved on the memory card. After the format, you can add new data on the card.
Many users format the memory card intentionally in order to free up storage space.
But what if you accidentally format your memory card? How to unformat SD card?
Now let us find – why user format SD card or how SD card gets formatted?
How SD Card Get Formatted or Why User Format SD Card?
Accidental formatted SD card is one of the major problems that are encountered by many users. This mostly occurs when you connect SD card to computer and its display error message "memory card is not formatted do you want to format it". At such a situation many users select to format SD card.
Sometimes users purposely format their SD card in order to clear all data or to free up space.
In some cases, when a virus attack SD card, then the user format the card in order to remove shortcut virus from SD card.
In other scenarios, when memory card gets corrupted or it starts to display SD card error messages, even then also users format the card.
Well, accidentally formatting of SD memory card can always bring us sorrow. You might lose all-important pictures, captured/recorded videos, favorite music or audio files or any other data on it due to carelessness.
You may believe that all data is lost and it's gone FOREVER, but is it really true?
Well, find out the answer by yourself below!
Is It Possible To Unformat SD Card And Recover Data From It?
We all know that formatting SD card wipes all data stored on it. But the real truth is that – Yes, you can unformat SD card. The files are still present on the card until and unless you overwrite/replace them by adding new data.
Hence, it is always suggested that you must stop using your card when you encounter data loss or deletion. It is because adding new data will overwrite the existing data and you lose the chance to recover files from SD card.
Alright, so now let us find those two effective solutions to unformat SD card and recover data from it.
Solution #1: Unformat SD Card And Recover Data From It By Using Unformat Recovery Tool
If you have accidentally format memory card or SD card and lost all data from it and that you want to recover.
Well, in that case, you must first look for backup file. But if you do not have backup of your SD card files, then it is highly recommended that you must use Unformat SD Card Recovery Tool.
This is reliable format recovery software that will help you to unformat SD card of Android phone, digital camera, camcorder or other digital devices and efficiently retrieve data from it.
With the use of unformat recovery software, one can:
Restore audio, videos and photos from formatted memory card.
Support unformatting of all types of memory cards that includes SD cards, miniSD cards, microSD cards, SDHC/SDXC card, TF/CF/XD/MMC/XQD cards, Smart/Multimedia cards as well as USB flash drives, memory stick, hard drive, etc.
Unformat SD card on all version of Windows (10/8.1/8/7/XP, etc) and Mac (10.13, 10.12, 10.11, 10.10, 10.9, 10.8, 10.7 & 10.6) computer.
Note: The only one thing you have to make sure here is that your SD card is not overwritten.
Below, follow the step-by-step guide to unformat SD memory card and recover data from it by using format recovery software.
Steps To Unformat SD Card By Using Format Recovery Software
Step 1: Select Desired Location
Firstly, select the drive, external media or volume from which you want to recover deleted media files. After selecting, click on 'Scan'.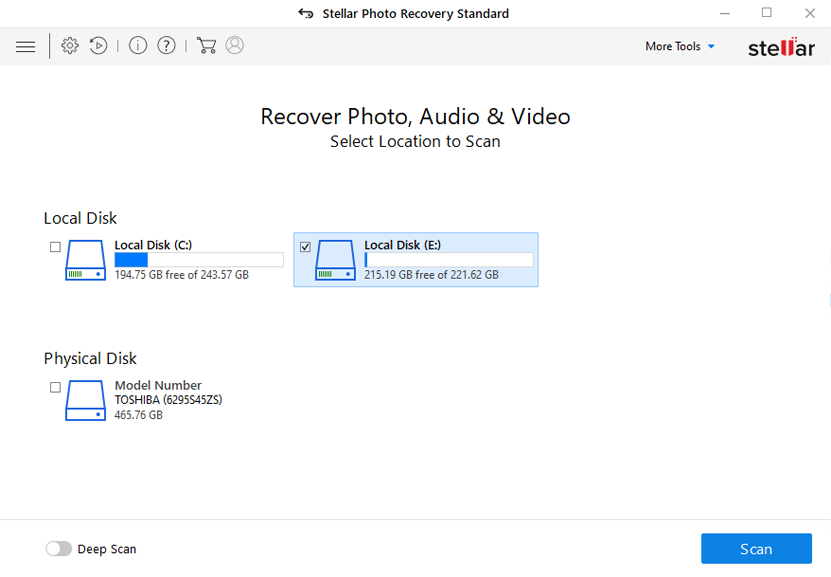 Step 2: Preview Recovered Media Files
Next, you can preview the recoverable media files after the scanning process is completed.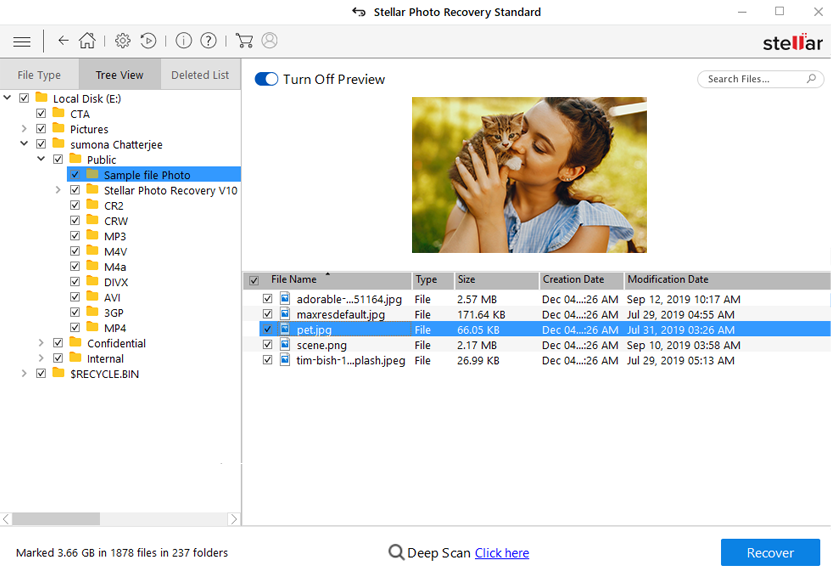 Step 3: Recover Media Files
Lastly, you can select the images, audio, video files you want to restore and click on 'Recover' option to save them at the location you want.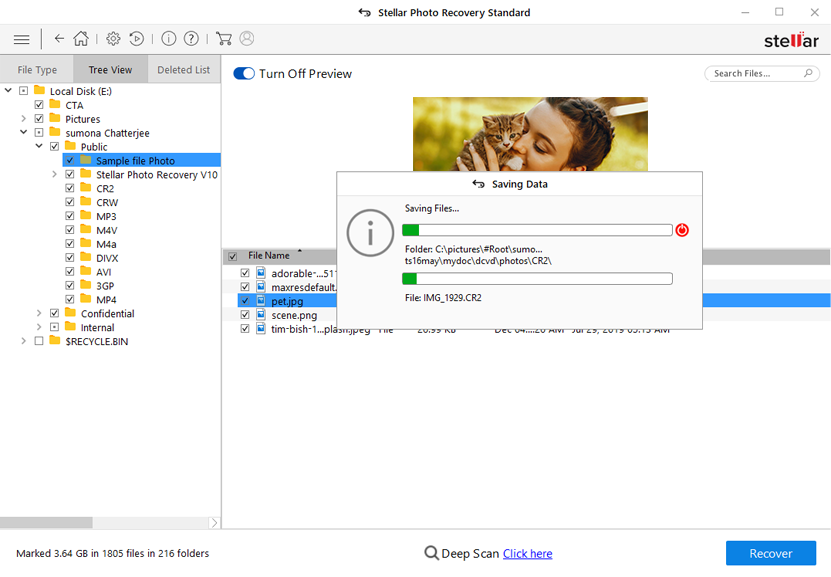 Solution #2: Unformat SD Card For Free And Restore All Files By Using CMD Command
CMD command is another solution that you can follow to free unformat SD card and extract all data from it.
Here follow the steps to unformat SD card with CMD command:
Connect your SD card to your computer Windows PC with the use of card reader.
On your PC, click START and type "CMD" in search bar and hit ENTER.
This will open new command prompt window.
Now type the following command: chkdsk E: /f and ENTER.
Next type – Y and hit ENTER to continue.
Type – E and hit ENTER
Now type the following command: E:\>attrib -h -r -s /s /d *.* and hit ENTER.
Note: Here you need to replace "E" drive letter name with your memory card drive letter name.
Wait for the process to get completed. Once, the process successfully gets completed, you shall now be able to see all data restored back on the formatted SD card.
Conclusion
So, those are the two simple methods to unformat SD card. But do let me tell you that the unformatting SD card process is simple with the help of right format recovery software. Additionally, no one can achieve 100% recovery of files from formatted SD card all the time.
Hence, the best method to prevent SD card recovery is to back up your important file regularly. In case, if you do not have backup, then it is recommended that you must use Unformat SD Card Recovery Tool.
However, you can also try command prompt option to unformat SD card in just a few simple steps.
Alex is an expert technical writer with 7+ years of experience. His in-depth knowledge about data recovery and fascination to explore new DIY tools & technologies have helped many. Alex has a great interest in photography and loves to share photography tips and tricks with others.