Have you mistakenly deleted or lost MOI videos from the storage device? Do you want to know what can be done to recover deleted MOI videos easily? If yes, then do not worry, you have come to the very right place.
Here, in this blog, you will get to know what is an MOI file, its causes of deletion and of course, how to recover deleted MOI videos.
Without wasting any time let me very clearly tell you that you can easily recover MOI files with MOI File Recovery Tool. This tool has the ability to restore lost videos from storage devices.
With the help of this recovery tool, you can:
Restore deleted, lost, erased, missing, formatted MOI video files from various media storage devices
Beside MOI videos, the software also restores other video file format like AVI, MPEG, MOD, ASF, MOV, 3GP, VOB, MTS, MP4, TS and other video files
Apart from video file format, the software also restore various photos and audio file format
Support MOI file recovery from computer hard drive, mobile devices (smartphones and tablets), digital camera or camcorder (JVC Everio/Canon FS/Panasonic), Memory card (MicroSD card, SD mini, SDHC, SDXC), USB drives, etc
Preview MOI videos within software before you proceed to save them on your PC
Read-only program, 100% risk-free & easy to use
emid

emid


* Free version of the program only scans and previews recoverable items.
I know you must be now willing to know its user guide, but let me tell you that before proceeding to the user guide, I would like to first let you know something more about MOI videos files.
What Is An MOI File?
MOI is a video file format generated by digital camcorders that save information about a .mod MPEG 2 video recording. The MOI files store data like version, codec, bitrate and duration. It is mainly used in digital camcorders including Canon FS100, JVC Everio series and Panasonic camcorders.
To know more information about MOI file format: CLICK HERE
Like other video file formats, the MOI file also gets deleted or lost from digital camcorders. Some of the reasons include – formatting of the camcorder memory card, accidental deletion, ejecting memory card out of the camera improperly, etc. But the good news is that you can easily retrieve back your deleted MOI videos with the help of an appropriate MOI file recovery tool.
What Causes MOI File Corruption Or Deletion?
There could be several reasons for the deletion or corruption of MOI video files. Some of them are mentioned below:
Accidentally deleting MOI videos from JVC camcorder or from any other external storage media devices.
Corruption of memory card file system leaves the entire .moi video files in an unreadable state
Antivirus scanning the card containing MOI videos can delete some of the MOI files if they are infected.
Abrupt system shutdown, power outages or disconnecting memory card during the transfer of photos from Nikon camera to computer will bring about loss of NEF files
Formatting the card containing MOI files by clicking on "Format" card option from camera
Memory card pops up error messages like "card error", "card is full" "Drive not formatted; do you want to format it now?" etc can lead to inaccessibility or loss of files, including MOI video files.
How To Recover Deleted MOI Files?
Well, I have already mentioned that using MOI File Recovery Tool, you will be easily able to recover lost MOI videos, so you should give it a try. This tool has the best features that allow you to restore lost MOI videos from any storage device.
No matter on which operating system you are trying to recover deleted MOI files, you can perform MOI video recovery on both the platforms; Windows and Mac.
This recovery tool not only recovers MOI video files but also all other video file formats such as AVI, MPEG, MOD, ASF, MOV, 3GP, VOB, MTS, MP4, TS, etc.
Note: Do not add any new data on the media storage devices from which you have lost/erased your MOI video files, because it will overwrite the existing data and hence you will lose chances of recovery.
Now, let's have a look at the steps to recover lost MOI videos:
Step 1: Select Desired Location
Firstly, select the drive, external media or volume from which you want to recover deleted media files. After selecting, click on 'Scan'.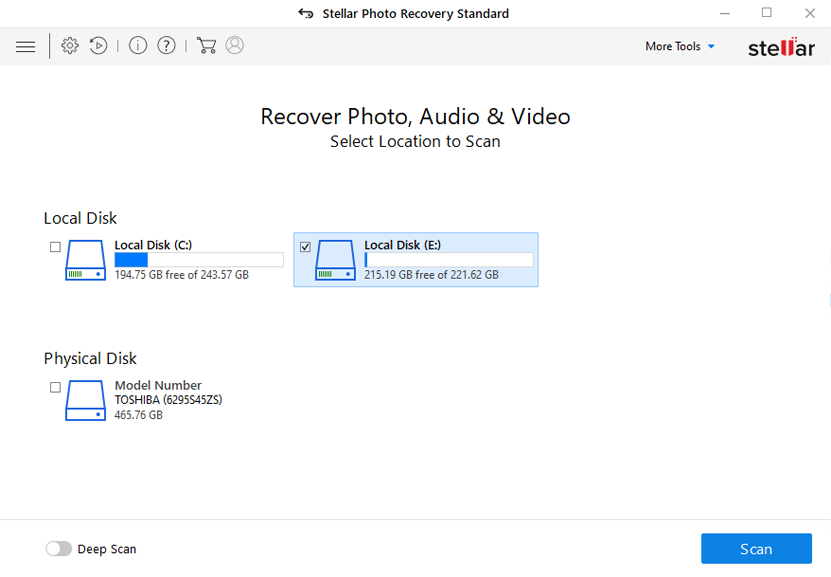 Step 2: Preview Recovered Media Files
Next, you can preview the recoverable media files after the scanning process is completed.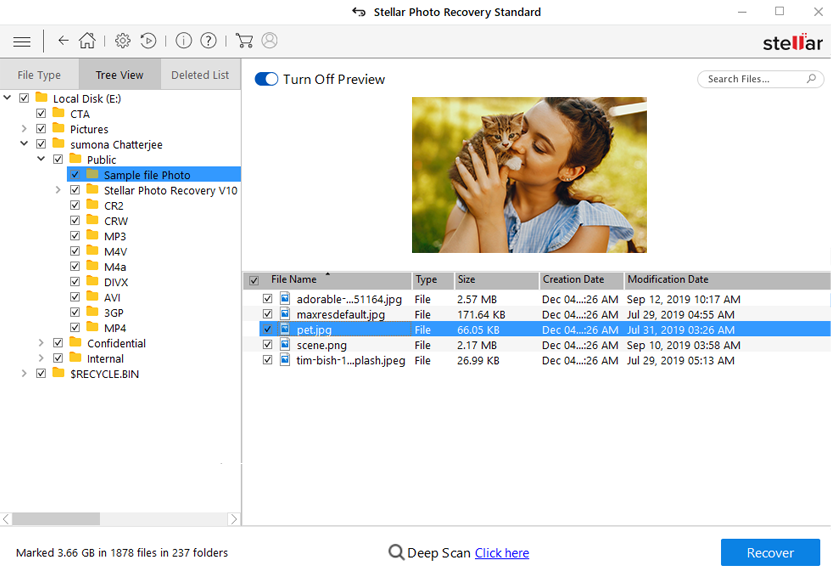 Step 3: Recover Media Files
Lastly, you can select the images, audio, video files you want to restore and click on 'Recover' option to save them at the location you want.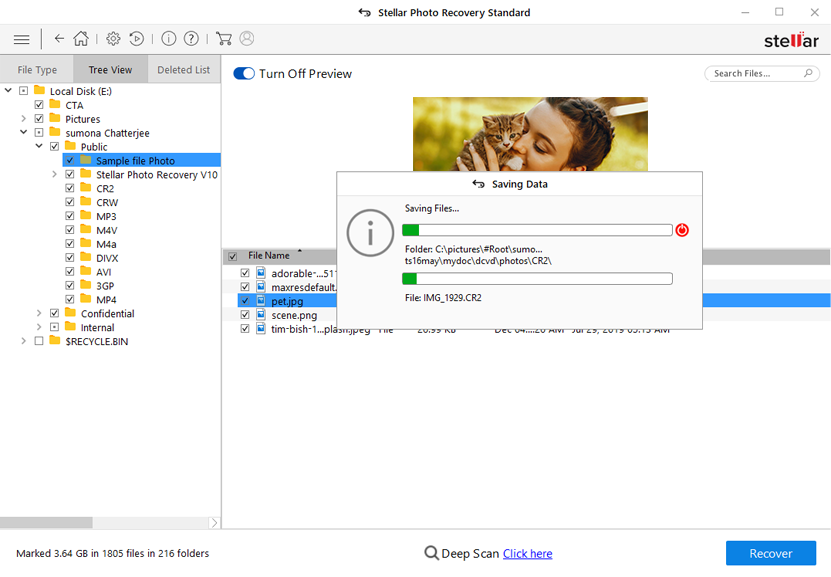 Other Alternative To Recover Deleted MOI Videos
Method #1: Recover Lost MOI Videos From Backup
Most of people have a habit of keeping backup files. So, if you have kept any proper and valid backup of your MOI videos then you can use that backup file to restore MOI video files.
This is the easiest and the simplest way to recover deleted MOI files using the backup and restore option.
Method #2: Recover Deleted Videos Using CMD Prompt From External Storage Drives
If you have deleted MOI videos from storage device then do not worry, you can also recover them using command prompt option. To do so, you have to follow the below steps:
Firstly, press Windows + R keys together in the search box and then type CMD
Next, type chkdsk 'drive letter' /f in the command prompt window and then hit Enter key. As for example: C : \ USERS\ PROGRAM FILES\ chkdsk D : /f
After this, type Y until the command line starts again
Now, again type the drive letter and hit Enter key
Now simply type [drive letter : \ >attrib –h –r –s /s /d *.*]. This command will help you recover the deleted MOI videos in the storage drive.
Here, r is the read-only attribute, h is the command assigned as 'Hidden' attribute to the selected files. S assigns the 'System' attribute to the selected files.
S implies to search the specified path that includes subfolders and D is the command that includes process folders.
Lastly, once the process is done, a new folder will be created on the external drive with the recovered files. Possibly, the files will be in the .chk format. So, you have to change the format and then save the recovered files at the location you want.
Final Verdict
If you have lost MOI videos in any scenario then do not worry, just try the solution mentioned in this blog. Well, the best option you can try is to use MOI File Recovery Tool to recover deleted MOI files.
This is the fastest way to restore MOI videos in easy steps. Apart from this, you can restore lost or unintentionally deleted MOI videos from the backup folder.
So, always keep a habit of keeping backup of your important files that you don't want to lose on a regular basis.
I hope this blog will be very helpful to you. So, all the best…
If you have found this post helpful and useful, then please do not forget to share it.
Also like and follow us on Facebook, Twitter and Pinterest to get the latest updates.
Taposhi is an expert technical writer with 5+ years of experience. Her in-depth knowledge about data recovery and fascination to explore new DIY tools & technologies have helped many. She has a great interest in photography and loves to share photography tips and tricks with others.