In this tutorial guide, we will cover all the essential info regarding what is Virtual Reality (VR), how does it works, what are the best VR apps for Android, and of course how to play VR videos on Android phones.
So, without any delay, let's get started…
Quick Navigation:
What Are VR Videos Or Virtual Reality?
Virtual Reality or VR video is the immersive sort of video that captures from all the angles & sides including 360 degrees.
The best thing about the VR videos is that the viewer feels as he/she is actually present in that environment that they're watching in the scenes of the VR video.
The VR or Virtual Reality videos are captured using 360 degrees or VR cameras. These videos can be watched using the browser or apps ordinarily.
Well, the best technique of enjoying the VR movies or video clips is through strapping over the VR headset, enjoying Virtual Reality, or blocking the natural views.
Ideally, there're uncountable videos for each and every Virtual Reality headset device that are present in the market whether it's the Valve Index, HTC Vive Pro, HTC Vive, PlayStation VR, Vive Cosmos, Oculus Quest, SamsungGear VR, Oculus Rift, and cardboards.
Besides, you can watch VR videos or 360 degree videos on PCs, Android & iOS devices, and other gadgets.
Different Types or Formats Of VR (Virtual Reality) Videos
Before we discuss how to watch 360 VR videos on Android phone, let's take a look at 3 different types or formats of the VR videos.
1- Monoscopic
The Monoscopic is the foremost immersive video format which is still used these days. However, the mono word is enough to define for a single thing, it means Monoscopic VR video is relayed from a single channel.
Nevertheless, the display is actually rendered to both the eyes in a Virtual Reality headset. There's no logic for mono VR video as the perspective is similar for the both eyes.
2- Stereoscopic 360 Video
Stereoscopic 360 video is almost similar to monoscopic VR but the Stereoscopic is relayed from two video channels in the identical video container.
Though, it's costly for its parts of 360 degrees content which are back of both the eyes for streamed and also for more bandwidth.
3- 180 3D or VR180 Video
A VR180 video is totally different from monoscopic as VR180 has 2 channels means each one eye front-facing the 180-degree area of the view.
Although, it provides sense of existence but not completely immersive as the 360 degree video.
The best part about VR180 video format is that- it's reasonable to buy digital cameras for this, also saves bandwidth in order to stream on the headsets.
Now, it's time to know the requirements to play VR MP4 on Android devices.
What Are The Requirements To Play VR Videos On Android?
Below we have shortlisted the requirements to play and watch the VR videos on Android phones.
You'll need minimum 1080p display of the screen but it will be better to play VR in a 2k display of Android.
Need minimum 2GB of RAM.
Low-Medium level games could be played on these requirements.
It will be better to play and watch VR on Android using Google Cardboard.
Better to play VR video on these smartphone brands and models- Redmi Note 3, Honor 5x, Huawei Honor 8, MOTO G4, MOTO G4 PLUS, and NEXUS 5X/6P.
Let's move ahead to know how to play VR videos on Android mobile.
How To Play VR Videos On Android Phone?
Let us tell you very clearly, you can experience the best virtual reality by using Google Cardboard.
However, several users have conveyed that they have experienced better VR videos or 360-degree videos on Google Cardboard & YouTube applications on Android phones.
So, you can also try Google Cardboard & YouTube app to watch VR videos on your phone.
Here is how you can do so:
Firstly, assemble the Google Cardboard.
On your phone, you have to open YouTube application.
After this, search for the Virtual Reality videos or go to YouTube VR house channel simply by searching for the "Virtual Reality."
Next, look for Cardboard icon to locate the correct channel.
Choose the VR video.
In order to begin the VR playback, you have to click on the play
Now, click on Cardboard icon and screen will split in to 2 smaller screens.
Then, insert your Android phone into the Cardboard.
Aspect around to see the VR or 360-degree video.
Please Note: If you want to use the Cardboard with iOS devices then ensure to have the version of iOS 9 or later.
How To Play VR Videos On Android Phone Using VR Apps For Android?
You can play and watch VR videos on your phone by using the below discussed VR apps for Android.
1. VR Player Free
VR Player Free is one of the best VR Players that can play several VR Video formats. Though, this app is enough capable to play 2D, 2D SBS, 3D SBS, and other videos including 360-degree videos on Android devices.
Besides that, the countless projections ways are present in the VR Player free like Sphere, Cube, and Dome will give an accurate 360-degree theater experience on your mobile.
VR Player Features:
Open media from multiple sources
ULTRA-HD & high performance
Free & easy to use.
2. Google Daydream
Daydream is another VR platform which offers HD quality and affordable VR on an Android scale. It enables VR experiences with some advanced methods to increase the user comfort, reduce a motion blur and predict an angle of the user's head.
The best thing about this application is- Daydream is an expressive controller and easy-to-wear headset.
Daydream Features:
Low latency and HD quality.
A standardized controller which is simple for the users & expressive for the developers.
Let the users to build well tune VR experiences.
3. VR Gesture Player
Whenever it comes to watching VR videos or 360-degree videos then nothing is more reliable than VR Gesture Player. It is the best application for Android which assists the users to watch VR videos in HD quality even without any issue.
The brilliant feature of this VR Player is that- you could use your hand gestures for controlling the videos.
Apart from allowing the videos controlled through hand motions, it can play even 2D VR videos in the VR Glasses.
VR Gesture Features:
It lets touchless control of the smartphone.
Hand gesture-based user interface.
4. YouTube VR
Since we're talking about the best virtual reality apps for Android then how can we miss out the YouTube!
Yes, YouTube is the platform where the most popular and trendiest videos or movies can be watched.
All you need to do is to log in to YouTube through your account, subscribe to your beloved channels and share videos irrespective of your own device.
YouTube VR Features:
It offers a full, sign-in experience on the YouTube.
Better experience to watch 2D/3D VR videos or 360 degrees VR videos.
Provides view subscriptions, watch history, playlists, and many more.
5. Google Expeditions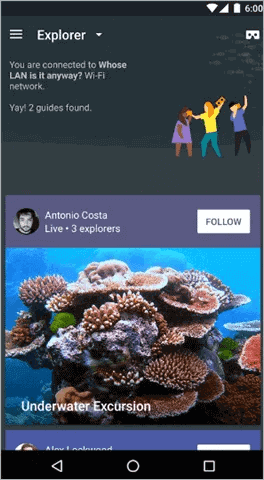 Another best app that you can try to play VR content is Google Expeditions. It is a very popular application which makes learning more fun and immersive. Besides, this application is also famous for educational content along with source of the entertainment.
Apart from all these exciting features, Google Expeditions application is useful for study groups. It provides the students an exceptional VR viewer experience which spans a vision of 3D images and 360 degrees videos.
6. Fulldive VR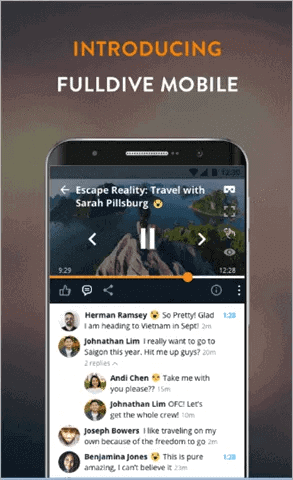 The Fulldive VR is a top-ranked application in the list of best VR apps for Android. This app sports a massive collection of the VR content and keeps tracking your friends that what they are watching, reacting & commenting on.
On the other hand, we can say that Fulldive VR is a great platform where people can search & view the media files such as 3D or 360 degrees photos and videos of modern generations.
To know more VR apps for Android, visit: https://www.technorms.com/66930/best-vr-apps-for-android
Frequently Asked Questions
How Do I Enable VR Mode On Android?
You can enable the VR mode on Android device using in-built Daydream feature of Android. But remember, before enabling the VR mode on phone, you have to also download the Daydream app from Google Play Store. Here is how you can enable the VR mode via Daydream developer options:
1: At first, you have to open the Daydream app.
2: Next, use a menu icon in order to access the Settings.
3: Click on VR settings.
4: After this, tap on Build Version till different Developer options appear.
5: Here, you will get numerous options but you have to choose VR Mode option to simply enable it.
Why Can't My Phone Play VR Videos?
Your smartphone might be unable to play VR videos due to absence of a Gyro sensor or your phone isn't supporting the video. In order to solve this problem, you need to adjust the sensor.
Can I Play VR On Android?
The answer is yes, you can definitely play VR (Virtual Reality) on Android by using some best VR apps for Android like- Google Cardboard, Google Daydream, Netflix VR, etc.
How To Watch VR Videos On Mac Without Headset?
Using 360 VR player you can play and watch your VR videos on Mac PC without headset. All you need to do is to download 360 VR player program on your Mac then launch it. At this instant, you have to go to File option and browse your VR video. Then hit on 'Play' option. Now, you can enjoy watching your VR videos.
What Is The Best VR App For Android?
There are numerous apps available in the Google Play Store that you can use to play VR videos on your phone. But below you can find the best VR apps for Android:
1. Google Cardboard
2. Google Daydream
3. YouTube VR
4. Fulldive VR
5. InCell VR
6. Titans of Space
7. Netflix VR
8. Minos Starfighter VR
9. Expeditions
10. VR Thrills
How Can I Watch VR Videos On My Phone Without Glasses?
You can watch VR videos on your phone without glasses with the help of Google Cardboard. It might sound silly, but it does work.
Final Verdict
We hope after going through this tutorial, you might have got plenty of info regarding how to play VR videos on Android phone or how to watch VR videos on phones.
So, just follow the instructions mentioned above and watch VR videos on phone without headset.
All the best…!
Alex is an expert technical writer with 7+ years of experience. His in-depth knowledge about data recovery and fascination to explore new DIY tools & technologies have helped many. Alex has a great interest in photography and loves to share photography tips and tricks with others.