DirecTV is the satellite TV service provider which offers high-definition shows, programs, and local broadcasts for global users. But, if you are a DirectTV user and accidentally deleted show on DirecTV DVR, then do not worry anymore. In this post, you will get the advanced DirecTV DVR Recordings Recovery to recover deleted recordings/shows effectively.
Apart from that, you will find other alternatives as well like TiVo software, DirecTV History, Genie HD DVR, etc. to DirecTV recover deleted shows.
Before proceeding to know how to recover deleted shows on DirecTV, let's take a look at the reasons that can lead to DirecTV recordings loss.
Causes For The Loss or Deletion of DirecTV Recordings
Accidental Deletion: Mistakenly or accident deletion has become one of the major problems for the deletion of recordings on DirecTV.
Formatting: When you format the hard drive or external hard drive containing DirecTV recordings, TV shows, or other files, then you will lose all data from the hard drive.
Virus Attack: This is another headache for the user. If your hard drive gets infected by a virus/malware, then it may easily corrupt all files stored in your hard drive, including DirecTV DVR Recordings.
Other Causes: Other causes can be hard drive failure, crash, dead, damage, etc.
So, now the question might arise in your mind – Can I retrieve deleted shows from my DirecTV DVR or how do I recover deleted DVR recordings DirecTV?
Let's find out the solutions to recover deleted DirecTV recordings below!
Can I Recover Deleted Recordings On DirecTV?
Yes, definitely you can recover deleted recordings and shows on DirecTV hard drive using DirecTV DVR Recordings Recovery software.
Whatever the reasons behind DirecTV shows deletion whether it is intentional or unintentional, first of all, stop adding more shows in it.
Because adding new data to DirecTV hard drive will overwrite your existing recording & will reduce the chances of DirecTV recover deleted recordings with the above-stated tool.
Rated Excellent on

Trustpilot
Free Video Recovery tool.
Recover videos, clips & video recordings from all digital cameras & other devices on Windows for Free. Try now!.
How To Recover Deleted DVR Recordings DirecTV?
Try out the below-shortlisted method to know how to retrieve deleted recordings on DirecTV easily.
Solution #1: Restore Accidentally Deleted Show On DirecTV DVR From TIVO Software
If your DirecTV DVR runs on TiVo software, then you are lucky. You can restore deleted shows and recordings on DirecTV from "Recently Deleted" folder by following the below steps:
Get Back Lost Programs Through TIVO Software With SD
At first, on your Remote, press "Tivo Central" button.
Select "Now Playing List" >> then select "Recently Deleted Shows/recordings".
Move the cursor and highlight the program that you want to restore and then press "Select".
At this time, on the "Deleted Program" screen, highlight "Recover" >> click "OK".
On the "Recovery Complete" screen, simply select either "Keep until I delete", "Keep through" or "Don't change date".
Finally, press "Tivo Central" button. The restored recordings will now be available in the "Now Playing" list.
Restore From The TIVO Software With HD
On your Remote press "Tivo Central" button.
Select "My Shows" and then select "Recently Deleted".
With the help of remote, highlight the program that you want to restore and press "Select".
After that choose the "Recover this show" option to DirecTV restore deleted recordings.

Please Note: You need to select a single recording to recover at a time.
Solution #2: How To Recover Deleted Recordings On DirecTV History
Another method that you can try to find deleted shows is on DirecTV history. To do so, follow the below steps:
Just turn on the computer & DirecTV Genie HD DVR.
After that, on a remote controller, press on the "Menu".
Then, highlight a Manage Recording option >> select the "History".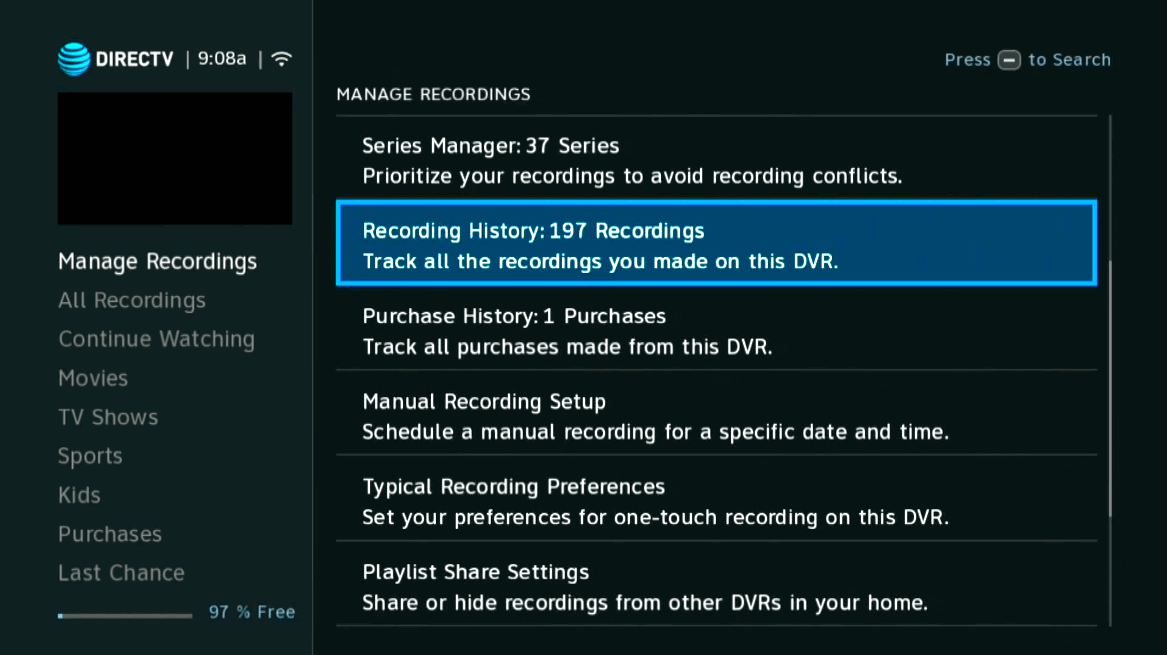 Here you can see a list of your deleted DVR recordings, just regain them immediately.
Solution #3: Retrieve Deleted DVR Recordings On DirecTV From The GenieHD DVR
Sometimes, it may happen that due to some unforeseen reason your DVR shows might get disappeared on the DirecTV. In such a situation, you need to attempt to reload & find the missing recording from the DirecTV Genie HD.
Here is how you can easily do so:
First of all, turn on the TV & DirecTV GenieHD.
In the second step, check out your shows.
On a DirecTV Genie HD DVR, find a Reset button & press on it.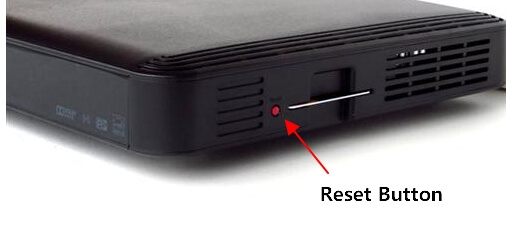 Once the process finishes, turn off & turn on the TV & DirecTV DVR as well.
Now it will show up all your disappeared recordings and programs on your television, and you could again play them.
Solution #4: Contact to DirecTV Support Team
Well, if none of the above ways helped you to solve how to find deleted shows on DirecTV, the last option left for you that is contact to the DirecTV support team. They will definitely help you to outcome from this situation and undelete program on DirecTV DVR with ease.
Try Best DirecTV DVR Recordings Recovery Software
DirecTV Recordings Recovery Tool is one of the best and reliable programs that can help you to recover accidentally deleted show on DirecTV DVR without any backup.
Besides, it has the ability to recover deleted, lost, erased, formatted, disappeared, or missing DVR recordings, TV shows, movies, sports game recordings, and other several recordings from the hard drive.
With the help of Video recovery software, you can:
Effectively recover deleted or lost recordings, TV shows, movies, TV series on DirecTV Hard Drive.
Recover deleted recordings, TV Shows, Movies, and other video files from DirecTV Genie receiver, HD DVR receiver, Genie Mini, DirecTV HR24, Genie HD DVR HR44, etc.
Preview recoverable files within the preview screen of the software before final recovery.
100% read-only. Safe, secure, and easy to use.
For example – a Genie HD DVR has an internal hard drive that saves lots of recordings, TV shows, and videos. The video recovery software will help you to recover recordings as long as you can take out the hard drive and connect it to your computer for recovery.
The best part about this DirecTV DVR Recordings Recovery is that it is available for both Windows and Mac computers.
emid

emid


* Free version of the program only scans and previews recoverable items.
Support All Brands and Models of DirecTV DVR: DirecTV Genie receiver, HD DVR receiver, Genie Mini, DirecTV HR24, Genie HD DVR HR44, etc.
Note: Stop using your hard drive after the loss/deletion of recordings and do not add any new data on it. Because adding new data or recordings will overwrite the existing data and hence you may lose the chance of recovery.
Below follow the step-by-step guide on how to recover deleted DVR DirecTV recordings, TV shows, movies, and videos from the hard drive by using Video Recovery software.
Related FAQs:
Why Did My DVR Recordings Disappeared DirecTV?
Your DVR recordings might be disappeared due to accidental deletion, virus attack or hard drive failure.
Where Did My DVR Recordings Go?
The DVR recordings or shows are directly stored in a selected hard disk in the DirecTV DVR box. Once the programs are recorded successfully, it will allow you to view all the recorded shows and programs in a hassle-free manner.
How Do I Watch My Recorded Shows On Directv?
In order to watch your recorded TV shows and recording on DirecTV, you need to try the below steps: Step 1: Open a DIRECTV & tap on the Watch the DVR. Step 2: Select the 'On DVR' option and select any recorded shows, movies, and programs from a DVR playlist. Step 3: Then, choose a down arrow in order to begin downloading the movies or shows to the device. Step 4: Click on My downloads >> choose a show that you wish to watch.
Conclusion
So, after going through this article, I hope you have got the 5 best & effective DirecTV DVR Recordings Recovery solutions.
If you are using TiVo software then you can follow solution 1 and if you do not use TiVo software, then it is highly recommended that you must try the DirecTV Video Recovery software mentioned in solution 5.
Alex is an expert technical writer with 7+ years of experience. His in-depth knowledge about data recovery and fascination to explore new DIY tools & technologies have helped many. Alex has a great interest in photography and loves to share photography tips and tricks with others.