VHD (Virtual Hard Drive) files are present in a virtual form on the PC. This sort of file contains everything including the partition & file system. But, sometimes it may happen that the VDH file severely gets corrupted & due to which the file present on the drive gets deleted. So, in this article, I am going to tell you how to recover deleted VHD/VHDX files by using the manual as well as automatic way.
But before knowing the VHD file recovery solutions, let's know something more about VHD/VHDX files along with the major factor behind its deletion.
So, let's read…
To recover deleted vhd/vhdx files, we recommend this tool:
This software will restore data from corrupted, formatted, encrypted storage media and works in all data loss situations. Now recover your lost and deleted data in 3 easy steps:
Download this Media File Recovery Tool rated Excellent on Pcmag.com.
Select the storage media from which you want to restore the media files & click Scan.
Preview the recoverable files, select the items you want to recover and click Recover to save the files at desired location.
About VHD/VHDX Image File
VHD or VHDX is a virtual hard drive file format created by some backup software when you back up the PC. It may contain what is found on a physical HDD, such as disk partitions and a file system. It's essential for system restoration and recovery in the case that your Windows system encounters a problem and you don't want to reinstall it.
What Are The Possible Reasons Behind The VHD/VHDX File Deletion?
There are different situations under which your VHD/VHDX files might corrupt or lose. So, below I've listed some of the major factors behind it:
Sudden Shutdown: Unexpected closing of the VHDX file or system might harm a drive & make your files corrupt.
Accidental Deletion: Sometimes, your files get deleted intentionally or unintentionally from a virtual disk due to some unusual action.
Human Error: Another major reason behind the deletion and corruption of the VHD file is human error.
Virus Infection: Because of a virus/malware attack your VHDX files become corrupted and all your stored files could get lost.
Using Defective Hardware: In case, if you have connected the defective hardware to a VHD disk then it can lead to your VHD files corrupted & even erased.
Antivirus Installation on The VHD: Once the antivirus tool is installed on your virtual drive then the process might create several problems on the VHD.
Can I Recover Deleted Files from Virtual Machine?
Well, the answer is yes. You can easily retrieve deleted data from VHD (virtual hard disk) by using the professional VHD/VHDX file recovery tool. I recommend every user to try this utility to deal with VHD (virtual hard disk) lost files. Also, it supports to recover files from Hyper-v VHD & VHDX files, corrupted virtual hard disk, Windows Backup VHD, and formatted VHD, etc.
In the next section of this article, you will get the user-guide of this feature-loaded utility.
How To Recover Deleted VHD/VHDX Files Automatically?
If you want the instant and most reliable way to recover deleted VHD/VHDX files, then you need to go for third-party software. The VHD File Recovery tool is one of the best-rated programs that is incorporated with the powerful algorithms that restore lost, deleted, corrupted, or even inaccessible VHD file easily. It offers high performance & an easy-to-use interface.
Besides that, it has some more igneous features such as:
Recover lost, damaged, corrupted, and deleted VDH/VDHX files successfully.
It supports all sorts of data in the VHD files.
Easy, customized, accurate, & quick recovery
Supports all file system such as FAT, FAT32, FAT16, FAT64,
The best part about this software is that it's compatible with both the platforms; Windows and Mac. And, it is a read-only program, 100% clean, safe & easy to use.
emid

emid


* Free version of the program only scans and previews recoverable items.
You just have to download & install this program and start performing the step-by-step guide for recovering data from a corrupt VHD file.
Manual Ways to Repair & Recover Data from VHD or VHDX File
Solution #1: Perform VHD/VHDX File Recovery Using Hyper-V Manager
If you want to go with the manual method then you can try this option. Yes, recover deleted VHD/ VHDX files using the Hyper-V Manager. It is Windows 10 utility that helps to create & manage Virtual Machines/VHDs. Follow the below steps, to do so:
Step 1: Open Hyper-V Manager & make a tap on Edit Disk.
Step 2: Choose the Locate Disk option from left pane >> Browse an affected VHDX or VHD >> click the Next.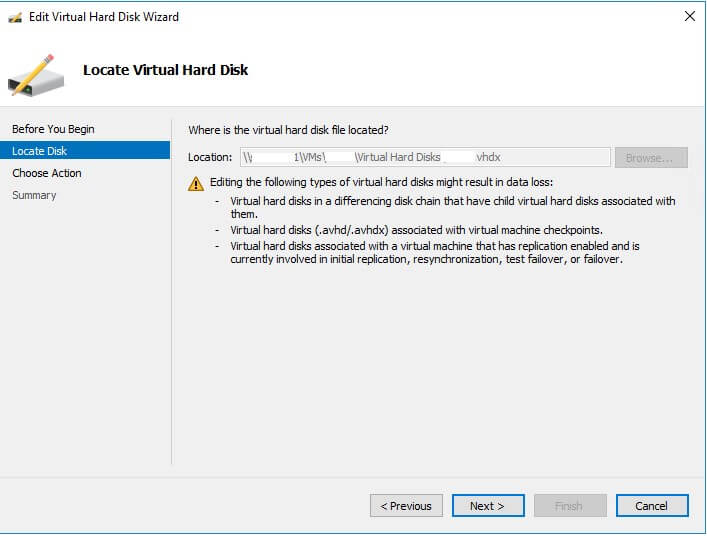 Step 3: Next, select the Compact in order to free-up unused space.
Step 4: After this, click on the Finish after the Compact process gets complete.
Step 5: Now, rename a VHD file.
Solution #2: Mount VHD file
Another option that you can attempt to repair and restore Windows from VHDX files is to mount a .vhd using command prompt. Here are the easy steps, how you can do so:
Open the command prompt under a parent partition >> type CHKDSK command to begin the VHD file repairing process.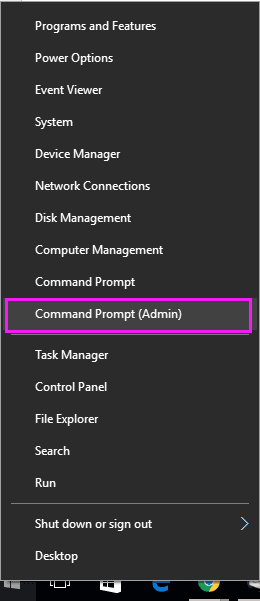 In the second step, you need to use the Hyper-V virtual machine to verify the integrity of.VHD file.
Now, VHD/VHDX files will add to IDE controller for the inspection process.
Then, download the VHD repair tool that is available with the free repair option to roll back the expanding mode on-base VHD when multiple VHD's are available.
Solution #3: Recover Deleted VHD/VHDX Files via Windows PowerShell
You could try Windows PowerShell to fix the corrupted VHD files. To perform this, follow the beneath instructions:
Step 1: Launch the Windows PowerShell as the Admin.
Step 2: At this time, you have to type Mount-VHD –path d:\folder\vdisk.vhdx –ReadOnly >> hit the Enter.
Step 3: Type the Optimize-VHD –path d:\folder\vdisk.vhdx – Mode Full >> press Enter.
Step 4: Then, type the Dismount-VHD –path d:\folder\vdisk.vhdx & hit the Enter (where d:\folder\vdisk.vhdx is a complete path of the corrupted VHD file.

Solution #4: VHD File Recovery Using The Diskpart Utility
Try the Windows in-built utility to recover deleted VHD/VHDX files. For this, you need to follow the below steps:
Simply, make tap on START button >> type cmd.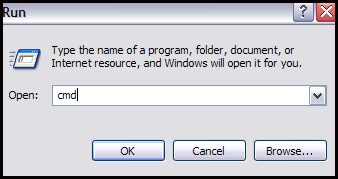 Make right-click on the Command Prompt >> click on Run as Administrator to open a command prompt.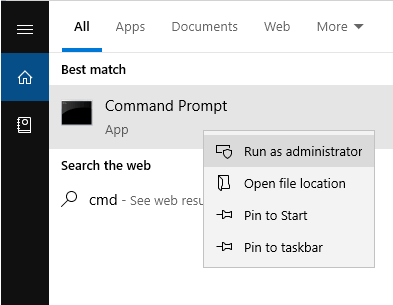 Now, type the DiskPart & hit the Enter
Next, type select vdisk file="d:\folder\vdisk.vhdx" & hit the Enter (d:\folder\vdisk.vhdx) is the complete path of a corrupt VHD file.
Again type the attach vdisk readonly >> hit Enter
Then, write compact vdisk >> press Enter
At last, type the detach vdisk & hit Enter >> type Exit.
Solution #5: Using Virtual Machines
Creating the virtual machine in a computer can help you to repair the damaged VHD files problems. Just follow the beneath steps to perform this:
Step 1: At first, create a new virtual server & connect the new hard disk with the new server.
Step 2: Click on "settings" option & select the recently added hard drive, choose the damaged video file that you need to repair.
Step 3: Choose the "compact" simply by clicking on virtual disk wizard button & proceed towards "convert it to a fixed size virtual hard disk" option.
Step 4: Now, save your fixed VHDX files with the new file name.
However, the above solutions will compact a corrupted .vhd file & you could mount it over an original server easily.
Bottom Line
Now it's time, to sum up. In the above section of this article, I've stated the manual methods by which you can attempt to recover data from VHD file.
Apart from that, if you want risk-free result then you can also try the proficient VHD file recovery software. So, the choice is all yours whether you want to go with time taking way or with an effective & reliable technique.
Hopefully, all the techniques mentioned above are enough to recover data from corrupt VHD file. All the very best to you…
Taposhi is an expert technical writer with 5+ years of experience. Her in-depth knowledge about data recovery and fascination to explore new DIY tools & technologies have helped many. She has a great interest in photography and loves to share photography tips and tricks with others.