Check out this article and learn how to recover data from Samsung Galaxy J2/J3/J5/J6/J7 phones using 7 easy ways.
Samsung Galaxy J series smartphones are famous for their best features and reasonable price. But sometimes, users delete their pictures, videos, and other media files intentionally or they get deleted accidentally from Samsung J2/J3/J5/J7 phones.
Thus, if you've accidentally or intentionally erased your data from any Samsung Galaxy j series phone then it is still possible to recover deleted data from Samsung J2/J3/J5/J6/J7 with the help of the Samsung Data Recovery solutions mentioned in this post.
You can recover Samsung phone files from Recycle Bin, using Samsung Cloud or Samsung Smart Switch, etc. Besides, you have another best option that you can try to restore data on Samsung phone using Data Recovery Tool.
Rated Excellent on

Trustpilot
Free Data Recovery Tool.
Recover photos, videos, & audio files from memory cards and internal storage of smartphones. Try now!
What Causes Deletion Of Samsung Galaxy J Series Phones Data?
Best Way To Recover Data From Samsung Galaxy J2/J3/J5/J6/J7 Phones
How To Recover Data From Samsung Galaxy J Series Phone?
Tips To Prevent Data Loss On Samsung Phones

What Causes Deletion Of Samsung Galaxy J Series Phones Data?
There are various exceptional reasons which are responsible to lose data from any digital devices and some of them frequently occur which are mentioned below. Though there are various ways to undelete data from Samsung J series phones before that it is important to know how the file gets lost.
Unintentionally Deletion
While deleting those files which are not important and by mistakenly deleting the important files then this may happen frequently which may result in data loss.
Sudden Ejection
While any data is being transferred and in between if there is any interruption or ejection of the device then eventually it can lead to data deletion from the media file.
Severe Virus Attack
If once the virus enters into the media files then it's obvious that it will affect the entire data present on it. Normally it happens when any device is attached to an infected computer system.
Accidentally Formatting The Memory Card
Data loss situation may appear when there is the formatting of memory card and it is done accidentally. Selecting the option "format" when the device is connected to the computer can clean the device and the entire data gets deleted.
Some Other Reasons
Even using the storage device when it is full or receiving errors in the file system conversion can also result in loss of data.
As you have known the common causes, now let's know how to recover deleted data from Samsung Galaxy j1/j2/j3/j5/j7 with possible solutions.
Best Way To Recover Data From Samsung Galaxy J2/J3/J5/J6/J7 Phones
It is already mentioned that you can try the best Data Recovery Tool to recover data from Samsung Galaxy J2/J3/J5/J6/J7 smartphones. This software can recover data from External & internal hard drives, digital cameras, memory cards, USB drives, etc with its powerful restoring ability.
This tool is designed in such a way that it can easily rescue any type of data deletion from any storage media and supports all types of memory cards which include SD card, CF card, XD card, etc.
It thoroughly scans the entire storage device as it has a powerful scanning technique that can solve the Samsung Data Recovery issue and gets back all the missing files.
Key Features Of Samsung Data Recovery software
It has the ability to recover data from Samsung Galaxy J2/J3/J5/J6/J7 phone's memory card like photos, videos, audios, etc.
Besides the Samsung J series, the software also restores media files from other Samsung, HTC, Nokia Lumia, Lenovo, Oppo, Le Eco, Xiaomi, LG, Micromax phone's memory cards.
It can easily recover any type of file format from a memory card, USB drive, hard drive, etc.
Compatible with both Windows and Mac.
It has a user-friendly GUI interface that provides the user with easy navigation.
Recover data from removable storage including flash drives
The application uses its powerful scanning algorithm to locate and recover the files
Supports revival of multimedia files from hard drive having memory space over 2 TB.
It also provides the facility to preview the files before recovery and can access the files which users want. It provides users with the best recovery platform ever for restoring deleted photos, audio, and videos files.
The recovery tool is known as one of the successful tools which bring back the lost data from memory cards, hard drives, USB drives etc. Also supports Windows and Mac.
So just try this Samsung j7 data recovery software free download on your PC and see the result.
emid

emid


* Free version of the program only scans and previews recoverable items.
How To Recover Data From Samsung Galaxy J Series Phone?
Follow the solutions mentioned in this section to recover data from Samsung Galaxy J7 successfully.
Way 1: Perform Samsung J6 Photo Recovery Via Recycle Bin
The first option that I would like to recommend you is to bring back data on Samsung device from recycle Bin.
Whenever any important stuff gets deleted from Samsung devices, then first of all users should check their Recycle Bin folder for the lost data. Similarly, here we're going to do the same thing.
Note: There is no recently deleted folder available in the Samsung mobiles. Instead of being recently deleted, Recycle Bin option is there in all Samsung devices.
Thus, follow the below steps to do Samsung J2 data recovery:
On your Samsung phone, open the Gallery app
Next, tap on hamburger icon >> find & choose the "Recycle bin" option
Click on the pictures and video that you want to get back.
Click "Restore" to bring all the lost stuff back to Samsung gallery.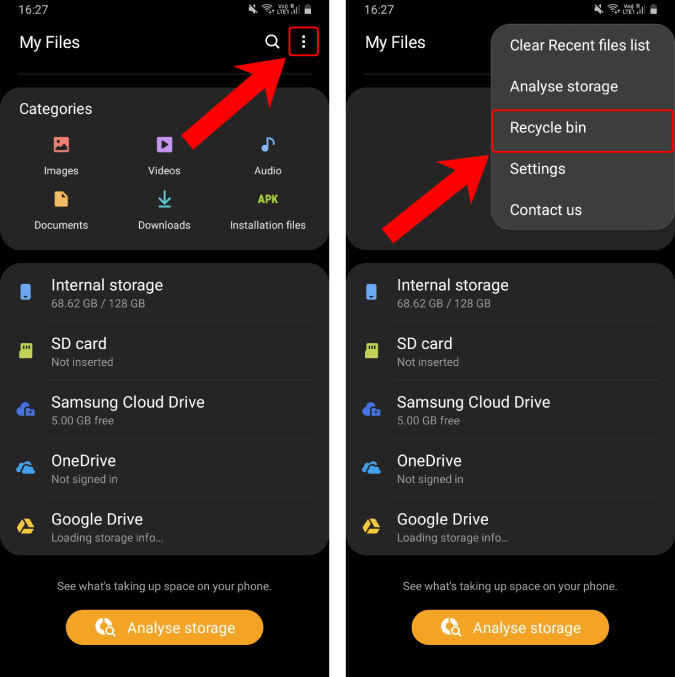 In case, if you didn't find your media files in a Recycle Bin, try further methods.
Way 2: Retrieve Data From Samsung Cloud
Nowadays, almost all the Samsung devices come with the feature known as Samsung Cloud.
It is an in-built cloud backup app that keeps your crucial data as a backup so that whenever you lose those files you can easily get them from this app.
But remember, in order to take the advantage of this feature, make sure this option is enabled on your Samsung phone.
So, if you have lost your important files from any Samsung J Series phone and want to restore them, follow the below steps:
On Samsung Galaxy, open Settings.
Go to Cloud & Account
In the third step, click Samsung Cloud.
Under backup & Restore you have to tap on a Restore
Lastly, choose the pictures and other media files that you need to recover >> click Restore Now.
Once the restoration process is over, you'll receive the notification showing 'All Data Has Been Restored To Your Phone'.
Way 3: Recover Data From Samsung Galaxy J2/J3/J5/J6/J7 Phone Via Google Drive
As we all know, Google Drive is a pre-installed app on Android & Samsung devices which works similar to a cloud storage app.
So, if you have turned ON Google Drive sync option in order to take a backup of all your important files, you can recover them from Google Drive.
Here is how to recover data from Samsung J6/J7 using Google Drive backup:
On your Samsung Galaxy, open Google Drive app or you can visit https://google.com/drive.
Log into your Google account that you were previously used to save a backup of your Samsung data.
Once logged in, you will get all the media files that you have backed up or uploaded on Google Drive.
Select the files that you need to restore >> tap on the Download.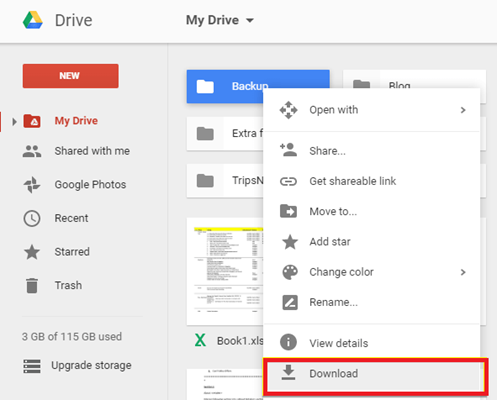 Way 4: Restore Photos From Google Photos On Samsung Mobile
Google photos is another yet app that application which can assist you to restore photos from Android or Samsung phones.
However, to do Samsung Galaxy photo recovery using Google photos, it is essential that you have enabled the feature "backup & sync" on your Samsung device.
Therefore, if you've previously done this, follow the below instructions carefully:
On your Samsung mobile, go to the Google Photos
Next, tap on the Menu>> Trash.
Now, you'll see the image files, choose the desired pictures >> tap Restore.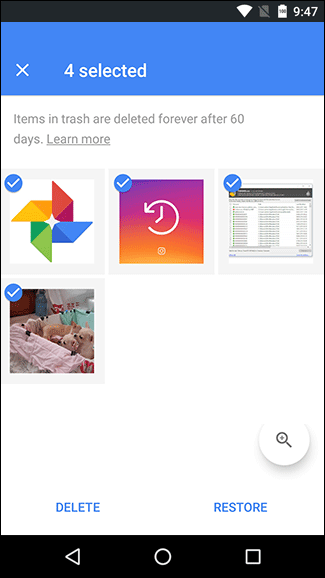 Please Note
: You can recover the erased images from Google photos within 60 days only.
Way 5: Get Back Deleted Files From PC Using Smart Switch
Well, Samsung Smart Switch is the in-built application generally used to move all sorts of media files like photos, videos, notes, contacts, apps, messages, etc. from one Samsung device to another.
The best thing about this application is that- it creates a backup of the Samsung smartphones data or save copies of entire files on your Computer using a Smart Switch app.
Here is how you can regain photos, videos, and other documents using Smart Switch Backup:
Launch Samsung Smart Switch
Then, go to the Settings >> Cloud and account.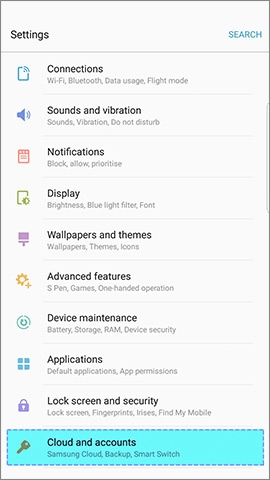 Next, click on Smart Switch then More.
After that, tap on an External Storage Transfer >> click Restore.
Now, wait until the Samsung Galaxy photo recovery process gets finished & then disconnect your Samsung device from a PC.
Way 6: Recover Deleted Photos & Videos From Samsung Phone SD Card
Most of the users are using SD cards on their smartphones to expand the storage space of the phones. Therefore, if you're using the SD card on your Samsung device & deleted lost your essential data from it, try the recommended SD Card Recovery tool.
Using this versatile software, you can recover lost or deleted pictures from Samsung SD card with ease.
Tips To Prevent Data Loss On Samsung Phones
There is no guarantee about the memory card or other internal/external hard drives as the data loss can happen anytime without any notification.
Therefore it will be best to keep your data safe before it gets lost by any means. However, mentioned below are some of the tips to avoid data loss scenarios from Samsung phones and their memory card.
1. Backup Your Data
It is always suggested that you must backup your data regularly. You can transfer and keep your Phone's data on other storage devices such as Pendrive, computer hard drive, etc. If you accidentally delete or lost your data from the phone then you can easily restore it from the backup.
2. Avoid Formatting And Factory Resetting
In both formatting and factory reset, you will lose your entire data from your phones as well as from external storage devices. Hence it is suggested that you must take a backup before performing a factory reset or format your device.
3. Lock Your Phone Screen
Sometimes, it might be possible that your kids may play with your mobile devices and if its screen is not locked then your kid may press the delete button by mistake and you may encounter data loss.
Hence, keep your mobile phone's screen locked.
4. Use A Reliable Antivirus App
You can download an anti-virus app from the Play store and protect your device from any virus infection. It is because the virus is the major problem that can corrupt and result in data loss.
5. Properly Eject The Card From The Device
Each and every time, when you want to remove a card from your Samsung mobile devices then it is important to suggest that you must first unmount the card and then remove it from the device. If you pull the card directly then it could lead to data corruption.
Pack Up
If you have lost all your data from your Samsung J series phone then do not worry. I am saying so because you can now easily recover data from Samsung Galaxy J2/J3/J5/J6/J7 series phones.
Yes, you can try Data Recovery Tool to get back lost data from the Samsung J series phone. This is the best and the easiest option you can try for the Samsung J7 photo recovery solution.
Also, you can restore data on Samsung phone from the backup option if you take a regular backup of your files. So, I hope you will not get disappointed after trying this recovery solution.
If you have found this post helpful and useful, then please do not forget to share it.
Also like and follow us on Facebook, Twitter, and Pinterest to get the latest updates.
Taposhi is an expert technical writer with 5+ years of experience. Her in-depth knowledge about data recovery and fascination to explore new DIY tools & technologies have helped many. She has a great interest in photography and loves to share photography tips and tricks with others.