Lost or accidentally deleted files on iXpand flash drive? Looking for a way to recover SanDisk ixpand drive not detected files? If your answer is 'yes' then you have come to the very correct place. This article will give you the step-by-step guide on how to recover deleted files from SanDisk iXpand flash drive efficiently.
To recover deleted files from SanDisk iXpand drive, we recommend this tool:
This software will restore data from corrupted, formatted, encrypted storage media and works in all data loss situations. Now recover your lost and deleted data in 3 easy steps:
Download this Data Recovery Tool rated Excellent on Pcmag.com.
Select the storage media from which you want to restore the media files & click Scan.
Preview the recoverable files, select the items you want to recover and click Recover to save the files at desired location.
Well, one of the perfect and most appropriate ways to undelete flash drive files is Ixpand Flash Drive Data Recovery Tool. With the help of this tool, you can:
Recover deleted, lost, missing digital media files like photos, videos, and audio from SanDisk iXpand flash drive.
Restore media files from formatted, unrecognized, virus infected, corrupted, dead, damaged and locked iXpand flash drive.
Also retrieve deleted multimedia files from other USB flash drives, memory cards, hard disks, digital cameras, and other media storage devices.
It is compatible with different OS such as iOS devices like iPhone and iPad, Windows and Mac Computers.
Now, you must be looking for the steps to do SanDisk files recovery. But before that, let's know more about SanDisk iXpand flash drive.
SanDisk iXpand flash drive is specifically made for the iPhone and iPad. It helps you to easily transfer photos and videos between your iPhone, iPad, Mac, and PCs. It helps you to free up iPhone and iPad internal memory and instantly expand the storage upto 128GB.
Though SanDisk iXpand has so many advantages, still there is a drawback and that is data loss issue. But don't panic, you can easily get the solutions on how to recover deleted files from flash drive.
For example let us take real user scenario:
Ixpand not detected

I bought a 32GB Ixpand (the smaller thin one) and it initially worked on my iphone 6s and my wife's.  We put hundreds of important  pictures on it and then used the app to delete those pictures off the iphones.  A few weeks later (and still today) everytime I try to plug it into the iphone 6s it gives a message "Ixpand would like to communicate with the sandisk ixpand flash drive" so I select "Allow",  and then the app opens up and gives an error message "Failed to connect to ixpand drive.  Please remove and reattach."  I do that, remove and reattach but nothing is ever detected.

It also does not show up on my macbook or other PC's that I've tried.  So now I have hundreds of important photos that have been deleted off our iphones and I am not able to access them on the flash drive.  HELP!

                                                               – Original Post From SanDisk Forums
Besides the above example, other causes for the loss or deletion of files from the SanDisk flash drive are mentioned below.
Common Causes For Deletion Of  iXpand Flash Drive Files
Formatting iXpand flash drive.
By mistake or accidentally deleted the files
Forgot password of the flash drive.
Due to bad sectors
Virus or Malware infections
Extremely overwriting data
Corruption of software or operating system also leads to data loss
However, you don't have to worry about the data loss on iXpand flash drive. Fortunately, there are iXpand troubleshooting is available through which you can easily get back lost or deleted iXpand flash drive data.
Below, you can find out those Flash Drive deleted file recovery solution.
How To Recover Deleted Files From Ixpand Drive Without Backup
As already mentioned above, the Ixpand Flash Drive Data Recovery Tool is suitable and recommended software to perform SanDisk iXpand data recovery. It will help you to retrieve lost, deleted, erased or missing digital media files such as photos, videos and audio files from SanDisk iXpand flash drive.
Whether you have permanently deleted the data, formatted the flash drive, got infected with virus and files got corrupted, locked the flash drive and forgot the password or iXpand flash drive is not recognized – in all such cases this data recovery software for SanDisk iXpand flash drive restore all the multimedia files effectively.



* Free version of the program only scans and previews recoverable objects.
So, what are you waiting for? Just download SanDisk photo recovery software now and retrieve digital media files from formatted pen drive/USB drive or hard drive.
Note: Stop using the SanDisk iXpand USB flash drive as and when you delete or lose data on it. If you add any new data on it, then deleted files will get overwritten and you will lose the chance for recovering files.
Steps To Recover Lost/Deleted Files From SanDisk iXpand Flash Drive
Step 1: Select Desired Location
Firstly, select the drive, external media or volume from which you want to recover deleted media files. After selecting, click on 'Scan'.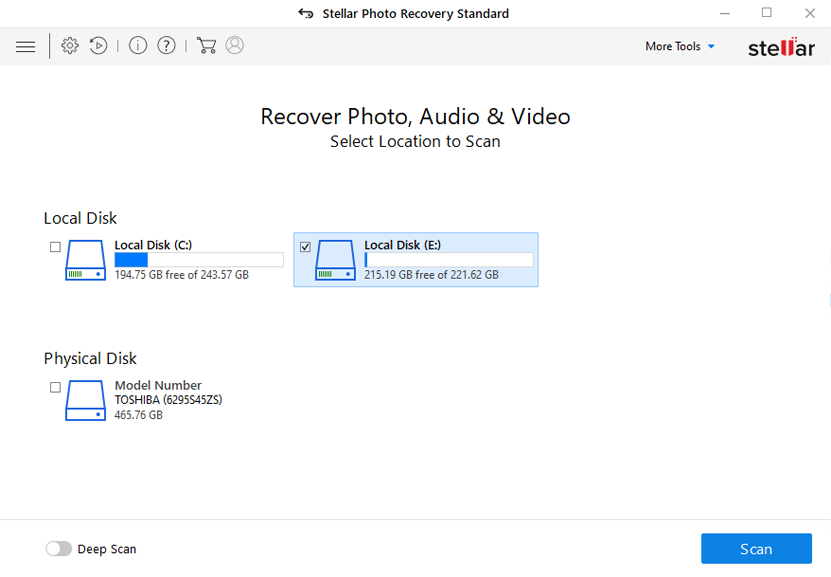 Step 2: Preview Recovered Media Files
Next, you can preview the recoverable media files after the scanning process is completed.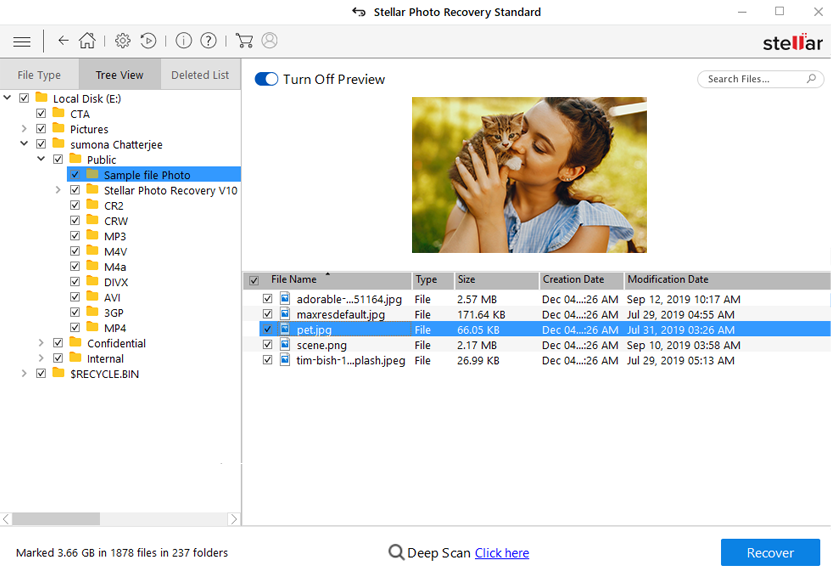 Step 3: Recover Media Files
Lastly, you can select the images, audio, video files you want to restore and click on 'Recover' option to save them at the location you want.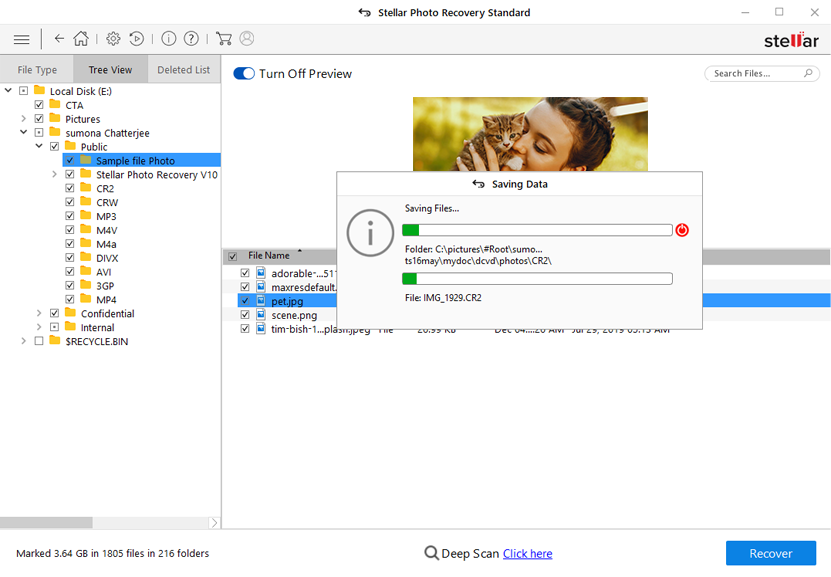 More Options To Recover Deleted Files From Flash Drive
Way #1: Recover Data From iXpand Flash Drive Without Formatting
In case, if your ixpand drive not detected from your PC or if it displays any error messages such as iXpand unsupported format error or iXpand not working, then you can apply CMD command to recover data from SanDisk iXpand flash drive without formatting. To do so, follow the below steps:
First, connect the flash drive to your system
Next, tap on "Start" from Windows taskbar and choose "Computer" option
Here you have to search for the flash drive under "Device with removable storage" and note down the drive letter
After this, tap on the "Start" option and then type "cmd" in the search box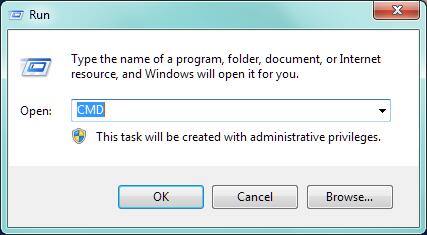 Now right-click "cmd" and choose "Run as administrator"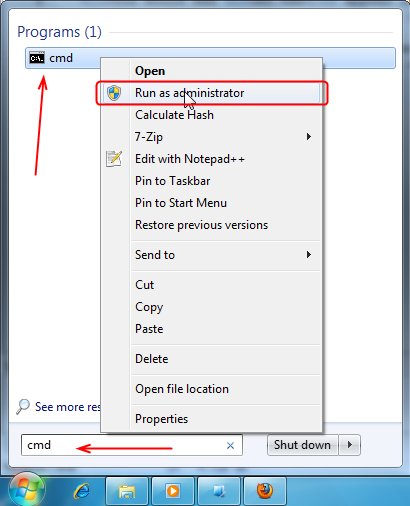 Then, type "chkdsk" followed by drive letter by a colon and/f

Press "Enter" and the command will check all the errors and will fix them
At last, check assigned drive letter to flash drive just to verify whether the files are recovered
Way #2: SanDisk iXpand Flash Drive File Recovery From Backup
If you have already backed up files from iPhone, iPad to SanDisk iXpand flash drive and accidentally deleted files on iPhone or iPad, then you can easily get back your files from the backup that you have already taken on the iXpand flash drive.
Bonus Tips: Backup and Restore Files Using the app iXpand Flash Drive
The Backup and Restore option from the Home Screen help you to perform various tasks. Simply click on the "Backup & Restore" option from the Home screen. You will see the screen with the following option as shown in the image below:
These options help you to perform:
Back-Up & Restore Photo Library to the iXpand Flash Drive
Back-Up & Restore photos from Social Media accounts to the iXpand Flash Drive
Back-Up & Restore Contacts to the iXpand Flash Drive
Bonus Tips Source: SanDisk® Global Customer Care
Final Words
Well, a situation like losing data from the hard disk can take place due to several reasons. If you have accidentally formatted pen drive then do not worry. Just make sure that you do not copy any new data to the formatted pen drive.
You can try the best solution on how to retrieve deleted files from ixpand flash drive using Ixpand Flash Drive Recovery Tool.
You can also try the manuals solutions mentioned in the above section of this blog to recover SanDisk ixpand not detected data with ease.
That's all…
Alex is an expert technical writer with 7+ years of experience. His in-depth knowledge about data recovery and fascination to explore new DIY tools & technologies have helped many. Alex has a great interest in photography and loves to share photography tips and tricks with others.