Have you accidentally deleted or lost your important voice recordings from Sony voice recorder? Looking for a solution to retrieve deleted voice recordings/audio from Sony voice recorder? If "Yes", then you have landed on the right place. On this page, you will learn the best ways to recover deleted files from Sony voice recorder.
To recover deleted Sony voice recordings, we recommend this tool:
This software will restore data from corrupted, formatted, encrypted storage media and works in all data loss situations. Now recover your lost and deleted data in 3 easy steps:
Download this Media File Recovery Tool rated Excellent on Pcmag.com.
Select the storage media from which you want to restore the media files & click Scan.
Preview the recoverable files, select the items you want to recover and click Recover to save the files at desired location.
Is It Possible To Get Back Deleted Recordings From Sony Voice Recorder?
The short answer is "Yes", you can retrieve deleted files from Sony voice recorder. With the help of effective Sony Voice Recorder Recovery software, you can restore deleted files. The only condition is it should not be overwritten by any new files.
Actually, when voice recordings get deleted, only its link to the recording gets deleted not the recording itself. The link gets free so that it can be assigned to the new data. That's why it is suggested to stop using the Voice Recorder straight away once the data gets deleted from it. Doing so will prevent the overwriting of old data with new data.
Best Software To Recover Deleted Files From Sony Voice Recorder
One of the best ways to recover deleted recordings from Sony Voice Recorder is to use powerful Audio Recovery which is ideal for Sony Voice Recorder recovery. With the help of Audio Recovery, you can:
Efficiently recover lost, deleted, erased voice recordings, audio files, music from Sony voice recorder.
Supports all kinds of memory cards such as (SD/microSD/miniSD, SDHC, SDXC, etc), memory stick, USB drives, hard disks.
Supports all models of Sony voice recorders, including ICD BX800, IC RECORDER, BX Series, PX Series, LX Series, AX Series, UX Series, SX Series, etc.
Previews recoverable voice recording files within the preview screen of the software before saving them on your computer.
emid

emid


* Free version of the program only scans and previews recoverable items.
Supported Voice Recorders
| | |
| --- | --- |
| Sony Voice Recorder Models | BX Series, SX Series, PX Series, , AX Series, UX Series, LX Series, Sony IC Recorder, ICD-826, ICD-BX800, ICD-PX333 VR, ICD-B5, ICD_BP150 V-O-R, ICD-BX132, ICD-PX333, Sony IC Digital Handheld Recorder/MP3 Player, SX813 Black ICD-SX813/B 43RTX7C, ICD-8300, ICD-MS515, ICD-BX112 IC Digital Voice Recorder, etc. |
| Other Recorders | Olympus Digital Voice Recorders, USB voice recorder, and various other voice recorders. |
Follow the steps mentioned below to recover deleted files from Sony Voice Recorder using this software.
Step 1: Select Desired Location
Firstly, select the drive, external media or volume from which you want to recover deleted media files. After selecting, click on 'Scan'.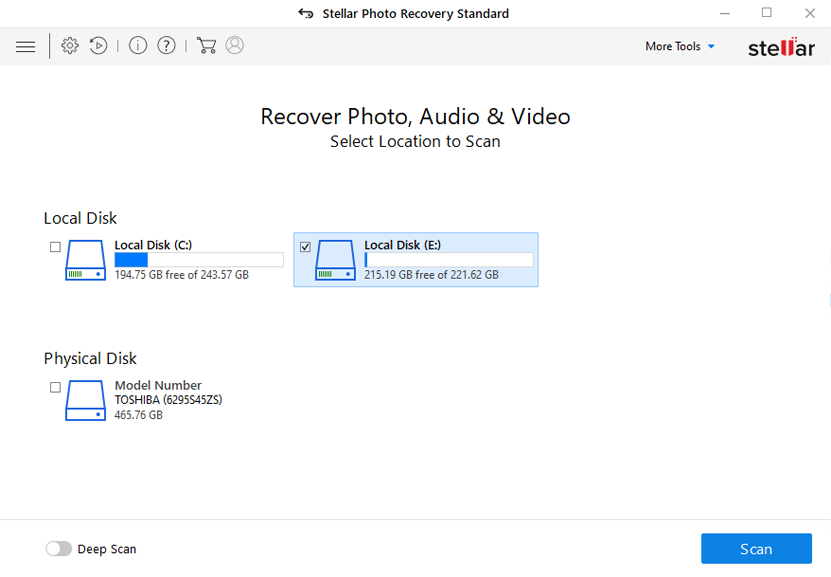 Step 2: Preview Recovered Media Files
Next, you can preview the recoverable media files after the scanning process is completed.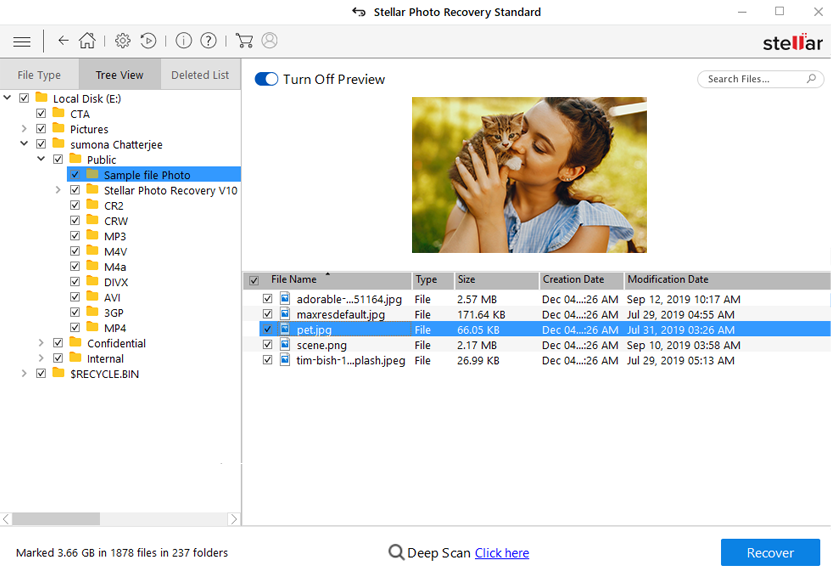 Step 3: Recover Media Files
Lastly, you can select the images, audio, video files you want to restore and click on 'Recover' option to save them at the location you want.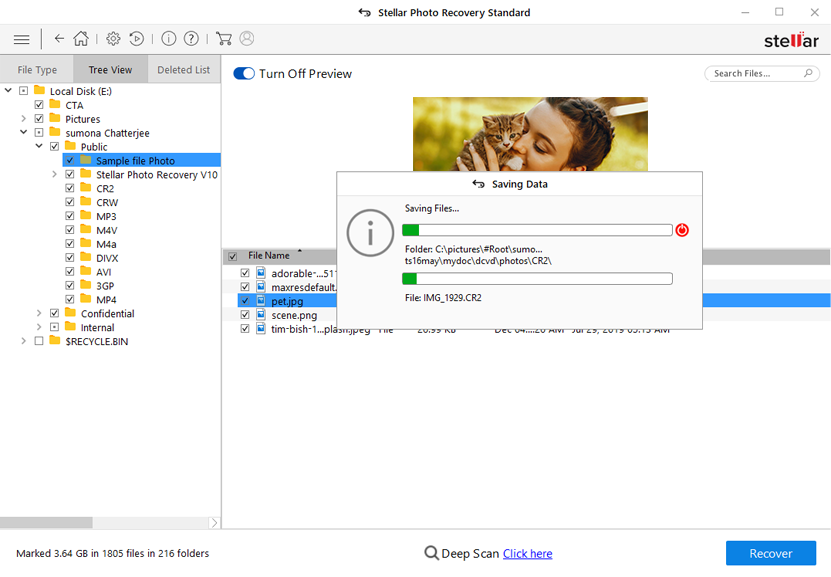 How Files Get Deleted From Sony Voice Recorder?
There could be several reasons for the loss of voice recordings or audio files from Sony Voice Recorder such as:
Accidental Deletion – This is one of the major causes for the loss or deletion of files from a voice recorder. You accidentally delete your important audio files while deleting some unwanted files.
Formatting The Storage Device – If you format the memory card or memory stick of your voice recorder, then all files get erased along with voice recordings.
Virus Attack – If you connect your Sony voice recorder to virus infected computer then it can also infect and corrupt the voice recordings.
In any of the above-mentioned scenarios, you can easily lose your crucial recordings. That's why it is always suggested to backup your important recordings from time to time.
How To Download/Transfer Audio From Sony Voice Recorder?
#1: First of all, you have to connect one end of the mini-plug cable to the Headphone jack on the IC recorder.
#2: After this, you can connect the other end of the cable into the Microphone jack on the PC.
Suppose, if your PC doesn't have a Microphone jack then you can try a USB Digital Audio adapter.
#3: Now, on your Computer, you have to open the application or software that used to support audio recording. You can then select the OS of your PC from the below list:
NOTE: The procedure of recording may vary on the software or application installed on the PC. Next, you can check the computer manual to get more information.
#4: After completing recording on both the OS, you have to press PLAY on the IC recorder in order to begin the playback of the messages to be recorded on the PC.
How To Recover Unsaved Voice Recording?
Well, let me make it very clear that unsaved voice recording cannot be recovered since it is not saved on your memory. Sometimes it happens that while any read/write operation is going on, you eject the external storage device unintentionally and due to this you are not able to save the file.
Since the files are not saved on your memory, it is not at all possible to recover unsaved voice recording from any digital voice recorder.
FAQ (Frequently Asked Question)
What Does Sony IC Recorder Mean?
Sony IC recorder is a portable digital, battery-operated recording and playing device. It is available with a built-in microphone that used to record messages on one of two types of media; a built-in IC memory or a removable memory card. This is specially designed for use with a computer because it has an inbuilt port that used to allow a direct connection to the computer.
How Do I Use Sony Voice Recorder?
Well, using Sony voice recorder is as easy as using any other digital device. To know the complete process to use the Sony voice recorder, you can click here.
How Do I Format My Sony Voice Recorder?
Formatting Sony voice recorder is very easy. You can go through the below steps to format Sony voice recorder:
First of all, in the stop mode, you have to select 'DISP/MENU' – "Detail Menu" and then click on 'Format' and then simply press 'PLAY/STOP' and then press 'ENTER' key.
Next, you have to press '-' or '+' in order to select 'YES' and then you have to press 'PLAY/STOP' and then again press ENTER After you perform these steps, 'Formatting…' Animation window appears and then memory media will be then formatted.
Now, you have to press 'STOP' to exit the menu mode.
How To Unlock Sony Digital Voice Recorder?
In order to unlock Sony digital voice recorder, you have to go through the below steps:
Select the protected file and then simply go to the MENU
There, you have to select 'OFF and then press 'PLAY/ENTER'.
Now, press 'STOP' to exit the menu mode.
Conclusion
After following the instructions mentioned above in this article, I hope you will be able to successfully recover deleted voice recordings quite easily. All the solutions provided above are so effective after applying which you will be able to recover deleted files from Sony Voice recorder.
The best option you can try is Sony Voice Recorder Data Recovery Tool. Using this tool, you will definitely able to recover with ease.
So, if you find this post helpful then please do share with your friends.
Alex is an expert technical writer with 7+ years of experience. His in-depth knowledge about data recovery and fascination to explore new DIY tools & technologies have helped many. Alex has a great interest in photography and loves to share photography tips and tricks with others.