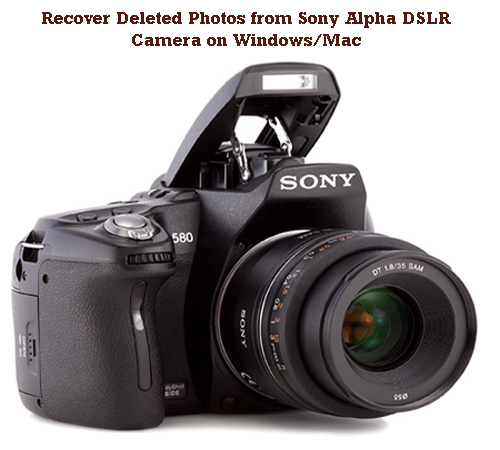 Retrieve lost pictures from Sony Alpha DSLR Cameras in few simple steps!!!
Summary – In this post, you will learn to know on how to restore deleted/lost photos from any Sony Alpha DSLR Cameras. Beside this you will also know what are the reasons for the deletion of pictures from digital camera, as well as step by step guide on how to rescue images. With the use of powerful Digital Media Recovery software, you can:
Restore lost/corrupted/deleted/erased/missing photos from any Sony Alpha DSLR cameras
Rescue Sony RAW photo formats SR2 (ARW) as well as JPG/PNG/BMP/GIF/PCX/PNG/PSD/TIF/TIFF, etc
Also restore videos recordings, movies, video clips, audio files, mp3 songs and other media files
Restore multimedia files from other data storage devices such as memory cards, USB storage devices, Flash Cards, SD Card, hard drive, etc
Get Back Deleted Photo From Sony Alpha DSLR Camera



* Free version of the program only scans and previews recoverable objects.
Have you lost or accidentally deleted photos from your Sony Alpha DSLR camera? Are you looking for software that can easily restore your lost/deleted pictures from Sony camera? If "Yes" then here is very simple and easy solution that will help you to retrieve Sony Alpha DSLR Camera.
Scenario for data loss has become common. You may sometime press "Delete All" accidentally or format the camera memory card mistakenly or other mishandling of camera or its memory card can result in complete photo loss from your Sony Alpha DSLR camera card.
When you delete or lost photos, then the first thing you need to do is that you must stop using your camera and its card immediately. It is because if you add any new data on it, then it will overwrite the existing data. After this you must perform photo recovery software to recover deleted photos from your Sony Alpha DSLR Camera.
Reasons for data loss from Sony ALpha DSLR Camera
Losing photos from Sony Alpha DSLR camera is not an easy way to tolerate. Any data when lost really hurts. However whenever data is lost, there are some reasons behind it. And it is very important to notice those causes which leads to such conditions. Some of them are mentioned below:
Human errors– Some of the data gets deleted from devices by users in the following ways:
Data get lost by pressing cut+paste command
Using Shift+Delete key to delete folder/files
Sometimes while saving data or transferring, camera is switched off
Accidentally pressing 'format' or 'Delete all' option during previewing pictures
When battery is low and clicking pictures at that time
Ejecting the memory card at the time of copying data
Memory card damaged– Many times the card gets damaged or corrupted because of mishandling. While data transfer, if the card is removed from digital device then it is sure that data will be lost.
Data is not accessed– Many times some error pop-ups when your device is connected to PC. These pop-ups occurs that can make memory card inaccessible.
Power cut– Suddenly power fails while any data is copied from storage device can lead to data loss.
Best solution to Recover Deleted Photos from Sony Alpha DSLR Camera
Getting back the lost photos is very much important as some of them are really required. Everyone want to rescue their lost files no matter how they have lost it. So here important thing is how to retrieve the deleted data? You don't have to think much but go through the given steps that will help you deal with the situation.
Restore media files from backup– If you have backup files of your videos, photos and audios then you can get them back easily. Only you have to connect your device with USB cable and go to your backup files. There you can get every deleted photos. This will work only if you have created a backup.
Retrieve from third party tool – If you don't have backup of your lost data then also you don't have to worry. Simply you can use third party software like Photo Recovery Software and you can get back your lost/deleted photos from Sony Alpha DSLR camera. This software completely scans the entire device to find the missing photos and after that recover them. The software can rescue lost data from memory card. Digital cameras, USB drive etc.
Supported Sony Camera Models – DSLR-A900, DSLR-A850, SLT-A99, DSLR-A100, DSLR-A700, DSLR-A200, DSLR-A300, DSLR-A350, DSLR-A230, DSLR-A330, DSLR-A380, DSLR-A500, DSLR-A550, DSLR-A450, DSLR-A290, DSLR-A390, DSLR-A560, DSLR-A580, SLT-33, SLT-A55V, SLT-A55, SLT-A35, SLT-A65V, SLT-A65, SLT-A77V, SLT-A77, SLT-A57, SLT-A37, SLT-A58 and many more.
You Might Also Be Interested In:
Steps to Recover Deleted Photos from Sony Alpha DSLR Camera
Step 1 – Install "Photo Recovery" software and launch it on your computer. Click on "Recover Photo, Audio & Video" tab to recover photos, videos and audio files from any SD card, external USB drive or computer hard drive. Connect the media to your computer and then perform the process.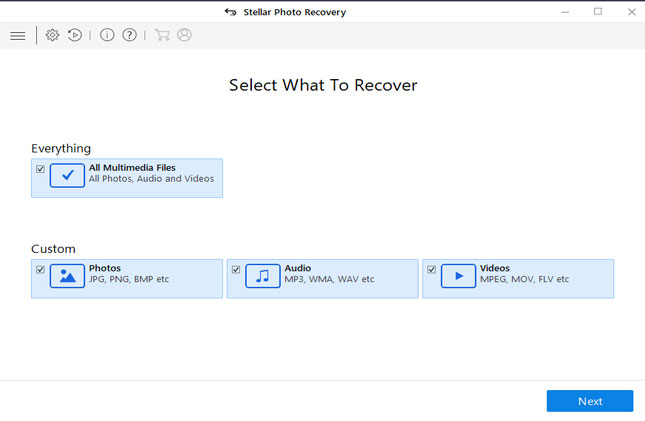 Step 2 – Select the drive from which you want to recover files. All the hard drive and external media will be shown in the list. Now select the desired drive to scan and then click on "Scan" button.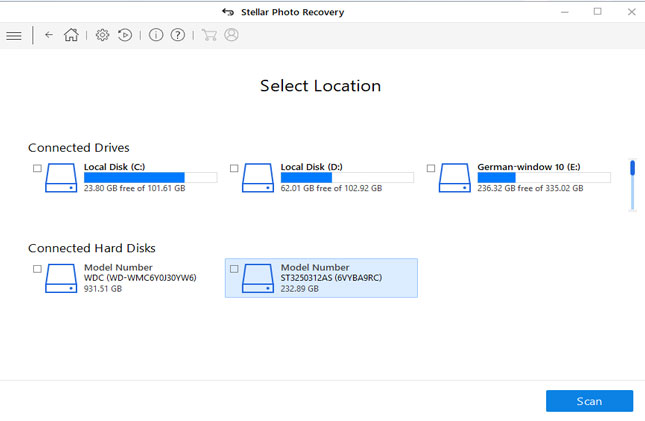 Step 3 – Once you click on "Scan" button the software will show that scanning is in progress. The software will search for all multimedia files from your selected drive or attached media.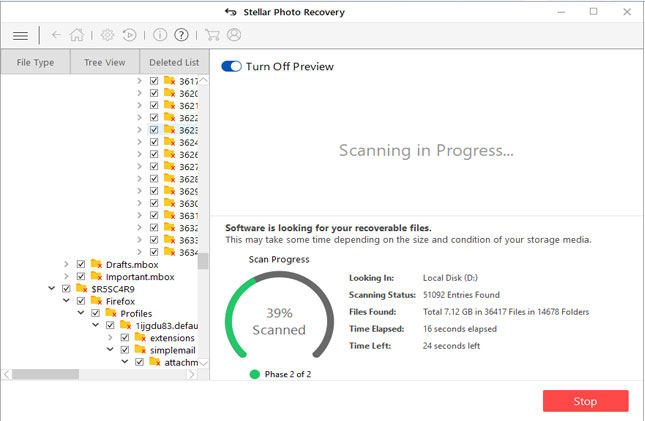 Step 4 – After scanning, all the files that are found in the selected volume, hard disk or other storage media devices are listed. You can now select the files to preview them and then you can click on "Recover" button to finally save them on your computer.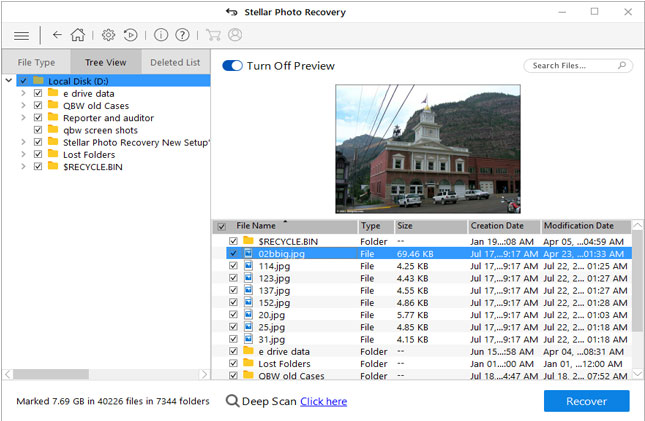 Tips to prevent data loss
There is no guarantee about the memory card, USB drive or hard drive as the data loss can happen anytime without any notification. Therefore it will be best to keep your data safe before it get lost by any mean. However mentioned below are some of the tips to avoid data loss scenarios on any storage device.
Keep backup on separate drive– Always remember to keep a backup of your important data. This can really help you to deal with the situation. And make a second copy and that too on different drive. This can really help you from any difficult situation.
Label the cards– Labelling the cards means those cards which you have already used, mark them. This will help you to find which memory card is already used and full and which one to use.
Dual memory slots– If the digital device like camera is having two memory slots then put two same cards and use backup mode with both especially at that time when it is important to shoot.
Buy from legal source– Avoid buying of products from any illegal place. Always focus on viewing the company first and then select anything to buy. Buying from untrusted websites is a risk for your data.
Conclusion
So by going through the above blog, it is already clear that how you will get back your deleted photos from Sony Alpha DSLR camera. Always remember to prevent any kind of data loss situation. The tips are very much helpful that should be focused more and when nothing works, then going through the best recovery tool will be helpful.

If you have found this post helpful and useful, then please do not forget to share it.
Also like and follow us on Facebook, Twitter and Pinterest to get latest updates.
Summary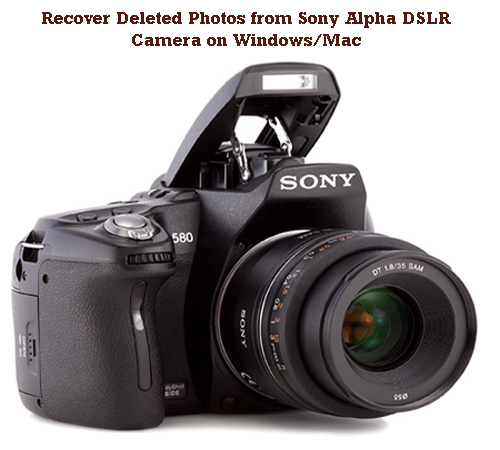 Article Name
How to Recover Deleted Photos from Sony Alpha DSLR Camera on Windows/Mac
Description
In order to recover lost or deleted photos/videos from your Sony Alpha DSLR camera you will need the help of photo recovery tool.
Author