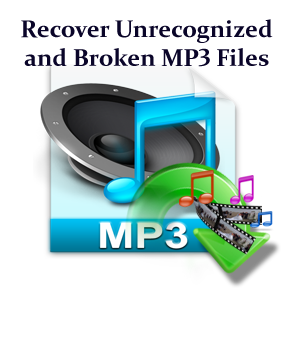 Easily Retrieve Unrecognized and Broken MP3 Files in Just Few Clicks!!!
Are you the one whose entire best collection MP3 files become inaccessible or broken then here get the best solution to repair and recover one of your best collection MP3 files in just few click with the professional recommended Digital Media Recovery Tool. This is effective tool that help you to recover:
Recover various files format audio files such as MP3, MP4, WAV, MIDI, M4b, M4A, AIFF, AIF, AIFC, RA, AMR, etc from memory card
Retrieve various data like audio, video, photos from corrupted, formatted or RAW memory card
Rescue data from different storage media like memory cards, hard drives, Mac volumes, USB drives, external hard drives, digital multimedia players etc
Restore permanent and temporary deleted MP3 audio files.
Data recovery can be done form the external as well as internal storage media
Get back unrecognized, corrupted, broken and inaccessible audio files easily.
Recover Unrecognized and Broken MP3 Files



* Free version of the program only scans and previews recoverable objects.
Are you a music maniac? Listening and dealing with hundreds or thousands of MP3 files in your playlist? Then you probably have come across situations like missing track data, unplayable music files, fail in extracting audio files, poor sound quality and so on.
There are a large number of applications, which are corrupted or flawed. Although, they seems to work properly but under the surface they transfer bugs or errors to the music files of your collection. And you would be surprised to know many of your MP3 files have been corrupted. Unrecognized and broken MP3 files are a common issue now a day.
Issues seen in MP3 files:
Missing track information.
Broken tags and headers
Wrong locations of headers and tags
Poor audio quality
VBR heading missing
Cover art missing
The goods thing is that many of these errors stay below the radar and the files continue playing as if there are no such issues. Today, most of the MP3 applications don't rely much on a particular MP3 tag. But, if you observe any sort of error in your audio files then it's necessary to fix the issue and recover those unrecognized and broken files. However, it can ease your task to fix the issue if you know how grave a particular problem is.
How to Recover unrecognized and broken MP3 files?
Though repairing or recovering these broken MP3 files manually by a novice user could be really difficult. You can use this "Photo Recovery Tool" that will easily solve your issues related to MP3 files. It not only repairs your corrupted MP3 files but also recovers your lost and deleted MP3 files. The tool is very convenient as it also provides user to preview files before recovering them. It also restore all photos format such as JPG, JPEG, PNG, GIF, BMP, TIF, TIFF, RAW image data, videos format such as MP4, AVI, 3GP, AVCHD, H264, MPG, MPEG, MOV, WMV, ASF, VOB, M2TS, and music files format such as MP3, AAC, WAV, WMA easily.
Steps to Recover unrecognized and broken MP3 files:
Step 1: Download and install "Photo Recovery Tool" on your system and launch it. Press "Recover Photo, Audio, Video" to recover your audio Mp3 files from computer hard drive, external USB drive or SD card. Connect the media to your desktop and step forward.
Step 2: Select the desired drive from where you want to recover the broken MP3 files and press "Scan now". As you need to recover only MP3 audio files click on "Advanced scan" option.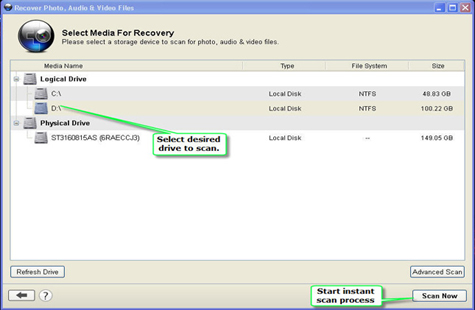 Step 3: In the "Advanced scan" section, you will get option to select by file type. Select it as audio file. It reduces the unnecessary scanning time.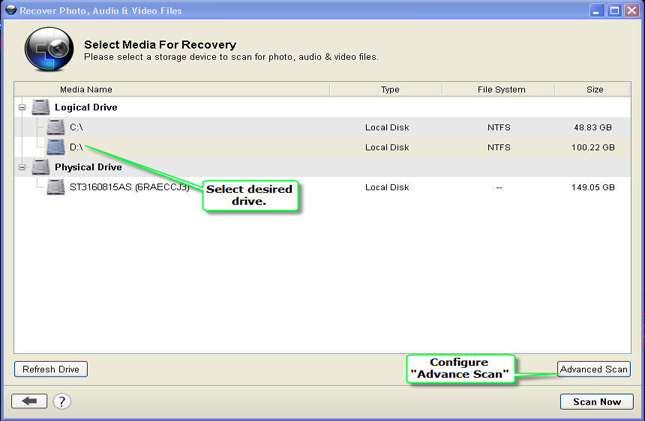 Step 4: Once you press the "Scan now" option you can see a message as scanning in progress in the window that also contains recovered files listed in a tree structure. You can preview these files and press "Recover" to save them on your desktop.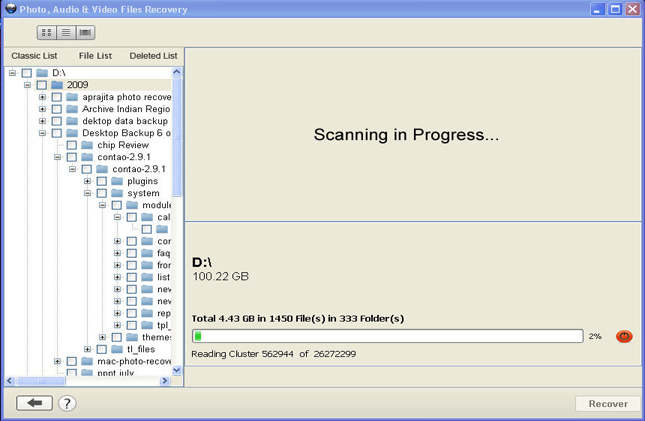 Step 5: Select your preferred location on your system to recover the broken MP3 files.
Just by applying these few simple steps you will be able to recover your unrecognized and broken MP3 files. The steps shown are very easy and can be performed by any novice user.