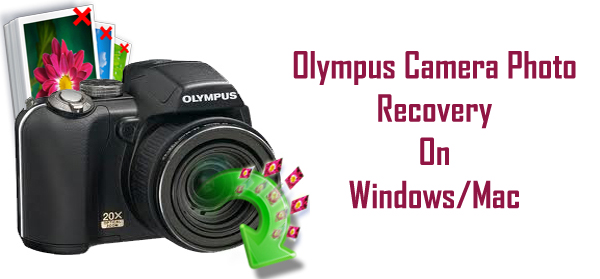 Find Out How to Recover Olympus Deleted, Lost, Erased, Formatted Images From Olympus Camera!!!
Summary – Have you accidentally formatted your Olympus camera memory card? Have you mistakenly deleted photos from Olympus digital camera? Are you looking to restore Olympus RAW ORF images? If "yes" then with the use of suitable Olympus photo recovery tool you can complete the recovery task. Such recovery software is Digital Media Recovery Tool.
With the help of this recovery tool, you can:
Easily rescue deleted, lost, formatted, missing Olympus raw .ORF photos
Restore RAW image files format of different digital cameras such as Canon CR2/CRW, Nikon NEF, Fuji RAF, Pentax PEF, Samsung SRW/SR2, Hitachi, Sony, Kodak and many more
Beside RAW format photo recovery, this software can also retrieve other formats of images like JPEG/JPG, PSD, PNG, TIFF, GIF and all other image formats
Recovers Olympus ORF and other camera RAW images from various camera memory cards (SD cards, SDHC, SDXC, SanDisk SDHC cards, Sony SDHC cards, Transcend SDHC cards, Strontium MicroSD cards, Lexar SD card, Kingston cards, Olympus xD picture card, Eye-Fi Pro SD card, Verbatim SDXC card, MMC card, etc
Also restore media files (photos, videos and audio)from various data storage devices like digital cameras & camcorders, memory cards, pen drive, hard drives, USB flash drives, mobile devices, etc
Preview recoverable Olympus pictures within software, before you proceed to save them on your computer
Read-only program, 100% risk-free & user friendly interface
Efficiently Get Back Deleted/Lost Photos From Olympus Camera



* Free version of the program only scans and previews recoverable objects.
Olympus is best and well famous digital camera because it comes with best taking photos technology optical option and high resolution lenses which are responsible for taking excellent quality photos as compared to other digital cameras. Olympus camera is used by many users as it allows users to take high quality images and videos.
Images taken by Olympus camera is in raw format that ORF. It is a digital image format which is used by Olympus digital cameras. Like other raw formats, even this format contains image information which is directly taken by camera's sensor such as color temperatures, contrast, saturation, etc. ORF file is like ORF digital negatives just like analogous film negatives, it is not intended as image, it just contains all information to create an image. Like all other digital cameras Olympus camera also uses memory card such as XD card for storing photos and videos. Even though Olympus digital camera is so advanced it becomes hopeless when you lose or delete any photos or videos and you want it back, but there are no such features in cameras by which you can recover those lost/ deleted photos. Losing your precious data is a heartbreaking moment. Then you have no option left with you instead of using any professional photo recovery software. But before we proceed into its recovery process you should be aware that how you lose your photos from your Olympus camera so that you can deal with it in a better way.
Reason for loss of photos from Olympus camera are:
Accidentally or mistakenly deletion of photos
Intentionally or unintentionally deletion of photos due to delete all operation
Virus infection on camera and camera memory card inserted in camera
Power failure of camera or computer while importing or exporting photos
Clicking photos while camera battery is low
Use of same memory card on different digital media gadgets
Camera gets crashed or damaged
Malfunctioning of camera
There are countless reasons where you might lose data from your camera. If you have erased or deleted your memorable photos from your Olympus digital cameras due to any reasons and you want it back then you can use our professional software Olympus photo recovery.
How to rescue deleted images from Olympus camera?
You might be looking for a way to recover the deleted photos from your digital camera. No matter what are the reason behind the data loss all you want is to get back the lost or deleted data. When you delete any data from your Olympus camera it is not permanently deleted it is still present on our device but remain invisible for us. The deleted data are still there on its original sector but after deletion the data spaces is marked as available for the new data to over write or occupy the space of deleted data.  Same is formatting the Olympus camera the data is not permanently deleted just the files are deleted nut still remain on the same place until and unless it is overwritten by new file. So as it is said that the deleted data or photos from your Olympus camera are still there waiting to be occupied or overwritten until and unless it is not overwritten or occupied there are changes to recover them from your phone.
If you lost your photos from Olympus camera and you want to recover them in the same quality as it was taken the use Olympus photo recovery. It is an advanced data recovery tool once applied on Olympus camera, the inbuilt algorithms engine analyses the camera memory card deeply to look for the deleted/lost photos from camera. It allows users to preview the lost photos before recovering it.  The tool has easy interface and is compatible with all windows and Mac operating system. It can retrieve lost images from all types of memory card which is used by Olympus camera as well as it supports all categories of Olympus digital cameras like tough series, X series, V series, S series and E system cameras.
The software not only recovers lost/deleted photos but it also rescue possible videos and other media files efficiently from your Olympus camera. It can be used for recovering photos from others digital camera too. Olympus photo recovery is user friendly and easy to use; it does not require any skilled person even beginners can easily use it.
You might Also Be Interested In:
Steps to recover deleted/lost photos from Olympus camera
Step 1 – Install the Olympus photo recovery software and launch it. Connect your Olympus camera to computer through USB cable.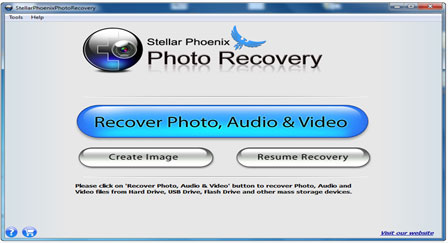 Step 2 – Choose your camera by which you want to recover photos and then click on Scan tab. After scanning result you can view all types of file recovered by it.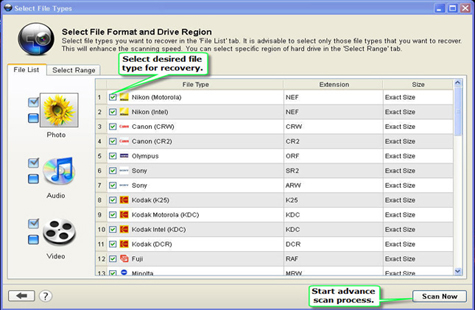 Step 3 – From the left side of software select the category Photos. As and when you select it the software will display all lost and deleted photos. You can now preview them before recovering it.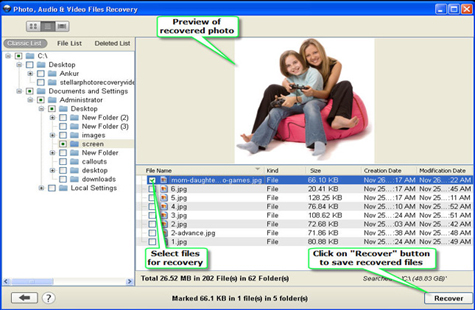 Step 4 – After selection of photo files which you want to retrieve finally you can click on Recover tab and select any different location on your computer to save files.