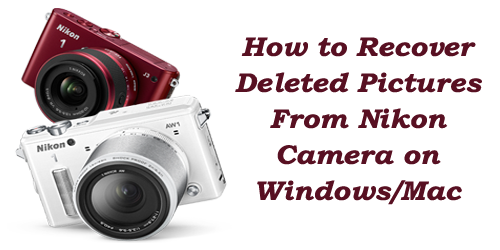 Restore Deleted/Lost/Corrupted/Damaged or Inaccessible Photos From Nikon Camera Very Easily
Have you lost your precious photos from your Nikon digital camera? Are you unable to access photos from your Nikon camera anymore? Are you looking for a way to get then back at any cost? Well, If YES then you are at right place because using Digital Media Recovery tool, you will be able to retrieve all you images from your Nikon camera. With this effective professional tool, you can also:
Retrieve deleted or lost photos from any digital camera memory card
Recover photos belongs to different file extensions like JPG, PNG, GIF, PSD, PIC, BMP, etc
Get back lost photos from other digital cameras like Sony, Canon, Panasonic, Nikon, Fujifilm, Samsung, Casio, etc.
Retrieve deleted data such as photos, videos from memory cards used in the digital cameras.
Able to perform recovery process very easily due to its user-friendly interface
Recover Deleted Photos From Nikon Camera



* Free version of the program only scans and previews recoverable objects.
As a photographer you may enjoy always using Nikon digital camera for taking cool landscape photos. But sometimes you may lose all your pictures from Nikon's camera memory card when you accidentally pressed the "delete all" button which erased all your photos and videos. In such a case is it difficult to get back your photos. The answer is NO! You can easily recover back all your deleted photos from your camera with the help of Rescue Digital Media which is especially designed to recover NEF or any type of the image format that are captured by your Nikon camera you can even recover your mistakenly formatted photos from Nikon camera memory card.

But the most important tip is that you need to do is firstly stop using your Nikon Digital camera to take new photos and videos once you realize that you lost your images from your camera. You need to this because the new photos and videos use the space kept for the deleted files and new data overwrites upon the deleted data and make them unrecoverable again.
Rescue Digital Media software has the ability to retrieve all the lost images from different storage media such as memory card, XD cards, CF cards, SD cards, MMC etc that are used by Nikon cameras. This software helps you to recover lost pictures accidentally formatted images and severely corrupted memory cards. This software is designed with easy to use user friendly interface that helps you to get easy access to use this tool.
Reasons that are responsible for loss of photos from the Nikon Digital camera are:
Human errors: Sometime when you are deleting the junk and unwanted pictures from the camera which might end up in deleting the important photos from your Nikon camera. While browsing options in the digital camera you need to press on format options that result in deletion of all the photos from the memory card.

 

Formatting: The photos that are taken from your Nikon camera gets stored on the memory card which are prone to corruption. Sometimes when you connect the camera to the computer it will ask you to format. In such a situation you cannot do anything other than formatting it. If you do so it will definitely lead to loss of photos.

 

Virus Attack: The viruses are the major threat that may result in loss of data. If the memory card is affected with the viruses then it will corrupt the file system of the memory card or make the card inaccessible.
Power Failure: While transferring the photos from Nikon Digital camera to the computer there is any power failure then this will result in shut down of computer and as a result you will lose all your important photos which are interrupted while getting transferred. If on the other hand photos are taken in low battery condition from the digital camera then there are chances of loosing photos if they are not saved properly.
There are many situation when you will lose your important photo you need to take care and precautionary methods to avoid the loss of data up to some extent. If still you face any kind of data loss then you can use Rescue Digital Media software to get all the deleted pictures back. This software is perfect for any kind of loss of photos from your camera.  
Features of Rescue Digital Media are:
It scans the entire derive in few minutes and recovers all the possible data.

 

It easily restores all the deleted pictures.

Deleted or lost photos by formatting or deletion from recycle bin can be recovered.

 

Supports recovery from memory card, SD card, MMC card and USB external drivers.

With the help of its recovery session you need to rescan the driver in future.

You even get the option to preview the recovered media files after recovery.    
You Might Also Be Interested In:
Steps to recover deleted photos from Nikon Camera

1 – Install and launch Photo Recovery tool. Connect your Nikon camera to your system through data or USB cable. Now Click on "Recover Photo, Audio and Video" tab.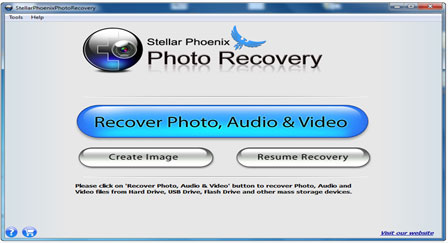 2 – Once the software detects your device click on "Scan Now" and if you want to perform advance scanning then click on "Advance Scan" button.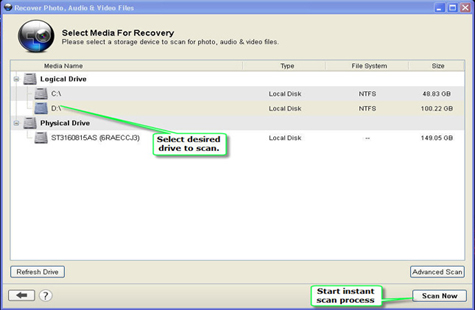 3 – Once the scanning process gets complete, the software will show all the recovered items. You can click on Photo category to recover only photo files. Now select the photos which you want to recover and click on "Recover" button.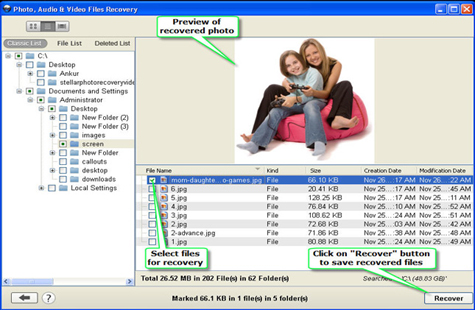 4 – Select the output destination path to save you're your photos on your computer.

Tips to remember
After losing your important data from your storage device, it is very much important to remember some useful tips which can help you to avoid data loss in future. Some of the tips are mentioned below:
Always make a backup of all your important files or folders so that it can help you in future when any data loss situation happens.
Use some reliable power source which can help your system from sudden shutdown
Before formatting, check your storage device at least two to three times
Never use any digital device when its battery is low
Don't remove the files when file transfer process is on progress
Before removing the device from computer or from any other system, eject it properly
Avoid using the same device when it is already used and it is full. Keep it on safe place and do not save any new media files otherwise the previous data will be overwritten
Always protect your device from any virus or malware attack by using the perfect antivirus program
Before deleting any files, just be sure of what you are selecting and what you are deleting
Never avoid any type of warning message because this can also be the reason for data loss