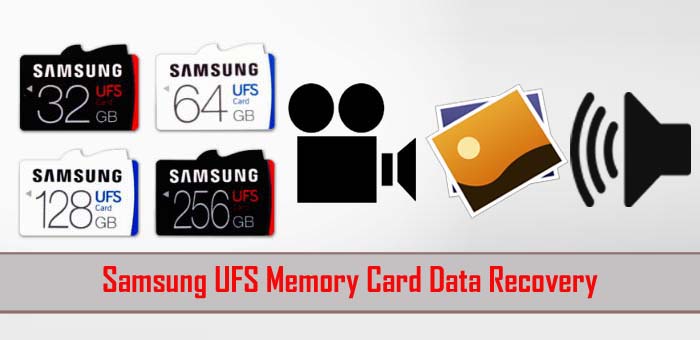 Effectively Restore Deleted/Lost Media Files Such as Photos, Videos and Audio Files From Samsung UFS (Universal Flash Storage) Memory Card!!!
Summary: This post will address – what is Samsung UFS card?, reasons behind the deletion of data from it and how to retrieve back deleted, lost data from Universal Flash Storage card? Just read the post till the end.
The recommended and the suitable software for recovering deleted, lost media files from Samsung UFS card is to take help of Photo Recovery. With the use of this software, one can:
Efficiently get back deleted pictures, videos and audio files
Restore files from corrupted, damaged, formatted, virus infected Samsung UFS memory card
Preview recoverable media files within the software, before recovering it on system
100% read only. Safe and secure to use
Download Samsung UFS Card Recovery Tool For Free



* Free version of the program only scans and previews recoverable objects.
About Samsung UFS (Universal Flash Storage) Memory Card
Back in July 2016, Samsung, the world leader electronics gadgets manufacturer company has launched the industry as well world's first removable Universal Flash Storage (UFS) memory card.
This card offer very faster speed of reading, writing and transferring data as compared to eMMC card. This faster speed save the times and complete the task very quickly. Samsung's UFS 2.0 provide 3 times faster random read speed than eMMC 5.1. This universal flash storage card can be used in mobile and tablet devices as well as in Smart TV.
For complete detailed information about Samsung UFS card, please visit: UFS – Flash Storage | Samsung Semiconductor Global Website
Find out what Jung-bae Lee, senior vice president, Memory Product Planning & Application Engineering, Samsung Electronics has said:
"Our new 256GB UFS card will provide an ideal user experience for digitally-minded consumers and lead the industry in establishing the most competitive memory card solution. By launching our new high-capacity, high-performance UFS card line-up, we are changing the growth paradigm of the memory card market to prioritize performance and user convenience above all."

For more information, please check out – Samsung Introduces World's First Universal Flash Storage (UFS) Removable Memory Card
We all know that any memory card, including UFS card is a lifeline for your data storage requirements. The external card allows you to extend your mobile or tablet device's storage capacity. But there are several cases or situation, where you can lose data on your Samsung UFS card. Below find out some of the causes through which users loses their files on their UFS card.
Reasons For the Loss/Deletion of Files From Samsung UFS Card
The most common reasons for the deletion of the files from card are accidental or mistakenly deletion.
Data loss also occurs if there is any kind of interruption while transferring files from UFS card to system. Interruptions can occur due to power surge, system shutdown or card disconnection.
The other common causes for the loss of files on memory card is virus or malware attack to memory card. The virus/malware can easily corrupt the data stored within it.
Data loss can also occur when the memory card is full message is displayed on your device and still you are clicking pictures or adding any new data.
Sometimes situation arises where you have to format the card and there is no other option left with you. Formatting card will erase all data stored within it.
Using the same UFS card on several gadgets like mobile, tablets, Smart TV, etc can lead data loss.
So, these were some of the most common reasons for the loss or deletion of data on Samsung UFS memory card. But you do not need to worry about it anymore. With the help of appropriate Samsung UFS Card Data Recovery software, you can easily get back deleted media files from it.
Additional Reading: Samsung Memory Card Data Recovery
How to Recover Deleted Images, Videos and Audio Files from Samsung UFS Memory Card
To effectively restore Samsung UFS (Universal Flash Storage) memory card data, you will need a tool that is particularly designed for the job. That tool is Photo Recovery. Some of the key features that make photo recovery the suitable tool for the job:
Recover photos, videos and audio files by scanning the Samsung UFS card
Preview and selectively recover what you want to retrieve from the memory card
Support various photos, videos and audio file types
The photo recovery software not only restore files from Samsung UFS card, but it also support other memory cards that includes SD card, SDXC, SDHC,  miniSD, MicroSD, xD picture card, Compact Flash card, CF Type I, Type II, MicroDrive, XQD card, playstation vita memory card, MMC card, SmartMedia, memory stick, etc.
The software also support media files recovery from digital cameras/camcorders, smartphones, tablets, hard drive, external hard drive, pen drive, USB flash drive and external media storage devices.
Additional Reading: Samsung Galaxy J2, J3, J5, J7 Memory Card Data Recovery
Note: As and when you delete or lose data on your Samsung UFS card, the immediately stop using it from adding any new data on it. Adding new data overwrite the existing data and you will lose the chances for successful recovery.
Supported Photo/Video/Audio File Types
Photo/Camera File Format:JPG/JPEG, TIFF/TIF, GIF, PNG, PSD, INDD, MOS, PSP, PCT, BMP, JP2, DJVU, PGM, TJA, DNG, Nikon (NEF, NRW), Canon (CR2 /CRW), Olympus (ORF), EPSON (ERF), Fujifilm (RAF), Kodak (K25 /KDC /DCR), Leaf (MOS), Mamiya (MEF), Panasonic (RAW), Konica Minolta (MRW), Pentax (PEF), Sony (SR2, ARW, SRF), Sigma (X3F), etc.
Video File Format:AVI, MOV, ASF, WMV, MP4, M4V, 3GP, MPEG, DV, 3G2, M4B, DIVX, OGM, MKV, ASX, VOB, MOI, MTS, AJP, F4V, VID, TOD, HDMOV, MQV, SVI, MXF, etc.
Audio File Format:MP3, WAV, RPS, AU, OGG, , AIFF, MIDI, M4A, M4P, WMA, RM, RA, ACD, AMR, AT3, CAFF, DSS, TIFF, M4R, NRA, SND, etc.
Additional Reading: Samsung External Hard Drive Data Recovery
Steps To Recover Data From Samsung UFS Memory Card
Step 1 – Install "Photo Recovery" software and launch it on your computer. Click on "Recover Photo, Audio & Video" tab to recover photos, videos and audio files from any SD card, external USB drive or computer hard drive. Connect the media to your computer and then perform the process.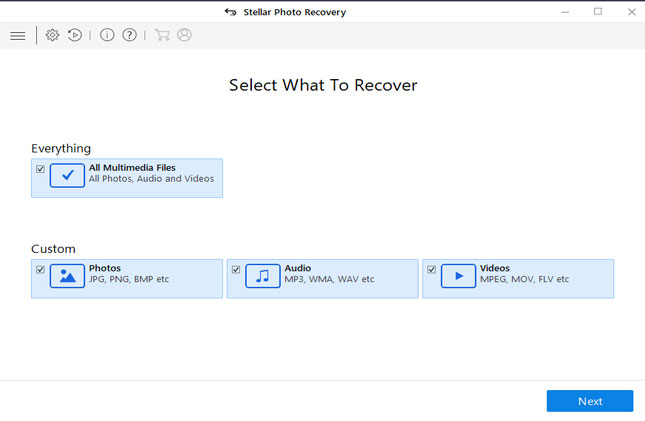 Step 2 – Select the drive from which you want to recover files. All the hard drive and external media will be shown in the list. Now select the desired drive to scan and then click on "Scan" button.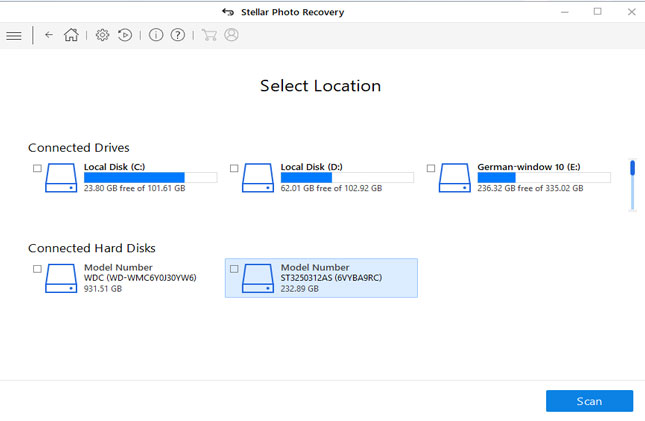 Step 3 – Once you click on "Scan" button the software will show that scanning is in progress. The software will search for all multimedia files from your selected drive or attached media.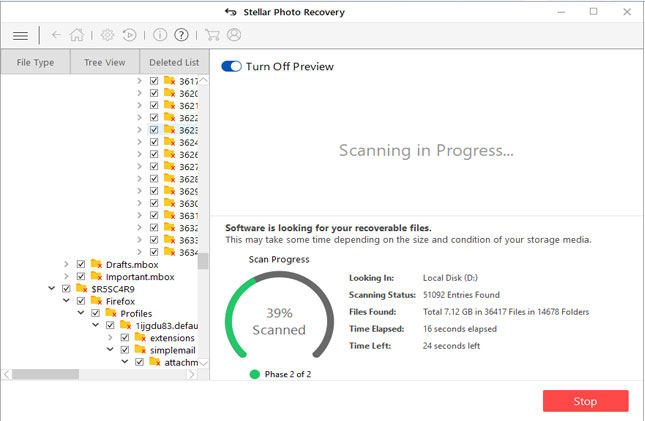 Step 4 – After scanning, all the files that are found in the selected volume, hard disk or other storage media devices are listed. You can now select the files to preview them and then you can click on "Recover" button to finally save them on your computer.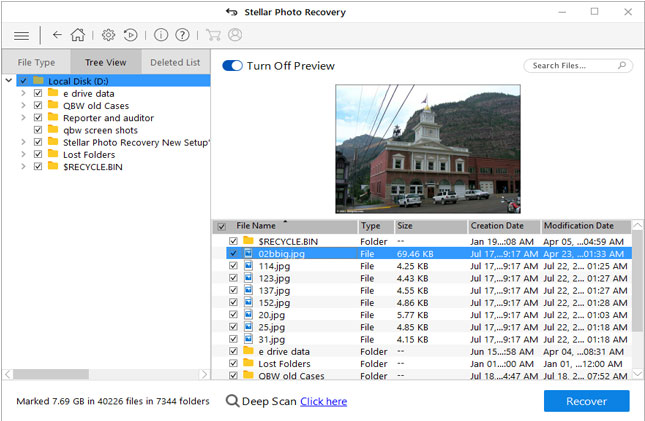 Other Related Samsung Memory Card Problems and Solutions
Problem – Samsung Micro SD Card Not Recognized
Solution – Among various reasons for the loss of data from Samsung memory card, one of the most irritating situations is that memory card is not recognized by PC. Normally, "SD card has unsupported file system" and hence, it is not recognized by PC. Photo Recovery software can help to detect and scan memory card to search for inaccessible or lost, deleted media files when the card is not detected by PC. So, when your PC or mobile phone does not read or recognize your card the use photo recovery to restore media files (images, videos and audio) only.
Additional Reading: How to Recover Photos from Encrypted SD Card
Problem – Deleted Files From SD Card on Samsung Phone
Solution – As earlier mentioned that there are lots of people out there who accidentally or mistakenly delete their images, videos and audio files from the SD card on Samsung phone. For this also, Photo Recovery tool is the perfect software for recovering deleted files from Samsung memory card after deletion.
Additional Reading: Recover Images from Samsung Tablet
Conclusion
As of now, I hope you have come to know that Photo Recovery software is perfect and direct solution to restore deleted, missing, formatted, erased and lost photos, audio and video files from Samsung Universal Flash Storage (UFS) Memory card.
So, download and install photo recovery on your system now and easily get back deleted files and get rid of data loss problems from memory card.

If you have found this post helpful and useful, then please do not forget to share it.
Also like and follow us on Facebook, Twitter and Pinterest to get latest updates.