Retrieve Lost/Deleted/Corrupted or Damaged ARW RAW Files From Sony Camera Easily in Just Few Clicks!
Summary: In this post I am going to provide the easiest solution on how to recover Sony camera raw ARW image files with the use of Sony Camera Photo Recovery software. Just read the post till the end and follow the steps mentioned in this post.
Restore Deleted, formatted, erased or missing ARW raw files from Sony digital camera

Also, recover various format of videos and photos file format
Apart from ARW raw files, it also recovers other RAW image files such as  Nikon (NEF, NRW), Canon (CR2 /CRW), Olympus (ORF), EPSON (ERF), Fujifilm (RAF), Kodak (K25 /KDC /DCR), Leaf (MOS), Mamiya (MEF), Panasonic (RAW), Konica Minolta (MRW), Pentax (PEF), Sony (SR2, ARW, SRF), Sigma (X3F), etc.
The software is compatible with both Windows and Mac
Easily recover media files from several media storage devices such as memory cards, smartphones & tablets, memory sticks, hard drive, pen drive, external hard drive, digital cameras, USB drives & camcorders, etc
It is read-only program and 100% risk-free & easy to use
Free Download Sony Camera ARW Raw Files Recovery Software



* Free version of the program only scans and previews recoverable objects.
Sony digital cameras have always attracted people round the globe who love photography either as a profession or as a passion. It is because Sony camera's not only exhibits outstanding accuracy of colors but also provides enhanced definition with almost 0% of distortion. It is able to showcase such capabilities because of some of the great features that go a long way to make your entire experience a pleasant one from capturing to storing them in a safe place. But at times those stored pics may get deleted from their stored place and to recover them back you need specialized Sony Photo Recovery software.
Additional Reading: SRF File Recovery – Recover Deleted Sony RAW SRF Photo Files

What is Sony Camera RAW ARW Image files?
Sony digital camera captures photos in a specific format i.e. ARW which is responsible for high quality arw photography that produces good quality photos. The raw file format i.e, ARW photo file is saved in memory card of the camera in such a way that later they can be converted into general format by using specific tools.
But there are some scenarios where these raw images also get corrupted and people find it hard to access the file. There can be any reason of such photo loss, and in order to retrieve them back either you have to use the valid available backup or third party ARW Photo Recovery software.
Additional Reading: Recover Deleted Photos and Videos From Sony A6300

Is It Possible To Recover Lost/Deleted  RAW ARW Images from Sony Camera?

Have you mistakenly lost or deleted Sony camera RAW .arw photo files due to unexpected reason? Are you looking for a way to recover deleted or lost .ARW raw picture files from Sony Digital camera? Well, do not worry if you want to get back deleted or lost such files then you can use Photo Recovery Tool. But before that let us know about Sony ARW raw files.
Basic reason how ARW Images gets deleted from Sony digital camera
There are many ways by which your precious photos can get deleted from your Sony camera. Some of the reasons are:
By Delete all option – sometimes when you want to delete photos which you do not like it and but instead of deleting those bad photos sometimes by mistake you clicked on "DELETE ALL" and you lose all photos.
Software failure – Sometimes your digital camera software fails due to improper use or malfunctioning of camera which results in corruption of your memory card inserted in your Sony camera.
By formatting memory card – It generally happen when you connect memory card in your laptop or computer. Computer asks for formatting the memory card and at that time you continue formatting the card. After formatting at last you left with empty card with you. All data in it gets lost.
By virus attack – It is simple when your card gets attacked by virus it is obvious that it will corrupt data stored in it. Virus attack can results in huge data loss, restrict access of file or corrupt file of memory card.
Due to Power Failure – At the time of transferring photos from Sony camera to laptop or PC and if there is any power failure then PC gets off abruptly and the transferring procedure remains incomplete this may results in photo loss. Even if your camera battery is low and it gets off while transfer then there is chances of photo loss.
Additional Reading: How to Recover Deleted Photos from Sony Alpha DSLR Camera

How to rescue deleted/lost/corrupted photos from Sony Camera?
If you're favorite and precious photos gets deleted or lost by reasons discussed above or any other, then you can still recover those photos from your Sony camera by using Photo Recovery which is a perfect Sony Photo Recovery software for Windows/Mac. This software is specially designed for recovering ARW files or any type of image taken by Sony camera. This software can recover photo from any storage media card such as SD card, memory card stick, XD card, CF card, MMC card, etc. which is used in Sony camera.
Sony photo recovery software is easy to use and allow user to easy access of this outstanding tools. The tool scans your entire card and recovers all lost/deleted or corrupted data. The software not only recovers photos but also rescues possible videos, audios and other media files deleted or missing from the storage media.
You Might Also Be Interested In:
Steps to recover Deleted/lost/corrupted ARW RAW photos from Sony Camera
Simple and easy steps to follow for recovering your Photos files from your Sony camera
Step 1 – Download and install Sony photo recovery software on your computer. Launch the software once it gets installed. Connect Sony camera to your computer and select it for Photo recovery.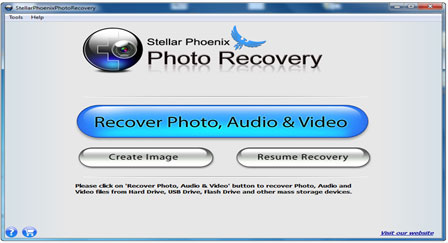 Step 2 – After selecting your Sony camera click on "Scan" tab. Wait for few minutes for scanning. Once the scan is completed it will display all the files.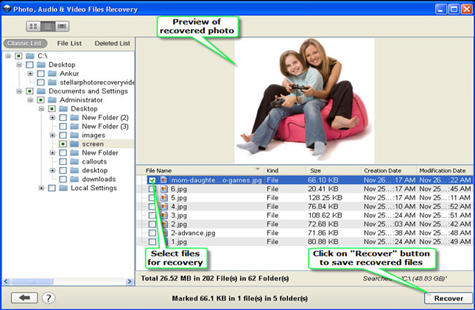 Step 3 – On the left hand side you can see photo, video and audio category. Click on "Photo" and software will show you all lost/ deleted photos. Now preview and select those photos from the recovered files which you want back.

Step 4 – Once you have selected the files which you want click on "Recover" button and select specific location on your computer to save those photos.
So, what are you waiting for? If you too have lost or deleted digital media contents like photos, videos or audio files from your Sony digital camera, then just use this powerful software and restore back those in just few button clicks.
Additional Reading:How to Recover Deleted Videos from Sony Handycam
Tips to remember
After losing your important data from your storage device, it is very much important to remember some useful tips which can help you to avoid data loss in future. Some of the tips are mentioned below:
Always make a backup of all your important files or folders so that it can help you in future when any data loss situation happens.
Use some reliable power source which can help your system from sudden shutdown
Before formatting, check your storage device at least two to three times
Never use any digital device when its battery is low
Don't remove the files when file transfer process is on progress
Before removing the device from computer or from any other system, eject it properly
Avoid using the same device when it is already used and it is full. Keep it on safe place and do not save any new media files otherwise the previous data will be overwritten
Always protect your device from any virus or malware attack by using the perfect antivirus program
Before deleting any files, just be sure of what you are selecting and what you are deleting
Never avoid any type of warning message because this can also be the reason for data loss
If you have found this post helpful and useful, then please do not forget to share it.
Also like and follow us on Facebook, G+, Twitter and Pinterest to get latest updates.