If you own a digital cameras and using it for several months then you must be familiar with the problems and errors that is mentioned below. If you have not experienced any problems or if you are a beginners, then also the below listed common camera problems and their solution will help you a lot.
The most common digital camera problems are lens error, shutter error, battery error, software issues, SD card error and many more. Repairing digital camera or fixing its error is very expensive (sometimes expensive than camera itself). However, you can try few tips and tricks before you replace your camera or sending it to service center.
So, here are some of the common camera problems and their solutions.
1 – Fixing Camera Shutter Error
Sometimes camera's shutter gets stuck. In this case if shutter remained open then you will get a overexposed pictures and if shutter does not get opened at all then you will get black photos.
Solution
Make sure that the lens surface is clean and nothing is coming in between the way. If there is any dirt then with the help of lens brush clean the glass and then with the help of can filled with compressed air clean the area around lens and shutter.
If the above trick does not help, then try to disrupt the shutter. You can use shutter priority or manual to adjust shutter speed to bulb or to the slowest probable settings if your camera allow manual modes. If your camera does not allow manual modes then you can also try to use scene setting that is made for taking pictures at low light such as sunset or fireworks. After this take a photo and while camera is still taking the photo, take out the battery (but do not switch off the camera). IF your camera does not allow manual settings then you have to be very fast for taking the battery out while you take pictures. By doing this the shutter will get interrupted and it may start to release. You might have to repeat the process several times.
2 – Fixing Camera Lens Error
Lens errors are very common in digital cameras and mostly it is found in camera that has barrel style lenses. The main causes due to which lens error occur is all because of dirt, dust or sands gets deposited inside the lens or if lens get out of their place slightly.
Solution
Try to clean the lens area and remove the dust or sands. You may use can of compressed air to clean the lens area. You may also use hair dryer to clean the area where there is no heat risk.
If the cleaning the lens area does not work, then you have to check the lens visually. Check whether the lenses are not tilted to one side. Most of the time when camera gets dropped then lens may get tilted and it will not work proper. However, it is recommended that you must show professional camera repair center to fix damaged lenses because fixing this yourself may cause more damage to the camera. Try to fix the lens error by yourself only when you are out of budget. Try to gently push the extracted lens unless it gets straight and no longer crooked or tilted.
3 – Fixing Camera Software Issues
This is another problem of digital cameras. You will find that hardware is working well but there is an issue in software.
Solution
In this case download the latest software update for your camera. Just find the "firmware updates" for your camera models and update it. Updating the software is easy and simple. You will find the instruction on how to update your camera software over the internet itself.
If the above solution does not help, then you can restore your camera to factory settings. You will find this option in the camera Menu.
4 – Fixing Camera Battery Error
There are many users out there who reports battery problems. It is true that battery errors can also become trouble for digital camera users.
Solution
First, make sure that battery is fully charged and always check the light on the charger in order to be sure that charger is working. Also make sure that battery contacts properly and they are clean. If it is not clean then with the help of dry cloth wipe it, you may also use can of compressed air to clean it.
Second, different batteries have different level of handling temperature. If your camera does not get switch ON in high or low temperature level then try to switch ON camera after 30 minutes in normal temperature level. If your camera gets turned ON then it is confirmed that your camera battery could not handle extreme temperature level. So, try to keep your camera in normal temperature level.
Tip – If you recharge NiMh and NiCd batteries before they are not fully drained then it will reduce their lifespan. On the other hand Li-ion batteries which mostly comes with newer models last longer and you can recharge them even they are not fully drained. If your camera does not get switched ON or your battery life is not what it used to be then replace your camera battery.
5 – Fixing a Wet Camera
It is very common problem as camera mishandling can happen with anyone. You may drop your camera by mistake in river, Sea beach side, pool, Water Park or simply in water will damage your camera.
Solution
To fix this problem you need to leave the camera to get it completely dry. It depends upon how much water get inside, the camera may or may not get repaired and recover. First thing you have to remember is that "do not Turn ON your camera". After this leave your camera to get dry completely. You may open the camera compartment such as take out battery or any other component and leave them alone. Once you are sure that camera has got dried completely assemble the compartment and Turn it ON to avoid the damage. The camera may need to buy new memory card or battery.
6 – Fixing SD Card Error
Sometimes you may get frustrated in finding what the problem with your camera is. And later you will come to know that the problem was in SD card and not in the camera. If you are getting "write error" then your photos does not get written to the card. First check your card is not locked and then try to take photos.
If your card is damaged due to dust or dirt then you may get card error. In this case make sure that the metallic part is dust free and if there is any dust then clean it with micro-fiber cloth that comes with camera for cleaning lenses. You may also use can of compressed air to clean the camera SD card slot and card, so that the they can make a good contact.
Different camera uses different format on the card. So formatting the SD card may also fix this problem. But before you format the card make sure that you take a backup of your photos from the card. You can find the "Format" Option in the menu of the camera itself.
How To Recover Missing Data After Fixing The Camera SD Card Error?
SD cards are cheap and hence you can replace it to avoid this problem. If you notice that photos are taking time to get written then you can use advanced memory card that have higher transfer rate, will help speed things up.
If the card still has only copies of Photos or if you have completely lost your photos and recorded videos then you can make use the popular Photo Recovery Tool. This tool will surely help you out to recover lost deleted or missing media files from Camera SD card.
This recovery tool is compatible with both the platforms; Windows as well as Mac OS. So, simply download & install it from the below buttons as per your niche.
emid

emid


* Free version of the program only scans and previews recoverable items.
Steps To Recover Lost Data From Camera SD Card
Step 1: Select Desired Location
Firstly, select the drive, external media or volume from which you want to recover deleted media files. After selecting, click on 'Scan'.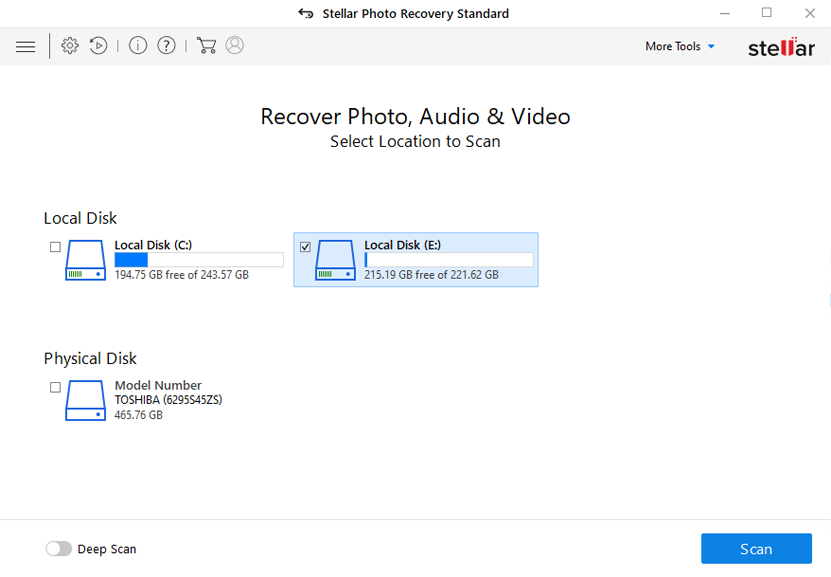 Step 2: Preview Recovered Media Files
Next, you can preview the recoverable media files after the scanning process is completed.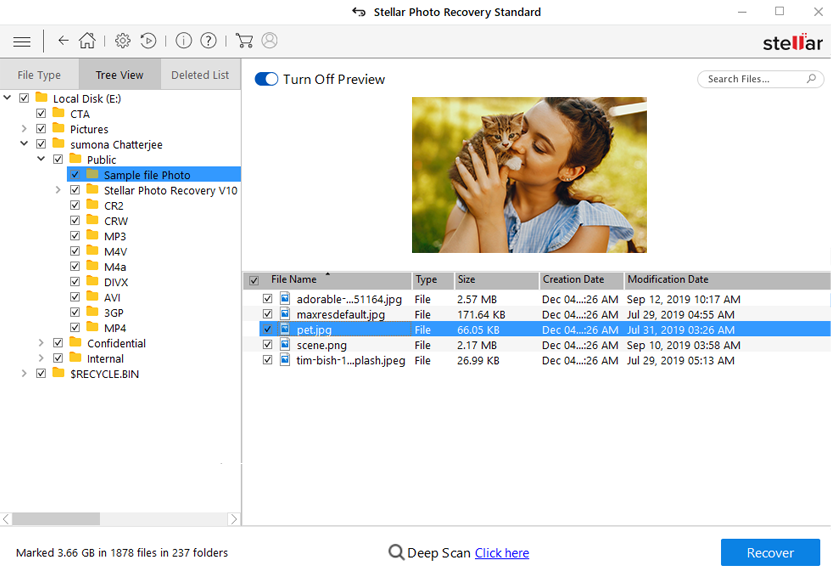 Step 3: Recover Media Files
Lastly, you can select the images, audio, video files you want to restore and click on 'Recover' option to save them at the location you want.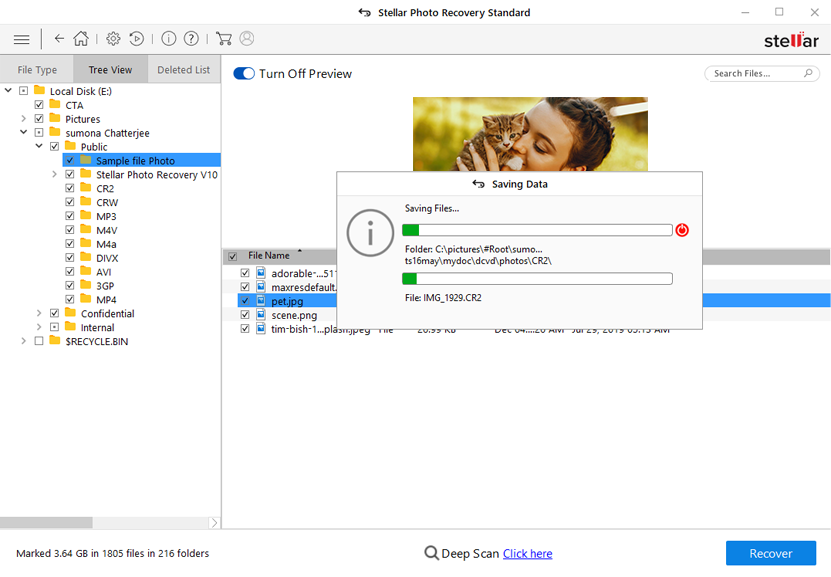 When to Purchase New Camera?
However, there are other several camera errors and problems which are impossible to do it yourself job. There are many camera repair shop and service center but they are usually very expensive. In many cases purchasing a new camera is better option. Below are few scenarios that will clear your question when to buy a new camera.
When repairing camera is more expensive than camera itself – Consider your camera is broken or damaged and repairing it, is costing more than your camera itself. You may confirm with your camera repair shop and then you can decide whether to go for new camera or not. You may purchase the older version of the camera it will help you to save money.
If there is sensor problem – In this case also fixing the sensor problems are tough and very expensive. You may go for replace but again find and estimate the price. If it's much expensive then you can go for new one.
When your camera become old – If your camera has problems and you are not able to capture the best quality picture then the best option is to upgrade. In such case you must purchase a new digital camera or old model DSLR camera. You may get surprise by the improvement in quality because digital cameras have been modified with latest technology in the last 5 years.
Conclusion
Well, it is very frustrating when camera does not work properly. However, some of the problem can be fixed and some not. Keeping your camera clean and safest place is the best practice to fix the issue. But other times, repairing cost are more than camera itself. In such cases you must purchase a new camera or old model.
In case after fixing these card errors, if you've found that your data gets deleted, then you can try the above mentioned Photo recovery tool to get them back.
Taposhi is an expert technical writer with 5+ years of experience. Her in-depth knowledge about data recovery and fascination to explore new DIY tools & technologies have helped many. She has a great interest in photography and loves to share photography tips and tricks with others.