Nowadays most of Android smartphones come with built-in features to hide photos, videos, and lock apps. But if your phone does not offer this (hide/lock) feature then it is obvious that you must be using any third-party apps like AppLock, Vault, etc. to lock or hide your precious stuff.
But imagine if you uninstalled the app without unlocking the locked files or forgot the PIN/password of the app where all the files are hidden. How you are going to recover those hidden photos or videos from the app? In this blog post, I am going to discuss how to recover photos from App Lock vault using effective app lock photo vault recovery methods.
To recover inaccessible photos locked by any app locker, either you can use the latest backup or try free to use Photo Recovery software. With its intrinsic algorithm, there is a high probability you will be able to restore hidden or inaccessible photos of your phone quite easily.
Rated Excellent on

Trustpilot
Free Photo Recovery Tool.
Recover photos, videos, & audio files from all digital cameras & memory cards on Windows. Try now!
But before that let's look at a practical scenario based on this situation –
Practical Scenario
Photos in Applock's Photo Vault?

Hey I used to put my photos in the photo vault of applock but I decided to reset my phone and factory resert and wipe data+cache and dalvik cache. After that I restored all my apps including the applock but my photos in the vault were gone. How do I recover photos from App Lock vault? Please help. Thanks in advance

– Original Post From XDA Developers Forums
Before we proceed further it is important to understand how these lock apps work.
How Lock Apps Work And How They Lock Or Hide Files Or Apps?
Most of the lock apps mainly use two types of methods to lock files i.e.
Hiding or locking using encryption.
Hiding files in dot folders. Example .foldername.
In the first case, you have very little chance of app lock photo recovery unless you have a very effective decrypted program and someone who is a master of this method.
For the second case, you have two options. Since hidden files are stored in the SD card you can use well-reputed Photo Recovery software to recover app lock photos and videos. And you can also rely on any file explorer that has the capability to expose dot folders (hidden directories whose name starts with a dot) like ES File Explorer.
Let's discuss both options one by one.
Solution #1: How to Recover Deleted Photos & Videos from App Lock?
As discussed earlier, all the photos and videos are stored in the memory card of the phone. So a powerful App Lock Photo recovery software can easily recover hidden or inaccessible photos or videos from an SD card or even from phone memory effectively.
Let's see what else this App Lock Photo Recovery software can do –
Easily extract memory card images/pictures hidden by AppLock, Vault app, photo locker app or any other app lock.
Also retrieve videos and audio files (hidden, deleted or lost from external SD card) from the vault app or from any other app lock.
Recover photos, videos, and audio files that are hidden in the memory card, pen drive, USB drive, thumb drive, hard drive and other media storage devices.
Preview recoverable images within the software preview screen before final recovery.
100% read-only. Safe, secure, and easy to use.
emid

emid


* Free version of the program only scans and previews recoverable items.
So, without wasting any more time just download the software by clicking the button above, and recover photos from uninstalled app lockers in no time.
To know how this app lock photo vault recovery software works, look at this user guide.
Solution #2: App Vault Photo Recovery Using ES File Explorer File Manager
ES File Explorer File Manager will show you the hidden files and folders and as it shows you the hidden files and holder at the same time you can check and recover your photos in the app folder where it is installed. If you are not able to find it then search it with photo and video file format by using wildcard characters. Example: For Photo – use .jpeg and for Video – use .mp4, .avi, etc.
Below follow the step-by-step guide on how to retrieve lost, hidden, or inaccessible photos from vault app via ES File Explorer File Manager.
Note: This solution will only work on Android phones and tablets and can easily recover your photos hidden by AppLock, Vault, Gallery Vault, or any other lock application from the phone's internal or external SD card.
Steps To Use ES File Explorer File Manager 
Install ES File Explorer File Manager on your Android phone from play store.
Launch it and go to Settings and enable the option "show hidden files".
Now go back to the home directory and look for the folder ".My Security". Once you find it, open it and then you will get many files that would be named like "25ad4ca6".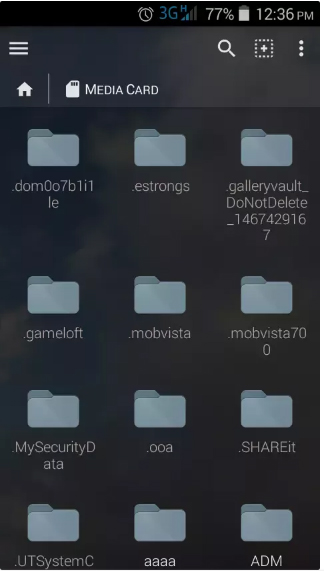 Next, go to search option, tap on "Advanced options". Enter the size "10kb-10MB" select all files and tap on search.
It will display the files with different file extenuations. Now, try to open them with image or video format.
Try to change file extension name with .jpg for photos and .mp4 for videos.
That's it, you can now move the recovered photos/videos to a new folder.
Alternatively, you can connect your Android phone to PC to search hidden or deleted photos and videos locked by App lock or vault app on the device. Simply enable hidden files through Control panel> Folder options and then search the photos with a wildcard character. Example for photos – .jpg/.jpeg and for videos – .mp4/.avi
Solution #3: Use The App Lock/Vault App/Gallery Vault Itself To Recover Photos
On your Android phone, follow the below steps to recover photos from App Lock vault:
Open Vault app on your phone.
Tap on Photos or Videos.
Now, tap the Menu button and then tap on "Manage Photos" or "Manage Videos"
Select the Photo(s) or Video(s) that you want to restore.
Tap Restore.
Select OK in order to restore the photo and videos on your device.
Alternatively, follow the below steps to know how to recover photos from app lock photo vault:
Note: It will only recover photos/videos that you had in App Lock or Gallery Vault on the same device. In case if you have factory reset or format memory card or device then it will not recover your photos.
Log in to your App Lock or Gallery Vault using your Master Password.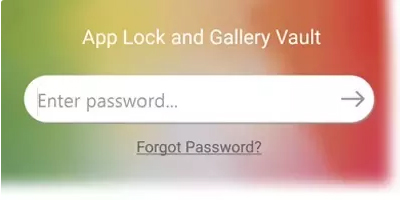 Tap on 'App Lock' to bring up the menu and go to 'Settings'.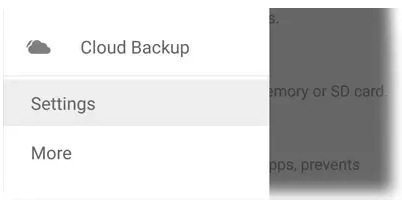 Next, you have to tap on 'Data Recovery'.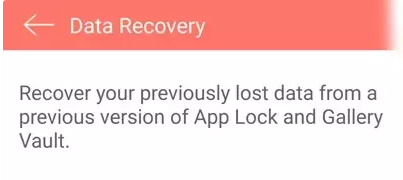 This will recover all your previously lost photos from a previous version of App Lock or Gallery Vault.
Rated Excellent on

Trustpilot
Free Photo Recovery Tool.
Recover photos, videos, & audio files from memory cards or internal storage of phone on Windows.
FAQ (Frequently Asked Questions)
1. How to backup AppLock photos?
You cannot backup photos or videos from Applock app directly because they don't have an option for that.
You have to remove the photos and videos from the Applock Vault so that you can have them on your phone Gallery. From there you can backup your stuff to any other location (flash drive, hard drive etc.) via USB cable or any other means.
2. How to recover photos from uninstalled Applock?
During the hiding process, Applock simply stores your photos and videos in a separate folder in the SD card. It hides that folder from other File Explorers and protects it using the password you have provided.
So when you uninstall Applock, that folder remains in the SD card hidden and protected even if the app itself is uninstalled. You can easily access your photos and videos easily by reinstalling the app again. It is recommended to remove all the photos and videos from Applock before you uninstall it so that you can have them in your phone gallery.
3. How do I stop Applock from uninstalling?
In order to stop Applock from uninstalling you need to enable Advanced Protection in Protect of AppLock, so that nobody can kill or uninstall AppLock without a password. And when you don't want it just disable the Advanced Protection.
Conclusion
Losing your personal photos, music files, videos and other stuff from a secured application is a bit disturbing. I hope you will be able to restore your hidden, inaccessible photos from App lock vault-app using Appl lock Photo Recovery Software and other methods mentioned above.
If you like the post don't forget to share it with others.
Taposhi is an expert technical writer with 5+ years of experience. Her in-depth knowledge about data recovery and fascination to explore new DIY tools & technologies have helped many. She has a great interest in photography and loves to share photography tips and tricks with others.