Just imagine that you have captured plenty of incredible pictures with your Smartphone. All of a sudden, because of any small mistake you may delete these photographs. In such a situation how would you feel? Worried, right? Well, there is nothing to worry about as you can easily recover deleted photos from Android phone using local backup, Google Drive backup, Google Photos, and Mobile Phone Photo Recovery Software.
There are some other solutions as well that can assist you to recover pictures from Android phone. Though, all the possible ways are mentioned here in this post.
So, without any further ado, let's get started…
To recover photos from phone memory, we recommend this tool:
This software will restore data from corrupted, formatted, encrypted storage media and works in all data loss situations. Now recover your lost and deleted data in 3 easy steps:
Download this Media File Recovery Tool rated Excellent on Pcmag.com.
Select the storage media from which you want to restore the media files & click Scan.
Preview the recoverable files, select the items you want to recover and click Recover to save the files at desired location.
Quick Navigation:
Can Deleted Photos Be Recovered on Android?
How To Recover Permanently Deleted Photos From Android Phones?
Best Alternatives For Android Phone Photo Recovery
How To Retrieve Photographs From The Microsoft OneDrive?
How To Recover Deleted Photos from Your Android Phone SD Card?
What Are The Reasons For Deletion Pictures From Smartphones?
How Do You Avoid Losing Photos Next Time?
Can Deleted Photos Be Recovered on Android?
Before we dig into the solutions, it's important to know whether it is possible to retrieve lost or deleted pictures on Android. Well, the answer to this question is 'Yes', the deleted photos can be recovered on Android successfully.
If you've backed up your image files using your Google account, the phone photos recovery process will be very much easier for you. Though you can easily get back your lost photos on smartphone from the backup folder.
On the other hand, if you stored all your crucial photos in the external memory of your mobile (SD card) and have lost them from there, then you can use the Photo Recovery tool to get them back.
How To Recover Permanently Deleted Photos From Android Phones?
In order to recover deleted photos from Android phones, you can try reliable and trustworthy Mobile Phone Photo Recovery Software. This tool helps to recover formatted smartphone files stored photos, video clips, etc. With the help of its advanced scanning algorithm you can easily scan the whole device and after scanning it generates a preview of the recovered photos and many other file types.
This software also supports media file recovery from digital cameras/camcorders, tablets, hard drives, external hard drives, pen drives, USB flash drives, and other external media storage devices. It supports both the platforms: Windows and Mac respectively.
emid

emid


* Free version of the program only scans and previews recoverable items.
Let's find out its other stupendous features like:
Recover lost and deleted images from smartphones easily
Besides smartphones, this cell phone photo recovery can also recover deleted or lost photos from formatted memory cards, external hard drives, and digital cameras as well
Retrieve photos belongs to different file extensions like JPG, PNG, GIF, PSD, PIC, BMP, etc
Apart from photos, you can also recover videos and audio files
Provides easy to use interface
100% Safe, secure, and easy-to-use interface.
Here is the step-by-step guide to know how to recover deleted photos from Android gallery in no time using this fully-featured mobile photo recovery software for PC.
Best Alternatives For Android Phone Photo Recovery
Cell Phone Picture Recovery from the Recently Deleted Folder
If you have recently deleted your pictures from Android Gallery then you can get them back from Recently Deleted Folder if you haven't emptied that folder yet.
But do remember that you can recover deleted photos from your Android phone within 30 days only after the deletion. Thus, if these conditions are met, congratulations. All you need to do is to follow the below steps and bring them back from there.
Go to Gallery app on your Android >> tap "Albums".
Then, scroll down & find the "Recently Deleted" option >> click on it.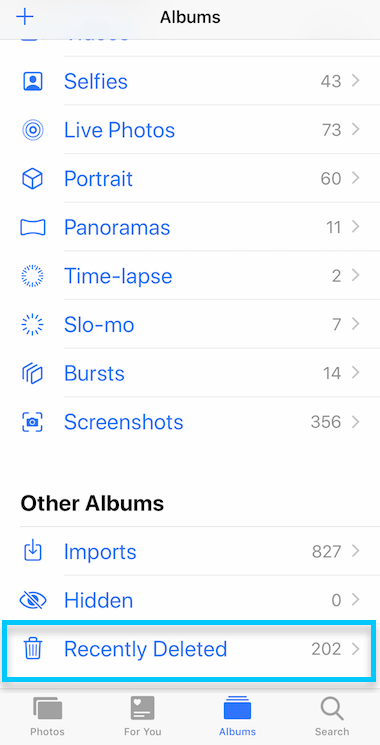 There you will get all your photographs that were recently deleted.
Tap on "Select" option in the top right-side corner & then choose the photos that you need to recover.
Finally, tap on "Recover" or "Restore".
Also Read: Recover Hidden Files In Android Mobile
Recover Deleted Images from the Cloud Backup Feature
Nowadays, most of the smartphone brands like OPPO, Vivo, Samsung, etc. are coming with built-in cloud backup features which offer to back up the pictures or other data on your device using a Google account.
Thus, if you have got this enabled this feature on your phone, there is a huge chance that your photo isn't actually deleted. And can restore it from there easily.
How To Recover Deleted Photos From Android Phone Via Google Drive?
Well, Google Drive is another option to get back lost photographs on Android phones. If you have backed up your photos and videos using a Google account or uploaded them on Google Drive then, you can check those files on your Drive section.
Restore Deleted Pictures from Trash Option
To recover photos from trash Android, here are the steps you have to follow
Firstly, go to the Google Drive on the cell phone or merely open the google.com and then log in into it
After this, go to the option "Trash"
Here you will see the list of the deleted photo. Then select the images that you need to restore and then hit the "Restore" option
Restore Lost Photos from Google Drive Uploaded Files
Just open the Google Drive app on the cell phone or download & install it
After this, go to the My Drive section and then select the photos that you've uploaded
Then, preview the stuff and simply hit the option "Download" to restore chosen photo files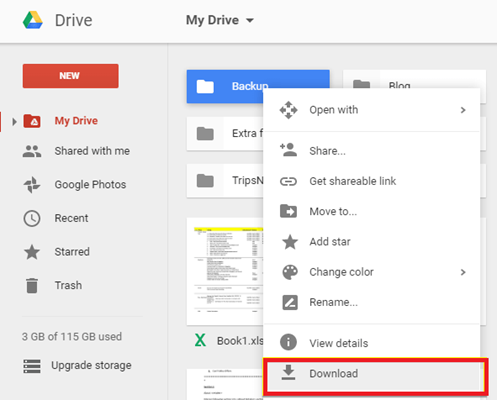 Get Back Deleted Pictures from Google Photos
Well, the Google account could help you to recover those files from Google Photos. To do so, you have to follow the below steps:
First, open your Google Photos app from Smartphone and sign in the Google account.
Next, click on upper left corner to select the "Trash" or "Bin" to move ahead.
Then, Preview and select the beloved pictures by ticking them from a trash or bin.
After this, press the "Restore" icon, then the deleted images will be restored in the photo documents on your cell phone.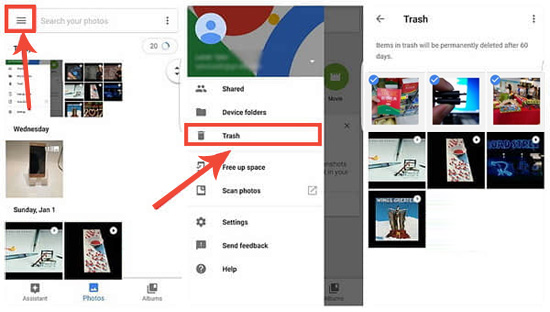 Also Read: Android Tablet Photo Recovery – Best Ways To Get Back Lost Photos
Perform Phone Photo Recovery Using Third-Party Tool-DiskDigger
Another yet option that you can try to do Android photo recovery is to use any third-party photo recovery app. DiskDigger for Android is one of the best apps that will deeply scan the internal storage of your mobile and regain lost pictures for free.
All you need to do is to install this app from the Google Play Store and see how it works.
Retrieve Image Files Or Folders In Dropbox
Here are the steps, you can follow to revive photographs from Dropbox:
First, Sign in to dropbox.com.
After that, click the Files in left sidebar.
Next, click on Deleted files in the left sidebar.
Now, tap the name of the deleted image file or folder that you wish to restore.
Choose the multiple files/folders at once via clicking the checkbox icon
Lastly, click the Restore.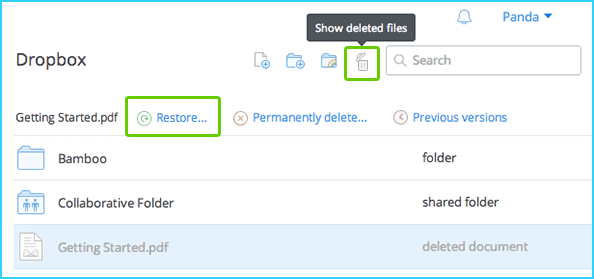 How To Retrieve Photographs From The Microsoft OneDrive?
OneDrive keeps lost files for up to 30 days, though it might delete them earlier if your recycle bin is larger than 10 percent of your total storage space.
So, you can also restore your missing images from Microsoft's OneDrive. To do so, open your Microsoft OneDrive app and then go to Me > Recycle Bin. After that, you need to choose your photos or files and just tap on Restore icon.
How To Recover Deleted Photos from Your Android Phone SD Card?
As we all know, photos or videos that are located in the phone's Gallery, they're either saved in the SD card or internal storage of the phone.
Thus, if you have permanently lost photos from your Android SD card then you should opt for the SD Card Recovery Tool. This software will thoroughly scan your Android SD card for deleted pictures and get them back in a hassle-free manner.
NOTE– The lost images on the memory card remain safe until and unless they're not overwritten by the new data.
What Are The Reasons For Deletion Pictures From Smartphones?
Below I have stated some of the most common reasons that can result in huge loss of pictures and photos along with other video files.
Pressing of delete option accidentally- Smartphones are embedded with multitasking and multi-touch features. These days devices are totally based on touch so there is maximum chances of getting pictures deleted from the device when fingers sides to other disastrous options such as "Delete All", "Format" options.
Deletion of pictures while Transferring- Images and pictures are more important in our lives they speak more than words. So everyone needs to store them, somehow there is a chance of losing them while transferring photos to the computer or hard disks.
Memory card Format- Sometimes we accidentally click on the deadly option "Format". This can make to lose all your precious memory, digitally captured images within seconds.
Corruption of Memory Card- Improper ejection of storage media from the digital devices leads to virus attack or damage of memory card. Due to excessive exposure to unsecured devices can even make the memory card to corrupt.
Other Reasons
Improper and mishandling of the device can also lead to loss of data.
Due to a virus attack that may affect all the photos and leads them to corruption.
Sudden or abrupt removal of the memory card while it is been used by the system or during transferring process.

 

The frequent power cut also leads to the loss of pictures and photos from the device.
How Do You Avoid Losing Photos Next Time?
After losing your important images from your cell phone, it is very much important to remember some useful tips. The below-given tips can help you to avoid picture loss in the future:
Always make a backup of all your important files or folders so that it can help you in the future when any data loss situation happens.
Never use any digital device when its battery is low.
Don't remove the files when the file transfer process is in progress.
Always protect your device from any virus or malware attack by using the perfect antivirus program.
Before deleting any files, just be sure of what you are selecting and what you are deleting.
Never avoid any type of warning message because this can also be the reason for data loss.
Frequently Asked Questions:
Are Photos Permanently Deleted On Android?
No, photos are not permanently deleted on Android. When pictures get deleted from your Android device then they aren't removed permanently. Those images still exist somewhere on your phone's internal memory but in a hidden manner.
How Can I Recover Photos From Phone Memory?
In order to recover photos from phone memory, you need to try the best photo recovery tool mentioned here. But this software will only work and able to retrieve your photographs until and unless they are not overwritten by new data.
Does Android Keep Deleted Photos?
When you remove a picture from your Android device's gallery, it's directly moving to the trash folder and exists for 30 days only. Thus, assuming that you have recently trashed an image, it should be there.
How Do I Retrieve Deleted Pictures From My Gallery?
Actually when you delete any photos from your Android phone gallery then they are directly moving to the recently deleted or trash folder. You can retrieve them by following the below steps:
At first, open your Gallery app
Then find 'Albums' option
There you can see a 'Recently Deleted' option just tap on it.
Now, you can see all your recently deleted pictures there.
How Do I Recover Files After Resetting My Phone?
If you have created a backup of your crucial files before resetting the device then you are lucky enough. You can directly navigate to settings then go to 'Backup & Restore' section. Search for 'Restore' option, and select a backup file you have made before resetting your phone. Select a file & restore it.
To Sum Up
If you've lost all your pictures from your cell phone then do not worry anymore. I am saying so because you can now easily recover deleted photos Android internal storage device. Yes, with the help of the best Cell Phone Photo Recovery Tool you can restore gallery photos on Smartphone with ease.
This is the best and easiest option that you can try for retrieving deleted pictures from Android smartphones. Also, you can try the aforementioned manual ways to restore gallery photos on Android phone.
So, I hope you will not get disappointed after trying this mobile phone recovery solution.
Taposhi is an expert technical writer with 5+ years of experience. Her in-depth knowledge about data recovery and fascination to explore new DIY tools & technologies have helped many. She has a great interest in photography and loves to share photography tips and tricks with others.