Generally, most of the Android data recovery applications require to root the device to perform the data recovery. What if you need to perform deleted audio file recovery but do not want to root your mobile?
Well, there is nothing to worry about because in most situations rooting the Android device is not at all necessary. As there are some easy ways available by trying which you can easily recover deleted audio files from Android without root.
Today in this post, I am going to share 5 best and simple solutions on how to undelete MP3 audio files Android unrooted. But before proceeding further, it's very important to know – What is an Android root? So, let's find out the answer…
To recover lost MP3 music files Android unrooted, we recommend this tool:
This software will restore data from corrupted, formatted, encrypted storage media and works in all data loss situations. Now recover your lost and deleted data in 3 easy steps:
Download this Media File Recovery Tool rated Excellent on Pcmag.com.
Select the storage media from which you want to restore the media files & click Scan.
Preview the recoverable files, select the items you want to recover and click Recover to save the files at desired location.
What Is An Android Root?
Rooting an Android phone allows users to access the privilege of superuser in the Android operating system. This enables users to overcome the limitations set by the manufacturer and run the apps (like the Android data recovery app) that require superuser access. After rooting the phone, you will have full control of your Android OS so that you can run the applications that need superuser privilege.
However, the deleted data are store in the system folder of your Android phone, in a way that is invisible and inaccessible to normal users. To scan out and access these deleted files on your Android phone, the Android data recovery program will require you to root your device.
Is It Possible To Recover Deleted Audio Files From Android Without Root?
YES, it is absolutely possible to recover deleted audio files from Android without root in easy ways.
Here, I have mentioned some of the best ways for Android phone data recovery without rooting. Though, if you want an instant way then you can try Data Recovery Software to do so. This tool will assuredly help you out to recover the lost MP3 or WAV files successfully.
Apart from that, you can also try to restore audio files from the Android backup option, Google Drive, Google Photos App, Android App, etc. In the below sections of this post, you will get the easy steps of all these manual options.
How To Recover Music Files Android Unrooted?
In order to recover deleted audio files Android without root, you are advised to try the best Audio File Recovery Tool. With this incredible software, you can directly retrieve all your lost data (photos, videos, audios, etc.) without rooting the device.
The program works successfully and it doesn't require any type of backup. This stunning software is used by millions of users & has effectively retrieved their stuff from digital devices.
No matter whatever the reason may responsible for your lost data is, this powerful software scans the full device & finds wiped data from it.
It has some other outstanding features like:
Easily recover deleted, lost, corrupted, formatted, and inaccessible audio from digital devices
Data recovery can be done from external as well as internal storage media.
Supported audio file formats like MP3, AAC, WAV, AMR, AC3, RPS, M4P, MIDI, AU, OGG, etc.
Also, restores videos and image file formats.
Read-only program, 100% clean, safe & easy to use
Supports both the Operating system Windows and as well as Mac
emid

emid


* Free version of the program only scans and previews recoverable items.
Here, you can follow its step by step guide to know how to get back missing audio files without root with this recovery tool.
How To Recover Lost MP3 Files Using Android App?
There are several Android phone recovery apps available in the Google play store. Some of the most common Apps are Diskdigger, Dumpster, and more that can help you to recover audios or even other files from the phone.
However, if you have mistakenly deleted your MP3 or audio file from Android then, I would like to recommend you to try the Dumpster file recovery App. This data recovery application can help you to undelete the music file without root. And, it works like the recycle bin for your Android phone to store deleted audios, videos, photos, and other files.
When you download and install the Dumpster app, your lost audio files will be backed up automatically & you can recover deleted audio files Android without root.
Follow the below easy steps, to recover files using the Dumpster application:
Just, you need to download & install the Dumpster from the Play store.
After installing this app, it will create a backup of your deleted data on your Android phone automatically.
When you need to restore data from Android without root, simply open the installed Dumpster app & choose the required files to restore.
Alternatives to Perform Android Audio File Recovery without Root
When you delete any of your data from Android phones then you've many options to do Android file recovery without root. Like Android backup, Google photos, or using Google drive. So, try the below methods one after another and see which one works for you.
#1: Restore MP3 Or OGG Files From The Android Backup
If you've made a backup of your loved music files on your Android device and deleted accidentally, you can easily restore them without rooting your phone. Here are the easy steps, to do so:
Step 1: At first, go to the "Settings" on your Android, then tap on the "Account".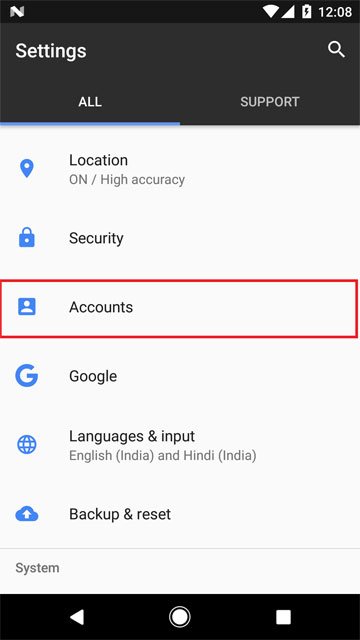 Step 2: Next, login into the account using your password.
Step 3: Now, click on the "Backup & Restore" option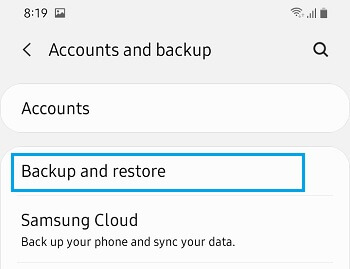 Step 4: Then, click on the "Restore" option and choose a backup that contains your deleted audios to restore.
After completing the above steps, you need to wait until the MP3 audio recovery process to finish. Now, you can rescue the lost music files on your Android again.
#2: Get Back Missing Audio Files without Root via Google Photos
Another option that you can try to recover deleted audio files Android without root is Google Photos. It offers limitless storage space for audios, videos, or even photos with high quality.
Consequently, if you've created the backup of your crucial audio files previously then you can retrieve those lost items from Google photos trash:
Firstly, you need to open your Google Photos application on the phone.
After that, make a tap on a "menu" icon which you can see on the left side top corner & click on the "Trash" option.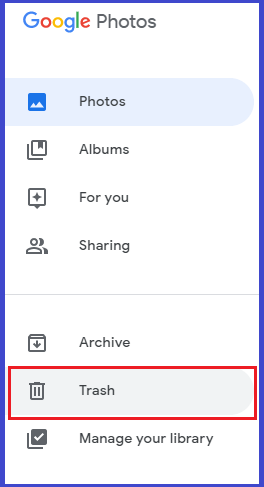 Now, choose the audio files that you require to bring back
Lastly, just tap on the "Restore" option.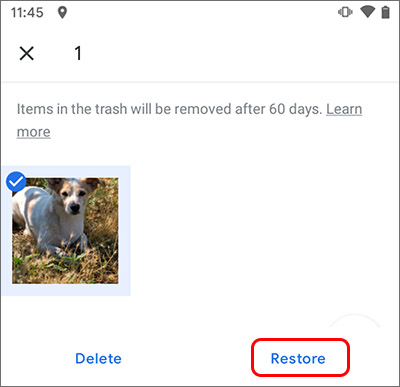 Note: You can recover your lost audios files within 60 days only from a Google photos trash.
#3: Use Google Drive To Execute Android Data Recovery Without Root
To perform Android data recovery without root, you can use the Google Drive option. It's a well-known cloud service that allows you to backup & restores the files effortlessly.
However, if you're a Google Drive user & have turned-on an "Auto backup" feature earlier, you can recover deleted audio files Android without root via Google Drive.
Sign in to "Google Drive Webpage" or you can also sign in to the "Google Drive App".
You need to log in with your Google account which you've used at the time of creating a backup of your music files.
After completing the Login process, you'll get all the backed up data.
Next, you've to choose the audio files that you actually want to recover & after this you can simply download the data from Google Drive.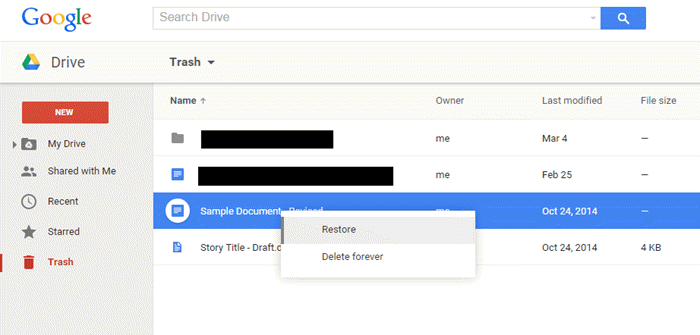 Please Note: This solution is only effective on the condition that you've backed up the MP3 files before the deletion. And, those lost files will be stored for only 60 days in the Google Drive.
The FAQ (Frequently Asked Questions)
Why Most Android Data Recovery Programs Need a Rooted Phone?
Well, most of the Android data recovery programs need to root the phone because rooting the device can increase the possibility to restore data from Android without root. But you'll also bare some risks such as damaging your mobile or losing the Android device warranty.
How Can I Access My Android Audio Files Without Root?
You can use the MK file explorer or Asus file manager to get access to your Android audio files like MP3, WMA, AAC, AC3, WAV, FLAC, MP2, AU, OGG, etc. without root. To do so, you need to open an app, then go to the Settings & enable the root browsing. After doing so, you can easily access the audio files without root.
Can I Recover Deleted MP3 Audio Files Android Unrooted Without Pc?
Yes, of course, you can recover the deleted MP3 or other music files from your Android unrooted without PC. Though, if you are using the Google Photos app to manage your music files on an Android device, you can bring those lost audios back within 60 days only from the Trash. For this, you need to open the Google Photos application on Android, now tap on the Menu option at the left side top corner. Go to Trash, then select the audio files that you need to restore. At last click on the Restore option. Your all music files will go back to their original location on your mobile.
Time To Conclude
After trying the above-mentioned approaches, you would be able to recover deleted audio files Android without root in a hassle-free manner.
All the given techniques are very simple & effective that any Android user can easily try to execute Android phone data recovery without rooting. You can bring back your lost WAV, MP3 or other Android music files via the Google Photos app, Google Drive, or using an Android app.
In case all the manual methods fail to do AAC audio file recovery from Android then you can try the best Audio file recovery tool.
If you have found this article helpful to you, then please do not forget to share it with your friends & family members…
Alex is an expert technical writer with 7+ years of experience. His in-depth knowledge about data recovery and fascination to explore new DIY tools & technologies have helped many. Alex has a great interest in photography and loves to share photography tips and tricks with others.