Memory card has become very popular nowadays as it is being used in several multimedia devices like- smartphones, digital cameras, tablets, etc.
Most of the users use SD Card on their devices so that they can store a large amount of data in it. They are very small in size but it has a capacity to store huge amount of data including photos, videos, and audio files. But along with lots of facility memory card can also get easily formatted and after formatting the card, all the stored images gets inaccessible.
Well, you need not worry anymore. Because today in this post, you'll get the best SD card recovery tool to recover photos from formatted memory card effortlessly.
To recover pictures on formatted SD card , we recommend this tool:
This software will restore data from corrupted, formatted, encrypted storage media and works in all data loss situations. Now recover your lost and deleted data in 3 easy steps:
Download this Media File Recovery Tool rated Excellent on Pcmag.com.
Select the storage media from which you want to restore the media files & click Scan.
Preview the recoverable files, select the items you want to recover and click Recover to save the files at desired location.
What Is formatting?
Formatting is a method of preparing the storage device for initial use, like USB flash drive, solid-state drive, hard disk drive, or memory/SD card.
When you insert any unformatted or dirty memory card with the computer then it displays an error message like "Media card is not formatted would you like to format now?" or "Memory Card Not Formatted" and when you press the Format button then the system will automatically format your inserted SD card. After formatting memory card, all stored data like images get inaccessible.
Is It Possible To Recover Photos From A Formatted Memory Card?
Of course! The answer is YES!
It is possible to recover photos after formatting memory card by trying the trustworthy formatted Memory Card Recovery Software.
Note: While recovering a formatted SD card you have to pay attention to the below stuffs:
Never reformat your SD card because it will make it impossible to retrieve the files from it.
Do not try to add new files to your SD card because it will occupy the space of previous data.
Stop using your SD card until the images are recovered.
How To Recover Photos From A Formatted SD Card For Free?
As you can go with the Memory Card Recovery Tool because this tool is highly programmed and professionally recommended. Moreover, it will recover formatted SD card free with good picture quality.
This tool has a very strong algorithm so it can able to recover photos from all types of memory cards and other removal devices like pen drives, external hard drives, etc.
With the help of this feature-loaded software, you can:
Recover Lost or Deleted photos of any file format like PNG, JPG, GIF, BMP, PSD, PIC, etc
Get back deleted photos from formatted memory card easily in just a few clicks
Apart from photos, it can also recover videos and music files of different file format
Also, recover deleted or lost photos, videos, audio files from damaged, corrupted memory card
Provides easy to use interface
See a preview of recovered photos and select the required photos from the list
emid

emid


* Free version of the program only scans and previews recoverable items.
So it is the best option for you, simply download, install, and run this application on your computer to recover files from formatted SD card Android.
By following the step by step guide of this tool, you can solve how to recover photos from a formatted memory card and other things.
How to Recover Formatted SD Card Using Command Prompt?
Windows provides a built-in tool to help you achieve simple management on disks & partitions and to help you solve some common problems like unexpected SD card corrupting/formatting. Its name is CMD prompt (the built-in tool). You can also use this solution on how to recover formatted SD card using command prompt.
Follow the below-given steps:
Firstly, connect your SD card to the PC and then open disk management to find out the drive letter of it.

Now, you are supposed to input "chkdsk *: /r" (* stands for the specific drive letter) to CMD window and then hit "Enter".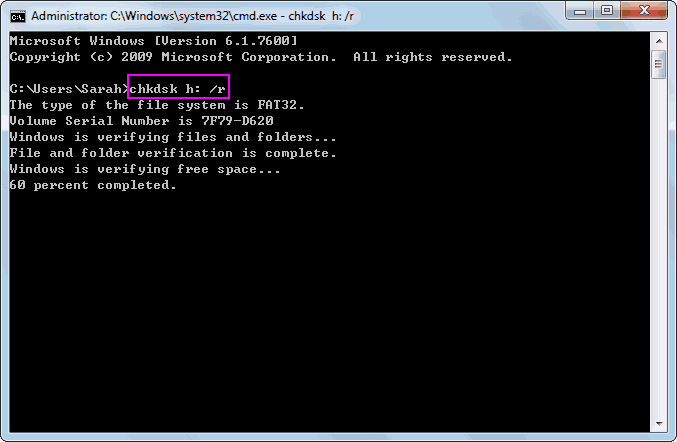 Select "Yes" to let it report back what has been done. And then, you can go to the computer and check your SD card.
If I Unintentionally Formatted My SD Card, What Should I Do?
Formatting doesn't mean that stuffs are totally removed. When you try to format the SD card, it might be deleted entries of the existing files. After that, you've no access to them, but the data is still there.
If you accidentally formatted your memory card then firstly, you have to immediately stop clicking new photos on the same camera card. But, if you're on a trip and want to click new images then use the new SD card.
Secondly, download, install, and try the photo recovery tool to recover photos from formatted memory card in minutes. This software will not erase anything from your SD card, so it is safe to try.
Some Precautions To Avoid Memory Card Corruption
Memory card is very sensitive and so that due to any small error it gets inaccessible. But we can protect from errors or Avoid Memory card corruption by applying some precautions:
Don't capture images or use a camera in low battery– If your camera or mobile phone displays a low battery warning message then immediately shut down the camera. Because due to lack of power memory cards get unable to read or write data properly and so your images get corrupt.
Always remove the memory card from any device by applying the proper removal method– Avoid removing the card improperly because due to rude removal of the memory card it may get corrupt. In the computer system safely removing option is given to remove any external removal device, apply it, and remove the memory card safely.
Don't use Delete All option– Delete all option does not remove the images permanently but only affects the SD card. So if you want to remove a photo permanently from the memory card then Format your memory card as formatting makes your memory card faster and efficient.
FAQ (Frequently Asked Questions)
Why Should I Format My SD Memory Card?
Well, you have to format your SD memory card because of the following reasons: Step 1: Your memory card is infected by Malware/Virus. Step 2: Micro SD card behaves unusual and cannot be used for data storage.
Will I Lose My Photos If I Format My SD Card?
Fortunately, your files occupy a given space on all memory cards. When you format the card, files or photos were stored is not deleted virtually and can be recovered easily by trying the data recovery software mentioned above in this article.
How Do I Backup My Memory Card Before Formatting?
By following the below instructions, you can create a backup of your memory card data before formatting: • On the computer, find a hard drive that represents your SD card. • Then, double-click on it to simply open the contents. • Your Files on the memory card will show up in many folders with file names. • Now, press Ctrl and click on files or folders that you need to backup. • Use Ctrl + C to copy those selected items. Next, choose the destination place, which can be the other external storage device or flash drive, use Ctrl + V to paste all the memory card contents there.
Does Removing SD Card Delete Everything?
No, removing the SD card never delete data from it. Hence, you should always either unmount your SD card or power off your phone before removing your memory card. Unmounting the SD card does NOT result in a loss of data or anything saved on your memory card. It simply tells the device to stop showing things from the memory card
Time to Verdict
Sometimes the users formatted their SD card unintentionally or the system forced a user to format a memory card due to any internal error. However, after going through the whole blog, now you must have come to know how to recover deleted photos from formatted memory card, but the data is not overwritten.
Thus, now you will able to recover photos from formatted memory card by using the above-mentioned solutions.
But, if you want an instant solution for retrieving images from a formatted memory card then I will recommend you to try the professional formatted SD card recovery tool.
Taposhi is an expert technical writer with 5+ years of experience. Her in-depth knowledge about data recovery and fascination to explore new DIY tools & technologies have helped many. She has a great interest in photography and loves to share photography tips and tricks with others.