In order to know how to recover deleted DNG files, you can try some of the proven solutions stated in this post. You can either try to perform DNG file recovery using the backup or use the advanced RAW DNG photo recovery tool.
So, continue reading this article and recover lost/deleted or corrupted DNG files with ease.
To recover DNG files from a Digicam, we recommend this tool:
This software will restore data from corrupted, formatted, encrypted storage media and works in all data loss situations. Now recover your lost and deleted data in 3 easy steps:
Download this Data Recovery Tool rated Excellent on Pcmag.com.
Select the storage media from which you want to restore the media files & click Scan.
Preview the recoverable files, select the items you want to recover and click Recover to save the files at desired location.
Is It Possible To Recover Deleted RAW DNG Images?
Yes, of course, it is possible to recover deleted RAW DNG images by trying some of the solutions mentioned below in this post.
Whenever any of your data including DNG photos gets deleted accidentally then they are not permanently deleted. Those files are still present within a shortage drive only their addresses are lost.
Thus, in order to restore deleted DNG files successfully, immediately discontinue using your device where those files were kept before the deletion.
Because continuously using the device and adding new data within it will occupy the space of existing files and overwrite them.
Then, DNG image recovery chances will reduce using the solutions mentioned in this post.
What Are DNG Files?
DNG files are a standard based on the ISO standard raw image format ISO 12234 TIFF/EP. This file format is completely compatible with this ISO 12234 TIFF/EP standard. DNG files have been widely accepted in the industry.
ISO also uses it as a base for the revisions of this standard. So, there are several cameras that support DNG file format, also they implicitly use the TIFF image file format.
DNG image is a raw image file format that also supports processed images partially and in this case, the format is referred to as "Linear DNG". This file supports several types of color filter array which also includes conventional Bayer filters.
Causes For Losing DNG Files From Storage Devices
Loss or deletion of DNG files may occur anytime and without knowing anything.
But before proceeding to the recovery procedure, let us first have a look at the reasons for photo loss from the camera SD card.
Data deletion – While deleting the data like videos, photos, and audios or DNG files, it is always important to note that you have made a backup of that data and is no longer in use. If you have verified the data then delete the data which is a must.
Hardware issues – Hardware issues occur and due to this loss of data can happen, including your DNG files, and this result because of a hosting system crash, due to power failure, etc. So to decrease the risk of hardware failure, it is very important to keep your devices in protected environments and to use an uninterrupted power supply.
Antivirus – If your system has infected with a virus then the data can be lost. This situation may occur when there is a failure to update the system with the latest antivirus software which may result in data loss. If there is an insufficient way to fix the latest threats then this infection can also pose data loss.
Natural disasters – This is one of the most causes of data loss which is uncontrollable. Therefore it becomes very important to decrease the risk of data loss by storing all the data under cloud storage devices. In fact, always be ready to back up your important data and keep them in a safe place.
All the above-mentioned scenarios can lead to serious loss of DNG files and other data where users can find themselves. In a situation where they don't know what to do next to get back the data.
However with the help of powerful recovery software, one can very easily know how to get back lost or deleted DNG Files from any digital media device.
How To Recover Deleted DNG Files With Software?
Well, as I have already mentioned that using DNG File Recovery Tool, you will be able to restore lost DNG files so just try it once.
This tool is capable to recover DNG files that have been deleted mistakenly. The best part about this recovery tool is that it not only recover DNG files but also other image file formats as well as audio and video file formats.
With the help of this tool, you can also:
Restore DNG image files format of different digital cameras such as Canon CR2/CRW, Nikon NEF, Fuji RAF, Pentax PEF, Samsung SRW/SR2, Hitachi, Olympus ORF, Kodak KDC/DCS/DRF/K25 Sigma X35, Mamiya MEF, and more
Easily retrieve deleted, lost, formatted, missing Sony raw .SRF/.ARW/.SR2 photos with ease
Besides DNG photo recovery, this software can also retrieve other formats of images like JPEG/JPG, PSD, PNG, TIFF, GIF, RAW, and other image formats
Also restore media files (photos, videos, and audio) from various data storage devices like digital cameras & camcorders, memory cards, pen drives, hard drives, USB flash drives, mobile devices, etc
Recover Sony SRF and other camera RAW images from various camera memory cards (SD cards, SDHC, SDXC, SanDisk SDHC, Sony SDHC, Transcend SDHC, etc
Read-only program, 100% risk-free & user-friendly interface
emid

emid


* Free version of the program only scans and previews recoverable items.
This photo recovery tool retrieves lost, deleted and corrupted DNG files from any storage media devices. It doesn't matter whether your DNG files get lost or deleted due to accidental deletion, by formatting, or due to a virus attack.
So, Just download this tool and follow the steps to recover deleted DNG files with ease…
Step 1: Select Desired Location
Firstly, select the drive, external media or volume from which you want to recover deleted media files. After selecting, click on 'Scan'.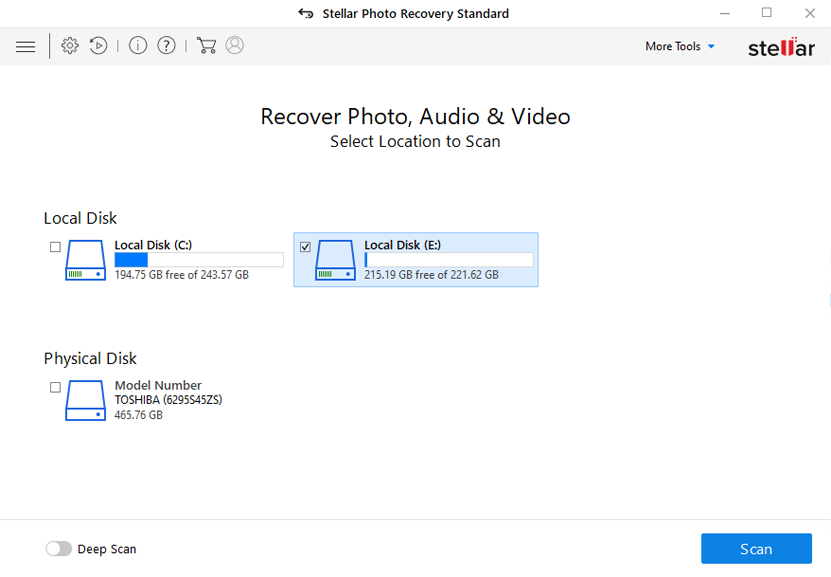 Step 2: Preview Recovered Media Files
Next, you can preview the recoverable media files after the scanning process is completed.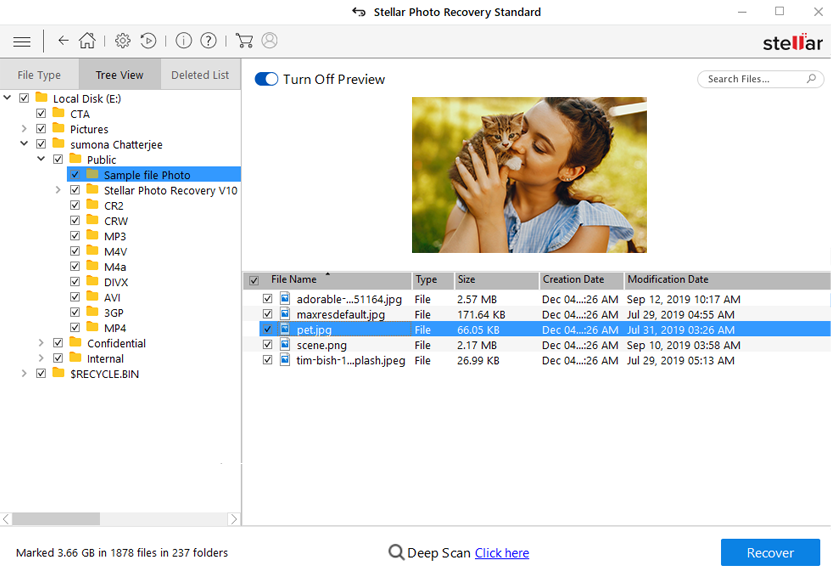 Step 3: Recover Media Files
Lastly, you can select the images, audio, video files you want to restore and click on 'Recover' option to save them at the location you want.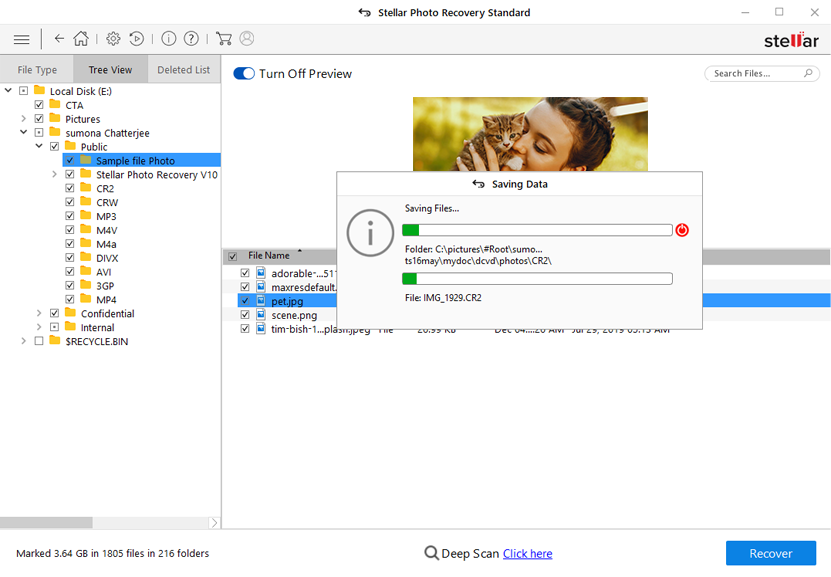 How To Recover Deleted DNG Files Without Software?
There're some people who have a good habit of keeping backup of your files on another device or PC on a regular basis. So, if you have also taken a backup of your lost DNG photographs then it is good.
So, try the below easy steps and restore unintentionally deleted DNG files.
At first, find & open the backup folder that contains DNG images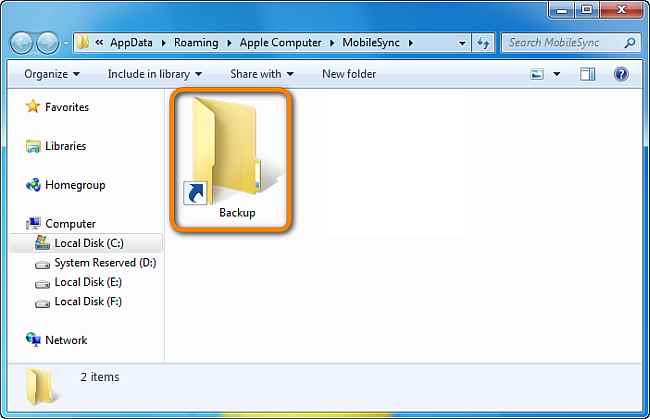 Locate the files that you need to get back from a computer drive.
Finally, you've to copy & store all your DNG pictures on the Digicam SD card that you need to restore.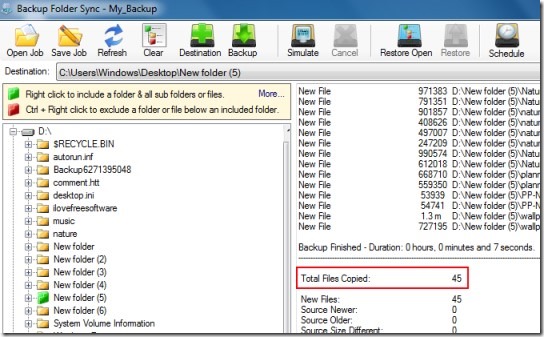 FAQs:
How Do I Restore DNG Files?
If you have created a backup of your lost DNG files then you can easily restore them from backup. If not, then you need to try the DNG Photo Recovery software mentioned above.
What Program Will Open A DNG File?
There are numerous programs that can help you to open the DNG file. Below I have listed a few of them: • Adobe Photoshop • Google Picasa • Lightroom & Photoshop Element • ACDSee, etc.
Does Converting To DNG Lose Quality?
No, converting the DNG image to another non-lossy image file format will not lose its original quality.
How Can I Recover Permanently Deleted Photos From Digicam?
In order to recover permanently deleted photos from Digicam, you can try the best-recommended photo recovery tool that stated above. It will thoroughly scan your device and retrieve lost data from it effortlessly.
Final Verdict
So, if you have lost or accidentally deleted DNG files and want to recover deleted DNG files then do not worry, just try the solutions mentioned in the above section of this blog.
However, it is better if you try DNG File Recovery Tool to do so. This tool will definitely help you get back lost or deleted DNG files in no time.
Also, if you have a habit of keeping backup then you can also restore from there. So, we're always suggesting to keep a backup of your important files so that you can restore from there whenever you want.
If you have found this post helpful and useful, then please do not forget to share it.
Also like and follow us on Facebook, Twitter and Pinterest to get the latest updates.
Taposhi is an expert technical writer with 5+ years of experience. Her in-depth knowledge about data recovery and fascination to explore new DIY tools & technologies have helped many. She has a great interest in photography and loves to share photography tips and tricks with others.