Have you accidentally deleted video files from the Flip camera?  Are you looking for a direct solution on how to recover deleted videos from flip camera card? Just Relax! This page tells you about the best solutions to do Video File Recovery easily. So, just go through the post and follow the solutions mentioned in this article.
To recover deleted files from flip video camera, we recommend this tool:
This software will restore data from corrupted, formatted, encrypted storage media and works in all data loss situations. Now recover your lost and deleted data in 3 easy steps:
Try this Media File Recovery Tool rated Excellent on Pcmag.com.
Select the storage media from which you want to restore the media files & click Scan.
Preview the recoverable files, select the items you want to recover and click Recover to save the files at desired location.
Is It Possible To Recover Deleted or Lost Video Files From Flip Camera?
Well, the answer is – Yes, you still have the chance to undelete Flip camera files.
The fact is that when you delete any files on your Flip video camera, it does not get deleted permanently from the camera's memory card. Instead, it just removes the file name from the index and marks that space as free so that you can add new data to that free space on your Flip camera.
Hence, it is suggested that you must immediately stop using your Flip video camera as and when you encounter any data loss on it and also you must not add any new data to the device. And then you must immediately apply appropriate solutions to recover deleted files from Flip camera.
How Do You Recover Deleted Videos From A Flip Camera?
One of the best and perfect Flip Video Camera Recovery Software helped many users for recovering video files from Flip video cameras on a computer that runs on Windows or Mac operating systems.
emid

emid


* Free version of the program only scans and previews recoverable items.
Besides videos, this Flip Video software also retrieves lost or deleted photos and audio files from several digital media storage devices such as memory cards, digital cameras, camcorders, USB flash drives, hard drives, mobile, tablet, iPod, etc.
The software offers a free preview option that allows users to check recoverable files within software free of cost. With the help of this software, you can:
Easily recover deleted, lost, missing or erased video files from Flip camera.
Restore videos from water damaged, broken, malfunctions, virus-infected Flip video camera.
Get back deleted or lost videos from Flip camera memory card.
Support all Flip video cameras such as Flip Video Mino, Flip MinoHD, Flip UltraHD camera, Flip Video SlideHD, Flip Video Ultra, Cisco Flip MinoPro, etc.
100% read-only program. Safe, secure and easy to use.
Supported Flip Video Camera: Flip Video Mino, Flip MinoHD, Flip UltraHD camera, Flip Video SlideHD, Flip Video Ultra, Cisco Flip MinoPro, Flip Video Ultra II, Flip Video UltraHD, Flip Video UltraHD II, Flip Video UltraHD III, Flip Video Mino, Flip Video MinoHD, Flip Video MinoHD II, Flip Video MinoHD III, and other Flip video camera.
Below, find out a step-by-step guide on how to recover deleted videos from Flip camera.
Step 1: Select Desired Location
Firstly, select the drive, external media or volume from which you want to recover deleted media files. After selecting, click on 'Scan'.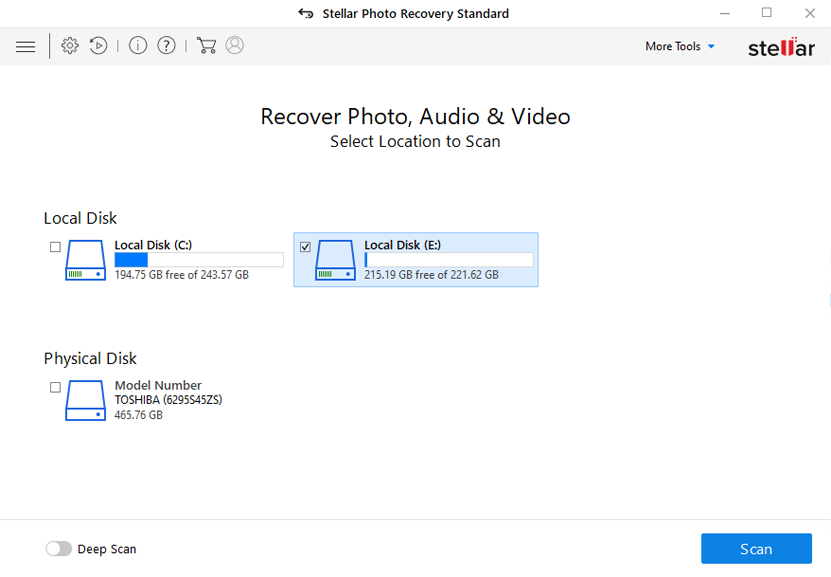 Step 2: Preview Recovered Media Files
Next, you can preview the recoverable media files after the scanning process is completed.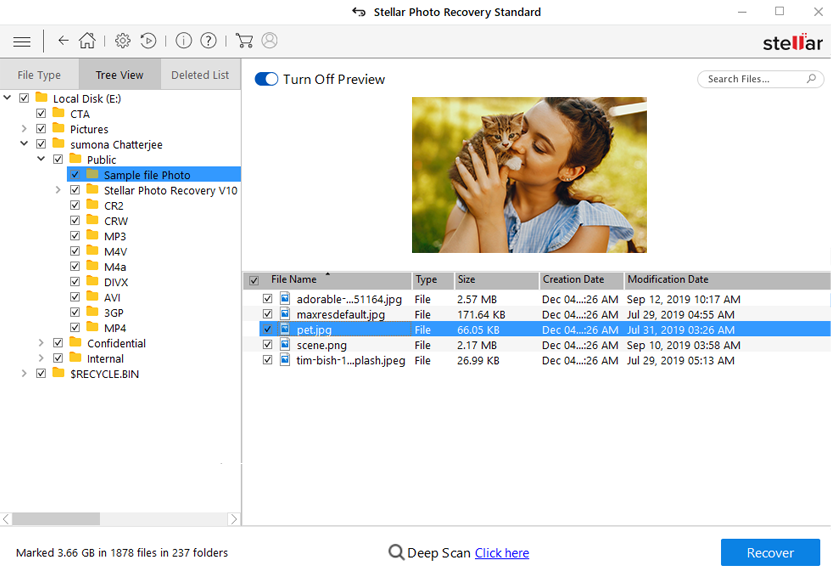 Step 3: Recover Media Files
Lastly, you can select the images, audio, video files you want to restore and click on 'Recover' option to save them at the location you want.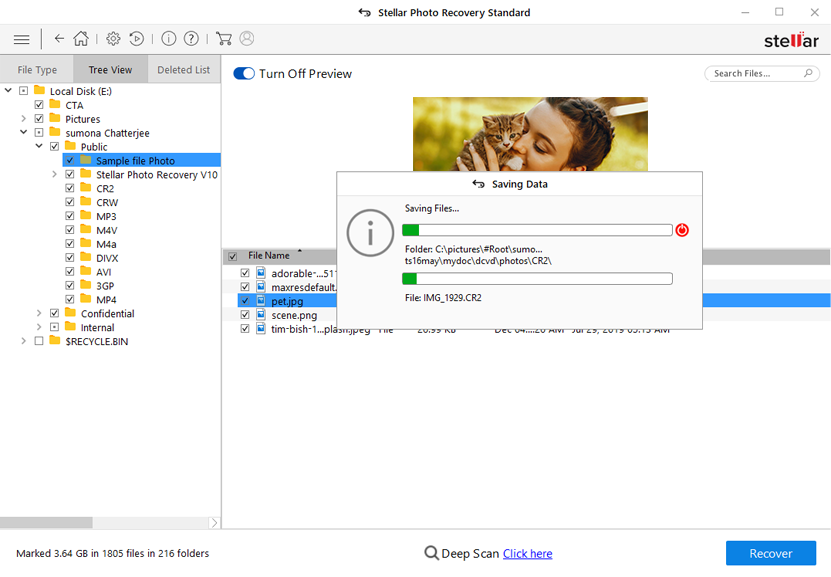 How to Recover Deleted Videos From A Flip Camera Without Software?
Well, if you have backups of your all-important video files, then you can perform Flip camera data recovery with ease.
Therefore, it's always advised to keep regular backup data, so when you face such a video loss situation, you can recover flip video files from the backup easily. To do so, you need to try the below steps:
Firstly, you need to find and open a backup folder
Now, locate the exact file that you have deleted or erased from the flip camera SD card
In this step, you've to copy and restore the found videos back to the memory card or disk drive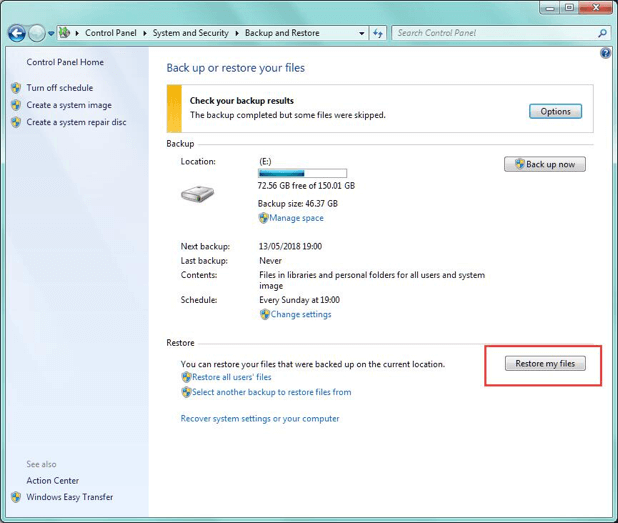 These steps will surely help you to recover videos from flip camera.

How To Restore Flip Video Files Using Command Prompt?
Using the attrib command, you will be able to undelete flip videos and recover it from there. To do so, follow the below steps:
First of all, open command prompt by pressing Win + R keys and then type cmd there and hit enter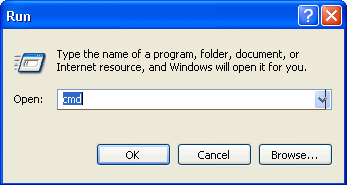 Now, you've to type there 'chkdsk X /f' and hit Enter Here, X can be changed as per the drive letter you use for your SD card.
Next, you need to type there 'Y' to confirm the command and hit Enter
After that, type there 'X' and then hit Enter
In this step, type in 'X:\>attrib –h –r –s /s /d *.*' and press

You have to wait until the command executes and then you can get back flip video files from there easily.
How Do I Recover Deleted Video Files From Previous Versions?
Alternatively, you can restore deleted videos from flip camera in Windows 10 with File History. To do so, follow the below steps:
Firstly, right-click on the folder which contained the deleted files or folders
Then, select the 'Restore previous versions.'
After that, from the available versions, select the one dated when video files were there
Now, click the 'Restore' or drag & drop the desired version at any location on the system.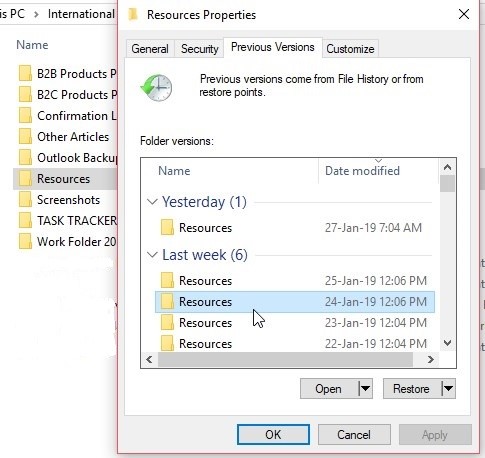 How Flip Camera Video Gets Deleted?
Accidental Deletion: Human error is one of the prime causes. You may accidentally delete valuable videos while deleting unwanted files from the camera. Or mistakenly pressing Delete All button.
Formatting Camera SD Card: If you format your Flip camera SD card in the camera itself, then you will lose all video files.
Corruption: Suppose your Flip camera gets corrupt due to file system error, virus intrusion or file transfer error. Then it can lead to corruption of files saved within the camera and thereby you lose your important videos.
Improper Handling of Digital Camera: If you continue to capture videos in a low battery, then you may face corrupt or damaged videos.
Other Reasons: The read/write process interruption, improper removal of memory card, hardware or software problems and so on.
In any of the above-mentioned scenarios, you will encounter loss, deletion or corruption of video files of your Flip camera.
Tips To Remember
Below are some of the tips to prevent further data loss:
Never connect your Flip video camera to virus or malware infected PC or Mac.
While deleting unwanted files, please recheck that you are deleting the right files and you do not want it anymore.
Always keep an extra copy of your important videos and photos in another external storage device.
Do not eject/remove memory cards improperly from the flip camera.
Final Words
After reading the above content of this post, you may have noticed that how you can easily retrieve deleted/lost video files from the flip cameras with ease.
Also, you can know how to keep your data secure and avoid data loss situations.
If you are among the one who has accidentally deleted or lost video files from Flip camera and, then you must immediately try the Flip Video Camera Recovery Software. It will surely be going to help you to recover deleted videos from Flip camera in just a few simple steps.
Hopefully, you'll find this post helpful for you.
Taposhi is an expert technical writer with 5+ years of experience. Her in-depth knowledge about data recovery and fascination to explore new DIY tools & technologies have helped many. She has a great interest in photography and loves to share photography tips and tricks with others.