Well, if you have lost or deleted your crucial videos of a birthday party, wedding ceremony, holiday trip or any other videos from a digital camcorder. And you wish to recover deleted videos from camcorder, then you have come to the right place.
Here, I am going to provide you the best Digital Camera Recovery Tool. By using which you can easily get back lost video files on a camcorder.
To recover deleted video files from camcorder, we recommend this tool:
This software will restore data from corrupted, formatted, encrypted storage media and works in all data loss situations. Now recover your lost and deleted data in 3 easy steps:
Try this Media File Recovery Tool rated Excellent on Pcmag.com.
Select the storage media from which you want to restore the media files & click Scan.
Preview the recoverable files, select the items you want to recover and click Recover to save the files at desired location.
In the below section of this article, you will get its user guide.
Digital Camcorder and Handycam are the best way to capture great moments of various aspects of life. Camcorder or HD video camera can record video in FullHD quality and store it in a flash memory card inserted in the camcorder.
No matter how many good features you get with Digital camcorder, there is also a true fact that users lost or delete their crucial videos from their camcorder and HD video camera.
Let's it best describe with the practical scenario:
Practical Scenario
Hi, everyone there!
Yesterday, my friend had mistakenly deleted some videos on my JVC camcorder. Is it possible to retrieve these videos back? I have not recorded anything else since the deletion. Help me, please!

Source: https://www.cnet.com/forums/discussions/how-to-recover-deleted-videos-back-from-a-camcorder-599898/
Since files from the camcorder can hold important/crucial videos. Hence deletion of such files may incur a great loss. But if you have not used your camcorder and have not added any new data on it, you still have the chance to restore them back.
Responsible Sources For Video Loss From Digital Video camera
There are several reasons which may result in data loss of precious data from hard drives or USB drive. So it is always required to handle the drives with care so that no data loss happens and all content may be safe.
But the reasons for the data loss situation are important to know for every user and hence, they are mentioned below:
Data loss may happen when accidentally deletion of files and folders
Due to the formatting of the device without keeping backup
Inserting digital media on incompatible device
Because of the harmful virus attack, the data get lost
Interruption while transferring of data from a card like sudden power failure, harshly removal of the card, etc
Ejecting the device forcefully at the time of accessing data
Using the same storage device on several gadgets which can lead to data loss
Even the file system which is used to store data gets corrupted because of improper handling which makes the data inaccessible
How To Recover Deleted Videos From Camcorder
When you lose all your important data from a video camera or deliberately the video gets deleted by someone. Then you can recover video files from Digital Camcorder with the help of Digital Camera Recovery Tool. This software is perfect to restore deleted videos from cameras on both the Windows/Mac OS.
But when such a data loss situation happens then it is instructed not to save any more data otherwise new data will overwrite the old one and it will be impossible to retrieve the deleted data.
Therefore with the help of powerful camcorder recovery software, it is possible to perform camcorder recovery. This software can also be used to restore photos, videos and audio files from digital cameras, memory cards, USB flash drives, hard drives, and other external media storage devices.
It retrieves all types of files such as pictures, sound, and video, photos from digital camera/camcorder. It also includes the undelete files from hard drive, USB drive, unformats SD card, etc.
The software is 100% safe and performs the best recovery than any other software. It completely scans the entire storage system and searches for the missing files.
With the help of this software, you can:
Easily retrieve back all videos, audio files from any camcorder, memory card, USB flash drive
Recover videos from camcorders & Handycam of different brands such as Canon, JVC, Panasonic, Samsung, Sony, GoPro, Polaroid, Olympus and camcorders models
Beside camcorders Sony Handycam video recovery, the software also restore videos, audio and image files from a digital camera, mobile phones, hard drive, pen drive
Recover video file format such as, AVI, MP4, WMV, ASF, M4V, 3GP, MOV, MPEG, DV, 3G2, M4B, AVCHD Video File (MTS), DIVX, MKV, MOI, VOB, etc and Audio file format such as WAV, MP3, AIFF, RPS, MIDI, M4A, M4P, AU, OGG, WMA, RM, Real Audio (RA) etc
Preview media files before you proceed to save videos on your PC
User-Friendly interface and easy to use
emid

emid


* Free version of the program only scans and previews recoverable items.
This is one of the success software for the revival of lost data and works for both Windows and Mac. Not only this but it also had amazing features that make this software a unique recovery platform without losing any single data from it.
Follow the below steps of this recovery tool to recover deleted pictures from external hard drives.
Step 1: Select Desired Location
Firstly, select the drive, external media or volume from which you want to recover deleted media files. After selecting, click on 'Scan'.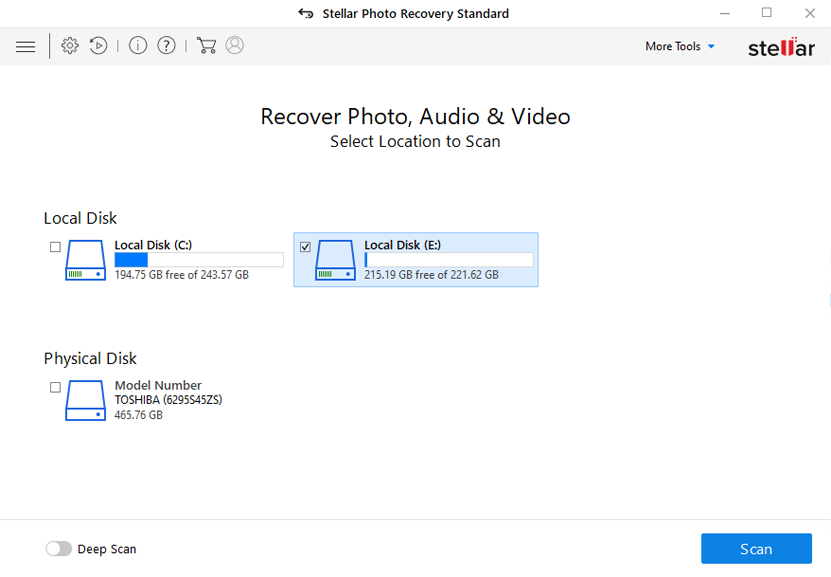 Step 2: Preview Recovered Media Files
Next, you can preview the recoverable media files after the scanning process is completed.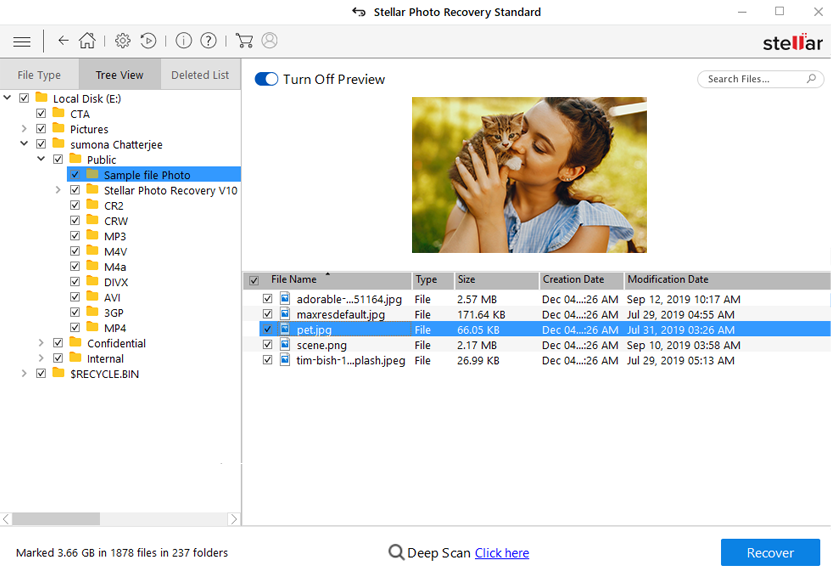 Step 3: Recover Media Files
Lastly, you can select the images, audio, video files you want to restore and click on 'Recover' option to save them at the location you want.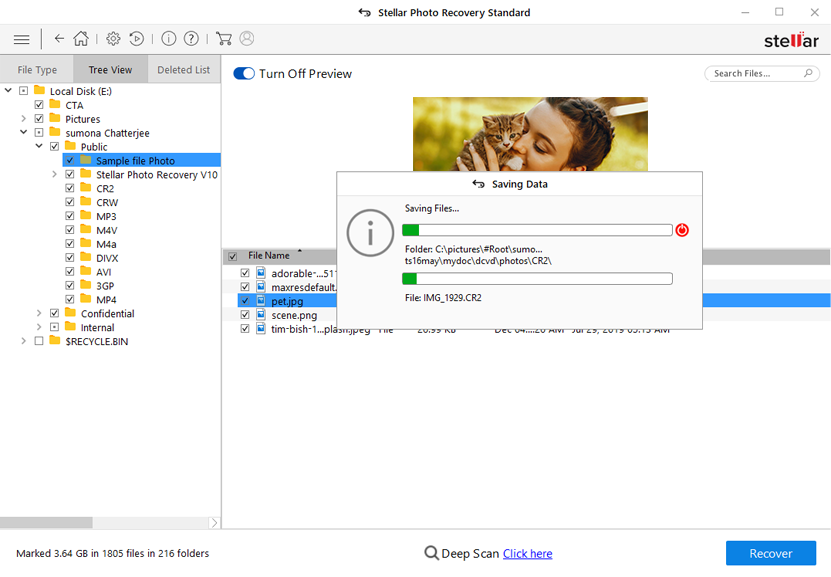 Benefits Of Using Digital Media Recovery Software
It has the ability to Undelete Video Files from Camcorder like photos, videos, audios, etc.
It can easily recover any type of file format from memory card, USB drive, hard drive, etc.
Compatible with both Windows and Mac
Has the ability to get back the deleted data from severely or formatted storage device
Provides facility to preview the deleted data before recovering it from the device
This software supports all digital cameras, tablets, Smartphones etc
It provides a user with a complete solution to rescue the lost data without any original data loss
It has a user-friendly GUI interface which provides the user with easy navigation
Recover data from removable storage including flash drives
The application uses its powerful scanning algorithm to locate and recover the files
It Supports revival of multimedia files from hard drive having memory space over 2 TB
Supports IDE, EIDE, SCSI and SATA, PAN, ZIP, and USB drives
Supports FAT16, FAT32, NTFS and NTFS5 file systems to recover data
More Options To Recover Deleted Video From Digital Camera
#1: Digital Media Camcorder Recovery Through Backup Option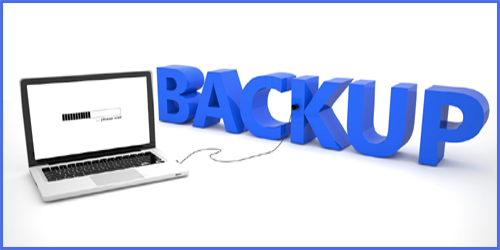 Backing up files is an easy method that can help you to prevent essential data loss in the future.
Thus, it is always suggested to keep regular backups of your important audio, video and image files. Because, when your data gets loss, then you can restore from backup folder with ease.
#2: Run Chkdsk Command To Perform Hard Drive Digital Camcorders Recovery
If you don't have backups of video files, then you can run the chkdsk command to restore videos from camera. To do so, simply follow the steps given below:
Firstly, go to the Windows Start menu
Then, type the cmd in Search box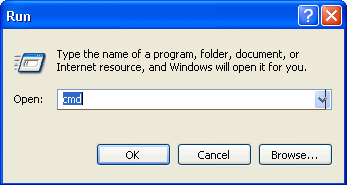 Next, right-click on cmd and choose Run as Administrator option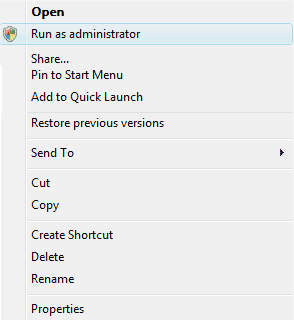 After the command prompt opens, just type chkdsk < hard drive letter>:/f (e.g., chkdsk E: /f)

Lastly hit the Enter key to finish this process.
Tips To Remember
After losing your important data from your storage device, it is very much important to remember some useful tips which can help you to avoid data loss in the future. Some of the tips are mentioned below:
Always make a backup of all your important files or folders so that it can help you in the future when any data loss situation happens.
Use some reliable power source which can help your system from sudden shutdown
Before formatting, check your storage device at least two to three times
Never use any digital device when its battery is low
Don't remove the files when the file transfer process is on progress
Before removing the device from a computer or from any other system, eject it properly
Avoid using the same device when it is already used and it is full. Keep it on safe place and do not save any new media files otherwise, the previous data will be overwritten
Always protect your device from any virus or malware attack by using the perfect antivirus program
Before deleting any files, just be sure of what you are selecting and what you are deleting
Never avoid any type of warning message because this can also be the reason for data loss
Final Words
There are several reasons may responsible for camcorder video deletion. But you don't have to worry, because after reading this blog, you will definitely going to easily perform digital camcorder recovery.
Hence, if you don't have a backup of your files, then use the Digital Camera Recovery Software to retrieve lost videos from digital camera.
So, now the recovery becomes very easy to get rid of data loss problems from digital devices. Apart from this, follow the tips to avoid data loss situations in the future.
Taposhi is an expert technical writer with 5+ years of experience. Her in-depth knowledge about data recovery and fascination to explore new DIY tools & technologies have helped many. She has a great interest in photography and loves to share photography tips and tricks with others.