While working in Photoshop, you often forget to save your work in a hurry! or don't get the chance to save the file due to some unexpected reasons, resulted to data loss. Whether it's due to accidental deletion, human error, sudden system shutdown, power failure, or any other mishaps.
So, today in this guide we'll discuss how to recover lost, deleted, or unsaved CS5 files in Photoshop using 6 effective ways. If you want to recover Photoshop CS5 file, continue reading this post till the end……!
To recover Adobe Photoshop CS4 files, we recommend this tool:
This software will restore data from corrupted, formatted, encrypted storage media and works in all data loss situations. Now recover your lost and deleted data in 3 easy steps:
Try this Data Recovery Tool rated Excellent on Pcmag.com.
Select the storage media from which you want to restore the media files & click Scan.
Preview the recoverable files, select the items you want to recover and click Recover to save the files at desired location.
How To Recover Deleted Or Unsaved CS5 Files In Photoshop?
In this section, I have listed down various ways to recover unsaved Photoshop file CS5 and CS4. If you want to recover your PSD files, just go through them carefully.
#1: Restore Deleted Photoshop Files from the Recycle Bin
If you have accidentally or unintentionally deleted your PSD files, directly go to the Recycle Bin and look for your deleted files there. If the lost files are available, then simply restore them from the recycle bin folder.
However, if you have recently emptied your recycle bin folder, then the deleted items will not exist there. You can go for the next method.
#2: Recover Unsaved PSD Files from Open Recent
While working on Photoshop, if your system freezes, crashes, or closes unexpectedly, and you can't save the files then you can use the "Open Recent" feature to recover your unsaved PSD files.
Open Adobe Photoshop, go to "File" > "Open Recent" and search for your lost PSD file. Then, simply open and restore your unsaved PSD files.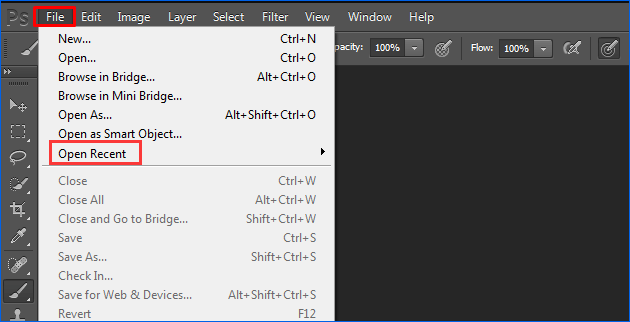 #3: Recover Unsaved Photoshop Files Using AutoRecover Feature
Adobe Photoshop CS5 has an AutoRecover feature, that automatically saves the backup of your Photoshop files on a regular basis.
The feature is usually enabled by default in Photoshop and can be used to recover your unsaved PSD files in case of unexpected system shutdowns or system crashes.
However, you can still verify whether this feature is enabled or not.
To check this, you need to go to File -> Preferences -> File Handling -> File Saving Options. Here, you need to check if the "Automatically Save Recovery Information Every" option is enabled or not.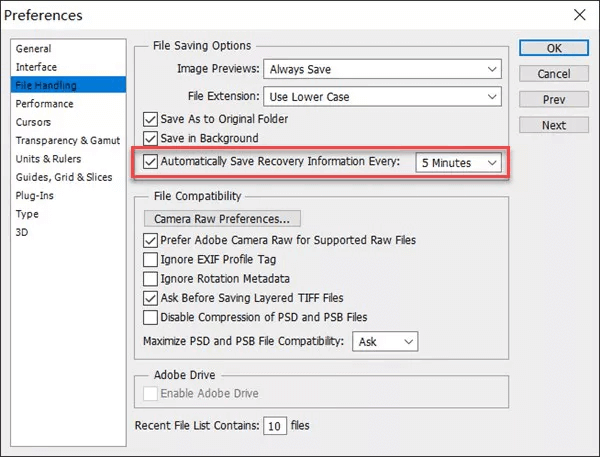 If the AutoRecover option is enabled but you're unable to view the autosaved PSD files then you can search for the unsaved PSD files on AutoRecover.
Photoshop AutoRecover Location on Windows:
C:\Users\[username]\AppData\Roaming\Adobe\Adobe Photoshop CS5\AutoRecover
Photoshop AutoRecover Location on Mac:
Users/[username]/Library/Application Support/Adobe/Adobe Photoshop CS5/AutoRecover
#4: Restore Unsaved Photoshop Files from Temp Folder
When you work on Photoshop files, the app uses the Temp folder to save the work. These files exist in a Temp folder and act as a backup when the app crashes.
You can use these temp files to recover Adobe Photoshop CS4 file by following these steps:
First of all, navigate to C:/Users/UserName/AppData/Local/Temp/(Photoshop temp files location).
Here, you need to open the Temp folder and then locate the required PSD files.
Rename the file extension from .tmp to .psd/.psb/.pbb then simply restore the psd files to your desired location of PC.
Alternatively, you can launch the RUN dialog box then type %temp% & press enter. Here you need to locate the PSD files labeled as 'Photoshop' and then open them. Simply change the file extension from .temp to .psd then to save it to your desired location of PC.
#5: Restore Deleted PSD Files Using Windows Backup and Restore 
If you have enabled the backup and restore option on Windows to back up of your files on a regular basis, you can use this option to recover unsaved Photoshop file CS5.
Follow these steps to restore Photoshop files from the backup and restore folder:
Step 1: Open the Control Panel on your computer then go to "System and Security" > "Backup and Restore."
Step 2: In the Backup and Restore window, click on "Restore my files."
Step 3: Now, you'll be prompted either to restore files from a specific backup or choose a different backup. Choose the option based on your backup preferences.
Step 4: If you have backed up your entire system, then simply move to the specific location where the Photoshop CS5 files are stored.
Step 5: Browse the backup folder locate the files that you want to restore and choose the location where you want to save your PSD files.
Step 6: Finally, click on the "Restore" button to begin the Photoshop file restoration process.
How To Recover Lost Or Deleted PSD Files Using Photoshop File Recovery Tool
If you are unable to recover Photoshop file CS5 even after trying the above methods then you can use the Photoshop File Recovery. It is a professionally recommended software that can help you recover lost or deleted PSD files without backup.
This tool not only recovers the lost CS5 files but also retrieve Adobe Photoshop CS3 file. Besides that, it also supports file recovery of Adobe Photoshop CS1, CS2, CS4, CS5, CS6, and CC.
Apart from Adobe Photoshop file recovery, it also restores other image file formats as well such SR2, CR, NEF, ORF, CR2, JPEG, PNG, BMP, GIF, PSD and more.
So, what are you waiting for? Quickly download, install & use this program and get back your lost or deleted PSB files with ease.
emid

emid


* Free version of the program only scans and previews recoverable items.
Follow the step-by-step guide to learn how to use this software:
Step 1: Select Desired Location
Firstly, select the drive, external media or volume from which you want to recover deleted media files. After selecting, click on 'Scan'.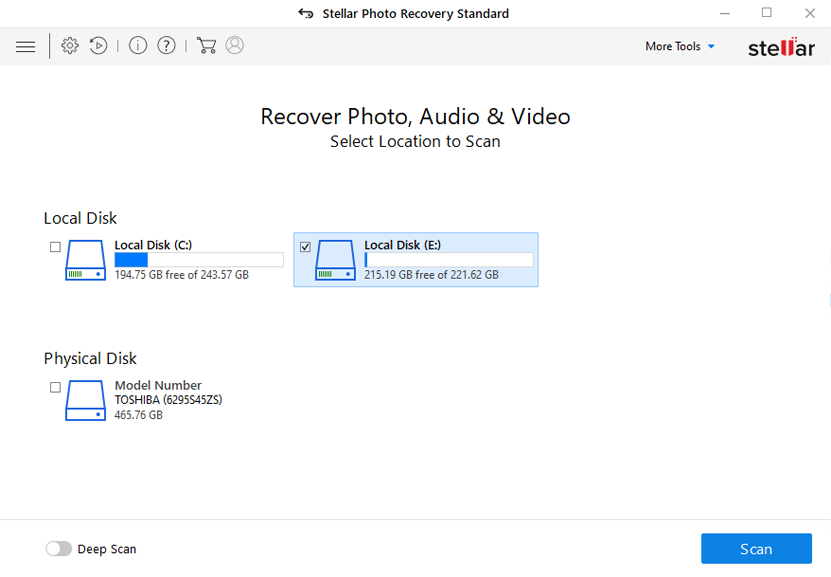 Step 2: Preview Recovered Media Files
Next, you can preview the recoverable media files after the scanning process is completed.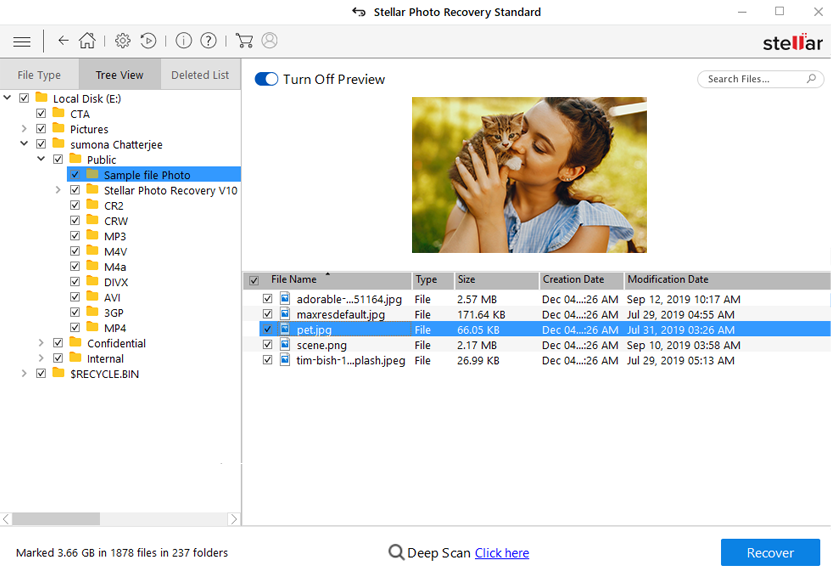 Step 3: Recover Media Files
Lastly, you can select the images, audio, video files you want to restore and click on 'Recover' option to save them at the location you want.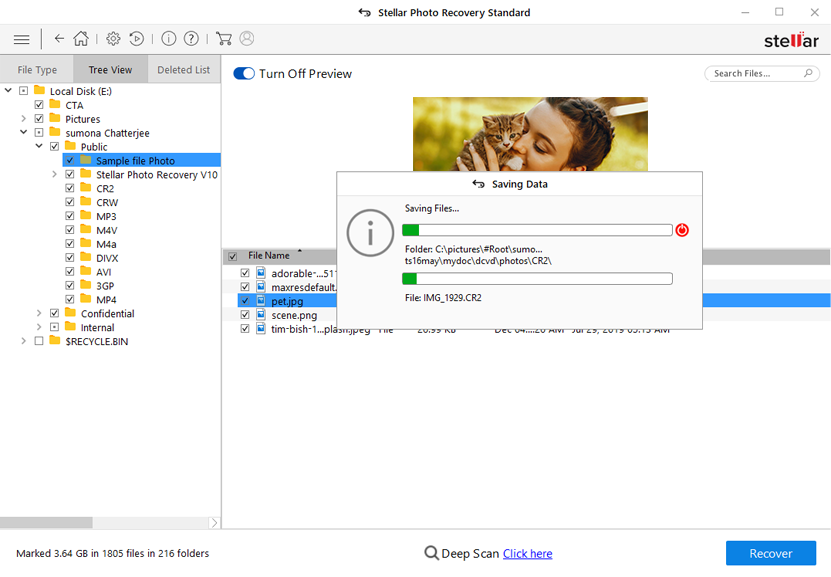 FAQs [Frequently Asked Questions]
Can I Recover Something I Didn't Save On Photoshop?
Yes, you can recover your unsaved files on Photoshop. If you've enabled the AutoSave feature in Photoshop, you can easily recover your unsaved PSD files from Photoshop in case of an unexpected system shutdown or crashes.
How Do I Recover Photoshop Files For Free?
You can simply recover your Photoshop files for free from the recent files option, recycle bin, AutoRecover feature or through temp files.
How Do I Save A Photoshop CS5 File?
Here's how to save your CS5 in Photoshop:
Open the image in Adobe Photoshop
Then, go to File menu > Save As option.
Now, a dialog box will appear where you need to type the desired file name, and choose a location for the file. (use a new file name to avoid the overwriting of the original file)
Finally, click on the Save option.
Does Photoshop CS5 AutoSave?
No, the AutoSave feature is generally not available in Adobe Photoshop CS5.
Is CS5 better than CS6?
CS6 is generally considered better than the CS5 as it introduced new features, improved performance, and also enhanced tools across the Adobe Creative Suite apps.
Why Is Photoshop Not Saving My Files?
If you are unable to save the specific file in Adobe Photoshop other than a PSD or TIFF file format, the file is too large for any other type of format. Try reducing the file size to tackle this situation.
Conclusion
Losing your important Photoshop files can be a stressful experience especially when you work on it for several hours or days. But nothing to worry about! The solutions specified above will surely be going to help you recover Photoshop CS5 file.
So, if you have accidentally lost or deleted your psd. files, apply the given methods one by one until and unless you perform the PSD file recovery successfully.
Thanks for reading the article…..!
Taposhi is an expert technical writer with 5+ years of experience. Her in-depth knowledge about data recovery and fascination to explore new DIY tools & technologies have helped many. She has a great interest in photography and loves to share photography tips and tricks with others.