Want to know how to recover deleted files after disk cleanup? If 'Yes' then you have reached the correct place. I am saying so because, in this article, I have covered almost each and everything that you need to know about how to recover lost files after running disk cleanup utility. And let me make it very clear that you will not get disappointed here. So, stay tuned with me.
But before moving ahead, it's very important to know what disk cleanup is. So, let's find the answer in the next section.
To recover lost files after running disk cleanup utility, we recommend this tool:
This software will restore data from corrupted, formatted, encrypted storage media and works in all data loss situations. Now recover your lost and deleted data in 3 easy steps:
Download this Media File Recovery Tool rated Excellent on Pcmag.com.
Select the storage media from which you want to restore the media files & click Scan.
Preview the recoverable files, select the items you want to recover and click Recover to save the files at desired location.
What is Disk Cleanup?
Disk cleanup is an inbuilt utility that presents in the Windows system and it is first launched with the Microsoft Windows 98 operating system. It allows users to erase the files that are no longer needed such as Windows temp files, old compressed files, cookies, unwanted apps, and other unnecessary data.
Sometimes, the disk cleanup utility deletes the important files too. Though it seems to be a permanent loss of your crucial files but still there is a possibility to recover the files that are lost due to Disk Cleanup.
In one of the below section of this post, you'll come to know a few simple methods to recover deleted files after disk cleanup on your Windows system.
Can Disk Cleanup Deletes Important Files?
Well, the answer is YES, the Disk Cleanup can delete the important files. Besides that, it can help you to deal with unwanted files like temporary files, cookies, etc. By default Disk Cleanup can only delete the Download Program Files, Temporary internet files, and thumbnails.
Many times it may happen that due to intentionally or accidentally selecting the downloads folder or any other that is listed below in the image can delete the crucial files while using cleanup.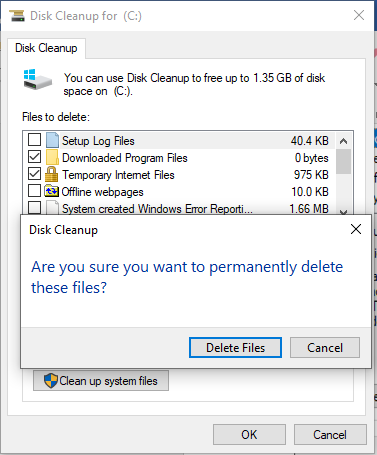 At the same time, once initiated, you cannot undo the cleanup process. But, you can definitely recover the files that are lost during the cleanup process. Because what cleanup does is the same as permanently deleting a file like pressing "Shift + Delete" keys or clearing a Recycle Bin folder.
How To Recover Files Deleted By Disk Cleanup?
Solution #1: Use Powerful Tool To Recover Deleted Files After Disk Cleanup
If you don't want to waste your time using manual solutions, then you can try the recommended Photo Recovery tool. This program has the ability to recover deleted files after disk cleanup and it doesn't even require to have the technical knowledge to operate it.
The best part about this software is that it can rescue several data such as photos, RAW images, all video and audio file formats from digital devices.
Find out some other outstanding features of this data recovery tool:
Restore data (videos, pictures, music, etc.) from several storage media like USB flash drive, memory card, Pendrive, hard drive, and many more with ease.
It is a read-only program and 100% risk-free & user-friendly interface.
Easy, customized, accurate, and quick recovery
The software is compatible with both Windows and Mac.
So, what are you waiting for? Just download and install this feature-loaded software from the below-given buttons respectively.
emid

emid


* Free version of the program only scans and previews recoverable items.
After downloading this tool, follow its step by step guide to know how to recover deleted photos after disk cleanup easily.
Solution #2: Restore Lost Files After Disk Cleanup Via Backup Folder
If you've already kept backed up of your lost data then there is a good chance to bring those stuff back. Yes, with the help of those backed up files, you can easily recover deleted photos after disk cleanup. But make sure that a backup is updated & not corrupt.
First of all, you've to find & open the backup folder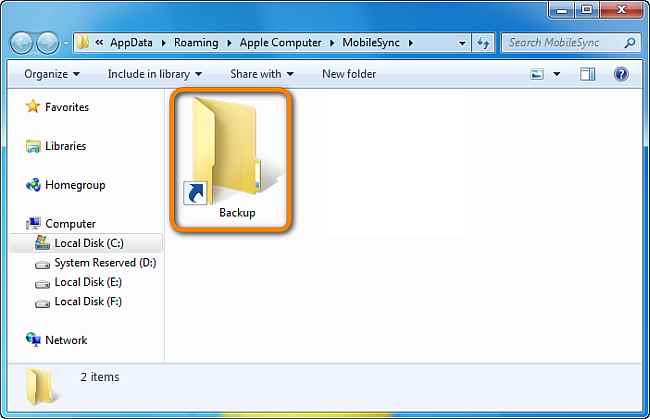 Next, detect the file which you have lost from your system
After this, copy and store those files which you want.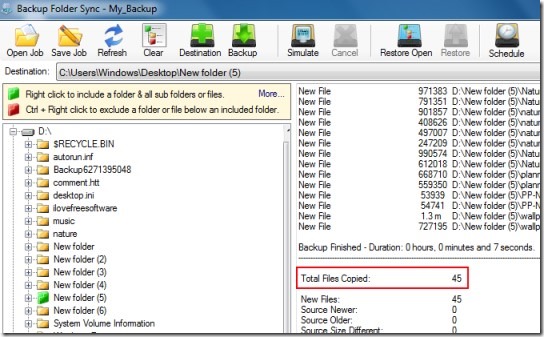 Solution #3: Retrieve Files After Disk Cleanup From File History Backup
The file history option can be used for recovering the deleted files on your PC. If you have a File History backup drive set up, follow the steps given below:
Step 1: Find a folder path of the deleted files on your Windows 10/8 PC. Then, make a tap on the "This PC" to get the folder path where you have lost the disk files using the Disk Cleanup.
Step 2: Next, type the File History in a search box and then choose the option Restore your files with File History.
Step 3: In the third step, you need to tap on the "History" option to show all the backed up files & folders.
Step 4: Select the files that you need to get back >> choose the right version which you need.
Step 5: Now, click on "Restore" option to restore the deleted files from the File History backups.
Step 6: Choose the option "Replace the file in the destination" if the PC already contains the file/folder with the same name.
You may also choose "Skip This File" or "Compare Info for Both Files" if there is a file conflict. After restoring your lost files from the File History backup, exit Windows File History. Try to open, check and continue using the restored files again.
FAQ (Frequently Asked Questions)
Does Disk Cleanup Permanently Delete Files?
Well, the answer is No, performing a disk cleanup doesn't delete the files permanently. It helps free up the space on your hard disk and creating a better system performance. A disk cleanup utility is mainly used to delete the Internet cache files, temporary files, and unnecessary program files that are no longer required.
How Long Should Disk Cleanup Take Windows 10?
The disk cleanup probably takes 1 and a half hours to complete the process in the Windows 10 PC.
Why Disk Cleanup Takes Too Long?
The disk cleanup usually cleans a lot of small files such as temporary files, internet cookies, and more. As it does a lot more writing to the disk and can take much time to install something new, due to the volume being written to disk.
How Often Should You Do Disk Cleanup?
You should perform disk cleanup once a week. This will delete the temporary files, empty your Recycle Bin & remove a variety of files and other stuff that are no longer needed.
Time to Sum Up
So, now it's time to sum up.
If you've deleted your important files from the downloads folder or recycle bin by disk cleanup, then do not worry anymore. As in the above section of this article, I have provided complete information about how to recover deleted files after disk cleanup.
However, if you don't have a backup of your lost data or you want an instant way to recover deleted photos after disk cleanup, you can try Photo Recovery Tool. This software will definitely help you to get erased files in no time and without any trouble.
I hope you found this information useful!
Taposhi is an expert technical writer with 5+ years of experience. Her in-depth knowledge about data recovery and fascination to explore new DIY tools & technologies have helped many. She has a great interest in photography and loves to share photography tips and tricks with others.