If you've accidentally deleted your video files from your PC and want to bring them back then you're in the correct place. I am saying so because, in this article, I have covered almost each and everything that you need to know about how to recover permanently deleted videos from pc.
Here, you'll come to know how to retrieve permanently deleted videos from computer using the best data recovery tool. Also, you will learn some other alternatives to recover permanently deleted files from Windows 10 and of course the most common factors behind your video loss.
So, let's get started…
To recover permanently deleted videos from pc, we recommend this tool:
This software will restore data from corrupted, formatted, encrypted storage media and works in all data loss situations. Now recover your lost and deleted data in 3 easy steps:
Download this Media File Recovery Tool rated Excellent on Pcmag.com.
Select the storage media from which you want to restore the media files & click Scan.
Preview the recoverable files, select the items you want to recover and click Recover to save the files at desired location.
Is It Possible To Retrieve Permanently Deleted Videos From My Computer?
Yes, it is possible to retrieve permanently deleted videos from computer no matter whatever the reason behind losing them.
Actually, when your videos or other stuff gets deleted from any storage media then they aren't permanently deleted. The file exists there only, just it addresses is lost. Thus, those videos files can only be recovered by using any professional third-party data recovery tool. The Video recovery tool is one of the best programs that can help you to recover deleted videos from computer for free.
But remember one thing, as soon you come to know about your videos get lost, immediately stop using your device. Because adding new files in it can overwrite the lost files and once overwritten there is no way to get it back.
How Do Video Files Gets Deleted?
Video files are precious possessions for some people. But it can be very distressing when you unintentionally delete those essential video files due to some unexpected reason. Typically, you can lose your important movies or video files due to the following causes:
Formatting the drive without taking a backup.
Accidentally lost the video files by pressing the option "Delete" or "Shift + Delete".
Due to empty a recycle bin folder next deleting the video files
The video file becomes inaccessible after the corruption because of a virus or malware attack & you remove it.
How To Recover Permanently Deleted Videos From PC?
Try the below-mentioned approaches to recover deleted large video files from external storage devices without any trouble.
Solution #1: Get Back Erased Videos Using The Best Data Recovery Tool
If you want instant deleted video recovery, then the Video File Recovery tool is the best option. This video recovery has a very simple & friendly graphical interface that doesn't need the user to have the technical knowledge to operate it.
Apart from restoring the deleted files, it can even rescue other media files like photos, RAW images, music and audio files from your PC.
Find out some other outstanding features of this data recovery tool:
Easily recover formatted, deleted, corrupted, or missing videos from several digital devices.
Restores the deleted videos or other data from computer hard drive, Mac trash, Windows PC recycle bin or backup folder on your PC.
Besides, retrieve numerous formats of photos, videos, and audio with ease.
It is a read-only program and 100% risk-free & easy to use.
The software is compatible with both Windows and Mac.
So, what are you waiting for? Just download and install this feature-loaded software from the below-given buttons respectively.
emid

emid


* Free version of the program only scans and previews recoverable items.
Follow the step by step guide of this video file recovery tool to know how to recover permanently deleted videos from pc easily.
Solution #2: Recover Permanently Deleted Videos From Recycle Bin Or Trash
When any of the files get deleted on your PC, then firstly you should check your recycle bin of Windows and Trash bin of your Mac OS.
For Windows User (Recover Videos Using Recycle Bin)
The deleted videos may still in the Recycle bin if you've not emptied it.
Step 1: First of all, go to the Recycle Bin folder on your Windows PC's desktop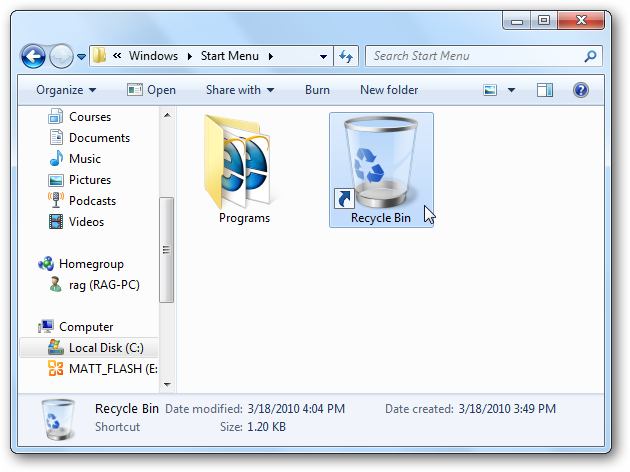 Step 2: Next, find the lost video files that you had unintentionally deleted & then right-click on them
Step 3: Now, from a drop-down menu, then you need to tap the "Restore" option.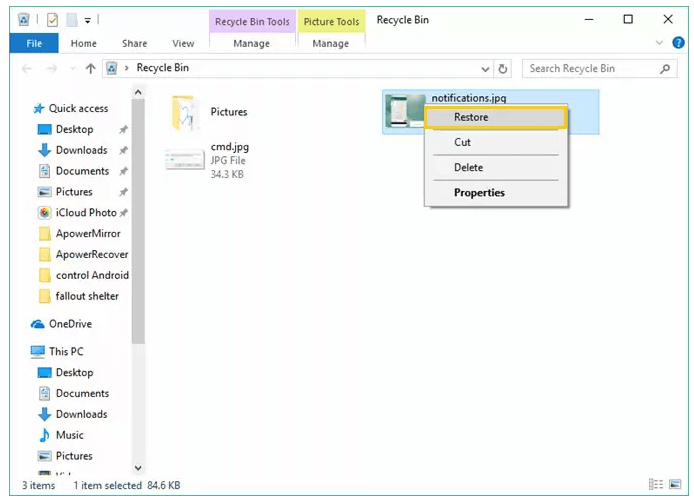 After completion of the above steps, you'll get your crucial video files back to its preferred location.
For Mac User (Recover Videos Using Trash Bin)
The recently lost videos might still in the Trash bin if you haven't emptied it.
Step 1: At first, tap on Trash & then choose the .video files that you wish to bring back
Step 2: In the next step, you have to right-click on your selection
Step 3: Then, choose the Put-Back option to get all your deleted video files back.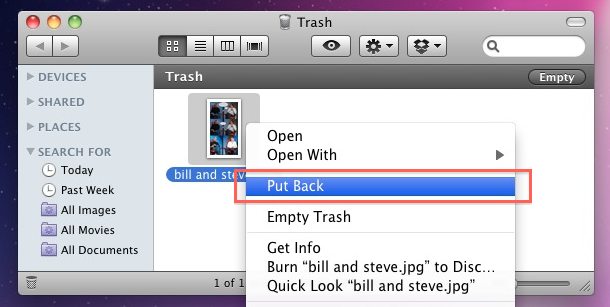 Now, you can get all your restored videos to their desired locations.
Solution #3: Restore Deleted Videos Using Existing Backup Without Software
Windows provide the in-built "Backup & Restore" utility, while the Mac OS has a Time Machine.
Therefore, if you've recently created the backup of your videos, then it becomes very easy to recover deleted videos from computer for free without software.
#For Windows User (Restore Using Existing Backup)
Here are the easy steps to retrieve the missing videos on your Windows PC:
Step 1: Just click on the Start & open the Control Panel.
Step 2: Next, tap on the "System and Security> Backup and Restore > Restore my files".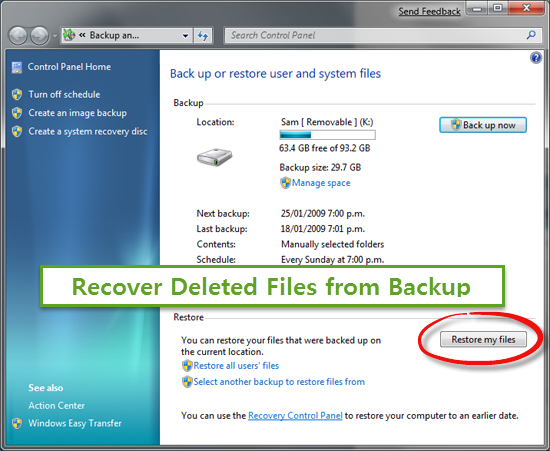 Step 3: Now, you can save your video files to the new folder or to its desired location.
#For Mac User (Restore Using Time Machine Backup)
If you have kept a backup of your videos with Time Machine on the Mac system, then you need to first check those lost files in the Trash bin. To rescue the video files with the Time Machine on Mac, you need to follow these steps:
Step 1: Simply open the folder which contained your disappeared video files.
Step 2: Next, tap on the time machine icon that is located in a Menu bar & select Enter Time Machine.
Step 3: Find the Video files that you require to get back with the timeline on the right edge of your screen.
Step 4: At last, just tap Restore to restore the videos.
After doing so, your video files will be returned to their original location.
Solution #4: Restore From Previous Versions Option Of Windows System
Another solution that you can try to recover permanently deleted videos from pc using previous versions. But, before using this way, make sure that you've set up the File History to automatically backup files. In case, if you've not turned on this feature then give up this method. Try the beneath steps to restore previous files & folders:
Step 1. Firstly, right-click the folder which contained your permanently deleted video files.
Step 2. After this, make a tap on "Restore previous versions".
Step 3. Then, choose the needed files & tap on the "Restore" option.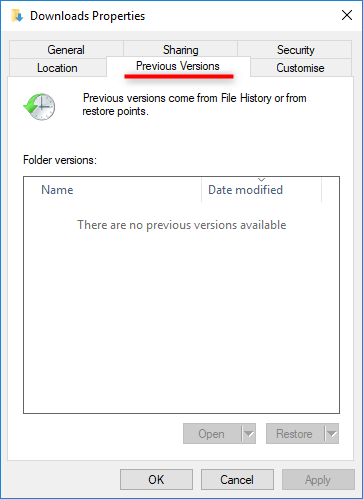 FAQ (Frequently Asked Questions)
Can System Restore recover permanently deleted video files?
No, system restore can't help you to recover permanently deleted video or other files like photos, audios, documents, etc.
Is There A Way To Recover A Video File That Was Deleted Several Months Ago?
Yes. As long as the storage space occupied by the video has not been overwritten, the Video File Recovery software can identify and recover files that were deleted months ago.
Where Do Files Go When Permanently Deleted?
The permanently deleted files are move to the recycle bin (on PCs) or the trash can (on Macs). Those files stay in those folders until you empty your recycle bin or trash bin. Once they have been deleted from those folders, they are still located in the hard drive and can be retrieved with the right software.
Can I Retrieve Deleted Videos From My Android Phone?
Yes, you can retrieve videos from Android phone. The Google account could help you to recover those files from Google Photos. To do so, you have to open your Google Photos app and sign in to the Google account. Then, select the Trash or Bin to move ahead. After that, Preview and select beloved videos by ticking them from trash or bin and tap on the Restore icon.
Bottom line
Any of the data loss situations can be easily handled by trying the troubleshooting steps for both Windows and Mac OS mentioned here. However, to avoid any data loss scenarios, it's always recommended to keep a backup of your important data on any other storage device.
In case, if you forgot to take a backup of your lost files, then you can use the Video file recovery tool to recover permanently deleted videos from computer in a safe and secure manner.
If you've found this post helpful to you, then please don't forget to share it with your friends and relatives…
Alex is an expert technical writer with 7+ years of experience. His in-depth knowledge about data recovery and fascination to explore new DIY tools & technologies have helped many. Alex has a great interest in photography and loves to share photography tips and tricks with others.