When I went through several forums and community websites, then I found that many users are going through corrupted TIF/TIFF image issues and they are seeking how to fix corrupted TIFF files. Thus, if you are one of them then let me tell you that you have reached to the correct webpage. I am saying this because, in this article, we will discuss about the TIFF files, reasons for the corruption of .tiff images & of course repair corrupted Tagged image file format.
But, before proceeding to further information, let me give you a straightforward answer to your query. You can use the Photo Repair Tool to repair corrupted TIFF files in an easy way.
To repair TIFF file, we recommend this tool:
This software will repair grainy, distorted, pixelated, blurry, greyed-out images and restores your prized memories effeciently. Now repair your corrupt or damaged photos in 3 easy steps:
Download this Photo Repair Tool rated Great on Pcmag.com.
Click Add File to add the photo you want to repair.
Select Repair to start the repair process and save the repaired image on the desired location after the repair is done.
What Is TIFF File Format?
TIFF (Tagged Image File Format) is a moveable resolution bitmapped file format of an image developed by Aldus (part of Adobe) in 1986.
Numerous digital cameras support TIFF format for saving the photographs on the memory cards, SD card or other storage or digital devices. Well, it is very common for moving color or gray-scale pictures into page layout applications but is less suited to delivering web content.
What Causes Corruption In TIFF File Format?
TIFF file corruption takes place due to several causes that make your file inaccessible. So, below I have listed the most common reasons for .tiff file corruption.
Mistyped the file name
Taking the TIFF images in digital devices with a low battery
The Master Boot Record or Master Boot Table of the Windows system is broken.
The corrupted or broken header of the TIFF file format.
Due to Malware or Viruses infection on the storage device.
The storage or media device such as pen drive, USB drive, hard drive, SD card, memory card, etc., has bad sectors
Because of Outdated drivers.
Well, if your image file format gets corrupt due to any of these reasons, then the first thing that comes to your mind is how to repair damaged TIFF files? What is the possible solution? Nothing to worry, below you can find out all the possible solutions for how to fix TIFF images. After trying these ways, you can make your TIFF images accessible.
How To Fix Damaged TIFF Image Files?
Well, in order to repair corrupted TIFF images, I have already said that using TIFF File Repair Tool, you can able to do so with ease. This tool is compatible with both the Windows as well as Mac OS.
This photo repair tool not only repair corrupted TIFF files but also repair corrupted BMP files and other file formats of images. Some of the image file formats are PNG, DNG, GIF, JPEG, RS, RAW file formats and more.
By using this repair tool, you will be able to:
Repair damaged, corrupted inaccessible TIFF image
Preview the repaired image files and save them in your preferred folder
Completely trusted and available at affordable prices.
Compatible with both the OS Windows as well as Mac
100% safe and secure to use.



* Free version of this program only previews repaired photos.
Now, let's have a look at the steps using this tool to repair damaged tiff files…
Step 1: Download, install and launch Photo Repair Tool on your computer. Click on 'Add File' to repair corrupt/damaged image files.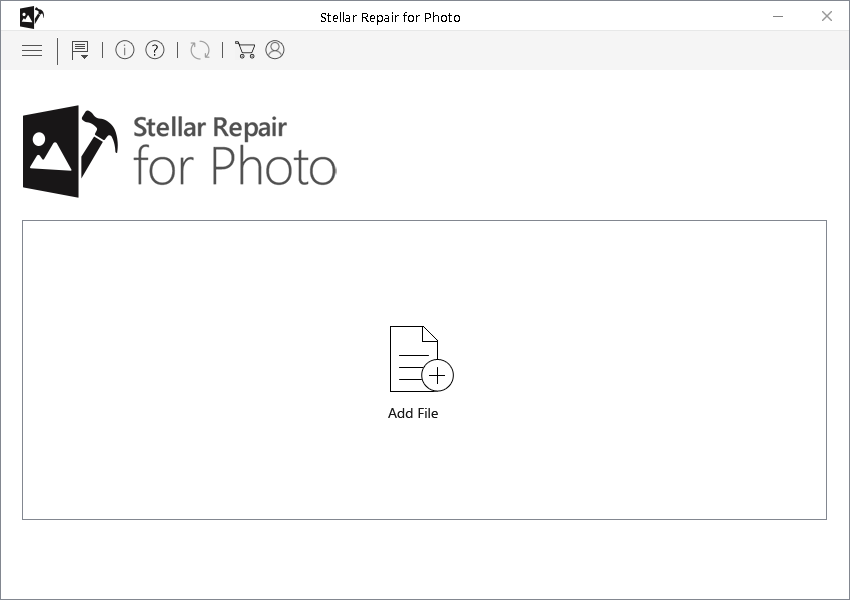 Step 2: You can then select the files for repairing. Next, click on 'Repair' to begin the repairing process.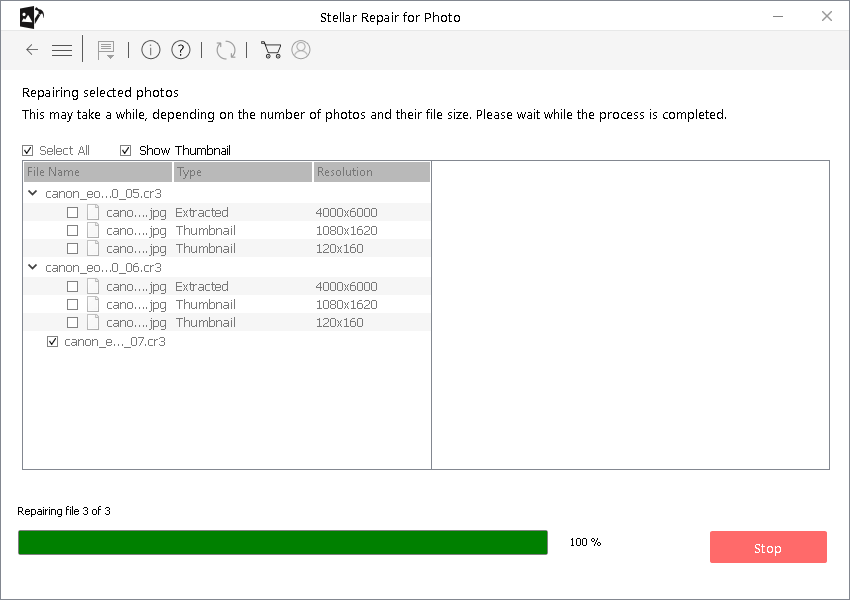 Step 3: Finally, click on 'Save' button to preview and save repaired images on your desired location on the computer.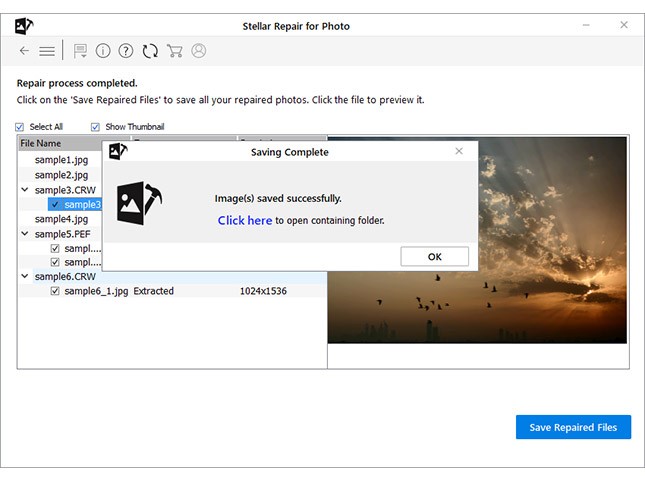 Other Working Solutions To Repair Corrupted TIFF Image
Solution #1: Convert TIFF File To Another Image File Format
Sometimes, when you are unable to open the TIFF file then, it means that your TIFF file is corrupted. At the time, converting the TIFF file to another image file formats such as JPEG, DNG, BMP, PNG, GIF and more can repair corrupted TIFF images.
To do so, simply use any safe and secure online image file converter tool which is free from the virus/malware.
Solution #2: View Your TIFF Images In The Different Program
Similarly, if you are not able to view the .tiff images properly in Photoshop then, you can try to open your TIFF files in another program. Few programs that can help you to open the TIFF images like Windows Photo Viewer, MS Paint and more.
If this fix won't work then, try the next solution to repair tiff images.
Solution #3: Rename The TIFF File
To fix broken TIFF files or corruption issues, you can try to change the name of an image file. For renaming the TIF image file, just follow the below-given steps:
First of all, right-click on .tiff file,
After that, select the option 'Rename',
Then, provide a new file name.
Lastly, check that your TIFF file is opening or not.
After following these steps, if your TIFF file corruption issue is still there, then try the next solution.
Solution #4: Download Or Transfer TIFF Images Again
Many times it happens, that incomplete downloading or transferring the TIFF files due to sudden system shutdown or power failure can cause file corruption errors. So, transfer or download the photographs again from the source location can repair damaged TIFF images.
Is Your TIFF Pictures Corrupt? Here's How You Can Avoid It 
By following the below tips, you can easily avoid further TIFF file corruption or errors:
Safely remove the storage device before removing it from its slot.
Never eliminate/remove the memory card when it is in use.
Always, be alert during removing the unwanted image files
Do not click the photographs when the device's battery is low
Avoid using the "Delete All" button of a digital camera.
The FAQ (Frequently Asked Questions)
Is Tiff An Open Source?
The TIFF is an image file format that widely used in biosciences. It can open in the other source as well, like Adobe Illustrator, Picasa, PhotoScape 3.7, Adobe Photoshop and more.
How Do I Fix A Corrupted TIFF File?
You can fix a corrupted TIFF image file by either converting the TIFF file to another photo format or using reliable Photo Repair Tool.
What Program Opens TIF Files?
You can open and play your TIF files with a standard image viewer or editor programs like Adobe Photoshop, MS-Paint, CorelDRAW Graphics Suite, etc., that supports the TIF file.
Time To Conclude
Your TIFF image files can be damaged/corrupted due to any of the reasons mentioned above. But, you must prepare for such circumstances. In the above sections of this blog, you might have seen the perfect solutions on how to repair tiff files in easy ways.
So, without wasting time, just try the TIFF File Repair Tool. Because this recommended tool will definitely be going to help you out to repair corrupt .tiff images and allow you to access those repaired files formats.
Apart from this, in case, after fixing this issue if you have found that all your TIFF images get deleted accidentally then, you can recover deleted TIFF image file using the TIFF File Recovery Tool with ease.
Hopefully, you liked this post.
That's all…

Taposhi is an expert technical writer with 5+ years of experience. Her in-depth knowledge about data recovery and fascination to explore new DIY tools & technologies have helped many. She has a great interest in photography and loves to share photography tips and tricks with others.