Summary: If you want to recover deleted data from PNY Flash Memory card then try the PNY SD card data recovery solutions mentioned here.
PNY Technologies, Inc, was founded in the USA. This company mainly manufactures and sells memory cards, USB flash drives, graphics cards, video cards, solid-state drives, and many more. PNY has a good name, fame, and reputation in the USA and it is also famous all over the world.
No doubt, PNY provides world-class and high data transfer speed flash memory cards but still, some users are encountering data loss from PNY cards. Thus, if you have also lost your pictures, videos, music or other documents from your PNY card then use the versatile SD Card Recovery Tool.
Rated Excellent on

Trustpilot
Free SD card recovery tool.
Recover data from corrupted, damaged, & formatted SD cards of all brands on Windows. Try now!
Now, let's see whether it is possible to restore lost or deleted data from PNY SD cards or not.
Is It Possible to Restore Lost Or Deleted Data From PNY SD Cards?
Generally speaking, "Yes" it is possible.
When a file gets deleted or lost from the memory cards, it does not get erased permanently. Instead, the card only marks the area where the deleted files were stored as reusable. Hence you can add new data to just overwrite them.
If you do not overwrite the existing data by adding any new files on PNY memory card, you can use the PNY Recovery Tool to get back deleted PNY card files.
How Data Gets Deleted on PNY Memory Card?
Well, there are several unexpected reasons due to which your PNY SD card data get disappeared. Thus, below I have listed the major factors behind the PNY memory card file deletion.
Accidental or intentional deletion is one of the prime causes that happens with every user and they face data loss.
Ejecting, removing flashcards or turning OFF power while data reading and writing on the card.
Using the same PNY SD card on multiple devices also corrupts the card and finally, it makes the stored data inaccessible.
Formatting the flash memory card without backup.
Clicking photos even when card displays low memory or device display low battery.
Virus infection to the PNY flash SD memory cards corrupts the data stored within it and makes them inaccessible.
Now, let's move ahead to know how to recover data from PNY SD card/ USB drive.
Solutions For Recovering Deleted or Lost Data from PNY Memory Cards
Solution 1: Use PNY SD Card Data Recovery Software [Recommended]
As I have mentioned above, you can use the expert-recommended PNY Flash Memory Card Recovery Tool which is a perfect way to recover data from PNY SD cards. It is designed to restore deleted, lost, erased, formatted, corrupted, missing photos, videos, and audio files from any SD/memory cards.
The data recovery for PNY cards comes with an advanced algorithm that scans the memory card and recovers digital media files from PNY flash memory cards including SD, SDHC, SDXC, miniSD, microSD, Compact flash cards (CF), xD picture card, microSDXC, microSDHC Memory cards that are used in your mobile devices, digital cameras, camcorders, and other multimedia devices.
With the help of PNY Card Recovery Software, one can:
Retrieve deleted, lost, formatted photos, videos, and audio files from PNY flash memory cards.
Restore data from PNY cards that display – card cannot be formatted, the card is not readable, the card is write-protected, SD card is locked, etc.
Also recover digital media files from PNY USB flash drives, SD cards, videos cards, and Solid-State drives.
Besides PNY, the software also supports the recovery of files from other brands' memory cards such as SanDisk, Transcend, HP, Sony, Samsung, Kingston, etc.
Preview recoverable files within software before you proceed further to recover files on your system.
The recovery software from PNY card is available for both Windows & Mac operating systems.



* Free version of the program only scans and previews recoverable objects.
Today there are several satisfied users using this PNY SD card data recovery tool, who has successfully recovered data from formatted, virus infected, corrupted, unreadable, not working, damaged, and error throwing PNY memory cards.
The software support all types of PNY memory cards such as 512GB Elite Performance SDXC, 256GB PRO Elite microSDXC, 256GB Elite Performance SDXC, 200GB Elite microSDXC, 128GB Elite microSDXC, 128GB PRO Elite microSDXC, 128GB High Performance SDXC, 128GB Elite Performance SDXC, 128GB Elite microSDXC, 64GB PRO Elite SDXC, 32GB High Performance CompactFlash Card, 64GB Elite Performance SDXC, 64GB Elite microSDXC Card, etc, of different capacity such as 256MB, 512MB, 1GB, 2GB, 4GB, 8GB, 16GB, 32GB, 64GB, 128GB, 256GB, 512GB, etc.
Steps To Recover Deleted or Lost Photos, Videos and Audio from PNY Memory Card
Step 1: Select Desired Location
Firstly, select the drive, external media or volume from which you want to recover deleted media files. After selecting, click on 'Scan'.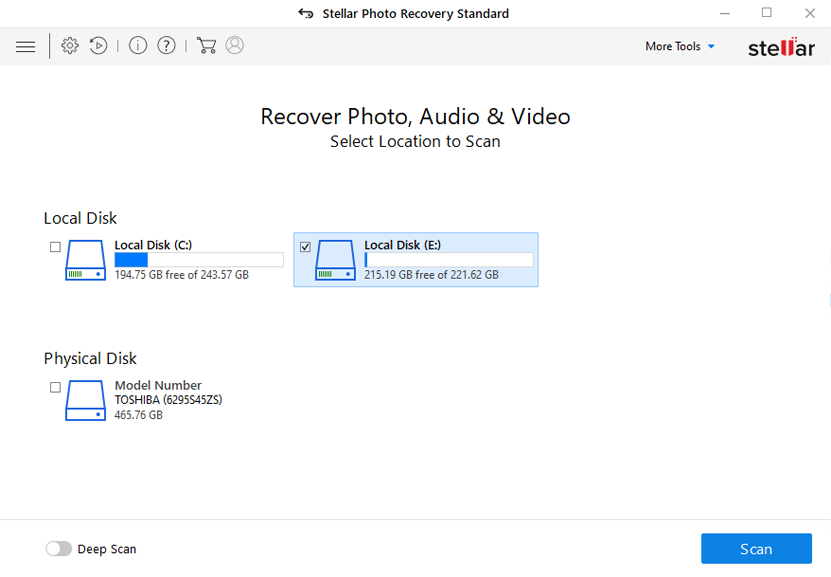 Step 2: Preview Recovered Media Files
Next, you can preview the recoverable media files after the scanning process is completed.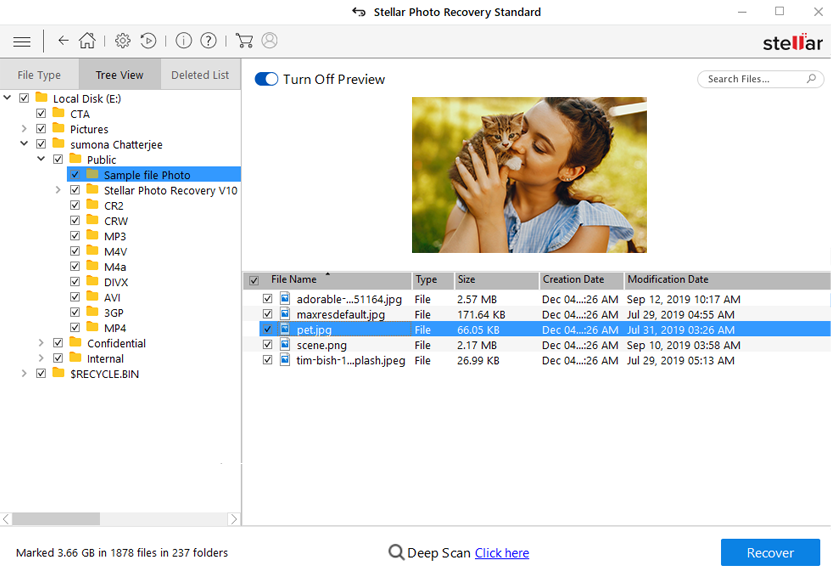 Step 3: Recover Media Files
Lastly, you can select the images, audio, video files you want to restore and click on 'Recover' option to save them at the location you want.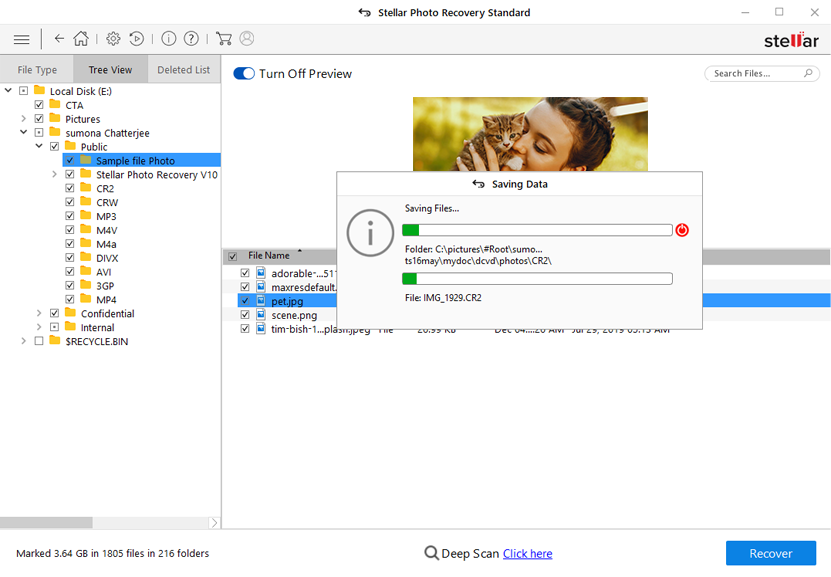 Note: Save your recoverable files to another place or location instead of saving them on the original card, just to avoid partial data being overwritten.
Solution 2: Perform PNY Card Recovery Through Backup
Most of the users used to save their important data on more than one device or location to keep them safe. Well, if you've also backed up your PNY card on another removable disk or PC then you are lucky enough.
With the help of that backed-up stuff, you could easily perform PNY SD card recovery without using the software. But ensure that backup is not corrupt.
If you want to do PNY SD card data recovery using backup on PC, follow these steps:
At first, find & open your backup folder.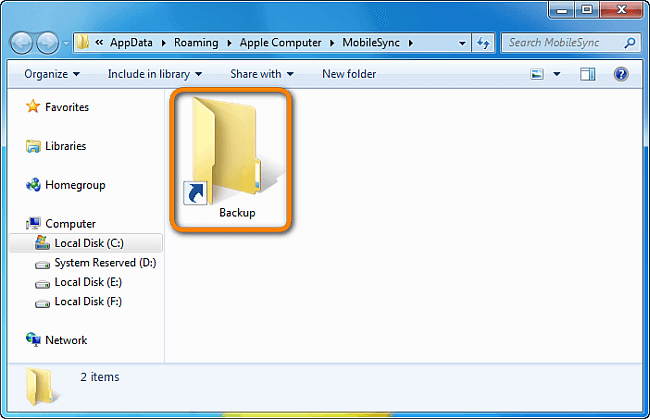 Next, detect the files (pictures, videos, etc) that you have lost from your PNY memory card.

Finally, copy & store the found files back to your PNY SD card/USB drive.
Solution 3: Seek Help From PNY Technologies Experts
If none of the above methods helped you to do PNY SD card data recovery then the last option left for you is to take help from PNY Technologies experts.
Simply visit: https://www.pny.eu/en/support/support-form and provide all the required information along with the problem that you are facing. The experts will surely help you to get rid of this problem and get back your important data back.
Tips to Remember While Using/Handling PNY Flash Memory Cards to Avoid Data Loss:
Make a habit of frequently keeping a backup of your PNY card data.
While deleting any files on the PNY SD memory card, check it thrice and make sure that you do not want it anymore.
Stop using flash memory cards on multiple gadgets.
Avoid your card from viruses. Do not connect it with an infected PC/Mac. Always scan the card, each and every time you connect it with the PC/Mac system.
Do not click images when PNY card displays a "low memory" message or device display "low battery" message.
If photos, videos or music files get lost from any memory cards, immediately apply photo recovery software to recover them back.
Final Thoughts
I hope, now you've got complete information regarding how PNY SD card/USB drive data gets disappeared and how to retrieve deleted files from PNY memory cards.
Above, I have specified both the manual as well as automatic solutions to perform PNY SD card data recovery. So, you can try according to your need.
Also, follow the aforementioned tips to prevent photo, audio, and video file loss in the near future.
That's all…
If you have found this post helpful and useful, then please do not forget to share it.
Also like and follow us on Facebook, Twitter and Pinterest to get the latest updates.
Alex is an expert technical writer with 7+ years of experience. His in-depth knowledge about data recovery and fascination to explore new DIY tools & technologies have helped many. Alex has a great interest in photography and loves to share photography tips and tricks with others.