Lost crucial photos, videos, music, or other media files from your SmartWatch? Want to recover deleted data from SmartWatch but still didn't get success? Do not worry, you can restore SmartWatch data by using the best SmartWatch Data Recovery Software.



* Free version of the program only scans and previews recoverable objects.
Before proceeding further, let's know something about SmartWatch in detail.
Reasons That Could Lead to Data Deletion in SmartWatch
How To Recover Deleted Data From SmartWatch?
Tips: How to Keep Smartwatch Data Safe and Secure
About SmartWatch
SmartWatch was first introduced in early 2010 and it has been around here a little while now and is set to boom in near future, but what exactly is a smartwatch?
In simple language, SmartWatch (also called as watch phones) is wristwatch with a screen (SmartWatch with a touch screen is also available). Besides telling time, do much more things such as you can connect it with your smartphone and then you can pick up the call, do call, read messages, text messages, GPS tracking, surf internet, calculation, game playing, etc.
Some Smartwatches come as portable media players, with FM radio and playback of videos and audio files via USB headset or Bluetooth. Some Smartwatches also come with a memory card slot that allows users to store mp3 songs, videos, photos, and other media files.
Though SmartWatch has so many advanced features, users still encounter data loss problems. So, what is the perfect solution to get back files from the SmartWatch memory card? Well, we will talk about the SmartWatch data recovery solution but before that let us know the reasons through which user loses their data from their smartwatch.
Reasons That Could Lead to Data Deletion in SmartWatch
There could be several reasons for the deletion or loss of data from smartwatch memory card, such as:
Accidentally or mistakenly deleting files while viewing or deleting unwanted files on watch
Mistakenly formatting of the memory card of your SmartWatch entirely erases all data stored within it
Using the same card on your watch as well as on other multiple devices such as smartphones, cameras, etc can result in corruption of data and thereby lead to data loss
Virus attack on your smartwatch is another major problem that easily corrupts the stored files within it
So, these are some of the possible causes that can result in data loss on smartwatches. But you do need to worry anymore because you can now effectively restore your deleted, lost, corrupted media files from your smartwatch memory card with the use of powerful SmartWatch data recovery software.
How To Recover Deleted Data From SmartWatch?
Smartwatches come with both on-board storage and an external memory card slot. However, the on-board storage wearable devices are made with non-standard flash NAND chips, which are smaller than the ones that are found in a thumb drive and digital camera memory cards. It means that from where data is erased or deleted, it is possible to get back lost files from SmartWatch by using the appropriate SmartWatch Data Recovery Tool.
Besides, it is very easy to restore files from units that use microSD cards or other removable media. It is because no specific direct connections are required. But on other hand the devices with built-in storage, data recovery becomes more difficult.
So, if you have accidentally deleted, lost, formatted, or erased your important audio, videos or photos from Smartwatch then use this SmartWatch recovery software. It is specifically made to restore media files (photos, videos & audio) from smartwatch memory cards, smartphones cards, digital cameras/camcorders, USB flash drives, memory cards, PC/Mac internal & external hard disk, and other several media storage devices.



* Free version of the program only scans and previews recoverable objects.
Note: Before you proceed further to use this recovery software, it is highly recommended that you must stop using your smartwatch from adding any new data on it. Adding new data will overwrite the existing data stored within the watch. And it will reduce the chance of smartwatch media file recovery. (Also Read: Recover Photos/Videos from Overwritten Micro SD Card on Windows/Mac)
Steps To Recover Pictures, Videos & Audio Files from SmartWatch
Step 1: Select Desired Location
Firstly, select the drive, external media or volume from which you want to recover deleted media files. After selecting, click on 'Scan'.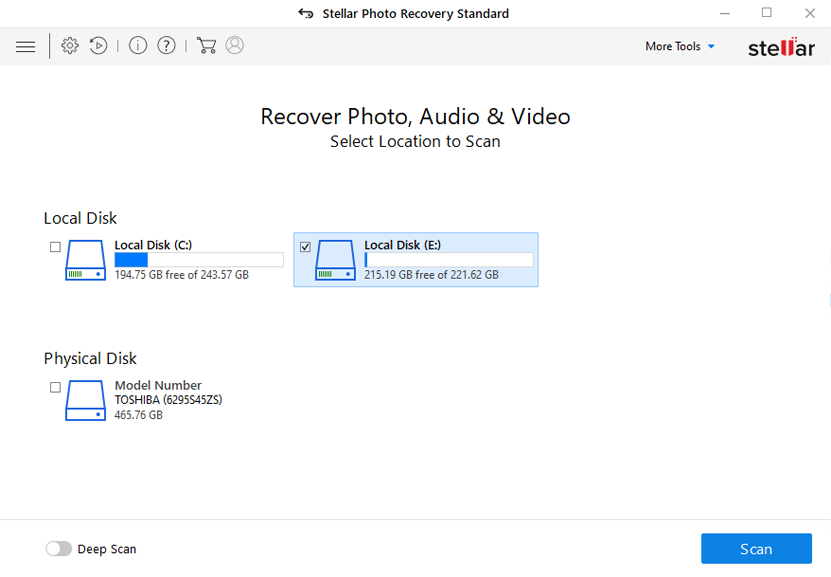 Step 2: Preview Recovered Media Files
Next, you can preview the recoverable media files after the scanning process is completed.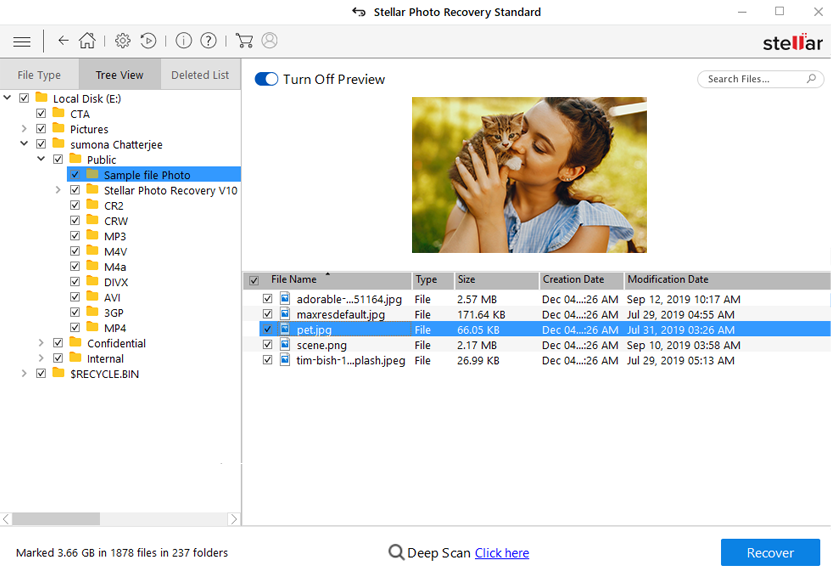 Step 3: Recover Media Files
Lastly, you can select the images, audio, video files you want to restore and click on 'Recover' option to save them at the location you want.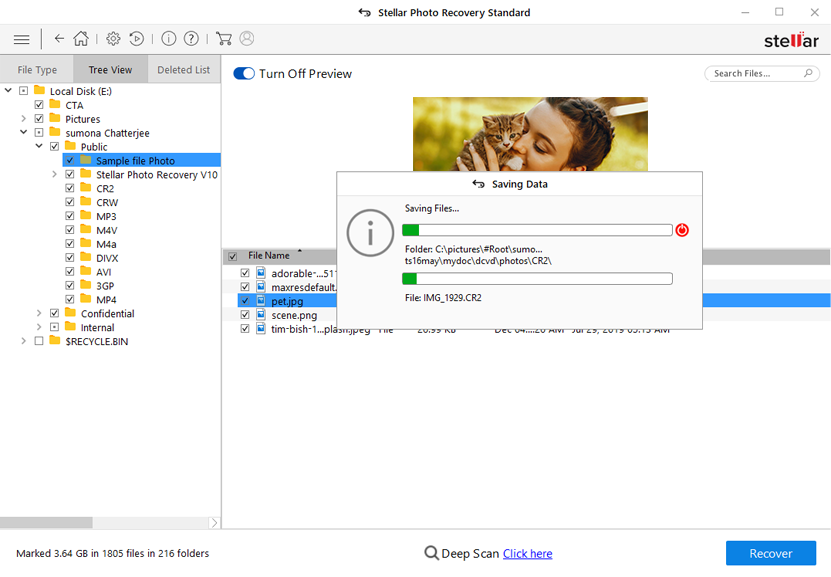 Tips: How to Keep Smartwatch Data Safe and Secure
Always keep backup of important files of your SmartWatch on other external storage devices like pendrive, PC hard drive, etc
Some of the SmartWatch provides the facility of syncing your file with Cloud storage services. So, if this function is enabled, then even if your smartwatch gets lost or stolen you can still restore your files online from your cloud backup
Before deleting anything on your smartwatch, check the file twice and make sure that you do not need them anymore, and then proceed further to delete them.
Final Verdict
Now, it's time to conclude this article.
After reading this comprehensive blog, you must have learned what you need to do to recover deleted data from SmartWatch.
Besides Smartwatch Data Recovery, also you have known the prevention tips to keep your smartphone data safe and secure.
That's all…
Alex is an expert technical writer with 7+ years of experience. His in-depth knowledge about data recovery and fascination to explore new DIY tools & technologies have helped many. Alex has a great interest in photography and loves to share photography tips and tricks with others.